The New O'Day Mariner 2+2 - The World's Roomiest Sailboat of its Size (1969)
From the world's largest producer of fiberglass sailboats comes the all-new Mariner for 1969.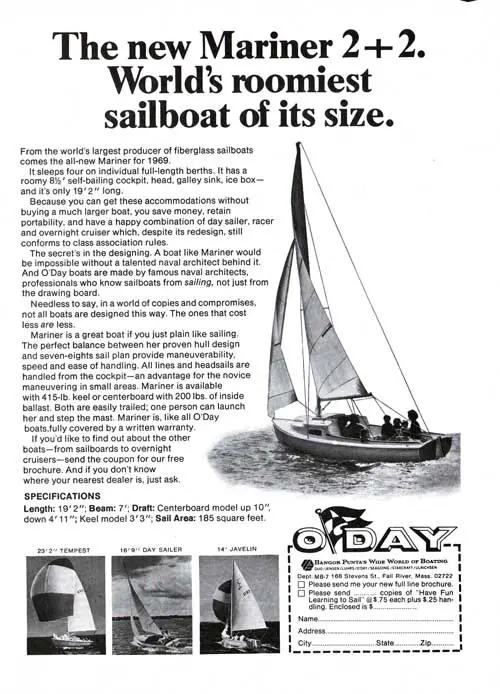 It sleeps four on individual full-length berths. It has a roomy 81/2' self-bailing cockpit, head, galley sink, ice box—and it's only 19'2" long.
Because you can get these accommodations without buying a much larger boat, you save money, retain portability, and have a happy combination of day sailer, racer and overnight cruiser which, despite its redesign, still conforms to class association rules.
The secret's in the designing. A boat like Mariner would be impossible without a talented naval architect behind it. And O'Day boats are made by famous naval architects, professionals who know sailboats from sailing, not just from the drawing board.
Needless to say, in a world of copies and compromises, not all boats are designed this way. The ones that cost less are less.
Mariner is a great boat if you just plain like sailing. The perfect balance between her proven hull design and seven-eights sail plan provide maneuverability, speed and ease of handling.
All lines and headsails are handled from the cockpit—an advantage for the novice maneuvering in small areas. Mariner is available with 415-lb. keel or centerboard with 200 lbs. of inside ballast.
Both are easily trailed; one person can launch her and step the mast. Mariner is, like all O'Day boats,fully covered by a written warranty.
If you'd like to find out about the other boats—from sailboards to overnight cruisers—send the coupon for our free brochure. And if you don't know where your nearest dealer is, just ask.
SPECIFICATIONS
Length: 19'2"; Beam: 7'; Draft: Centerboard model up 10", down 4' 11"; Keel model 3' 3"; Sail Area: 185 square feet.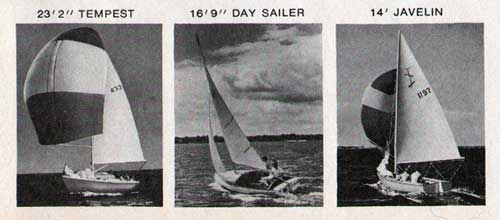 Above, Left to Right: 23' 2" TEMPEST; 16' 9" DAY SAILER; 14' JAVELIN
BANGOR PUNTA'S WIDE WORLD OF BOATING
DUO /JENSEN / LUHRS / 0 DAY / SEAGOING / STARCRAFT / ULRICHSEN
Fall River, Mass. 02722
[] Please send me your new full line brochure.
[] Please send copies of "Have Fun Learning to Sail" @$.75 each plus $.25 handling.
GGA REF: BPODY-004-1969-BW-AD