Immigrant Types - Social and Cultural History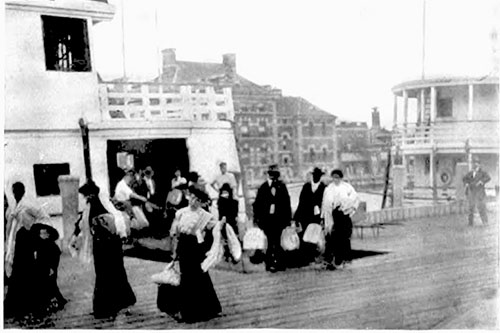 Immigrants Landing at Ellis Island., Public Hygiene, Vol. 2, 1911. GGA Image ID # 1548377dbd
Each immigrant brings to America an individual correlation of the wishes which rule human conduct. In one the desire for recognition predominates; in another the desire for security; and so on in many variations. This individual organization of wishes is what we all call character.
Likewise, each immigrant group as a whole brings a more or less marked character. And while we do not ignore the fact that character is partly due to temperamental qualities -- the characteristics of the Swedes, the Jews, the Italians, may be connected with their original, inborn, temperamental dispositions -- it is nevertheless certain that character in both individuals and groups is mainly built up by the process which we have referred to abobe as "the definition of the situation" -- by gossip, conversation, disputes, doctrines, by the whole of the experiences and social influences which modify, qualify, and oranize the wishes.
We are able, therefore, to distinguish roughly various immigrant types, representing different heritages. It is not true, however, that we can treat any given immigrant group strictly en bloc from the standpoint of heritages.
Explore Immigrant Types through period articles written from the viewpoint of when this great influx of immigration and immigrants was happening.