Medical and Mental Inspection Of Immigrants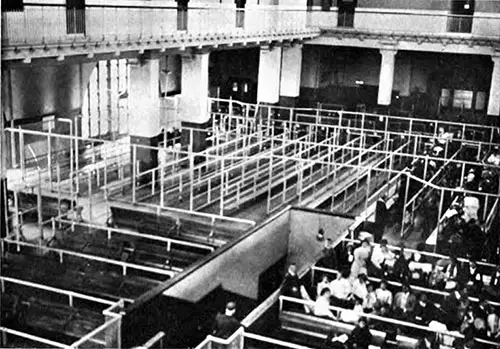 Main Inspection Hall at Ellis Island. Public Hygene, Vol. 2, 1911.GGA Image ID # 154aa73d5a
All steerage passengers are transferred utilizing barges to the immigration depot at Ellis Island. The initial medical examination there conducted is short, but the doctor places a chalk mark upon the suspected parties' clothing at the head of the line.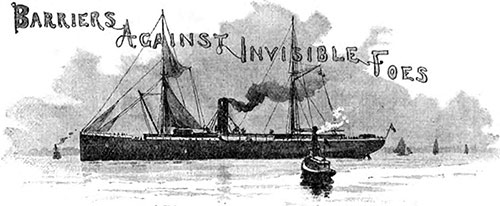 Barriers Against Invisible Foes - Disease Quarantine
Quarantine, by the way, used to apply only against yellow fever, cholera, typhus or ship fever, smallpox, and "any new disease of a contagious, infectious or pestilential nature." However, by Act of Legislature of 1885, scarlatina, diphtheria, measles, and relapsing fever have been added to the diseases subject to quarantine at the port of New York. -1892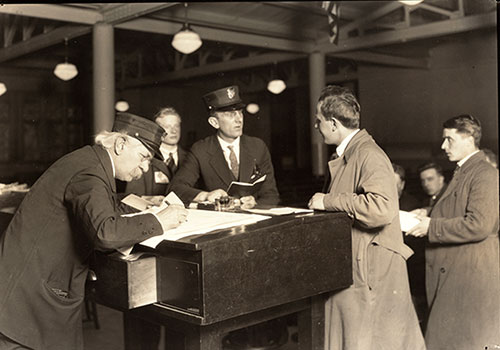 Inspection of Immigrants at Ellis Island
The methods of inspection are described at length by various witnesses connected with the inspection service at New York. When a vessel approaches the harbor it is boarded by 1 or 2 inspectors, who examine the cabin passengers. These men are confronted with 100 or 150 passengers at a time, and they have an hour and a half for an examination covering the period of time from touching at quarantine and landing at the dock. -1901
Inspection of Immigrants at Bremen - Norddeutscher Lloyd
On April 1, 1903, the Hon. L. M. Shaw, Secretary of the Treasury, promulgated to the consular officers of the United States, and to medical officers serving at any foreign port, the rules and regulations to be used and complied with by vessels in foreign ports, for securing the best sanitary condition of such vessels, their cargoes, passengers, and crew, before their departure for any port in the United States.
Inspection of Italian Emigrants Going to America on German and Italian Steamship Lines
The emigrants from here are chiefly of northern Italian origin. They arrive from their respective districts for the most part by rail. They are met on their arrival by the agents of the particular steamship line by which they are to sail and are taken to the office of the company. -1903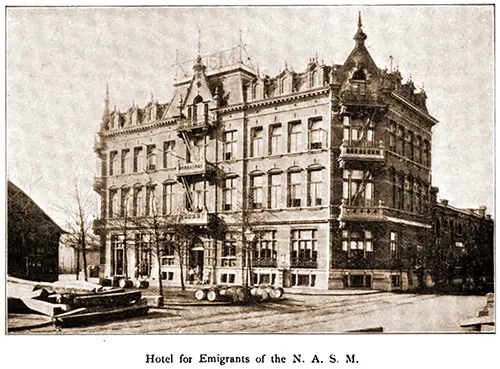 Processing Immigrants by the Holland-America Line
All emigrants for the Holland-America Line are met at the railway station and boat landing at Rotterdam by runners of the line, who conduct them, immediately upon arrival, per steam tug to the NASM Hotel, the emigrant hotel owned and controlled by the Holland-America Line and situated opposite to the line's wharf. -1903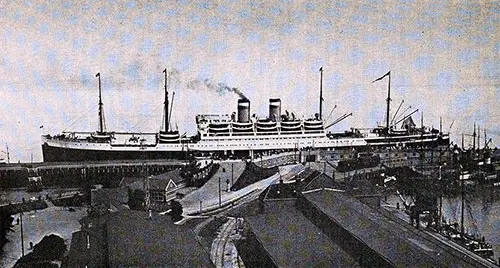 Inspection of Emigrants by the Hamburg America Line
At the said passenger halls, the final medical examination takes place. All emigrants pass the official emigrants' surgeon in single file. If not rejected, he affixes an official stamp "medically examined" to each ticket, passes the ticket, to which are attached the "vaccination cards" over to the baggage inspector, who then stamps the same with the official stamp of the office, "Passed, United States consulate-general, Hamburg," and returns the ticket to the respective emigrant. -1903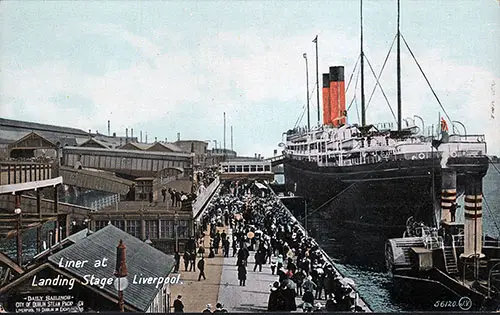 Inspection of Emigrants at Liverpool
When the steerage passengers get on the ship they have to undergo the real examination by the Board of Trade medical inspector and the ship's surgeon. -1904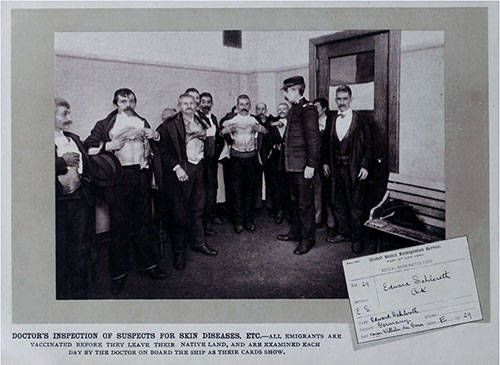 Immigration and The Public Health
Immigrants established years ago a reputation for bringing in epidemic diseases. They have played their part in the past in outbreaks of typhus, smallpox, and cholera, but with the disappearance of the old immigrant sailing ships. - 1905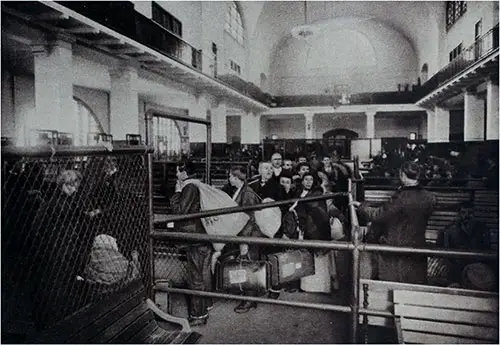 Inspection of Immigrants (1908-1911)
The photographs I took there tell their own tale, but the following narration gives an idea of the details of inspection. -1911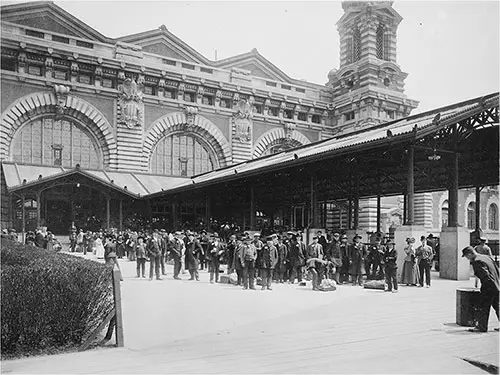 The Anomalous Quarantine Situation In New York Bay
New York is the important quarantine port in the United States and probably worldwide. For the last half-dozen years, the total number of alien immigrants to the United States has averaged nearly a million, and almost seven-eighths of them entered through the port of New York. -1912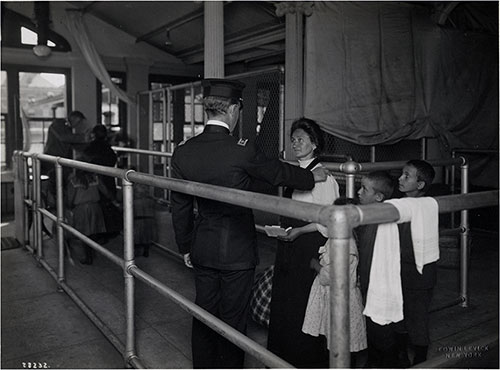 The Medical Side Of Immigration
Perhaps no question is of more paramount and continuing interest to the American people than immigration in all its phases and relations to public welfare. The history of the United States is the history of alien immigration. -1912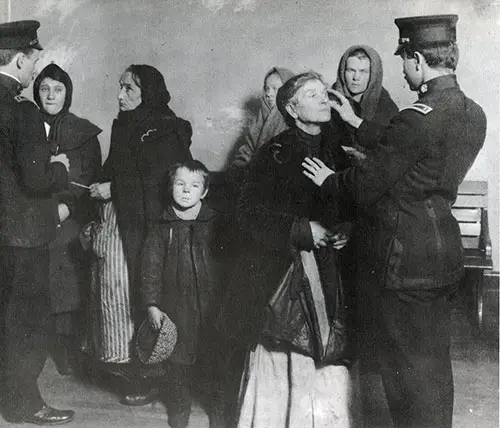 Scientific Medical Inspection At Ellis Island
The medical inspection of all immigrant aliens is performed by the Public Health and Marine Hospital Service at the 82 immigration stations of the United States and its dependencies. In the fiscal year 1911, there came through all ports of entry 1,032,649 immigrants, of whom 749,642 entered thru Ellis Island. -1912
Quarantine Procedure at The New York Quarantine Station
Upon the arrival of a non-infected vessel carrying passengers from cholera-infected ports, the ship is boarded, an inspection made, and a careful history regarding all illnesses that occurred during the voyage obtained. -1912
Immigration And The Prevention Of Insanity
No other country in the world is being as profoundly influenced by immigration as our own. There has been no human migration in history, which has brought 24,000,000 persons to this country from Europe, Asia, and Africa since the close of the Civil War. -1913
Medical Inspection Of Immigrants At The Port Of Boston
The medical examination is divided into two parts, primary and secondary. In the primary, the examiner's efforts are directed toward segregating from those presented those suspected of having disease, defect, or abnormality of any kind to enable the healthy to proceed without unnecessary delay. -1914
Mental Examinination Of Immigrants - Administration and Line Inspection at Ellis Island
The average immigrant remains at Ellis Island for two or three hours, during which time he undergoes an examination by the Public Health Service to determine his mental and physical condition and by the Immigration Service to find out whether he is otherwise admissible. -1917