Chocolate and Cocoa - Epicurean Pleasures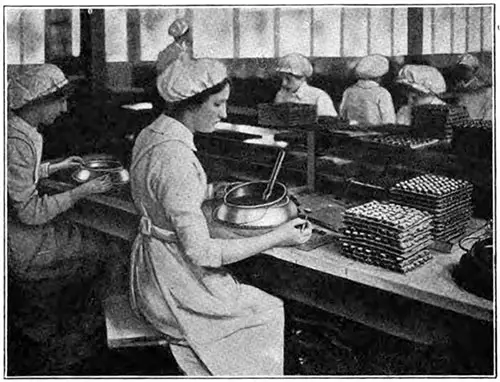 Covering and Dipping Chocolate Cremes, Etc. - Cadbury Bros. Factory © 1915 Coca and Chocolate
Cacao refers to the cacao tree, the cacao pod, or the cacao bean or seed. By the single word, cacao, and by implication, the raw product, cacao beans, in bulk.
Cocoa refers to the powder manufactured from the roasted bean by pressing out part of the butter. The word is too well established to be changed, even if one wished it.
As we later found out, it has come legally to have exceptional significance. If this method of distinguishing between cacao and cocoa were the accepted practice, the perturbation which occurred in the public mind during the First World War (in 1916), as to whether manufacturers were exporting " cocoa " to neutral countries, would not have arisen.
It should have been spelled "cacao," for the statements referred to the raw beans and not to the manufactured beverage. Had this been done, it would have been unnecessary for the manufacturers to point out that cocoa powder was not being so exported, and that they naturally did not sell the raw cacao bean.
Chocolate is given a somewhat broader meaning. It signifies any preparation of roasted cacao beans without the abstraction of butter. It practically always contains sugar and added cacao butter and is generally prepared in molded form. It is used either for eating or drinking.