At the Portals of America - Post War Ellis Island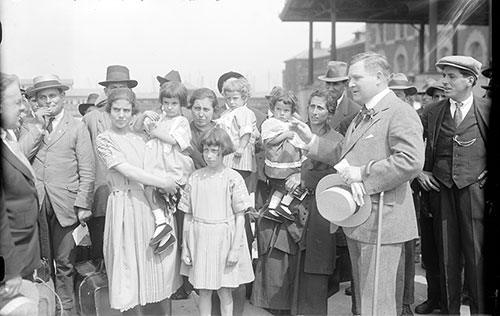 Frederick A. Wallis, Commissioner of Immigration Addresses Immigrants at Ellis Island 1921.
Geo. G. Bain Collection, Library of Congress
AT THE PORTALS OF AMERICA: The Hood of Brotherhood for Incoming Thousands at Ellis Island By EDWIN CARTY RANCK
A YOUNG Italian with a baffled look in his black eyes and all his worldly possessions in a bulging suitcase, had just landed from the Ellis Island ferryboat at the portals of America. He stood forlornly in the midst of the swirling stream of immigrants, equally forlorn. In one hand he held a soiled bit of paper and three ten-dollar gold pieces.
He was spotted by a voracious taxicab driver who ran his machine up close and looked expectantly at his prey.
"I wanta go dis-a place." said the immigrant, holding out the soiled paper to the chauffeur. "My uncle he live there."
The chauffeur glanced from the East Side address on the paper to the three gold pieces clutched in the fit of the immigrant and his eyes glowed.
"Surest thing you know. Get in and I'll take you to your uncle."
"Is it enough?" asked the immigrant dubiously, holding out the three coins.
"Just enough," said the chauffeur, and he pocketed the three pieces of gold, bundled the bewildered immigrant and his bulbous suitcase into the taxicab and drove him to the Fast Side address, charging him ten times what it was worth.
This is a true story of one immigrant's reception at the portals of America. But here is a more cheerful story : A ship-weary Spaniard stands in the vortex of humanity at Ellis Island.
By his side stands his wile, a young baby in her arms. She clings to her husband, frightened by the strange sights surrounding her, and her baby begins to whimper.
A young man steps up to the helpless foreigner. On the lapel of his coat is a white enameled button with a red triangle on it and the words: Y. M. C. A. IMMIGRANT Guide Service.
He speaks a few words in Spanish to the bewildered stranger within our gates and the man's tired eyes light up. Then a flood of words tumbles from his lips. He has found a friend at last who can tell him where to go and how to get there.
His address is found and the guide takes him from Ellis Island directly to the address given and delivers him safely into the hands of his friend or relative. Before the guide releases his responsibility, however, he must receive a signed statement that the immigrant is safe at last.
This is the sort of work that is being done every day by the recently organized Association Immigrant Guide Service that is helping Commissioner of Immigration Frederick A. Wallis to solve some of the complex problems that have followed the daily inundation of Ellis Island by thousands of immigrants.
These red triangle guides can converse with the immigrants in the Spanish, Italian, Greek, German. Slav, Armenian, Portuguese, Czech. French, Polish, Arabic, Hebrew, Turkish and forty more languages or dialects. They are waiting with outstretched hand, ready to give the arriving immigrant a human welcome and initiate him into the mysteries of Americanism.
These men are daily saving the immigrant from the clutches of the harpies who are lying in wait to separate him from the money he has slowly gathered to come to America and keep him until he finds employment.
Twelve of them are now engaged in this work, most of whom have seen service in the American or Allied armies. They are all linguists and combine a knowledge of sixty-two tongues.
Every day they guide hundreds of immigrants to their respective destinations. merely charging them the actual rock-bottom expenses.
When one stops to consider that three thousand immigrants are arriving at Ellis Island every day and that the actual facilities are only adequate for half that number. it is easy to picture the congestion and bodily discomfort of these foreign knockers at our gates.
It was partly to relieve this congestion by the rapid distribution of the immigrants from Ellis Island to New York that this Association Guide Service was organized early in October, and during the last six weeks the guides escorted 3,372 immigrants to their destinations.
An attractive young Polish girl arrived at Ellis Island the other day. She had relatives in New York and was anxious to find them. An Association guide who spoke Polish volunteered to take charge of her and see that she reached her destination safely.
So he escorted her to the ferry boat. On the way over she plied him with questions about this wonderful America that had been for so long the Mecca of her dreams.
As they stepped off the ferryboat hard-faced, a flashily dressed man walked up to the girl with an air of assurance and took her by the arm.
"This is my wife." he said to the Association guide, "I will take charge of her.'
The Polish girl shrank back and the guide looked narrowly at the stranger.
"Do you know this man?" he asked her in Polish.
"1 never saw him before in my life," she gasped.
"If you don't make yourself scarce.' began the Association man, but he did not have to say any more. The hard-featured harpic slunk away and vanished in the crowd.
The Association guide was not satisfied until he saw her in the embrace of her sister in a walk-up apartment on Bleecker Street.
ONE guide recently had the most strenuous experience of his guiding career when he undertook to see that a young Italian, aged thirteen, who had been detained in one of the Ellis Island hospitals with scalp disease, was reunited with his frantic parents, who had already found quarters far out in Harlem.
All went well until the train was more than half way to its destination and then the guide discovered that his youthful charge had vanished. A search of the train failed to disclose him.
Now these guides are required to fill out a printed slip which is numbered and dated, with the name of the charge, his address, the name of the person in whose care he is placed, the district and the amount paid in transportation.
He signs his mime to this slip and a duplicate of it is kept by E. I.. Ernes, who is in charge of this work at 11 State Street. New York. So, when the small Italian gave the guide the slip. the Association man knew it was up to him to recover the youngster and deliver him to his parents as per contract.
It was an all-day job to locate that elusive youngster and the Association man Lad to do some first-class detective work [doer he obtained a clue to work upon.
First he went all the way out to Harlem and talked with the distracted parents. But they casually mentioned that the 'bambino" had an uncle who lived somewhere in Brooklyn. After looking through their letters, the guide found an address and then hiked to Brooklyn.
There his long search was rewarded by the sight of the missing "bambino" safe in the home of his uncle. He had a scrap of paper with his uncle's address on it and, chafing under chaperonage, he had slipped off the tram and gone adventuring by himself.
It wasn't hard to find my way to Brooklyn and my uncle's house," explained the -bambino," "Why, there are as many people who speak Italian in New York as there are in Italy."
So the guide had to go back to Harlem Oh the independent young Italian. And he watched him like a hawk until he was restored to his grateful parents.
THAT one-half of the world never I knows how the other half lives is as true today as it ever was. M. bile the masses go up and down every day on Fifth Avenue and theater-goers swarm along Broadway in search of amusement, Ellis Island, in the shadow of the Statue of Liberty, only half an hour distant from Forty-Second Street and Broadway, is a world in itself, populated by all the races of the earth.
There hundreds of humans, friends and relatives of arriving immigrants, stand for hours in a fenced/ waiting room, their faces pressed against a wire screen, looking for all the world like human flies, waiting for the ships to come in loaded with human freight. In the steerage of these arriving teasels are their loved ones for whom they watch with a patience that is poignant affecting.
Then comes the onrush of immigrants, thousands of them, bewildered, helpless. "like dumb driven cattle" entering a great stockyard for human beings. Pandemonium reigns for a while until the systematized efforts of the immigration authorities begin to bring order out of chaos.
Into the inspection room pours the stream of immigrants. Some of the immigrants and their children are sick : they need hospital attention. Frequently heart-rending scenes are witnessed when children must be separated from their parents and kept in the Ellis Island hospitals, sometimes for days, until they are sufficiently well to be restored to their worried parents.
Here is work cut out for the Association Guide Service. In and out the guides go among these swarming strangers from the ends of the earth. A babel of tongues makes the task more difficult, but these trained guides are equal to the task and it is not long before the newcomers are being rounded up and started on the road to American citizenship.
Each one of these immigrants has his own little story of hardships endured and sacrifices made in order to cross the ocean to America—the Promised Land. Some of these stories would bring tears to the eyes of any man or woman with a spark of human sympathy. And they are all so childlike in their utter naivety; so certain that America is going to prove the panacea for all their ills!
But the New York City Association Guide Service does more than merely escort these arrivals to their destinations. It is its duty to glean from these immigrants their stories and devise means for aiding them.
For instance, it frequently happens that a guide takes an immigrant to a certain destination only to discover that the relatives have moved to another city or, perhaps. are dead. In such instances the bewildered young man is taken to the Bowery Association, where he is provided with a lodging at a minimum cost until something can be done about his case.
(NNE man arrived recently and learned that his relatives had moved to Los Angeles. lie was in despair when told that all the money he had would not take him to California, but was eager to go to work until he could earn enough to make the journey.
So he was lodged in the Bowery Association and his case was taken under advisement. Work was found for him and, as his was a most deserving case. the Association secured for him a cut-rate ticket to California.
With this help he managed to scrape up the railroad fare and departed happily for California and his new life. Another immigrant, who had expected to find his sister and brother-in-law in Brooklyn, discovered upon his arrival in that borough that they had moved to Cambridge.
The Association wired to the address and was instructed to send on the homesick immigrant at once and his sister would meet him upon the arrival of the train in Boston. So the guide helped him to get the ticket, put him on the right train and sent him on his way.
It may be seen from these cited cases that the Association immigrant guide must he, first of all, a sympathetic student of human nature with the ability to make quick decisions and above all must be of unimpeachable honesty, as the immigrant seems to feel that he mast be ever ready to pay for any service rendered, and many occasions arise where the guide has opportunity to receive tips.
The receiving of such gratuities means instant dismissal from the Guide Service. He must also know New York like a book in order that no time is wasted in getting the immigrant to his destination quickly.
When one adds to these qualities a speaking knowledge of half a dozen languages, it is no exaggeration to say that the guide is a rather extraordinary' fellow.
Many a man is holding an important diplomatic position abroad with far fewer qualifications. Indeed, the guide it a diplomat, because he must be possessed of infinite tact, patience and self-control in order to deal with the multitudinous problems that are part of the day's work.
Sometimes as many as six or eight vessels are waiting with immigrants who trust first be examined at Ellis Island before thousands of coming Americans can land in New York. It is estimated. by the way, that ninety percent of the males fought in the various Allied armies during the World War.
One has but to look at them to realize that they are a far better type of immigrant than those who formerly came to this country. They have in them the making of good Americans.
So that, after all, this Association Guide Service is something bigger and liner than just taking immigrants to their destinations. It is the first step in the Americanization of the alien within our gates who is the American of the future.
These men who enter the front door of the United Stales are being guided in the paths of idealism and good citizenship marked out by great pioneers. One such pioneer was Theodore Roosevelt, who constantly preached this doctrine with all the sincerity and picturesque force of hi, rugged personality.
Here is what he once wrote on the subject :
"From his own standpoint, it Is beyond all question the wise thing for the Immigrant to become thoroughly Americanized Moreover, from our standpoint, we have right to demand It.
We freely extend the hand of welcome and of good fellowship to every man. no matter what his creed or birthplace. who comes here honestly intent on becoming a good United !stales citizen like the rest of us: but we have a right and It Is our duty to demand that he shall Indeed become so, rind shall not confuse the Issues with which we are struggling hi' Introducing among old World quarrel. and prejudices.
"There are certain Ideas which he must give up. For Instance, he must learn that American life Is incompatible with the existence of any form of anarchy, and he must learn that we exact full religious toleration and the complete separation of Church and State.
Moreover, he must rot bring in his Old World religious, race and national antipathies, but must merge them Into love for our common country, and must take pride In the things which we can all take pride In. He must revere only, our flag: not only must It corm- first, but no other flag should even come second."
Those were Theodore Roosevelt's ideas on the subject and it is those ideas that the Association Guide Service tries to inculcate in the minds of the immigrants who land on Ellis Island.
In order to further this Americanization plan, the Association has motion picture entertainments for the newcomers in the island's big auditorium. The pictures are of an educational nature and teach the immigrant what is expected of a loyal American citizen.
They are thus prepared for other lessons in Americanization that they will have to learn later in the rough school of everyday experience. It is only fair to mention the names of those who are directing this inspiring work at Ellis Island.
George Warwick, who was overseas with the "Y" during the war, has had charge of the organization work on the island from the start, and associated with him is Miss Gertrude Lawrence, formerly of the Women's Motor Corps of America, who was also an overseas Association worker.
The headquarters of the Guide Service 4 on the first floor of No. 11 State Street, and the work there is in the capable hands of Edward L. Emes, who was physical director at Pelham Bay Naval Training Station at Fort Schuyler, and later salvage director at both Eagle and Victory huts. Before tackling this immigration job he was with the New York Public Service Commission.
All of this experience has proved invaluable in directing the guide work at the New York end of the line. His assistant is Miss Maud Murray. formerly of the Fort Slocum staff.
They are in active cooperation with the Association forces on Ellis Island. and the results achieved up to date have more than justified the hope that the Service may become a permanent force in the nation-wide movement to turn raw immigrant material into American cloth all wool and a yard sale.
Edwin Carty Ranck, "First Steps on American Soil", Official Magazine Of The North American Young Men's Christian Association, Volume XLVI, Number Five, January 1921.