New Regime At Ellis Island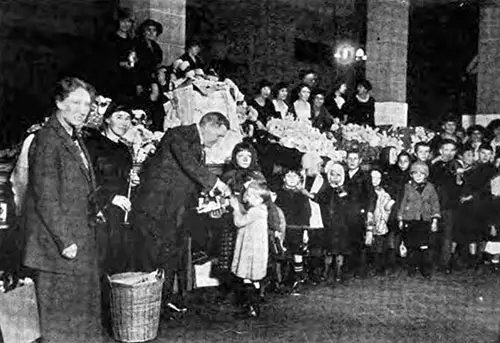 Commissioner Wallis and Immigrants at Ellis Island at Christmas
There was a time when immigrants got pretty much the same treatment as cattle, herded along from one inspection to another, kept standing in line for hours or waiting all day long in crowded, badly ventilated rooms, —which isn't at all the beet way to get a first impression.
But the future citizens in these photographs, detained at Ellis Island over a Sunday, are developing their new patriotism in advance under the stimulus of a popular concert out-of-doors. Five thousand immigrants a day is the average of arrivals at Ellis Wand now, material of enormous possibilities or dangers, according to the way in which Americanization is carried out.
From Ellis Island one can see the radiant statue of Liberty and the skyscrapers of New York piled like a dream city against the horizon. Rut more than the dream of a sweet land of liberty" is needed to make the immigrant into a good American.
The new Commissioner of Immigration has announced his intention of making the work at Ellis Island constitute a real contribution toward the Americanization of our immigrants. By showing them the best brand of United States courtesy and recognizing their need for individual consideration Commissioner Wallace hopes to make the incoming "foreigners" feel an interest and responsibility in America at the very start.
The Independent, "The New Regime at Ellis Island", No. 3736, Vol. 108, September 11, 1920, Independent Corporation, New York, P. 305