Face To Face - Students Observe The Immigration Process At Ellis Island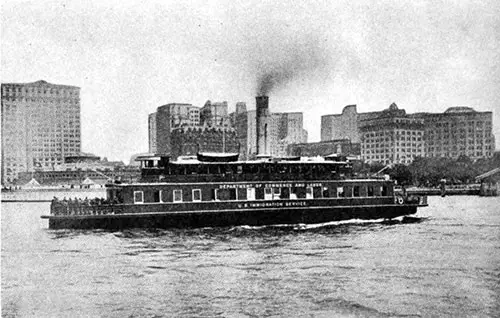 They had gone down from the Battery to Ellis Island—these thirty-five girls from an eastern college—on the little vessel that carries into the United States more aliens than any other afloat.
On the lower deck had been many of swarthy face whose broken English proclaimed them here for a time more or less short. Their eager eyes and animated manner bespoke their errand. No academic students of immigration they, themselves had come into our country not so long ago, half uncertainly, on that very same boat.
Now, full of assurance, they faced Ellis Island to greet those to whom the separation had been long—fathers and mothers, children, sweethearts,—for the reunion meant in many cases a new home as well as a new land.
Looking down from the upper deck upon this motley and noisy gathering, the college girls had been discussing the "hordes of undesirable immigrants."
Yes, they had voted wisely at the recent debate on the question of immigration, when they had decided there should be more bars to keep out the immigrant. They were now proving their theory.
Courteously they were received and shown through the various departments of the huge establishment in New York Harbor where Uncle Sam's deputies, with swift and discriminating precision, sift the applicants for admission to his domain.
At last they sat in the Commissioner's room. He was passing judgment on the cases which, debarred by the judges, appealed from the sentence of deportation. The guests rejoiced that here at least they would see admission refused to aliens who from the first should have stayed at home.
A man entered. The record showed he had come from Italy to join his son in Virginia, with whom the officials had vainly tried to make connection. The man was sixty-three years old. Probably in a land with strange customs and climate, with all the competition of young life, a man past three score would fall by the way.
Therefore, as all are excluded who seem likely to become a public charge, it was decreed that he should that day—after six clays' fruitless waiting to hear from the silent son—be returned to Italy by the ship on which he had come.
Was there an error in the record? An interpreter's aid was invoked. Question and answer elicited the facts as already stated. The interpreting of question and answer went on. "And you believe you will hear from your son?" the Commissioner asked. "and so you want me to say you may wait here longer?"
"That is just what I want."
"Suppose you do not hear from your son at all?"
"But I surely shall hear from him."
"Suppose, however, you should hear nothing." persisted the Commissioner, "do you suppose you could earn your own living here in America?"
The old man had been asked many questions by many people, and he had been half shy and always respectful. Respectful he still was, but with a self-respecting gesture of independence came the answer.
"No man has ever been asked to do anything for me. I can earn my own way anywhere."
"But America is full of strong young men. What chance would you have among them?" Again the man's head was erect and his frame tense.
"I may not be as strong as I was thirty years ago and I may not be able to do as much as men half my age. But I can still do a man's work. I can earn my living anywhere."
"You are sixty-three?"
"Yes."
"Well, what made you leave your country at your time of life and come to a strange land? Why didn't you stay at home where you were well enough off? Tell us."

Irish Immigrant Family - One of the Immigration Commissioners is on the Left.
The Commissioner was asking wisely: why had not the old Italian stayed in his own country and saved all this fuss? The college girls listened to hear his answer.
"I'll tell you. I lived in a little place in Italy. I had married my wife there. It had always been her home. There came to us one son. We three lived there and worked together and were happy."
The shadow on the old man's face deepened, and his figure became more bowed. "But eight months ago." he went on, "my wife died. Our boy said after a little, he couldn't stand it any longer there without his mother.
Everything spoke of her. He said he was going far away to some other place,—bigger, with more things to do,—since she was gone. So he went to America. I was left alone. Four months ago I heard from him. He was in Virginia, doing well.
He sent me a ticket and wrote me to come. He was earning two dollars and a half a day and he could take care of me and we could be together in a new home. So I came. And I know he is waiting for me."
"But why does he not answer our telegrams?"
"I do not know. But he will."
"We have telegraphed four times already."
"Yes."
"How do you explain it?"
"I do not—cannot."
"Maybe he has forgotten you?"
"Oh, no! He would not forget his father —he could not forget!"
"Why, then, does he not reply in any way?"
A strange look of mingled assurance and doubt, with the assurance uppermost, was on the father's face.
"Oh, perhaps his work took hint away, far away, for some days. Maybe Saturday night he will come back and get one—two—three four telegrams, and then you will hear from him. But he has not forgotten me. He could never forget me."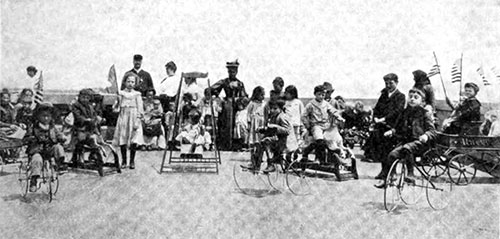 Children Play on the Roof at Ellis Island
Hurriedly a messenger came to the Commissioner. The father's heart had divined the truth. When the young Italian had the word that his father was at Ellis Island he trusted no uncertain device of steam or electricity, but came himself in hot haste, fearful lest he should be too late to keep his father from the threatened return. "Bring him at once."
The Commissioner's words were English and carried with them no meaning to the father whose faith was so near its reward. The young man came in and, obeying a gesture from the Commissioner, stood directly behind his father, who had not seen him enter.
Again question and answer brought out the story of the unshaken trust of that father's heart in the son whose silence might have any other interpretation save that he was either forgetful or uncaring. And then the Commissioner asked.
"Would you know your son?"
"Oh, yes !"
"Would you know hint here?"
"I would know him anywhere,—I would know hint among a million !" And so he would. "Look around in this room and see if there is any one like him."
Bewildered as he saw only the Commissioner and interpreter with the bevy of girl guests, the old man protested that his son was not hidden among the young ladies. "But look all around the room. Do not stop until you have looked everywhere." urged the big-hearted, father•hearted man in the official chair.
And so from side to side he turned till—led by the others' glances—he turned completely round and found himself face to face with his son. Neither spoke. Swiftly their hands were locked. Slowly their arms were extended until They stood close, and kisses and sobbing at last gave expression to their steadfast love. "My son! my son! my own son!"
Over and over the father said it as, long ago, the love of Israel's king for a less worthy son was measured by the same words.
And as the young ladies filed out of the room they were less sure than when they came that the vote of the college on the subject of immigration had been right.
"Face to Face," in The Assembly Herald, Volume 14, No. 1, January 1908, pp. 25-28