New Immigrants Spend Christmas At Ellis Island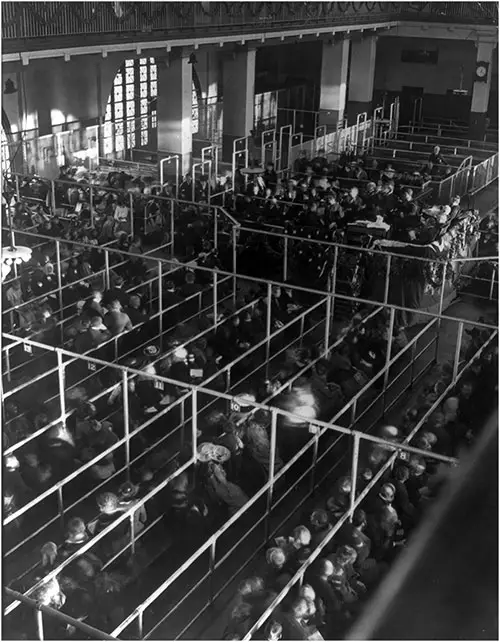 Emigrants in "Pens" at Ellis Island, New York, Probably On or Near Christmas (Note the Decorations). Photograph shows room filled with immigrants sitting in numbered pens. c1906 Underwood & Underwood. Library of Congress # 2012646352. GGA Image ID # 1483f97a23
New Immigrants at Ellis Island, New York, probably on or near Christmas -- note the decorations on railings near top [LOC]
EVERY Congregationalist has heard the name Ellen Stone and remembers the year of her exile, and the excitement caused by the raising of the ransom; the wonderful return with Madame Sitka and the baby born in captivity has hardly ceased to be the subject of conversation.
Magazines have devoted columns to editorials, remarks friendly and sarcastic as to the value and expense of missionaries are still being made by. a critical world. Miss Stone never tells the story herself, or refers to the experience without expressing the greatest anxiety to return to her girls, that company of attractive, promising Bulgarian maidens, just emerging into the joy and freedom of Christian womanhood, because she introduced them to that wonderful message.
Christmas Eve found sixteen hundred immigrants detained at Ellis Island. Some were waiting for friends who had not appeared, some were penniless, some were ill, families had been separated because of the measles, which, like an evil spirit, had taken possession on shipboard.
One mother, a Russian, who could neither read nor write, had seen her husband and three children start for Nebraska, while she, with the two youngest, was taken to the contagious ward. Some could not pass the Government examination. The fatal chalk mark on the coat sleeve meant "excluded" and the next ship would take them back. There were many and various causes all combined to bring under one roof a company representing every nationality in the world.
The Government and the missionary world joined hands to make the whole day a truly Christian Christmas. Nine trees, brilliantly lighted, decorated in the most approved Santa Claus style, greeted brown eyes and blue, eyes sad, expectant, frightened and excited.
A program of music and speeches in various languages had been arranged by Commissioner Watchorn, and, while most of it was unintelligible to the visiting guests, people all over the room would suddenly rise when the words of their mother tongue floated down from the central stand.
The children were delighted with the light and the color. Many had never before seen a Christmas tree. But the enjoyment was quiet and subdued, for America is a very strange place, and Ellis Island is all surrounded by water; still it does not rock like the ship. One never can tell what is going to happen.
Many an older face, strong in the faith that found courage to leave home, friends and countrymen, sustained by the hope of better opportunities for their children, quivered and sobbed quietly when the music stirred memories that courage could not crush. The distribution of presents came last.
Everyone from the tiniest baby to the oldest man received a gift, candy, oranges, toys, soap, handkerchiefs, etc. Not one was overlooked or passed by. Over on the other side of the Island, in the corridor of the hospital, was another tree laden with gifts prepared by loving hands, for some who were too ill to be moved, and the tree was placed where tired eyes could see the beauty day and night.
The simplest toy seemed glorified in such surroundings. Three days later that tree remained unstripped, for a dolly or a teddy bear would some times journey to a little cot for a short visit, then return to its place of honor, ready to sally forth when the pain was not so severe.
What does Christmas mean at Ellis Island? What will it mean to this company one year from now? One year from now many of these men will be voting, the children will have learned English and what else? What has this to do with Miss Stone?
Why, simply this, America has already drawn a dividend on an investment. There is a Congregational missionary at Ellis Island, interpreting in many languages, helping at every turn. She dressed one of the trees, she helped distribute the presents. She has a faith, a courage, a steadfast. purpose that shrinks at nothing we term self-sacrifice. She is the only native Bulgarian. She is there because of three separate influences.
Years ago the women of the congregational churches sent Miss Stone to Bulgaria as a foreign missionary. This is one of her girls. One year ago there was a curious complication of circumstances at Ellis Island, and Commissioner Watchorn searched and searched and searched for somebody who understood the Bulgarian tongue and temperament.
He found Miss Panayotova, and the case was settled. Afterwards she gave up a college position and offered her services for the benefit of her people. Six months ago her salary was assumed by the Congregational Horne Missionary Society, and to-clay we turn to you, the women of our Congregational churches, for the funds necessary.
It is a new work, but we believe that Miss Stone's heroism and Miss Panayotova's faithfulness will find an echo in the generous hearts of many women who can neither go nor serve, but are enrolled in that noble army whose leader years and years ago was announced thus: "The daughter of Tyre was there with a gift."
Woodberry, M. L., "Christmas at Ellis Island," in The Home Missionary, Vol. LXXXI, No. 9, February 1908