How Many Immigrants Came Through Ellis Island?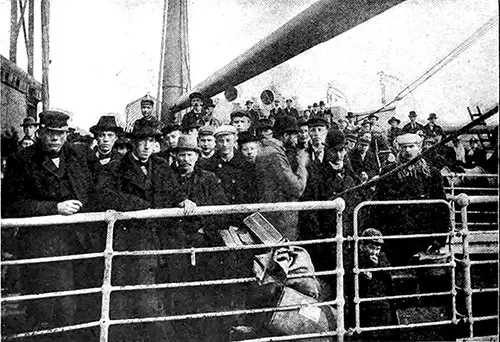 Immigrants on Deck of an Ocean Liner Just Before Landing in the United States. Lessons for Junior Citizens, 1906. GGA Image ID # 147b8ae873
Readers of this report are likely to ask: "How many immigrants entered the United States through Ellis Island?" The writer does not know. His first off-hand estimate was about 16 million, based on the total of immigrants received at the port of New York from 1890 to 1932. Sidney Berengarten, in his study of Ellis Island, made in 1934, gave this total as 15,890,973.
Using the same printed sources, the writer gets a slightly larger but not materially different total. After 1932 very few immigrants passed through Ellis Island except during the latter part of 1950.
The trouble with this estimate, it soon became apparent, was that a great many immigrants who arrived in New York during the period before 1932 also did not pass through Ellis Island. Ellis Island and the Port of New York were never synonymous terms in the physical reception of immigrants. However, they were compatible with the Immigration Service administrative terms.
During the fiscal year 1890, in which the Federal Government first assumed responsibility for immigrant reception at New York, 209,872 immigrants came through Castle Garden and 118,819 through the Barge Office.
None were received at Ellis Island, where the immigration station was only in the planning stage as the year closed. All the 405,664 immigrants received at New York in the fiscal year 1891 came through the Barge Office, as did those coming during the first half of the fiscal year 1892.
Again, after the fire of June 1897, Ellis Island was closed, and immigrants were received at the Barge Office until the middle of December 1900. As the monthly reports have long disappeared, no precise calculation can be made. Still, it is evident that nearly two million immigrants received at the port of New York from 1890 to 1900 actually came through the Barge Office rather than through Ellis Island.
Cabin passengers, aliens as well as American citizens, were ordinarily landed directly at steamship piers during the whole of Ellis Island's history as an immigration station.
Some of the alien cabin passengers were visitors, some were in transit to Canada, but most of them, at least until well into the 1920s, were immigrants, just as were the steerage aliens who were automatically sent to Ellis Island, and were counted in the statistics of immigrants received.
Rough Estimate
While the printed annual reports do not ordinarily indicate how many cabin class aliens there were, and very few of the original manuscript reports can now be found, it is possible to make a rough calculation of their numbers. The printed annual report for 1905 is specific to the point. There were examined at the port of New York in that year 821,169 aliens.
"Of this number 98,428 were examined onboard ship—they being cabin passengers. Of the number of cabin passengers thus examined, 2,982 were detained for further examination at Ellis Island."
In other words, 95,446, or 11.6 percent, of all the aliens arriving at New York in that year did not go to Ellis Island at all. Whether this was a typical year in this respect is not known. Still, it seems safe to say that 10 percent of all aliens arriving in New York during the entire period from 1890 to 1932 landed directly at the steamship piers as cabin passengers. A further deduction of about 1.4 million should, therefore, be made from the preliminary estimate.
During most of the calendar year 1918 and the first half of 1919, when the Army and Navy were occupying Ellis Island, the examination of all alien arrivals in the port of New York was conducted on shipboard. Although immigration was at a low ebb, this calls for another deduction of possibly 40,000 from the preliminary Ellis Island estimate.
Quota Law of 1924
During fiscal years 1925-1932, in which a total of 1,001,290 immigrants are listed in the official reports as arriving at the port of New York, a rapidly decreasing percentage of aliens arriving in all classes was sent to Ellis Island.
The quota law of 1924 had provided machinery for examination overseas, and the vast majority of immigrants were landed at the piers.
The new examination procedure was rapidly improved and extended. Eventually, only about one percent of immigrants arriving at New York were sent to Ellis Island. Assuming, however, that as many as 10 percent were cleared through the island between 1925 and 1932, a further deduction of about 900,000 must be made from the original estimate.
These deductions total 4,340,000, leaving a figure of 11,660,000 bona fide Ellis Island immigrants. This figure is, of course, based on a number of guesses and is presented for whatever it may be worth. One further confusing factor might be mentioned.
Earlier reports listed "Immigrants Received," or "Immigrants Arrived." Later reports spoke of "Immigrant Aliens Admitted." These terms do not mean the same thing, though they have commonly been accepted as such.
Note: This was included as a footnote in "A Report on Ellis Island as an Immigrant Depot, 1890-1954," written by Pitkin for the National Park Service in June 1966.
Thomas M. Pitkin, "How Many Came Through Ellis Island?" in the INS Reporter, US Immigration and Naturalization Service, Washington DC: US Government Printing Office, Vol. 34, No, 2, Spring 1986, p. 14.