At Ellis Island - A Poem For A Loved One - 1900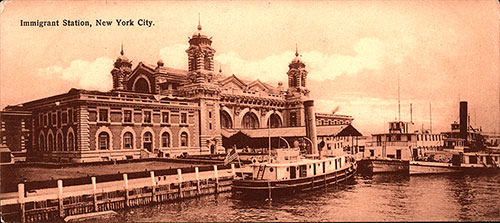 Ellis Island Immigrant Station, New York City Postcard. The Rotograph Co., New York City # 82b. Printed in Germany. nd, Postally Used 8 July 1909. GG Archives Immigration Postcard Collection. GGA Image ID # 14f5452032
At Ellis Island
She's left ould Ireland, ashtore,
She's sailed across the sea—
This day I'll see her step ashore,
Oh, happy day for me!
Small wonder, then, this Irish boy
Is thrimbling through his skin,
An' in a fever heat wid joy
To see his ship come in.
Heart of my heart, it 's far apart
For two long years we've been,
But the time is past, and now at last
You've come to me, Eileen.
Long have I toiled and striven
To see this blessed day,
When she to me 'd be given.
Cruel was the long delay;
I made a home and sent for hcr,—
My prayers 'tween her and harm—
And, see! she stands to greet me, sir,
Her bundle on her arm.
Life of my life, my darling wife,
Long has the parting been;
But 'cross the sea you 've come to me,
Mavoumeen, my Eileen.
Olde Love and Lavender and Other Verses By Roy L. McCardell, New York, Godfrey A. S. Wieners, 1900