Conditions for Receiving Immigrants at Ellis Island Revolutionized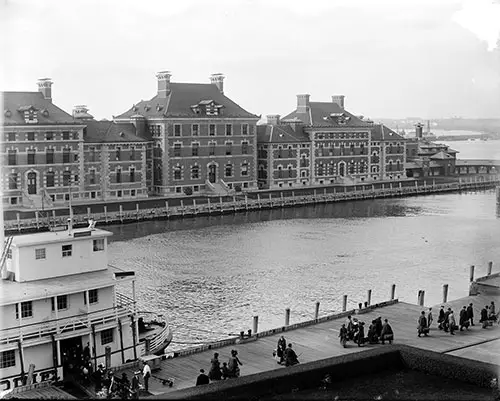 The United States Bureau of Immigration Volunteer Advisory Committee on Immigrant Welfare, in cooperation with Commissioner Robert E. Tod, has practically completed a thorough survey of Ellis Island with the result that conditions under which immigrants are received and detained at that station, will be largely revolutionized. The committee's unanimous recommendations, which Commissioner Tod will put into effect immediately. are as follows:
The appointment of an official Director of Information, who, under the immediate direction of the Commissioner, shall have complete charge of all welfare work at the Island. Ample financial provision has been made for this service.
The appointment of interpreters, speaking several languages and having training in social work, for service among immigrants awaiting inspection, during which time, for obvious reasons, they are not allowed to communicate directly with friends.
The development of a plan for the systematic interchange of permissible information between detained immigrants and their waiting friends, and for keeping families advised as to the condition of members who may be in the hospital.
That separate and greatly improved day and night quarters be provided for women with young children, with a trained dictician in charge of children's feeding.
That representatives, after they are duly examined, of private welfare organizations authorized to work at the Station may, under the direction and supervision of the official Director of Information, assist in general welfare work among immigrants.
That three separate religious services, Catholic, Jewish and Protestant, shall be held on Sundays, with occasional services for other groups if needed.
That when aliens are debarred and deported the reason therefore shall be explained to them, and when .practicable to interested relatives or friends.
That some welfare workers shall be on duty at all hours rather than during the day only as at present.
At the present time, no organized information or welfare service is available to arriving immigrants until their examination is completed, and if they are held for examination by boards of special inquiry it is frequently necessary to detain them for several weeks apart from the public.
Under the new plan, official interpreters will meet arriving aliens when they embark from the ships to the barges, which convey them to Ellis Island, and information service will be available during the entire period of their detention at the Island.
In the past immigrants coming to the Island from ships have been detained in the barge, which brought them pending medical inspection; but, under the new arrangement, they are taken from the barge to commodious and comfortable receiving rooms in the main immigration building while awaiting medical examination.
Official interpreters will also be on duty in the receiving rooms. Formerly milk and crackers were provided only to small children, but are now served to all women and children in the dining room at meals, and in the detention quarters between meals and at bedtime. A night steward has been added to the commissary force to supervise this service.
Through a rearrangement of space, the large room on the ground floor of the main building now used as a railway ticket office and money exchange will be utilized as day rooms for detained women with children.
The room will be equipped with conveniences for the care of children, and both mothers and children will have easy access to the recreation grounds, which will be equipped as a playground.
Other large outside rooms adjacent to extensive porches overlooking the bay will be available as day rooms for other immigrants so that all who are detained for any length of time will have comfortable and pleasant day quarters with access to out-of-door recreation spaces.
A large outside room is to be equipped as a dormitory for women and children who are now obliged to occupy the general dormitories in which all immigrants sleep.  When the plan outlined has been put into effect, the conditions under which immigrants are detained at Ellis Island will be immeasurably improved.
The work of the advisory Committee will extend to other ports of arrival, and to an investigation of conditions under which immigrants are carried to destinations in the interior, with particular reference to several of the principal railway transfer points, such as Pittsburg and Chicago.
Source: "Welfare Work at Ellis Island: Conditions for Receiving Immigrants Revolutionized." In Lutheran Woman's Work, Volume 15, Number 6, June 1922, Page 184-185