Cunard Daily Bulletin - 1912 Summer Number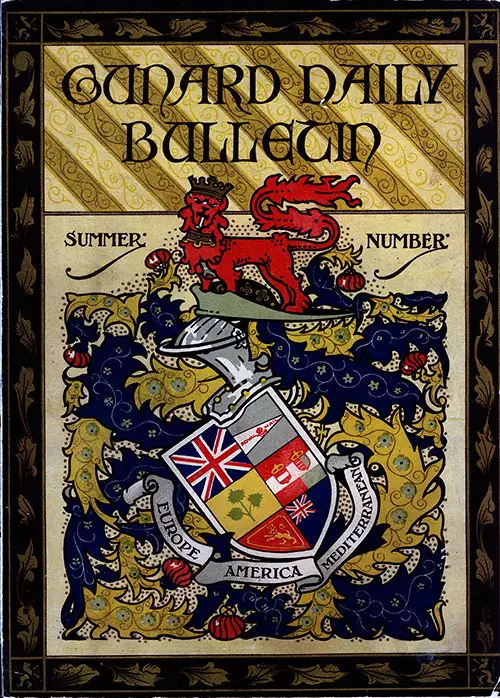 Front Cover of the Cunard Daily Bulletin Summer Number for 1912. GGA Image ID # 1019202311
Featured Articles include: A Japanese Girl Painter of Genius: The Story of Miss Wakana Utagawa and her Art; The Adventuress -- A Short Story By J. J. Bell and A King in Babylon -- A Short Story By Alice and Claude Askew. Several illustrated Women's Fashion Articles are also included.
Contents:
Cunard Offices and Agents
Frontispiece, "Water Carrier in Alsexandria"
A Japanese Girl Painter of Genius
The Story of Miss Wakana Utagawa and her Art
The Adventuress
A Short Story By J. J. Bell
"Better Things"
A Poem by George MacDonald
Cunard Supplement
Homeward Bound: Illustratiojn from a Painting by Bernard F. Gribble
Flags of the H.L.J.W. Lusitania
Flags of the H.L.T.Q. Mauretania
Map of Liverpool Bay
Cunard Captains with Photographs
Building the Aquitania
Preparing Wooden Model
Bottom of Ship in Early Stages of Plating
Looking Forward
Inner Bottom, Looking Aft
Life on a Cunarder (Through Photographs)
Photograph: RMS Lusitania Entering New York Harbor
Photograph: RMS Lusitania at Landing Stage, Liverpool
Three Photographs of Coaling the Mauretania
The Landing of Columbus: Illustration from a Painting by Bernard F. Gribble
Wooden Paddle Wheels to Quadruple Screw Turbines
RMS Britannia
RMS Persia
RMS Russia
RMS Servia
RMS Campania
RMS Franconia and Laconia
RMS Lusitania and Mauretania
A Fight Between Blake and Von Tromp, Admiral of Holland: Illustration from a Painting by Charles Dixon, R.I.
Some Beautiful English Gardens
By H. H. Thomas
"Ireland Long Ago"
A Poem by Katherine Tynan
A King in Babylon
A Short Story By Alice and Claude Askew
Cunard Sailings
The Vanguard of Fashion
By Azeline Lewis
In the Path of the Purchaser
"Forbearance"
Ralph Waldo Emerson
Places to Visit
A Few Hints That May Prove Useful to Tourists
Cricket Fixtures
Two Magnificent New Cunard Steamers -- Franconia and Laconia
List of Advertisers
Hotel Metropole, Brighton
The Irish Linen Stores, London
Paquin, London, Paris and Buenos Aires
Hunt & Roskell, Ltd., London
MacDougall and Company, Ltd. - The Royal Clan Tartan Warehouse, London
Lacon & Ollier's Opera, Theatre & Concert Tickets, London
Waldorf Hotel, London
The Irsh Warehouse, London -- The Depot for Irish Peasant Industries
Great Eastern Railway -- The Cathedral Route to The North of England and Scotland
Regemt Hotel, The Premier Hotel of the Midlands
Isle of Man Steam Packet Co., Ltd.
Booth Line
St. Petersburg Hotel, London
Hotel Adlon, Berlin
W. Turner Lord & Co, London
John Wight & Co, "Scotch Goods Specialists"
Konski, London - Ladies' Tailor, Court Dressmaker, and Furrier
Cunard Line Travellers' Cheques
Turner & Dunnett, General Printers, Liverpool
The Goldsmiths & Silversmiths Company, Jewellers, London
Grafton Hotel, London
County of Kent
North British Station Hotel, Edinburgh and Glasgow
J. C. Vickery - Their Majesties' Jeweller and Silversmith, London
Jaeger Pure Wool -- Travellers' Outfits for All Seasons
Daniell, London
Coburg Hotel, Carolos Place, Mayfair
Spink & Son, Ltd., Fine Old English Silver / Dealers in Ancient Coins and Medals
Mackay & Chisholm -- Antiques, Curios, and Works of Art, Edinburgh
Great North of Scotland Railway
Fritz Eilers Jr. Bielefeld, Germany -- Manufactures of Advertising Novelties
Crosse & Blackwell -- Table Delicacies
The Doorland Special American Newspaper Agency
Pim Bros. Ltd. -- Largest Drapery Warehouse in Ireland
Croall's Royal Garage, Castle Terrace, Edinburgh
Furness Abbey
Tarbet Hotel
The Lake Hotel, Killarne Lakes
To Canada by Cunard Line -- London & Southampton to Quebec & Montreal
City of Dublin Steam Packet Company -- The Royal Mail Service Between England and Ireland
Cunard Line Cruises to the Mediterranean, Adriatic, and Egypt from New York and Liverpool
E. M. Hodgkins, Works of Art -- London, Paris and New York
Apollinaris Natural Table Water
Cunard Daily Bulletin 1912 Summer © 1912 Cunard Steam ship Company, Liverpool, England, UK, 100 Pages.