Cunard Daily Bulletin - RMS Mauretania - 17 June 1911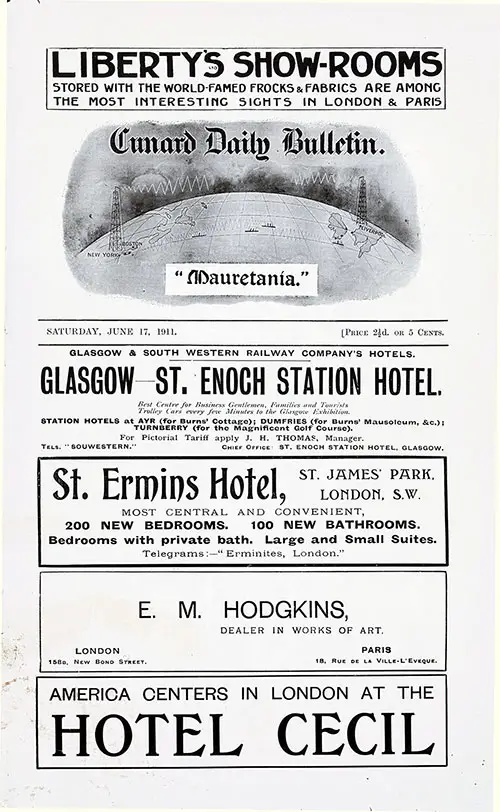 Front Page, RMS Mauretania Onboard Publication of the Cunard Daily Bulletin for 17 June 1911. GGA Image ID # 132cabf277
Cunard Daily Bulletin, RMS Mauretania Edition for 17 June 1911, provided readers with plenty of advertisements, short stories, Saloon Passenger List for this voyage, Marconigrams, and a Photograph and Description of the New Cunard Steamship Ascania.
Contents
Entertainment of Colonial Premiers
Electorate Statistics
Trade of Siam
French Flower Industry
The Coronation Medals
Mainly Personal
International Horse Show in London
MS. in British Museum
The National Gallery
Saloon Passenger List
Marconigrams
Old Wine
Richmond Royal Horse Show
The Force of Habit
Words of Wisdom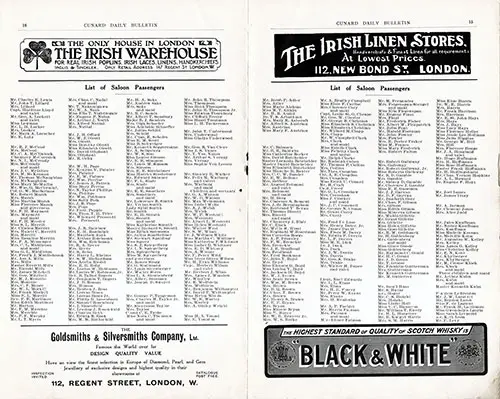 RMS Mauretania Saloon Class Passenger List for 14 June 1911 from New York to Liverpool. GGA Image ID # 132cc8c495
View the RMS Mauretania Saloon Class Passenger List for 14 June 1911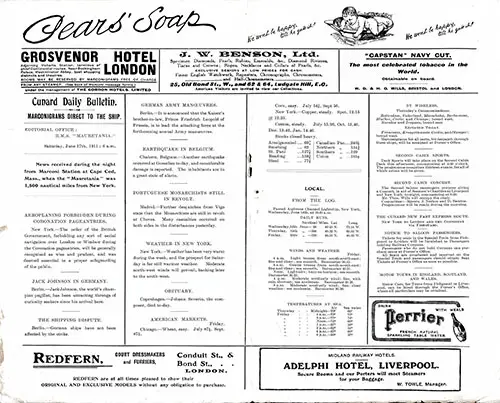 Marconigrams Direct to the Mauretania, Cunard Daily Bulletin for 17 June 1911. GGA Image ID # 132cca4411
EDITORIAL OFFICE: R.M.S. "MAURETANIA."
Saturday, June 17th, 1911 : 6 a.m.
News received during the night from Marconi Station at Cape Cod, Mass., when the "Mauretania" was 1,500 nautical miles from New York.
AEROPLANING FORBIDDEN DURING CORONATION PAGEANTRIES.
New York.—The order of the British Government, forbidding any sort of aerial navigation over London or Windsor during the Coronation pageantries, will be generally recognized as wise and prudent, and was deemed essential to a proper safeguarding of the public.
JACK JOHNSON IN GERMANY.
Berlin.—Jack Johnson, the world's champion pugilist, has been attracting throngs of curiosity seekers since his arrival here.
THE SHIPPING DISPUTE.
Berlin.—German ships have not been affected by the strike.
GERMAN ARMY MANŒUVRES.
Berlin.—It is announced that the Kaiser's brother-in-law, Prince Friedrich Leopold of Prussia, is to lead the attacking force at the forthcoming annual Army manœuvres.
EARTHQUAKE IN BELGIUM.
Charleroi, Belgium.—Another earthquake occurred at Gosselies to-day, and considerable damage is reported. The inhabitants are in a great state of alarm.
PORTUGUESE MONARCHISTS STILL IN REVOLT.
Madrid.—Further dispatches from Vigo state that the Monarchists are still in revolt at Cheves. Many casualties occurred on both sides in the disturbances yesterday.
WEATHER IN NEW YORK.
New York.—Weather has been very warm during the week, and the prospect for Saturday is for still warmer weather. Moderate northwest winds will prevail, backing later to the southwest.
OBITUARY.
Copenhagen.—Johann Severin, the composer, died today.
AMERICAN MARKETS.
Friday.
Chicago.—
Wheat, easy. July 87 1/2, Sept. 87 1/8.
Corn, easy. July 54 5/8, Sept 56.
New York.—
Copper, steady. Spot, 12.15 @ 12.25.
Cotton, steady. July 15.26, Oct. 13.40, Dec. 13.42, Jan. 14.40.
Stocks closed heavy.
Amalgamated 69 3/4
Smelting 82
St. Paul 127 5/8
Reading 159 5/8
Steel 77 3/4
Canadian Pacific 240 1/8
Northern Pacific 134 1/4
Southern Pacific 120
Union Pacific 185 1/2
LOCAL.
FROM THE LOG.
Passed Ambrose Channel Lightship, New York, Wednesday, June 14th, at 10:49 a.m.
DAILY RUNS.
Wednesday,14th June — 28 Nautical Miles 40 25 N. 73.14 W.
Thursday, 15th June — 566 Nautical Miles 40.32 N. 60.52 W.
Friday, 16th June — 570 Nautical Miles 40.55 N. 48.20 W.
WINDS AND WEATHER
Friday.
4 a.m. Light breeze from south-south-east; fine and clear ; sea smooth. Barometer 30.15.
8 a.m. Gentle breeze from south-south-east ; fine and clear ; sea smooth. Barometer 30.21.
Noon. Light airs; hazy on horizon; sea smooth. Barometer 30.22.
4 p.m. Moderate southerly wind; fine, with rain showers; sea moderate. Barometer 30.26.
8p.m. Moderate southerly wind; fine, clear weather ; sea moderate. Barometer 30.30.
TEMPERATURES AT SEA.
Thursday - - Midnight—Air 70° Sea water 66°
Friday 4 a.m.—Air 70° Sea water 72°
8 a.m.—Air 77° Sea water 74°
Noon.—Air 72° Sea water 68°
1 p.m.—Air 67° Sea water 56°
2 p.m.—Air 62° Sea water 54°
4 p.m.—Air 67° Sea water 66°
8 p.m.—Air 59° Sea water 57°
BY WIRELESS.
Thursday's Communications.
Westbound: Rotterdam, Vaderland, Minnehaha, Barbarossa, Blücher, Cretic. and Chicago
Eastbound: Navahoe and Iroquois
Expected Today.
Westbound: Franconia, Kronprinzessin Cecilie, and Olympic
Marconigrams for all parts, for dispatch through these ships, will be accepted at Purser's Office.
SECOND CABIN SPORTS.
Deck Sports will take place on the Second Cabin Deck this afternoon, commencing at 2:30 pm. The program comprises thirteen events, for all of which prizes will be given.
SECOND CABIN CONCERT,
The Second Saloon passengers propose giving a Concert, in aid of Seamen's Charities at Liverpool and New York, tonight, commencing at 8:30.
Mr. Thos. Wills will occupy the chair.
Committee:—Messrs. J. Norton and D. Beddoe.
Programs will be ready during the morning.
THE CUNARD NEW FAST EXPRESS ROUTE.
New York to London and the Continent via Fishguard.
NOTICE TO SALOON PASSENGERS.
Tickets for seats in the Special Train from Fishguard to London will be furnished to Passengers holding Railway Coupons.
Passengers who do not hold Coupons can purchase same at Purser's Office.
All Seats are numbered and reserved on the Special Train and passengers should obtain Seat Tickets at Purser's Office as soon as possible.
MOTOR TOURS IN ENGLAND, SCOTLAND, AND WALES.
Motor Cars, for Tours from Fishguard or Liverpool, can be hired through the Purser's Office, where all particulars may be obtained.
Cunard Line Canadian Service
From London and Southampton to Quebec and Montreal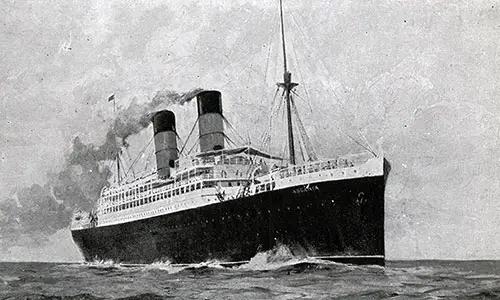 The New Twin-Screw Steamer "Ascania," 10,000 Tons. GGA Image ID # 132cda9801
The new steamer " Ascania," attached to the Cunard Company's new Canadian service from London and Southampton to Quebec and Montreal, is a twin-screw vessel of 10,000 tons, and was built at Wallsend-on-Tyne by Messrs. Swan, Hunter and Wigham Richardson, Ltd., who also constructed the " Mauretania " and other famous vessels of the Cunard Line.
The Second Cabin accommodation is situated in the center of the ship. The cabins are well appointed, spacious and well ventilated, and, for the convenience of family parties, a number are arranged in sets of two, with doors communicating.
The Dining Saloon extends the full width of the vessel. There is a Music Room, and on the Promenade Deck is the Smoking Room and Verandah Café. Electric light is installed throughout the ship.
The Third Class accommodation is equally comprehensive, and a feature of the fittings is a complete installation of the well-known thermotank ventilating and heating plant. The catering department has received most careful attention, and the bakeries, pantries and storerooms are equipped with the most modern appliances.
Partial Listing of Advertisers in This Issues of the Cunard Daily Bulletin
W. Turner Lord & Co - Decoration and Furniture on the RMS Mauretania - London
Mr. Louis Tredinnick - Real Estate Auction - Bedfordshire Estate
Great Western Railway of England - Fishguard
Dunhill's Motorities - Auto Parts and Accessories - London
R. Wwining & Co. Ltd. - Oldest Tea & Coffee Merchants
J. H. & S. Johnson - Manufacturing Chemists - Liverpool
Nestle's Permanent Hairwave - London
Elkington & Co., Ltd. - Antiques - Liverpool
Hill, Thomson & Co. - "Queen Anne" Scotch Whisky
J. A. Sharwood & Co., Ltd. - "White Label" Worcestershire Sauce - London
Aquascutum Ltd. - Aquascutum Coat - Regent Street, London
Dickins & Jones - Women's Wear - Regent Street, London
Ritz-Carlton Hotel - New York
Revillon Frères Furs - London, Paris, and New York
The London-Harwich-Hook of Holland - Harwich Route to the Continent
Apollinaris Table Waters
H. & T. Kirby & Co. Ltd. - Purgen The Ide3al Aperient - London & New York
The Universal Fur Co. - England's Premier Furriers and Feather Specialists - Liverpool
Emile & Cie - Maison de Confiance
Paris, Lyons, and Mediterranean Railway
Peter Robinson's - Dry Goods Store - Regents Street, London
Mattoni Natural Mineral Water
Scott Adie, Ltd. - Tailor-Made Clothing - London
Harris, Winthrop & Co. - Financial Institution - London
Cunard Steam Ship Company Ltd. - Money Drafts
Hunyadi János - Mineral Water
Thos. Cook & Son - Cook's Tours - Liverpool
Selected Advertisements from This Issue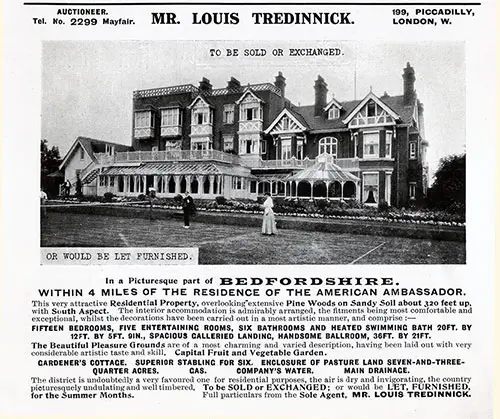 Advertisement, Real Estate Auction, Mr. Louis Tredinnick, London for a Bedfordshire Estate. GGA Image ID # 132cf3a815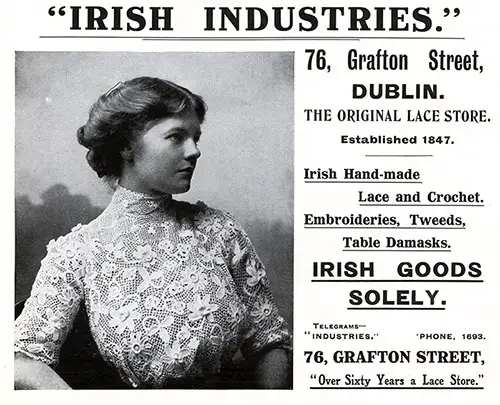 Advertisement, Irish Industries of Dublin. GGA Image ID # 132d198211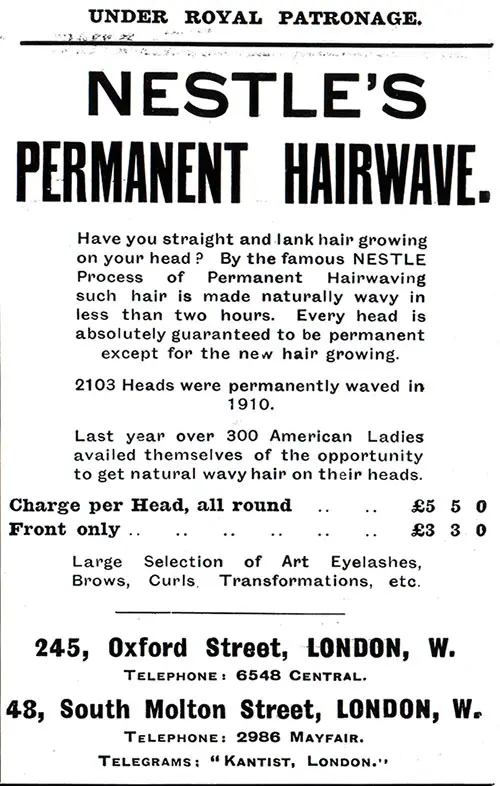 Advertisement, Nestle's Permanent Hairwave, London. GGA Image ID # 132d2df3a9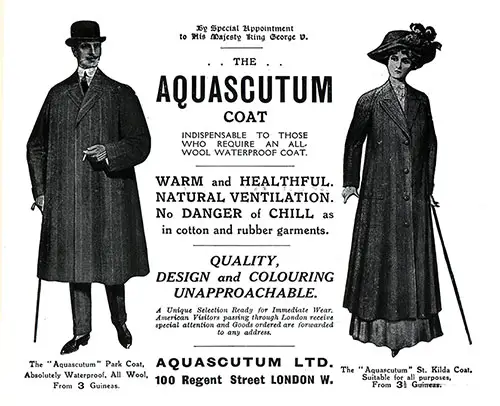 Advertisment, Wool Waterproof Coats by Aquascutum Ltd. of Regent Street, London. GGA Image ID # 132d6aae54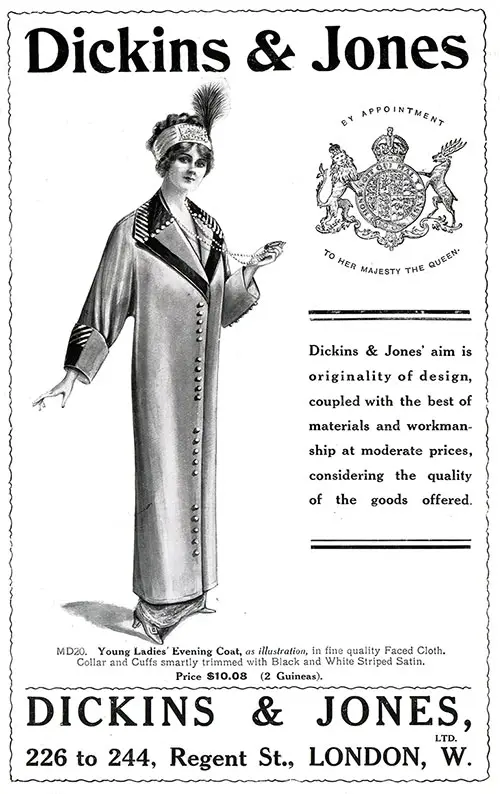 Advertisement, Young Ladies' Wvening Coat by Dickins & Jones of Regent Street, London. GGA Image ID # 132d6b3289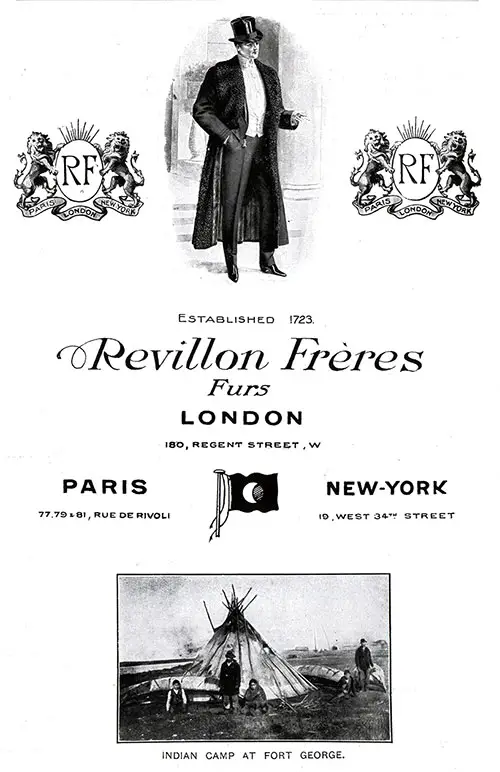 Advertisement, Revillon Frères Furs, London, Paris, New York. GGA Image ID # 132da1daec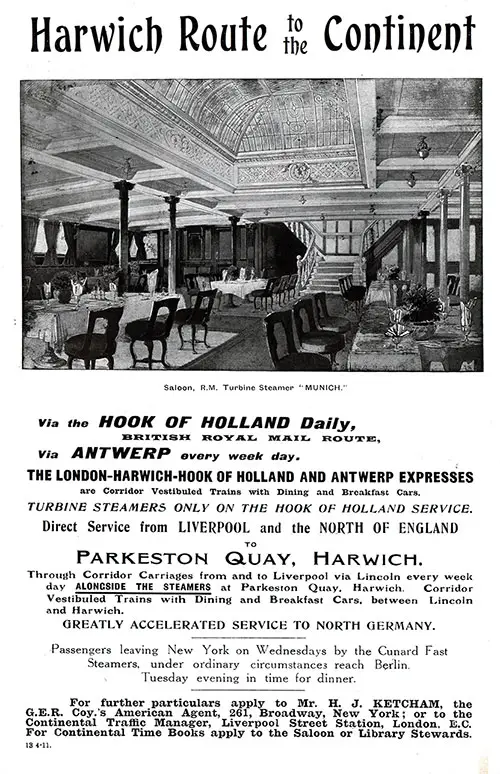 Advertisement, The London-Harwich-Hook of Holland and Antwerp Expresses. GGA Image ID # 132dcf99a9
Advertisement, Emile & Cie, Maison de Confiance in London. GGA Image ID # 132dd76ad7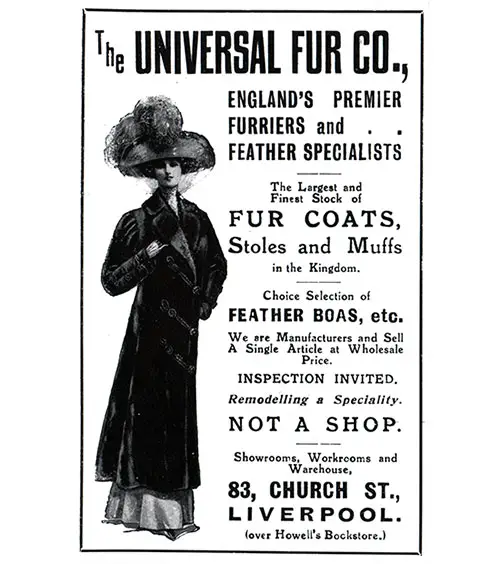 Advertisment: The Universal Fur Company, Church Street, Liverpool. GGA Image ID # 132de49800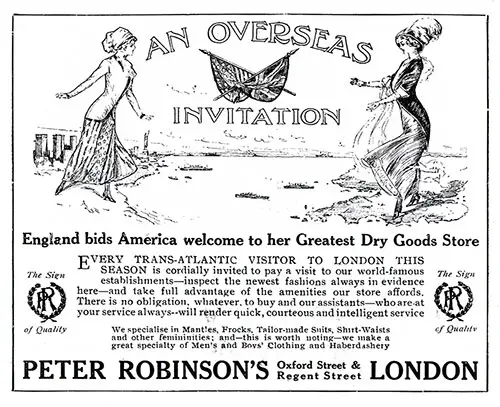 Advertisement: Peter Robinson's on Oxford and Regent Streets, London. GGA Image ID # 132de77148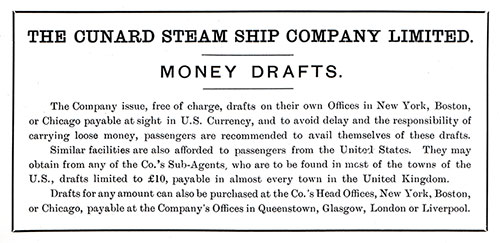 Advertisment: Cunard Steamship Company Money Drafts. GGA Image ID # 132dffd9d6
THE CUNARD STEAM SHIP COMPANY LIMITED. MONEY DRAFTS.
The Company issue, free of charge, drafts on their own Offices in New York, Boston, or Chicago payable at sight in U.S. Currency, and to avoid delay and the responsibility of carrying loose money, passengers are recommended to avail themselves of these drafts.
Similar facilities are also afforded to passengers from the United States. They may obtain from any of the Co.'s Sub-Agents, who are to be found in most of the towns of the U.S., drafts limited to £10, payable in almost every town in the United Kingdom.
Drafts for any amount can also be purchased at the Co.'s Head Offices, New York, Boston, or Chicago, payable at the Company's Offices in Queenstown, Glasgow, London or Liverpool.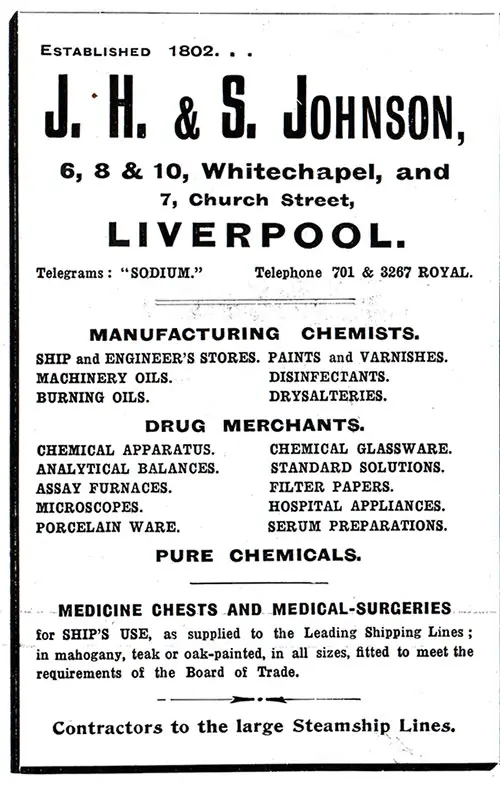 Advertisement: J. H. & S. Johnson, Manufacturing Chemists and Drug Merchants on Church Street, Liverpool. GGA Image ID # 132e1719e4