The Cunarder Travel Magazine, July 1921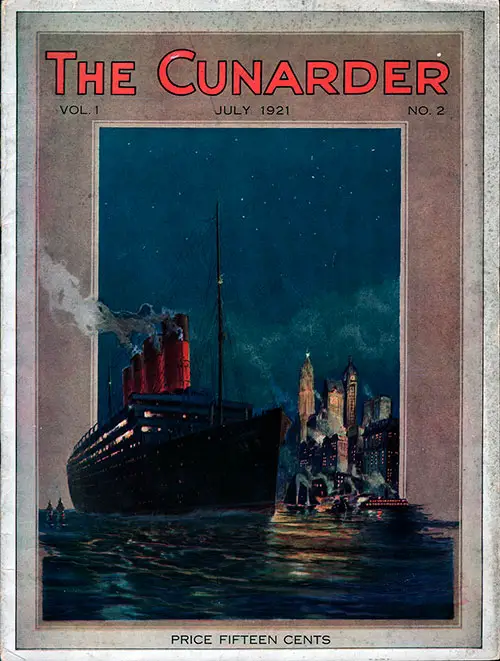 Front Cover of The Cunarder Travel Magazine for July 1921. GGA Image ID # 1019310009
The Cunarder was a monthly pubication of the Cunard Line that was distributed to passengers of their steamships and ocean liners in their world-wide services including transatlanic voyages.
It offered a mixture of travel destinations and lifestyle related articles. Vintage advertisements from that era included in this issue.
Featured Articles include: A Motor Trip from London to Bath, By Adelaide Bragg Gillespie; The Golf Courses of Scotland, By John Arnot and The Pine Forests of Switzerland.
Contents
Aeroplane View above the Piccadilly Section of London
"'Mid Pleasures And Palaces," By Dorothy Brown
What an F.R.P.S. Likes In England, By Bertram Cox, Fellow of the Royal Photographic Society
A Motor Trip from London to Bath, By Adelaide Bragg Gillespie
Over Hill and Dale on the Scotch Links
The Golf Courses of Scotland, By John Arnot
The Kaleidoscope That Is Constantine, By Dorothy Cocks
Aeroplane View of Liverpool From Above the Mersey
The Pine Forests of Switzerland
Advertisements
Cunard - Anchor Steam Ship Line Services, Fleet and Offices
Thomas Cook & Con: To The Mediterranean - A Grand Cruise Deluxe
Max Schling, Inc. - The Telegram Florist of New York
Charles Francis Press
Albert Frank & Company, Advertising - Chicago and London
Safety Pocket Life Belt Corporation, New York
American Express Travelers Cheques
Hotel Chelsea, New York
Insurance Company of North America, Philadelphia
Russell Securities Corporation, New York
Oil Well Supply Co. - New York, London, Pittsburgh
Hotel Judson - New York
The Ritz-Carlton, New York
Mediterranean Service - The Cunard and Anchor Lines
The Mechanics & Metals National Bank of New York
Kidder, Peabody & Co. - Boston and New York
Banco di Roma, Rome Italy
National Aniline and Chemical Co., Inc. - New York
Hotel Belleclaire, New York
Frank Tourist Company, New York, Philadelphia, Paris, London
Atlantic Coast Shipping Co., Inc. Baltimore
Hotel Bretton Hall, New York
Knauth Nachod & Kuhne, New York
Hudon Navigation Company, New York
Hotel Van Rensselaer, New York
Hotel Wellington, New York
Philadelphia Trust Company, Philadelphia
Baker-Whiteley Coal Co., Baltimore
The Hotel Irving, New York
The Baltimore Dry Docks & Ship Building Company, Baltimore and New York
John Curtis Company, Inc., Advertising, New York
American Surety Company of New York
United States Mortgage & Trust Company, New York
To and From the Mediterranean - Cunard-Anchor Steam Ship Lines
Pershing Square Hotels, New York
The Cunarder (A Travel Magazine of the Cunard Line) , The Cunard Steam Ship Company Limited, Copyright, 1921, Vol. I   No. 2, July, 1921