Ladies Fine Fashions for Ocean Liner Travel - 1921
By Carolyn Trowbridge Radnor-Lewis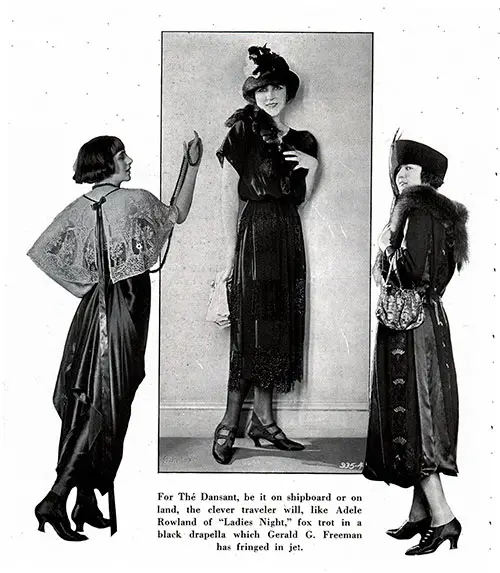 Clothes may not make the man, but they do go a long way toward creating a favorable impression for a woman. First impressions count heavily in this busy, hypocritical, mundane world where ships pass so often in the night.
It is our active subconsciousness that registers interest, and it must be a favorable registration before we, our conscious selves, follow it up.
Hence the potency of our clothes, for by the cut of the jib, as it were, is the flicker of our interest aroused that may, or may not (sometimes mercifully we'll admit) flame into something worthwhile.
Photo (Above on Right): One can forget all about clothes and enjoy to the uttermost the dinner and the play when one follows the example of Helen Herendeen of "The Last Waltz" and selects a Stein& Blaine frock of brown pussy willow meteor with a cape of lace.
Moreover, this potency increases as we wander from home. On "Main Street" our clothes are only an excuse for a comment, nine times out of ten; but among strangers, they are veritable "Duns" and "Bradstreets."
They may be induced to camouflage our secrets or carry our message to all the world, but they are at their best when they sartorially represent our personality.
The most successful clothes are those that are a part of the wearer. They never offend, but they surround the wearer with an indefinable charm that bespeaks as irrevocably of her clothes lore as culture does of an education.
This means that they are right in every sense of the word—appropriate, becoming, and in good taste, and, what is quite as important, are worn at the right time and the right place.
Photo (Above on Left): For The tea dance, be it on shipboard or land, the smart traveler will, like Adele Rowland of "Ladies Night," foxtrot in a black drapella which Gerald G. Freeman has fringed in jet black.
This is a far bigger contract than the average woman appreciates. Far too often she selects a gown because it looks well on the mannikin who is showing it or because her dearest friend or foe has one of a similar genre.
How often do you ask yourself the question: "Is this dress me?" "Am I willing to be represented by it before all the world?"
All very well to philosophize, you may say, but what is the answer when the pocketbook must be consulted in the matter?
All the more reason for thought and deliberation so that you may be assured that the dress is you, that it will continue to represent you in the way you would be represented, for if it must serve you on many occasions it must be selected with more consideration than if it can be lightly discarded after one or two appearances.
It should be in fashion rather than merely of it; it must be comfortable, for anything that is uncomfortable cannot become a part of us as the successful costume must; it must be built for the purpose it is to serve, and it must be becoming. Then, and then only, will it be in good taste.
With these thoughts in mind let us make a tour of the shops.
They are an excellent working foundation for the selection of a wardrobe and a reliable guide when one is in danger of becoming entangled in the mystic maze of quantity and novelty, a threat that is very much live when one enters into a shopping fest in New York, especially at the turn of the season, as is the case at this time.
Photo (Above Right): For her trot-about street dress one may take advantage of fashion's verdict for two-faced fabrics and wear a Thurn gown of dove down satin, the duvetyn face enhanced with embroidery.
Circumstances alter wardrobes just as they do every other case in the world. Some plans will call for what might be described as an extensive wardrobe, even for the traveler, while others will permit the shopper to limit her needs to bare necessities. However, there are certain fundamentals that almost any sea voyage will demand.
After all, life on the grand floating palaces is very much that of the everyday routine at a metropolitan hotel. Within the prescribed limits one eats and sleeps and drinks; walks a little, chats a great deal, bridges and teas and dances, and even indulges in the good old sport of shopping.
Of course, it is life at sea, but being at sea today is very much like life ashore, everything is so up to date.
Moreover, the clothes are, therefore, very much about those we wear on land and will wear when we land. However, with specific additions. You will, of course, want to snuggle into a great, comfortable top coat, for alone on the briny deep old Boreas can get in his excellent work and howl a bit if one venture outside the protected promenades.
Such a garment may take on the lines of a voluminous coat, straight to the waist, then flaring a bit, with generous sleeves that seem to melt into the body of the jacket itself and yet may be secured so snugly to the wrist that the wind can't whistle up them, or it may follow the more flowing, unrestrained lines of the cape.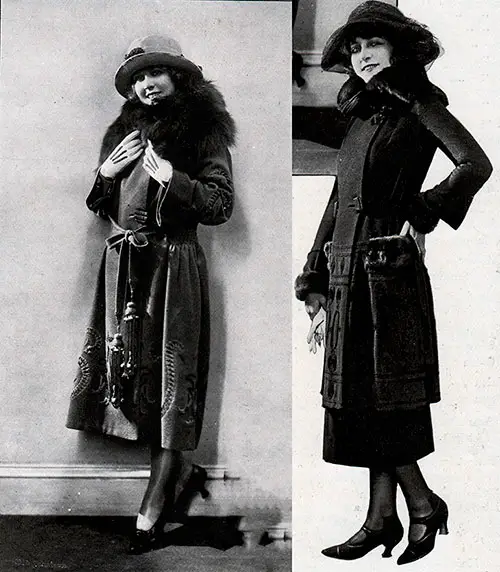 Photo (Above Left): For the topcoat that may be worn all through Europe as well as on shipboard there is this House of Youth model in duvetyn with the fullness at the side restrained by smocking and a collar of fox which June Caprice, the Pathé star, is drawing close to her throat to defy old Boreas. A Dai-Mur felt hat completes a costume for service as well as style.
You will not want to overlook the blouses that play a significant role with the tailor; nor hats that can be snugly veiled and anchored; footwear of comfort as well as neat appearance.
Suppose your choice should alight on the cape—it probably will, for capes and dresses, and capes and suits is the chorus of fashion's favorite song for the autumn.
Mind you we didn't say "swan song," for the day of the cape is in full noon-tide. Its popularity has been longer than that generally doled out to the whims of the fickle old dame, but these are the days of development in the realm of the modes rather than of rapid discards.
To return to the cape of your choice—it will be a straightforward affair in new material, a wool-ribbed, knit-cloth, interspersed with silk stitches that appear in irregular masses.
There is any number of blending colors from which to choose, but the designer has selected for this particular model one in navy and magenta, the new color affinities, a partnership particularly happy on shipboard.
It takes its fullness from a well-shaped little yoke that gives the trig, flat look to the shoulder and flows on uninterrupted. Moreover, there is a large Australian opossum collar that will form a barrier for the throat over which the elements of the weather can't intrude.
Photo (Above Right): You, like Martha Mansfield, the Selznick star, can travel everywhere in this Joseck suit of Velodyne, discreetly braided and collared, cuffed and pocketed in squirrel kolinsky which you will find at Franklin Simon's.
To wear with it, both during the sea voyage and later traveling on land, why not a suit in the same mixture or tweed? It was only a short time ago that we relegated such suits to the greensward, but today they have been brought from the country into town.
Many of them are designed for wear in the city, retaining, however, all the nonchalance, the swagger and the comfort that made them the ideal costume for trotting about and rough usage.
The jacket may terminate its career at the hip-line, or it may drop several inches lower—jackets are following the lead of skirts and have taken to dropping—it may boast a belt all around, one merely across the back or no restraint at all in the region of the waist, as it is bound to do when it can claim a boxy origin, and the sleeves will tend toward the straight model of tailors.
Such a suit, let us say in the navy and tawny mixture, is shown with a jacket sporting the broad Tuxedo revers, merging into the Directoire shape at the waist-line, a narrow band of squirrel outlining their course.
Then, there will be a collar of the squirrel, which you may have made detachable to substitute with one of the scarf variety.
However, you cannot afford to loiter too long over the top garments and suits for there are dresses to be chosen, one at least for the street to be worn with furs, for you will find plenty of use for it on the ship in the morning.
Here you can take advantage of the new thought exploited in the reversible fabrics like the dove down satin which presents both a satin and a silk duvetyn face to the world.
Such fabric lends itself to the panel way that fashion has of pointing and to all sorts of simple designing where the material alone can be relied upon to serve as the trimming.
This does not necessarily eliminate thoughtful touches of embroidery; braiding in the ciré braid in particular; clever conceits in ribbon, again often ciréd; strapping, piping, etc., all of which are in keeping with the laws laid down for the street tailor.
Then, there is the dress for dinner. Some women live up to the decrees of society that call for formal evening dress and appear in the traditional dinner dress, an extreme décolletage that has discarded sleeves and trusts only in strands of jewels and the grace of Providence to hold it to the wearer.
Such gowns scintillate like Christmas trees, myriads of beads and bugles and paillettes glitter and glisten in all colors of the rainbow, and then to gild the lily they are dropped over a sheath-like foundation of gold or silver tissue.
Such are a few of the costumes you will want to know are in your luggage when the steamer starts.
Radnor-Lewis, Carolyn Trowbridge, "When She Travels," in The Cunarder, Liverpool: Cunard Steamship Company Limited, Vol. I, No. 2, July 1921, p. 24-25.
Note: We have edited this text to correct grammatical errors and improve word choice to clarify the article for today's readers. Changes made are typically minor, and we often left passive text "as is." Those who need to quote the article directly should verify any changes by reviewing the original material.

Vintage Travel Outfit Fashions
GG Archives
Vintage Travel Outfit Fashions
Vintage Fashion Topics
Updates and Social Media