Ladies Wraps on Board the Steamships - 1921
By Julia Marquis
At this season of the year, a woman preparing to travel abroad must consider with a capital C her comfort. To be adequately outfitted for the trip the warmest of outer wraps are essential.
Even if Madam is luxuriously inclined, caring to rest and while away the interim on shipboard with what amusements her stateroom, the lounges, and card rooms offer, she must still have her moments of exercise on deck.
The athletic and outdoor loving woman will find her chief recreation as well as the necessity to spend periods on deck and will revel in them, whether she be battling the buffeting winds or basking in the sunshine when Nature smiles her best.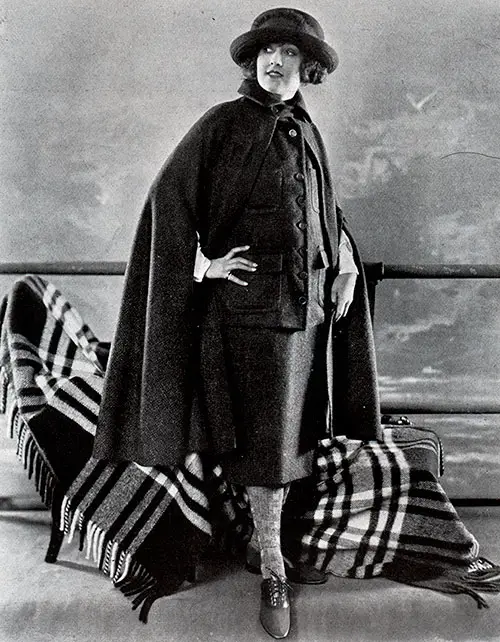 What Does She Care for The Wintry Air?
Brown and white tweed three-piece suit from DeVega, consisting of a cape, vest, and skirt. The hat matches, also. The shoes are brown suede and leather. The stockings are brown and white checkerboard weave.
This is just what creates a problem, for it may be that the traveler will not care to burden herself with much warm apparel later, if, for instance, she is bound for the south of Europe.
However, she will find if she searches about a little that there is this season many types of warm outer wraps that are light as down and so fleecy and cozy they are an invitation to be settled into.
Perhaps the busy woman has had a call to hurry across and therefore has not enough leisure for the proper sort of choosing. She will be likely to seize her fur coat and rush off, letting it go at that, with perhaps a suit for emergencies—to regret all the journey that she had not made some more suitable provision for her happiness aboard ship.
It has come to be realized that articles of apparel that at one time were considered practically accessories to the wardrobe are indeed actual necessities.
Much credit for this is due to the rise of sports clothes into their proportionate importance. Through their use, it has dawned upon women that their previous submission to the idea that one or two types of garments suitable only for protection during the winter season signified real slavery.
Wearing wraps on warmer winter days that had been purchased with zero temperature and snow in mind, they endured the cold months and impatiently longed for spring.
Now, however, with slight added expense, which brings abundant returns in peace of mind and health, they may be comfortable in different types of a warm wrap for any sort of day that inventive Nature may contrive, to the extent of fooling old Neptune himself, who in his playful with the sprites of the wind and sun causes much discomfort.
For that indispensable covering for deck wear, the loose cover-all wrap that goes on over the dress or suit or anything else one may have added, the charming, artistically conceived and executed new cape is undoubtedly the garment par excellence.
There is such variety that hardly two are found alike; the materials of utmost appropriateness; the lines full of grace and distinction.
Cape from Abercrombie & Fitch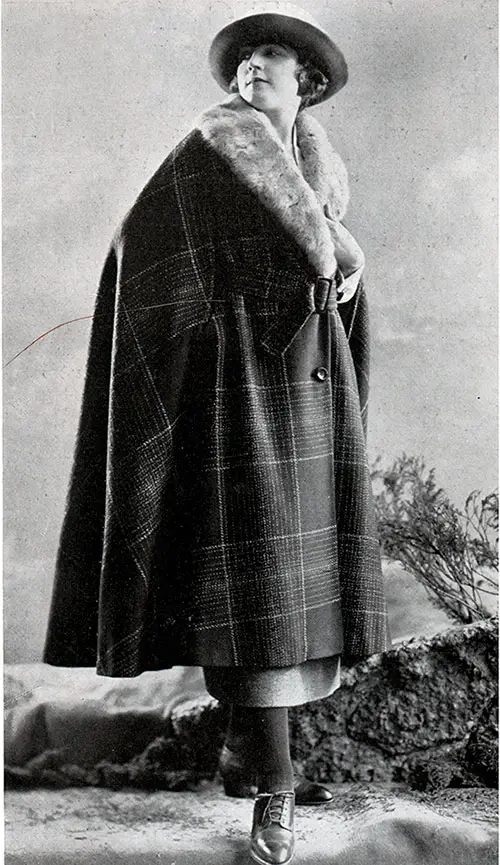 In this cape from Abercrombie & Fitch, one sees just how warmth and comfort can be enjoyed while dressed lightly and with a lack of clumsiness that is enviable.
This cape, which first came out in tweeds (and that is still the aristocrat of sports materials), is also made in kasha cloth, beautifully woven fabrics of wool that are striped, plaided and checked in a basket weave and bordered in colors.
The cape-backed coats, also made on large, roomy lines, are done in the same fabrics and with their capes, which often cover the arms, are smart to look upon. Bordered fabrics are promising to become even more favored, particularly for spring use—the Egyptian patterns being seen most frequently with also the Indian motifs used.
Muffling collars of fur, scarf ends of self-material that may be wound around the neck in several thicknesses are features of both coats and capes.
The completion of the cape's relation to the ensemble of the costume is illustrated in the three-piece outfit from DeVega's, which consists of a cape, waistcoat, and skirt of mixed brown tweed woven in a mixture of brown and white.
The waistcoat, a particularly attractive feature, is man-tailored with pockets complete; and backless below the shoulders, it is held in place by a buckled strap around the waist. Waistcoats also come with a few coats, so that provision is made for those who prefer the coat-line and fit the cape.
In the cape from Abercrombie & Fitch, one sees just how warm one can both look and feel and yet be dressed with a lightness and lack of clumsiness that is enviable.
For certain weathers and moods, nothing is so satisfying when one is on shipboard as to slip into a woolen sweater of a colorfulness that is almost a riot, and a jaunty hair-careful cap or snug hat to match.
There are distracting sweaters of this sort in the shops at present—of brushed wool, Jacquard weave knit, bordered knits in numbers and numbers of styles; slip-overs with high, low and medium necks, open front sweaters that button up close, and tuxedos and sweaters that have scarf ends to shawl collars that acid to the warmth.
The bateau necked brushed wool sweaters are most prominent at Abercrombie & Fitch's and worn with the Roman striped scarfs to match are complete successes artistically.
One sweater has seen laces up in front high around the throat, where the lacing fastens together the edges of a high standing collar. The sweater was white knitted wool, the lacing, and a wide black border around the lower end.
The scarf, a natural accompaniment to the sweater, is featured in an abundant variety that allows for considerable latitude of tastes. Knitted weaves are showing decidedly new and individual notes, the most striking being the exceptionally long scarfs, a third more length added than formerly, which was subtracted from the width.
These scarfs are striped with brilliance in many combinations of colors and fringed with deep silk fringe. They are not only wound around the throat but the waist as well after being crossed in front, achieving a singularly festive and youthful effect.
Duvetyn scarfs are another innovation of a dressier type. In bright colors, they are lined to match and decorated sometimes with a fringe and sometimes with duvetyn and silk artificial flowers in clusters.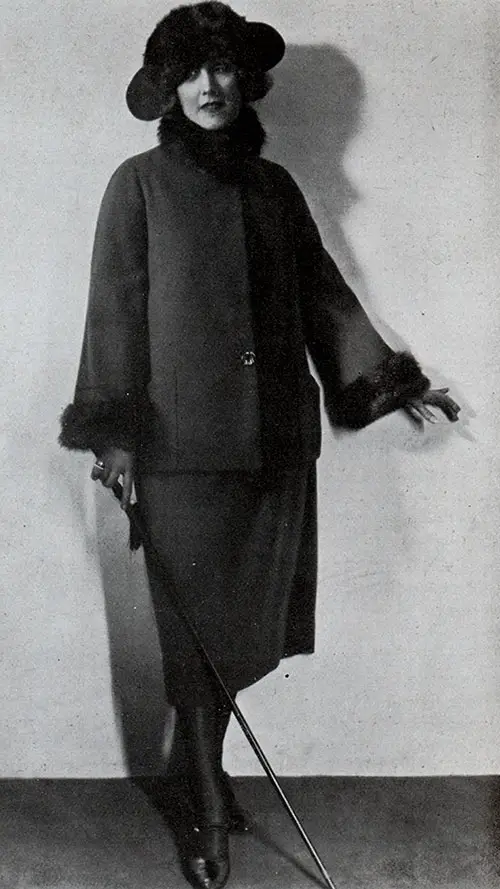 For the medium-weight suit indispensable for travel abroad, this model of mustard-colored chinchilla cloth in box style from Gidding & Co. is most attractive. The adaptable collar and cuffs are of kolinsky.
Marquis, Julia, "Wraps in Which to Welcome Atlantic Breezes," in The Cunarder, Liverpool: Cunard Steam Ship Company, Ltd., Vol. I, No. 5, December 1921, p. 23-24.
Note: We have edited this text to correct grammatical errors and improve word choice to clarify the article for today's readers. Changes made are typically minor, and we often left passive text "as is." Those who need to quote the article directly should verify any changes by reviewing the original material.

Vintage Travel Outfit Fashions
GG Archives
Vintage Travel Outfit Fashions
Vintage Fashion Topics
Updates and Social Media