Cunard Daily Bulletin - RMS Carmania - 7 June 1906
Front Page, RMS Carmania Onboard Publication of the Cunard Daily Bulletin for 7 June 1906. GGA Image ID # 12f1f5b118
Cunard Daily Bulletin, RMS Carmania Edition, provided readers with plenty of advertisements, short stories, Saloon Passenger List for this voyage, Marconigrams, and a Photograph of the RMS Carmania.
CUNARD DAILY BULLETIN
"CARMANIA EDITION"
Thursday, June 7, 1906
CONTENTS
Robbery on the Road: P. 3
Scenes in Milan: P. 12
Saloon Passenger List: P. 15 & 18
Marconigrams: P. 16 & 17
Puzzles for Idle Moments: P.  21
Some Quotations from Shakespeare: P. 22
Dr. Johnson's Advice to Travelers: P. 25
Greek Wit: P. 25
The Hermit: P. 26
Marconigrams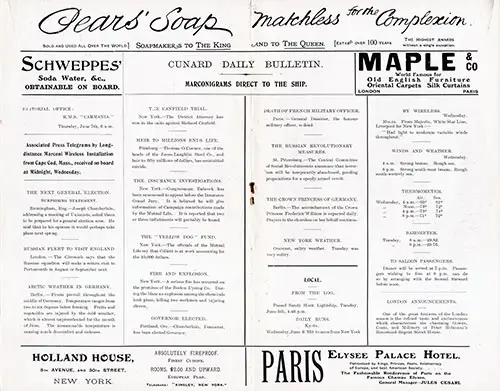 Marconigrams Direct to the Ship in the 7 June 1906 Edition of the Cunard Daily Bulletin. GGA Image ID # 12f240d151
MARCONIGRAMS DIRECT TO THE SHIP
EDITORIAL OFFICE: R.M.S. "CARMANIA"-  Thursday, June 7th, 6 a.m.
Associated Press Telegrams by Long-distance Marconi Wireless Installation from Cape Cod, Mass., received on board at Midnight, Wednesday.
THE NEXT GENERAL ELECTION
SURPRISING STATEMENT
Birmingham, Eng. - Joseph Chamberlain, addressing a meeting of Unionists, asked them to be prepared for a general election soon. He said that in his opinion it would perhaps take place next spring.
RUSSIAN FLEET TO VISIT ENGLAND
London - The Chronicle says that the Russian squadron will make a return visit to Portsmouth in August or September next.
ARCTIC WEATHER IN GERMANY
Berlin - Frosts prevail throughout the middle of Germany. Temperature ranges from two to six degrees below freezing. Fruits and vegetables are injured by the cold weather, which is almost unprecedented for the month of June. The unseasonable temperature is causing much discomfort and sickness.
THE CANFIELD TRIAL
New York - The District Attorney has won in the suits against Richard Canfield.
HEIR TO MILLIONS ENDS LIFE
Pittsburg - Thomas O'Connor, one of the heads of the Jones-Laughlin Steel Co., and heir to fifty millions of dollars, has committed suicide.
THE INSURANCE INVESTIGATIONS
New York - Congressman Babcock has been summoned to appear before the Insurance Grand Jury. It is believed he will give information of Campaign contributions made by the Mutual Life. It is reported that two or three indictments will probably lie found.
THE "YELLOW DOG " FUND
New York - The officials of the Mutual Life say that Gillett is at work accounting for the 10,000 dollars.
FIRE AND EXPLOSION
New York - A serious fire has occurred on the premises of the Boston Dyeing Co. During the blaze an explosion among the chemicals took place, killing two workmen and injuring eleven.
GOVERNOR ELECTED
Portland, Ore. - Chamberlain, Democrat, has been elected Governor.
DEATH OF FRENCH MILITARY OFFICER, Paris -  General Dessirier, the famous military officer, is dead.
THE RUSSIAN REVOLUTIONARY MEASURES
St. Petersburg - The Central Committee of Social Revolutionists announce that terrorism will be temporarily abandoned, pending preparations for a speedy armed revolt.
THE CROWN PRINCESS OF GERMANY
Berlin - The accouchement of the Crown Princess Frederick William is expected daily. Prayers in the churches on her behalf continue.
NEW YORK WEATHER -  Overcast, sultry weather. Tuesday was very sultry.
LOCAL
FROM THE LOG
Passed Sandy Hook Lightship. Tuesday, June 5th, 4:46 p.m.
DAILY RUNS
Knots.
Wednesday, June 6: 389 to noon from New York
BY WIRELESS
Wednesday. 10 a.m. - From Majestic, White Star Line, Liverpool for New York: "Had light to moderate variable winds throughout."
WINDS AND WEATHER
Wednesday:
4 a.m. Strong breeze, Rough sea.
8 p.m. Strong south-west breeze, Rough south-westerly sea.
THERMOMETER
Air
Wednesday:
4 a.m.: 65°
Noon: 73°
4 p.m.: 73°
8 p.m.: 71°
Sea
Wednesday:
4 a.m.: 61°
Noon: 72°
4 p.m.: 74°
8 p.m.: 72°
BAROMETER
Tuesday:
8 a.m.: 29°82
8 p.m.: 29°76
TO SALOON PASSENGERS
Dinner will be served at 7 p.m.  - Passengers wishing to dine at 8 p.m. can do so by arranging with the Second Steward before noon.
LONDON ANNOUNCEMENTS
One of the great features of the London season is the refined taste and exclusiveness which characterizes the charming Gowns, Coats, and Millinery at Peter Robinson's Renowned Regent Street House.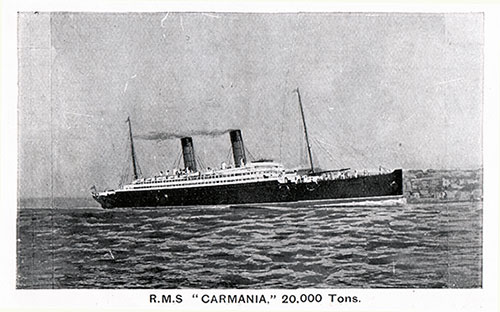 RMS Carmania, 20,000 Tons. Passenger Liner of the Cunard Line. GGA Image ID # 12f24b36d1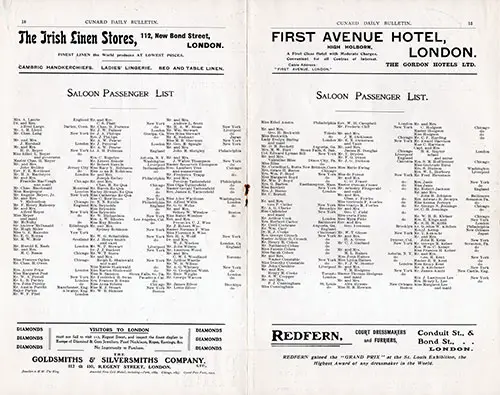 Saloon Passenger List, RMS Carmania Onboard Publication of the Cunard Daily Bulletin for 7 June 1906. GGA Image ID # 1311a603df
View the transcription of the 5 June 1906 RMS Carmania Passenger List
Selected Advertisements from This Issue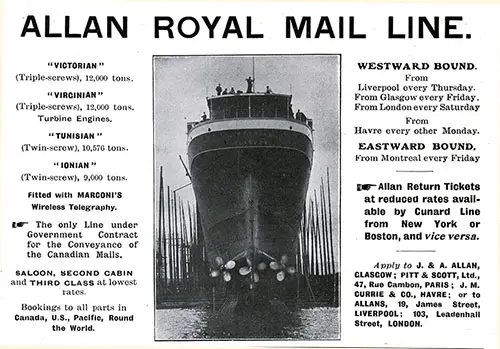 Advertisement - Allan Royal Mail Line, RMS Carmania Onboard Publication of the Cunard Daily Bulletin for 7 June 1906. GGA Image ID # 1311c9488a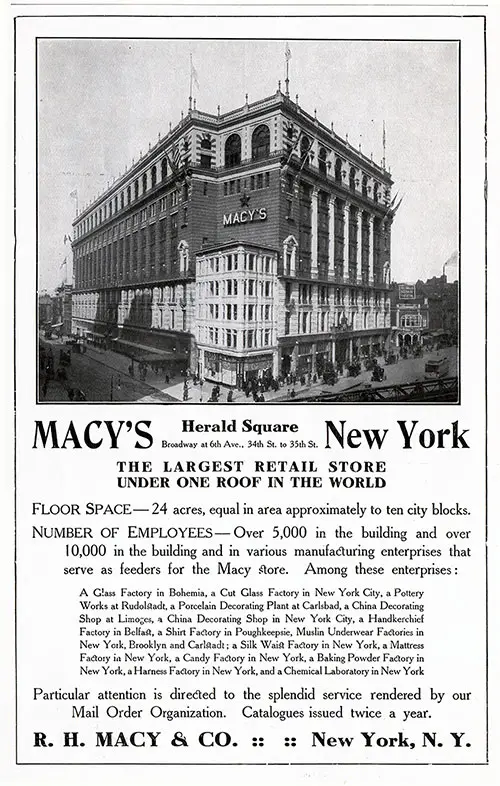 Advertisement - R. H. Macy & Co., RMS Carmania Onboard Publication of the Cunard Daily Bulletin for 7 June 1906. GGA Image ID # 131200d9d2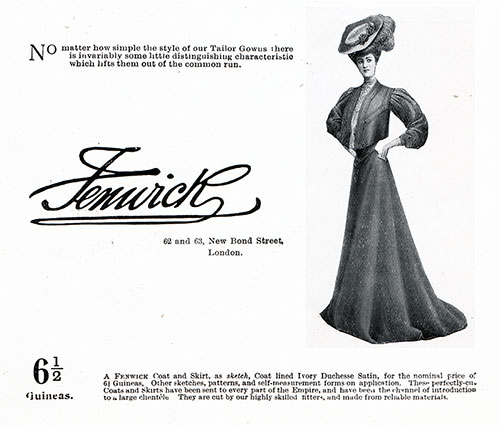 Advertisement - Fenwick Fashions, RMS Carmania Onboard Publication of the Cunard Daily Bulletin for 7 June 1906. GGA Image ID # 1312112b8f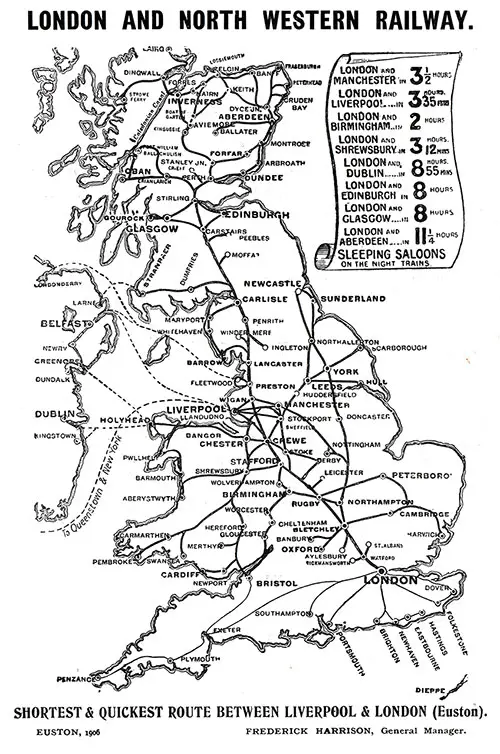 Advertisement - London and North Western Railway, RMS Carmania Onboard Publication of the Cunard Daily Bulletin for 7 June 1906. GGA Image ID # 131233d37f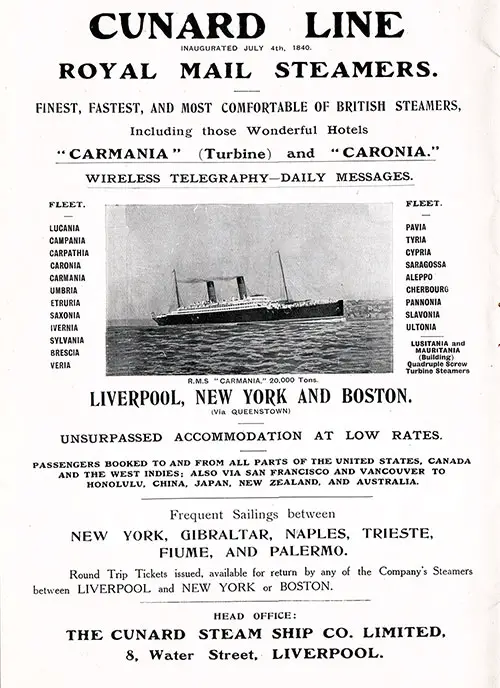 Advertisement - Cunard Line, RMS Carmania Onboard Publication of the Cunard Daily Bulletin for 7 June 1906. GGA Image ID # 13123dde05