Shipbuilder Monthly - July 1914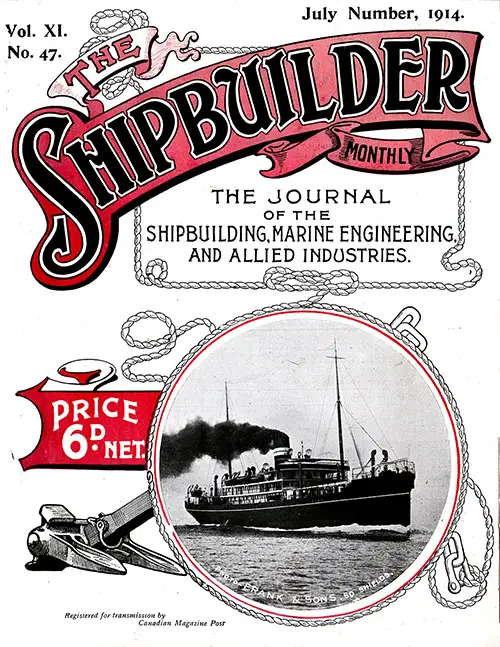 Front Cover of the Shipbuilder Monthly: The Journal of Shipbuilding, Marine Engineering and Allied Industries for July 1914. GGA Image ID # 10178c5269
The July 1914 Issue of the Shipbuilder Monthly featured Illustrations included Eight-Cylinder De Dion Bouton - White & Company, Cunard RMS Mauretania. Photographs included: H.M.B.C. Princess Royal, H.M.S. Queen Mary at sea, Chinese Cruiser Ying Swei, SS Horwick Hall, SS Visegrád, Mr. Grant Barclay, MINA (Includes his Signature), SS Alcantara, The Norwegian Battleship Nidaros, SS San Fraterno. Major Articles included Canadian Dredgers, Modern Steam Colliers, Royal Dockyards, New Professor of Naval Architecture at the University of Liverpool.
The Special "Aquitania" Souvenir Number of "The Shipbuilder."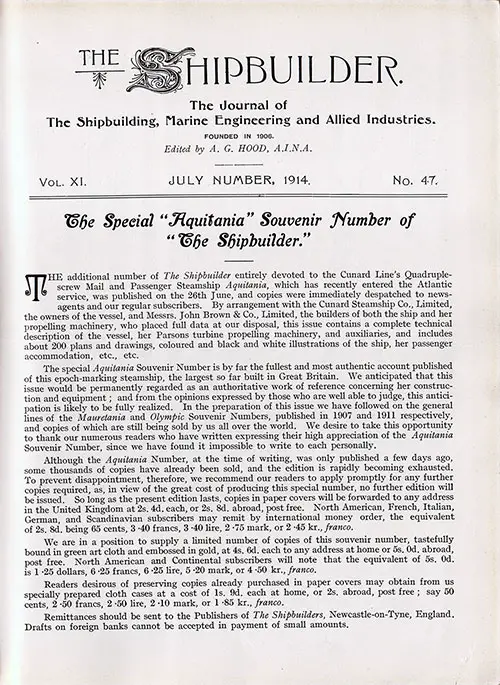 Announcement for the Special Issue of The Shipbuilder featuring the RMS Aquitania of the Cunard Line. GGA Image ID # 101794dbde
The additional number of The Shipbuilder entirely devoted to the Cunard Line's Quadruple- Screw Mail and Passenger Steamship Aquitania, which has recently entered the Atlantic service, was published on the 26th June, and copies were immediately despatched to newsagents and our regular subscribers.
By arrangement with the Cunard Steamship Co., Limited, the owners of the vessel, and Messrs. John Brown & Co., Limited, the builders of both the ship and her propelling machinery, who placed full data at our disposal, this issue contains a complete technical description of the vessel, her Parsons turbine propelling machinery, and auxiliaries, and includes about 200 plans and drawings, coloured and black and white illustrations of the ship, her passenger accommodation, etc., etc.
The special Aquitania Souvenir Number is by far the fullest and most authentic account published of this epoch-making steamship, the largest so far built in Great Britain. We anticipated that this issue would be permanently regarded as an authoritative work of reference concerning heT construction and equipment; and from the opinions expressed by those who are well able to judge, this anticipation is likely to be fully realized.
In the preparation of this issue we have followed on the general lines of the Mauretania and Olympic Souvenir Numbers, published in 1907 and 1911 respectively, and copies of which are still being sold by us all over the world. We desire to take this opportunity to thank our numerous readers who have written expressing their high appreciation of the Aquitania Souvenir Number since we have found it impossible to write to each personally.
Although the Aquitania Number, at the time of writing, was only published a few days ago, some thousands of copies have already been sold, and the edition is rapidly becoming exhausted. To prevent disappointment.
Therefore, we recommend our readers to apply promptly for any further copies required, as, because of the considerable cost of producing this special number, no further edition will be issued. So long as the present edition lasts, copies in paper covers will be forwarded to any address in the United Kingdom at 2s. 4d. each, or 2s. 8d. abroad, post free.
North American. French, Italian, German, and Scandinavian subscribers may remit by international money order, the equivalent of 2s. 8d. being 65 cents, 3 -40 francs, 3 *40 lire. 2 '75 mark, or 2 '45 kr., Franco.
We are in a position to supply a limited number of copies of this souvenir number, tastefully bound in green art cloth and embossed in gold, at 4s. (3d. each to any address at home or 5s. Od. abroad, post free. North American and Continental subscribers will note that the equivalent of 5s. Od. is 1 -25 dollars, 6 -25 francs, 6 -25 lire, 5 -20 mark, or 4 -50 kr ..Franco.
Readers desirous of preserving copies already purchased in paper covers may obtain from us s]>ecially prepared cloth cases at the cost of Is. 9d. each at home, or 2s. abroad, post free; say 50 cents. 2 -50 francs, 2 -50 lire, 2 -10 mark, or 1 -85 kr., Franco.
Remittances should be sent to the Publishers of The Shipbuilders, Newcastle-on-Tyne, England. Drafts on foreign banks cannot be accepted in payment of small amounts.

1914-07 The Shipbuilder Monthly: The Journal of the Shipbuilding, Marine Engineering and Allied Industries, Vol. XI, No. 47. 50 Pages + Prefix and Suffix of advertisements. Includes Index to Volume X January-June 1914.