Cunarder Travel Magazine - Special Mediterranean Cruise Issue - November 1922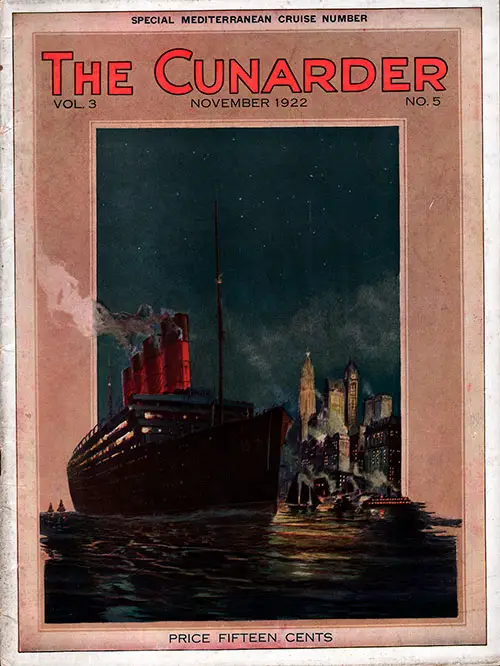 Front Cover for the Special Mediterranean Cruise Issue of The Cunarder Travel Magazine for November 1922. GGA Image ID # 1019587a0c
Volume 3, Number 5, November 1922 issue of the Cunarder, the Special Mediterranean Cruise Issue featured articles including: Highlights Of A Mediterranean Cruise, By Frank A. Owen, Purser Of The "Carmania"; A Modern Traveler in Ancient Palestine, By Gregory Scott; Confessions Of A Ship News Reporter By Charles Welton, P.S.N.R. and a women's fashion article Fashions For The Crisp Brisk Days At Sea, By Ethel Fleming.
Copyright, 1922, The Cunard Steam Ship Company Limited
"The Cunarder" may be purchased at all subway and elevated newsstands and at Tyson's offices in the leading hotels of New York. It is also for sale upon the arrival and departure of Cunard and Anchor Line steamers, as well as at the Cunard Building, 25 Broadway.
Contents
Frontispiece, An Arabian Nights' Street In Algiers
Highlights Of A Mediterranean Cruise, By Frank A. Owen, Purser Of The "Carmania"
On A Poets' Pilgrimage to Rome
Bits Of Life and Scenes Of Loveliness A Mediterranean Cruise Affords the Delighted Traveler
A Modern Traveler in Ancient Palestine, By Gregory Scott
Who's Who On The Atlantic (with Photographs)

Sir Harry Lauder and Lady Lauder
Mr. and Mrs. Giorgio Polcco (Edith Mason)
Ex-Governor Smith and Lewis Nixon
Rt. Hon. Reginald McKenna, P.C.
Carl Laemmle and Capt. Sir James Charles (Aquitania)

Confessions Of A Ship News Reporter By Charles Welton, P.S.N.R.
May We Interrupt, Mr. O'Neill? By Ethel Fleming
French North-African Colonies
List of Advertisers
Cunard and Anchor Steam Ship Lines Services, Fleet and Offices
Cunard - Anchor Lines Traveller's Cheques
Toyo Kisen Kaisha (Oriental SS Co.)
The Ritz-Carlton, New York
Philadelphia Trust Company
Charles Francis Press, New York
Cunard - Anchor Freight Services
Ritz-Carlton, Atlantic City
Hotel Chelsea, New York
The Anchor Line - Visit the Land of Romance - Scotland
One-Funnel Wonder Ships, Cunard Laconia, Samaria and Sythia with photo of First Class Garden Lounge
The Ambassador Hotel, New York
Insurance Company of North America, Philadelphia
E.E. Barrett & Co., Inc - See and Harbor Towing, New York
Anglo-South American Bank, Limited, New York
Cunard and Anchor Lines Mediterranean Tours
Chas. W. Wolf, 1922-1923 Mediterranean Cruise
W. & J. Sloane, New York, Washington, San Francisco
Otis Elevator Company
Thomas Cook & Son
Hotel Bretton Hall, New York
John E. Moore Company, New York
Frank Tourist Co., New York and Philadelphia
Cunard Anchor, Anchor-Donaldson Proposed Sailings
Mothersill's Seasick Remedy Company, Ltd.
Fourteen East Sixtieth Street, New York
H. Hicks & Son, New York
Atlantic Coast Shipping Co., Inc., Baltimore
John Gorham, Pioneer of American Progress (This is the third of a series of articles on silver -- The next will be "The Making of Silver Ware.")
Radio Corporation of America, New York
Hotel Netherland, New York
Bowman Hotels, New York