SS Stavangerfjord Passenger List - 10 February 1953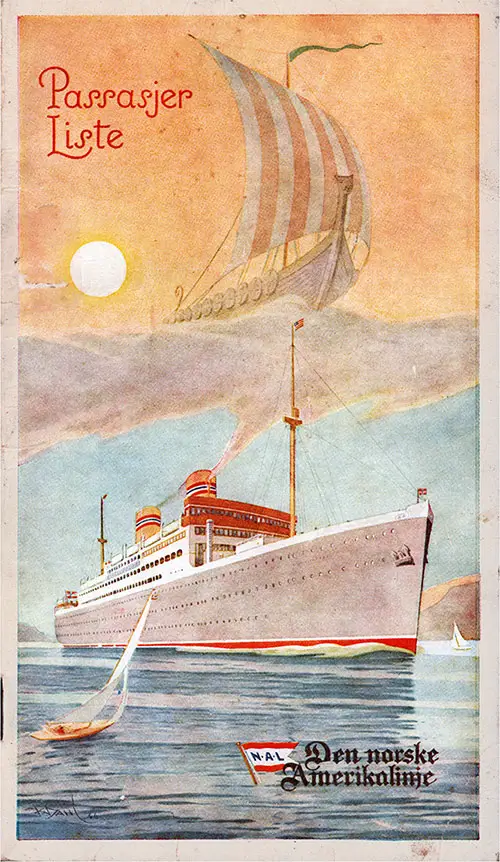 Front Cover of a First, Cabin, and Tourist Class Passenger List from the SS Stavangerfjord of the Norwegian-America Line, Departing 10 February 1953 from Oslo to New York via Copenhagen and Kristiansand, Commanded by Captain Olaf Bjørnstad. GGA Image ID # 12c6bd0e38
Senior Officers and Staff
Commander: OLAF BJORNSTAD
Chief Officer: ODD ASPELUND
Chief Engineer: ODIN DANIELSEN
Purser: EGIL SVAAR
Doctor: CHRISTIAN FALCH
Chief Steward: HARALD DONNUM
First Class Passengers
Belsby, Osborne, herr
Belsby, Osa, fru
Belsby, Ole, her
Belsby, Nancy, frk       
Belsby, Karen, frk        
Belsby, Donel, herr      
Belsby, Arne, herr       
Belsby, Gary, her
Bang, Eilif jr., herr
Bjørnvik, Rolf, herr
Brunvand, Jørgen, herr
Casey, William, herr
Casey, Lavinia, fru
Casey, Allen, herr
Casey, Ellen, frk
Christoffersen, Anna, frk
Christoffersen, Finn, herr
Gundersen, Oscar, herr.
Hellstrøm, Edgar, herr
Hughes, William G., hen
Langbraaten, Stein, herr
Larson, Albert A., herr
Lewis, Asa, herr
Lewis, Charlotte, fru
Lewis, Susan, frk         
Lynn, Robert, herr       
Lynn, Adele, fru 
Lynn, Sheila, frk
Magnus, Jan H. H., herr
Moe, Niels, herr
Moe, Julia, fru   
Mostad, Finn Berge, herr
Nelson, Dagny, fru      
Nielsen, Ole, herr        
Nielsen, Sven, herr
Nielsen, Marie, fru       
Nilsen, Sigmund A., herr
Sandbläst, Oie, herra
Siem, Bjarne, herr
Siem, Oneta, fru
Stabei, Carl, herr
Stanley, Lyulp H., herr
York, Fred, herr
Cabin Class Passengers
Andersen, Anders A., herr
Anderson, Oman E., herr
Aubert, Finn, herr        
Austad, Nils, herr        
Badendyck, Helge, herr
Berg, Jan, A., herr       
Bentsen, Birger, herr   
Bentsen, Ingeborg, fru
Bentzen, Christine, frk.
Berg, Frank C, herr     
Bjørge, Jørgen, herr
Bolseth, Ragnvald, herr
Brevik, Else, frk 
Brunsvold, Stella O., fru
Bräthen, Karoline, fru
Bräthen, Gerd, frk       
Carlson, Carl, herr       
Carlson, Olga, fru        
Dowling, Astrid, fru      
Egckvist, Søren, herr   
Egcsten, Osclius, herr
Eide, Agnes, fru
Ellingsen, Elling, herr
Engelsen, Gustav, herr
Eriksen, Gunborg, frk  
Eskedal, Emily, frk       
Espeseth, Jon, herr     
Espeseth, Johannes, herr
Fillinger, Solveig, fru
Finne, Emilie, frk
Fjarvoll, Trygve, herr   
Fjarvoll, Magnhild, fru
Gabriclsen, Walter, herr
Gabrielsen, Liv, fru      
Gabrielsen, Walter jr., 
Gimse, Joan, frk
Gimse, Kari, frk 
Gulbrandsen, Torbjørn, herr
Haakonsen, Kristian, herr
Hansen, Margit, fru      
Hansen, Otto Mo, herr 
Hansen, Poul, herr      
Hanssen, Karen, fru    
Harvey, Gunhild L, fru 
Harvey, Glenn, herr     
Harvey, Signe, frk       
Harvey, Peter, herr      
Helium Louise, fru       
Hindklev, Margit, frk    
Holm, Anne-Lise, fru    
Horn, Anders, herr       
Horn, Astrid, fru
Hovden, Hans, herr     
Hove, Knut, herr          
Jayne, John, herr        
Jensen, Hans, herr      
Jensen, Anna, fru        
Jensen, Thorleif herr   
Jensen, Kirsten, fru     
Johannesen, Tilla, fru  
Jonassen, Nora, fru     
Jørgensen, Henry, herr
Jørgensen, Johanne, fru        
Karlsen, Karl, herr       
Karlsen, Ingeborg, fru  
Knudsen, Karen, fru    
Laading, Karen Sofie, fru
Larsen, Hans C, herr   
Larsen-Kongshaug, Martha A., fru
Lomeland, Sigurd, herr
Manskow, Trond, herr  
Melander, Anna, fru     
Moslet, Nora, fru
Nakkestad, Marit, fru
Nakkestad, John, herr
Nielsen, Lars K., herr
Nordal, Arnold, herr
Nordal, Alma, fru         
Nordal, Per Erik, herr
Nordal, Helge, herr
Nordal, Anna, frk         
Nørmark, Elisabeth, fru
Okstad, Kaare, herr
Olsen, Otto, herr
Olsen, Solveig, frk       
Ostgulen, Petra, fru     
Pedersen, Egil, herr    
Petersen, John, herr    
Petersen, Mathea, fru  
Petersen, Marit, frk      
Rannestad, Andreas, herr
Rennesund, Bjørg, frk
Rennesund, Grethe, frk
Soreide, Kristoffer, herr
Stenslund, Leif, herr    
Strømstad, Inger, frk   
Svangtun, Magne, herr
Svendsrud, Gudmund, herr
Søvik, Anna Line L, fru
Søvik, Jan Bernt     
Thomassen, Irma, frk
Thompson, Jennie, fru
Thorbjørnsen, Trygve, herr
Tveida, Anna, frk    
Tønnessen, Tor, herr        
Wiberg, Jonna, frk  
Wien, Anne Marie, frk
Tourist Class Passengers
Abrahamsen, Alf, herr
Alme, Ingrid, fru
Alme, Einar, herr
Andersen, Anders J., herr
Andersen, Hans, herr
Andersen, Ingvald, herr
Andersen, Johs. herr   
Andersen, Louise, fru
Andersen, Morits, herr
Anderssen, Randi H., frk
Andreassen, Nils, herr
Andresen, Hans, herr
Andresen, John, herr
Andreassen, Kjell, herr
Andrum, Richard, herr
Arntsen, Arthur H., herr
Arntsen, Josefa A., fru
Bakkeli, Ingrid, frk
Bakkeli, Solveig, frk
Bakken, Asbjørn, herr
Bekkvik, Birger, herr
Bekkvik, Gerda, fru
Benthsen, Lillian, frk
Berg, Christie, B., herr
Berg, Elsa M., fru        
Bjørnseth, Arvid, herr
Bjäland, Torfinn, herr
Blakset, Margit, frk
Blomquist, Alma, frk
Boug, Oscar F., herr
Boug, Anna, fru 
Brodahl, Trygve, herr
Brodersen, Asmus, herr
Braten, Hans F., herr
Bunch, Ejner, herr       
Bunch, Shirley Ann, fru
Bunting, Anna, fru
Bye, Olga, fru    
Bøe, Brit, fru     
Børnes, Leif, herr        
Børnes, Anne Karin, fru
Børnes, Bjørn, herr      
Carlson, Gustav, herr  
Christensen, Lars F., herr
Christensen, Olaf, herr
Christensen, Ole Hviid, herr
Dahlman, Elsa-Britta, fru
Dahlman, Barbro, frk   
DahlmanJCarin, frk     
Dahlman, Kerstin, frk
Damgärd, Peter, herr   
Damgärd, Wenche, frk
Deros, Inge, herr         
Edvardsen, Egil, herr             
Egeland, Solveig, frk   
Eidshaug, Sverre, herr 
Ellingsen, Thorgny, herr
Ellingsen, Astrid, fru    
Ellingsen, Tove, frk      
Ellingsen, Roald, herr  
Ellingsen, Hans, herr   
Engebretsen, Johannes, herr
Engstrøm, Bjarne, herr
Erickson, Evelyn, frk              
Erickson, Jacob, herr   
Eriksen, Sven O., herr 
Evenstad, Lars, herr    
Fleseland, Astrid, frk    
Fløistad, John, herr     
Fløistad, Barbara, fru   
Foss, Anne K., frk       
Fredriksen, Asbjørn, herr
Fredriksen, Johan O., herr
Frydcnlund, Küre, herr
Gabrielsen, Torbjørn, herr
Gjerløv, Arne, herr       
Grundvad, Jens, herr   
Græmer, Inge, fru        
Grønhaug, Erling, herr
Gundersen, Einar, herr
Gundersen, George, herr
Gundersen, Gunnar, herr
Gundersen, Sigurd, herr
Hage, Sigurd, herr       
Hageland, Gunvor, fru 
Hageland, Ellinor, frk   
Hagestad, Gerd, frk     
Halvorsen, Alfred, herr
Halvorsen, Solveig, fru
Halvorsen, Jan Erik, herr
Halvorsen, Liv Snefrid, frk
Hansen, Albien, herr    
Hansen, Arnfin, herr    
Hansen, Olga, fru        
Hansen, Alf, herr         
Hansen, Bodil, frk        
Hansen, Johan P., herr
Hansen, Gunnar, herr
Hansen, Inger, fru       
Hansen, Frede, herr
Hansen, Bjørn, herr
Hansen, Harry A., herr      
Hansen, Gudrun, fru         
Hansen, Sonja, frk 
Hansen, Ingolf, herr
Hansen, Leonard, herr      
Hansen, Ragnar F., herr
Hansen, Priscilla, fru        
Hansen, Catherine, frk      
Hansen, Svend, herr        
Harboe, Henrik, herr         
Hauge, Kristian, herr        
Haugen, Lars, herr
Haugland, Marie, frk         
Hegland, Judith, frk
Helleland, Sverre, herr
Hemmingstad, Carl, herr
Henriksen Johnni A., herr
Henriksen, Norolf, herr
Hilland, Kirsten Berg, frk
Hille, Bjarne, herr   
Hille, Elling, herr     
Hille, Leila, fru        
Hoel, Gunvald, herr
Hoel, Irene, fru       
Hoel, Elsie, frk       
Hogberg, John, herr         
Hole, Edna, fru       
Hole, Lars, herr      
Hæstad, Selma, fru
Høgaas, Angel F., herr
Høyem, Peder, herr
Høyland, Thorleif, herr
Hände, Kr., herr     
Haarr, Henry H., herr
Iversen, Bernt, herr
Iversen, Herluf, herr
Iversen, Olga, fru    
Iversen, Kurt, herr  
Iversen, Anni, frk    
Iversen, Ole, herr   
Iversen, Turid, fru   
Jacobsen, Georg, herr
Jacobsen, Hans A., herr
Jantzeri, Odd, herr 
Jensen, Alf, herr     
Jensen, Hjørdis, fru
Jensen, Sonja, frk  
Jensen, Gerry, herr
Jensen, Hans, herr
Jensen, Henry, herr
Jensen, Jens, herr  
Jensen, Peter, herr 
Jensen, Holger, herr         
Jensen, Muriel, fru 
Johansen, Erna J., frk      
Johansen, Jan S., herr
Johansen, Oluf, herr         
Johnsen, Odd, herr
Johnsen, Sverre, herr       
Johnsen, Tordis, fru          
Johnson, Emil, herr
Johnson, John, herr
Johnson, Mary, fru 
Jonassen, Hilmer, herr
Jørgensen, Birger, herr
Jørgensen, Johannes, herr
Jørgensen, Johanne, fru
Karlsen, Gunvor M., frk
Karlsen, Kaare, herr         
Kihl, Erik R., herr    
Kjellstrøm, Bjørn, herr       
Kjær, John, herr     
Kjærre, Per T,. herr
Kleivane, Sigmund, herr
Klerud, Even, herr  
Kolberg, Odd, herr  
Kopperud, Eva, frk 
Kriscensen, Villy, herr       
Kristiansen, Kjell R., herr
Kristiansen, Kristian, herr .
Krogstad, Arne, herr         
Krogstad, Trygve, herr
Langaker, Georg, herr      
Larsen, Andrew, herr        
Larsen, Mary, fru    
Larsen, Christian, herr      
Larsen, Reiulf S., herr
Lauridscn, Mads Peter, herr
Liasjø, Ingemann, herr
Liasjø, Magnhild, fru         
Liasjø, Torbjørn, herr        
Loland, Olav, herr  
Lund, Christian, herr         
Lund, Gjertrud E., fru
Lund, Ingvald, herr
Lunden, Johanne, frk        
Lundquist, Jeanner, fru     
Lynes, Berit, frk      
Madsen, Inger J., frk        
Madsen, Niels H., herr      
Madsen, Sigvald, herr       
Marstein, Bjarne, herr
Melstveit, Sverre, herr      
Meren, Julius, herr
Meyer, Trygve, herr
Meyer, Roald, herr 
Mikkelsen, Asborg, frk      
Mo, Egil, herr
Moan, Eidar, herr   
Mothershed, Florence, fru
Motzfeldt, Sonja, frk
Myrvold, Odd B., herr       
Ness, Gunnar, herr 
Nielsen, Alf, herr    
Nielsen, Svend E., herr     
Nilsen, Finn Juul, herr
Nilsen, Toralf, herr  
Norløff, Kari, frk      
Normann, Kari, frk  
Nyland, Gerd, frk    
Nystedt, Helga, fru 
Oiestad, Anders, herr       
Oiestad, Gurid, fru  
Oiestad, Kenneth, herr      
Olsen, Georg, herr 
Olsen, Harry, herr  
Olsen, John, herr    
Olsen, Olaf, herr     
Olsen, Sverre, herr 
Olson, Elin M., fru  
Olson, Gunder, herr
Oseassen, Lars, herr        
Osmundsen, Anne Lise, frk
Oudalstøl, Olav, herr        
Pedersen, Sofie O., fru     
Pedersen Rolf Nils, herr
Pedersen, Bernhof, herr
Petersen, Svend A., herr
Philipson, Ida, fru   
Polston, Helen A., fru
Rabben, Magne, herr       
Ramskeid, Angvald, herr
 Rasmussen, Bjarne P., herr
Rasmussen, Gudrun, fru
Rasmussen, Sonja, frk
Rasmussen, Amalie J., fru
Reiersen, Magny, frk        
Rimesl&tten, Hans, herr
Rob, Arvid, herr      
Sagness, Karin, fru
Sagness, Virgil O., 
Sandberg, Thor, herr        
Sandberg, Bodil, fru          
Sandberg, Thor Sverre, herr
Sandberg, Jørn, herr        
Simonsen, Jerntoft, herr
Si monsen, Petra, fru        
Simonsen, Rolf, herr         
Skavang, Aase, fr   
Skellum, Fred         
Skollevold, Asborg, frk      
Skramstad, Marie, frk       
Skramstad, Olaf, herr       
Skutvik, Helmer, herr        
Sletten, Arthur, herr
Smedhaug, Eric, herr       
Soland, Synnpvc, frk        
Solbak, Lars, herr   
Solos, John, herr    
Sorlien, Alfred, herr
Sorlien, Mabel, fru  
Sorlien, Lloyd, herr 
Sorlien, Karen, frk  
Spongberg, Anne-Lise, frk
Stava, Erling, herr  
Stava, Jenny, fru    
Stava, Else, frk      
Stiansen, Karl S., herr      
Staal, Diana, frk     
Sund void, Norman, herr
Sundvold, Amalie, fru       
Svanes, Olav H., herr       
Svanes, Herd is, fru
Svenningsen, Knut, herr
Sæther, Lars, herr  
Sæterdal, Kirsten, frk        
Sætre, Erling, herr  
Sørensen, Jan M., herr
Sørlie, John Ivar, herr       
Taksdal, Maria, fr   
Tengelsen, Torlaug, frk
Thomasen, Birthe, fru
Thomassen, Helge, herr
Thomsen, Arne, herr        
Thorp, Solveig, frk  
Thorvaldsen, Arne, herr
Tronæs, Birger, herr         
Trønsdal, Per, herr 
Tung, Paul A., herr
Tung, Robert O., herr       
Tung, Reimar, herr 
Tung, Michael J., herr
Tverä, Hans R., herr         
Tønncscn, Kirsten, fr        
Undem, Sven, herr 
Urdal, Gudrun, frk  
Vaines, Gerhard, herr
Vatland, Anders, herr
Veggeland, Hans, herr      
Vestly, Nils, herr     
Vevik, Sivert L, herr
Viddal, Sivert, herr  
Walsted, Poul Harry, herr
Walsted, Erna, fru  
Walsted, Jørgen, herr
Walsted, Inger, frk  
Westby, Anna, frk   
Westgaard, Ellef J., herr
Wiik, Arne E., herr  
Wold, Christine, fru
Wærstad, Jan K., herr      
0ien, John R., herr  
0sttorp, Anton, herr
Aadnesen, Peder, herr
Aarrestad, Arne, herr        
Aase, Marit, fru                          
Aase, Marianne, frk
Aase, Liv, frk
Aasen, Hjalmar, herr
Information for Passengers
MEALS will as a rule be served at the following hours:
First Class
Breakfast: 8:00-9:30 A.M.
Lunch, First Sitting: 12:30 P.M.
Lunch, Second Sitting: 1:30 P.M.
Tea:  4:30 P.M.
Dinner, First Sitting:  6:30 P.M.
Dinner, Second Sitting:  7:30 P.M.
Cabin Class
Breakfast, First Sitting: 8:00 A.M.
Breakfast, Second Sitting : 8:45 A.M.
Lunch, First Sitting: 12:30 P.M.
Lunch, Second Sitting: 1:30 P.M.
Coffee and Tea:  4:00 P.M.
Dinner, First Sitting:  6:30 P.M.
Dinner, Second Sitting:  7:30 P.M.
Tourist Class
Breakfast: 8:00-9:30 A.M.
Dinner, First Sitting:  12:30 P.M.
Dinner, Second Sitting: 1:15 P.M.
Coffee:  3:30 P.M.
Supper, First Sitting: 6:30 P.M.
Supper, Second Sitting: 7:15 P.M.
Chimes or gong are sounded half an hour before and immediately preceding meals.
The Management will highly appreciate the cooperation of our passengers, in observing the scheduled meal hours during the voyage. This will eliminate any undue delays and greatly assist making your stay on board as pleasant and comfortable as possible.
Seats at the dining tables are assigned by the steward after sailing. In assigning the seats there will as far as possible be shown due regard to the wishes of the passengers.
Public rooms are open for the use and comfort of the passengers all day from 8 a.m. to 11 p.m. Lights are extinguished at 11 p.m. (in the smoking rooms at 11:30 p.m.) and after these hours the passengers are not allowed to stay in the public rooms. The bars are closed at 11:00 p.m.
Gambling is prohibited.
Baths should be ordered from the bathroom or stateroom servants.
Library. Books may be borrowed from the ship's library by applying to the deck steward to whom the books must be returned the day before arrival.
Baggage. Only ordinary steamer trunks and hand- baggage are allowed in the staterooms. Baggage labelled «Baggage Room» will be placed in the baggage room, entrance on "D" deck aft, port side to which there is access every day from 10 to 11 a.m. and from 4:30 to 5:30 p m.
Blankets and Pillows must not be taken from the staterooms for use on decks.
Wireless Telegrams are received for transmission any time by the wireless operator. The Wireless Station is located on the Bridge Deck.
Letters must be affixed with Norwegian stamps and put in the mail boxes. Mail will be sent ashore at first ports of call. Stamps are obtainable from the deck steward.
Valuables. The company will not be responsible for money, jewelry or other valuables, belonging to the passengers. The passengers are warned not to leave such articles in their staterooms.
Money and other valuables enclosed in special safety envelopes provided for such purposes may be deposited with the purser, who will give a receipt for the same, but as no charges are made, the company assumes no responsibility.
Doctor's Office is located on "E" deck, starboard side. Hours from 9:30-10:30 a.m. and from 5:00-6:00 p.m. Emergency calls are attended to at any time. No charges will be made for attendance to illnesses originating onboard. For attendance to illnesses originating prior to embarkation a fee may be charged. Medicine is free, with the exception of certain expensive antibiotic drugs which will be available onboard to be prescribed by the doctor and will be charged for at the usual shore prices. A trained nurse will attend passengers in case of illness.
Purser's Office (also information office), is open from 9:30-11:30 a.m. and from 3:30-4:30 p.m.
Tips are, in accordance with general practice, not included in the price of the ocean ticket.
Money Order Service - The Norwegian America Line offices in New York, Minneapolis and Seattle effect transfers of Norwegian Kroner to all parts of Norway.
The money can be sent in three different ways: By Airmail, By Cable, By Draft.
There are no restrictions as to amounts which may be transferred, but the Norwegian Government regulations do not permit travelers to bring more than 50 Kroner in Norwegian currency into Norway.
Travelers will find it advisable and safe to carry N. A. L. Drafts, payable in Norwegian Kroner, which may be cashed by all our offices in Norway, as well as by all leading banks in Norway.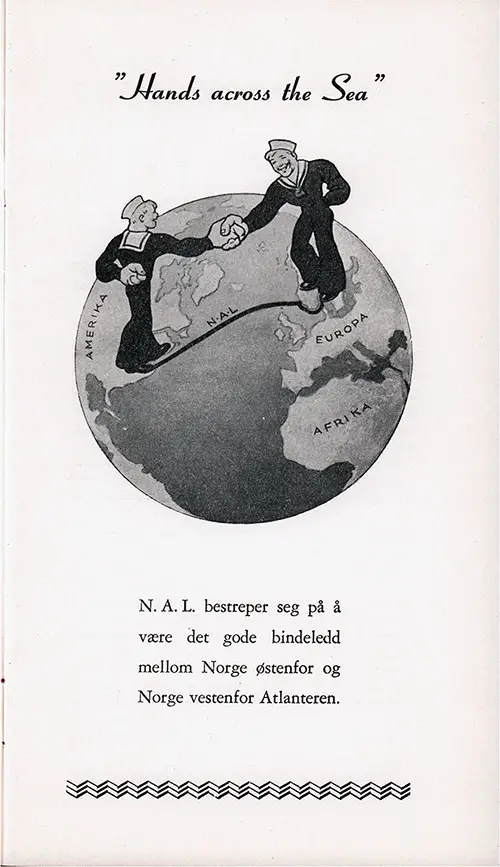 "Hands Across the Sea," Norwegian America Line. GGA Image ID # 12c6d43ced
Route Map, Norwegian-America Line SS Stavangerfjord First, Cabin, and Tourist Class Passenger List - 10 February 1953. GGA Image ID # 12c6f29b52
MS Oslofjord 17,000 Tons, Length 577 Feet, Breadth 72 Feet. GGA Image ID # 12c71c90f3