SS Stavangerfjord Passenger List - 14 July 1953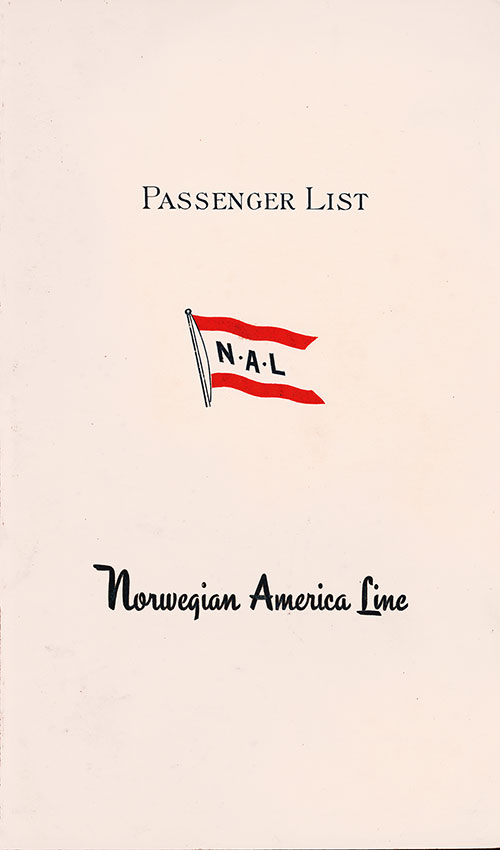 Front Cover of a First, Cabin, and Tourist Passenger List from the SS Stavangerfjord of the Norwegian-America Line, Departing Tuesday, 14 July 1953 from New York to Oslo via Bergen, Stavanger, and Kristiansand, Commanded by Captain Olaf Bjørnstad, R.N.R. GGA Image ID # 1ed5e5dd73
Senior Officers and Staff
Commander: OLAF BJORNSTAD, R.N.N.
Chief Officer: ODD ASPELUND
Chief Engineer: ODIN DANIELSEN
Purser: ARNE U. BLIX
Doctor: OLAF BUGGE-ASPERHEIM
Chief Steward: AAGE SANNO
First Class Passengers
Ahlborg, Miss Birgit
Benson, Mr. Jack
Bergren, Mrs. Marie
Blestrud, Mrs. Martha
Blestrud, Miss Elois
Blestrud, Mr. Matt
Blestrud, Mrs. Anna
Boe, Mrs. L. E.
Casper, Mr. William
Casper, Mrs. William
Christiansen, Miss Anthonette
Cushman, Mr. Rufus
Cushman, Mrs. Rufus
Cushman, Mr. Rufus
Dahl, Mr. Robert
DeAvonshire, Mrs. Gyda
Deputy, Mr. Fred
Deputy, Mrs. Fred
Dunlaevy, Mr. Edgar P.
Dunlaevy, Mrs. Marie
Dunlaevy, Master Erik
Dunlaevy, Master Michael
Dunlaevy, Miss Anne
Eid, Mrs. Asta
Ewerts, Mr. Karl
Ewerts, Mrs. Karl
Figenbaum, Mr. Carl Fredrik
Garpner, Mrs. Thelma
Garpner, Master Erik
Garpner, Master Jan
Gloersen, Miss Ragnhild
Goldstein, Mr. Israel
Goldstein, Mrs. Israel
Gravdal, Mr. Rolf
Hackman, Mr. George
Hackman, Mrs. Elisabeth
Hackman, Miss Patricia
Haggstrom, Mr. Guy
Haggstrom, Mrs. Guy
Halvorsen, Mr. O.
Hansen, Miss Alice M.
Hansen, Mrs. Jennie M.
Hexberg, Mr. Casper R.
Hexberg, Mrs. Jeanne A.
Homnes, Mr. George P.
Ingwalson, Mr. A
Jensen, Mr. Conrad
Jensen, Mrs. Olga
Johnson. Mr. Warren C.
Jorgensen, Mrs. Adele
Kline, Mr. Gordon
Kline, Mrs. Gordon
Kolle, Mr. Mogens
Koppen, Mr. Olaf
Lagreid, Mr. Olaf
Lagreid, Mrs. Eva
Lagreid, Master Lars
Larsen, Mrs. Sigrid T.
Leach, Mr. William B.
Leach, Mrs. William B.
Lokse, Mr. Olav
Lowe, Miss Dorith
Mahlum, Mr. Johannes T.
Mahlum, Mrs. Emma
Milner, Miss Dorothy
Nelsen, Mr. Christ
Nelson, Mr. Karl M.
Nelson, Mrs. Anna C.
Nesheim, Mr. John
Olsen, Mrs. Karen
Olsen, Miss Jenny
Opdal, Mr. Anders
Overgaard, Miss Thelma
Rognlien, Mr. Odd
Solberg, Mr. Alfred
Solberg, Mrs. Dagny
Sommerville, Mrs. Katherine
Stoll, Mr. Norman
Stoll, Mrs. Helen
Styri, Mr. Haakon
Styri, Mrs. Adale
Sviland, Mr. Arne
Sviland, Mrs. Ethel
Sviland, Miss Ingrid
Svorstol, Mr. Reidar
Tandberg, Mr. Eugen
Volwiler, Mr. E. H
Volwiler, Mrs. E. H
Wernimount, Mr. Grant
Wernimount, Mrs. Ruth
Wernimount, Miss Sandra
Westnes, Mrs. Ingeborg
Wieghorst, Mr. Olaf
Wieghorst, Mrs. Olaf
Williamson, Mr. Arne E.
Williamson, Mrs. Brynhilde
Wilson, Mr. R. E
Wilson, Mrs. R. E
Cabin Passengers
Abrahamsen, Miss Christence
Andersen, Mr. John
Andersen, Mr. Ole
Andersen, Mrs. Signe V.
Anderson, Mr. Maurice J.
Anderson, Mrs. Kitty
Anderson, Master John
Anderson, Master Thomas
Anderson, Mr. Arthur B.
Anderson, Mrs. Nellie H.
Andrews, Mrs. Karin
Andrews, Miss Jean
Appelquist, Mr. Carl
Aske, Mr. John
Bakken, Mr. Arthur
Barkman, Mrs. Nannie
Barkman, Miss Gladys
Berg, Mr. Claus
Bersheim, Mr. Lars
Bersheim, Mrs. Edith
Bjorn-Hansen, Mrs. Astrid
Blorstad, Mr. Arne
Blorstad, Mrs. Evelyn
Blume, Mrs. Bernice
Blume, Master John Erik
Blume, Miss Martha Ann
Blume, Miss Cara Lee
Bordsen, Mr. Gonder
Bordsen, Mrs. Jennie
Brcdesen, Mr. Fred
Bredesen, Mrs. Bertha
Breistein, Mr. Rasmus
Bruggeman, Mr. William
Bruggeman, Mrs. Waldry
Carlsen, Mrs. Haldis F.
Carlson, Mr. Torsten E.
Christophersen, Miss Anett
Dahlstrom, Mr. Sigurd
Dahlstrom. Mrs. Phyllis
Drolsom, Mrs. Gudrun
Dyhre, Mr. Arthur
Eilertsen, Mr. Marinius
Elisson, Mrs. Helga
Enevoldsen, Mrs. Dorothea
Enevoldsen, Miss Jessie
Erichsen, Miss Marie
Ericksen, Mr. Nels
Eriksen, Mr. Eystein
Eriksen, Mrs. Sigrid
Evert, Mrs. Anna
Fjellstad, Mr. Oistein
Flo, Mr. Erling
Franzen, Mr. Leonard
Frogner, Mr. Erling
Fruland, Mrs. Olga
Fugal, Mrs. Caroline
Gitmark, Mr. Stein
Grodem, Miss Helene
Grytting, Mrs. Wahlborg
Gulbrandsen, Mrs. Ruth
Gundersen, Mr. Guilder
Gundersen, Mrs. Anne
Gundersen, Mr. Gunne
Gundersen, Mrs. Aase
Gundersen, Mrs. Marie
Gundersen, Master Jan W.
Gundersen, Mrs. Ruth
Habberstad, Mr. John  
Habberstad, Mrs. John
Haga, Mr. Jacob
Hagen, Mrs. Benny
Halvorsen, Mr. Hans G.
Halvorsen, Mrs. Hulda
Halvorsen, Mr. Andrew
Halvorsen, Mrs. Helma
Halvorsen, Mrs. Randi S.
Halvorsen, Miss Sonja Jean
Hamborg, Miss E. Avilde
Hansen, Mrs. Kristine Marie
Hansen, Mrs. Gertrude
Hansen, Mrs. Kathinka
Hansen, Miss Rosa
Hansen, Mrs. Selma
Heiland, Mr. Ole
Heiland, Mrs. Anna
Heliand, Miss Shirley
Hendricksen, Mr. Ole
Henriksen, Mrs. Reidun
Henriksen, Mr. Thiis
Henriksen, Mrs. Hansine
Henriksen, Mr. Martin
Henriksen, Mrs. Astrid
Husher, Mr. Bengt
Jacobsen, Mr. Olaf
Jacobsen, Mr. John
Jahr, Mrs. Gunhild
Jensen, Mrs. Dagny
Johannessen, Mrs. Gulborg
Johnsen, Miss Gladys
Johnsen, Mrs. Margit
Johnsen, Mr. John  
Johnsen, Mrs. Gudrun
Johnson, Mr. Peter 
Jorgsen, Mr. Edward
Kaupanger, Mrs. Marinus
Kleppe, Mr. Lars
Kleppe, Mrs. Thora
Knudsen, Mr. Oivind
Knutsen, Mr. Anders
Korneliussen, Mrs. Hjordis
Korneliussen, Master Kenne
Kristiansen, Miss Marie
Kristoffersen, Mr. Arne
Langfeldt, Miss Anne Marie
Leird, Mrs. Kirstina
Lidemark, Mr. Rolfe
Lind, Mr. Arne
Lind, Master Thorbjorn
Litzmann, Mr. Gerhard B.
Litzmann, Mrs. Elsy
Loland, Master Carl
Lordahl, Mr. Richard
Lordahl, Mrs. Randi
Lordahl, Mr. Richard, Jr.
Martinson, Mr. Alfred
Martinson, Mrs. Ada
Mathieson, Miss Petra
Mathson, Mr. Ole
Meeker, Mrs. Ruth
Meyer, Mr. Erik B
Meyer, Mrs. Erik B.
Meyer. Master John Erik
Michel, Mr. John
Michel, Mrs. Mimi
Milan, Mrs. Olga
Monsen, Miss Oygunn
Munson, Mr. Albert
Munson, Mrs. Gerda
Nelson, Mr. Evert G.
Nelson, Mrs. Marie O.
Nelson Miss Marilyn
Nielsen, Mr. Knut
Norloff, Miss Kari
Odemark, Mrs. Audrey
Odemark, Miss Randi
Odemark, Master Sven
Oliversen, Mr. Thomas
Olsen, Mr. Alexander
Olsen, Mr. Arne
Olsen, Mrs. Myrtle
Olsen, Mr. Oswald
Olsen, Mrs. Sofie
Olsen, Mrs. Ellen T.
Olsen, Mrs. Marie C.
Olsen, Mrs. Martha
Olsen, Mrs. Laura
Olson, Mrs. Ebba
Olson, Miss Sonya
Olson, Mr. Raymond
Olson, Mr. Thomas
Oman, Mrs. Sigrid
Parker, Mr. Tom
Paulson, Mr. Henry
Pedersen, Mr. Arne
Pederson, Mr. James O.
Pederson, Mrs. Anna E.
Peterson, Mr. Carl G
Pettersen, Mrs. Dagny
Phillips, Mrs. Martha
Ramm, Mr. Kristian F.
Randeberg, Mrs. Cecilie
Rasmussen, Mrs. Hilda
Reinertz, Mrs. Astrid
Reykdal-Eriksen, Miss Elsa
Reykdal-Eriksen, Miss Alice
Rise, Mr. Olaf
Rise, Mrs. Othilie
Robarth, Mr. Oscar
Rossasen, Miss Hjordis
Rudberg, Miss Eva
Russ, Mrs. Mary K.
Samuelsen, Miss Mimi
Seren, Mr. Salem
Seren, Mrs. Irma
Seren, Master Roy
Severson, Mr. Michael
Simonsen, Mrs. Lydia
Skogen, Mr. Kittil
Skoor, Mr. Carl
Skoor, Mrs. Julia
Skurdal, Mrs. Anna
Stang, Mrs. Eleanor
Stenbock, Miss Clara
Stiansen, Mrs. Selma A.
Stiansen, Miss Carol A.
Stocke, Miss Ellin
Stue, Miss Kirsten
Sunde, Mrs. Selma
Sunde, Miss Ellen
Syre, Mr. Olaf S.
Thingvold, Mr. Ivar 
Thompson, Mr. Thorvald
Thompson, Mrs. Irene
Thorp, Mrs. Alvilda
Urstad, Mr. Sverre
Urstad, Mrs. Thora
Veidel, Mr. Arne J.
Vollmer, Mrs. Christine
Vollmer, Master Frederick
Wadson, Mr. Ivor
Wadson, Mrs. Jenny
Watson, Mrs. Clara
Wold, Miss Sofie
Tourist Passengers
Abrahamson, Mr. Theodor
Abrahamson, Mrs. Astrid
Abrahamson, Miss Elizabeth
Abrahamson, Miss Mari-Anne
Alberg, Mr. Bert 
Alvaer, Mr. Ivar 
Alvaer, Mrs. Mary
Amdahl, Mr. A
Andersen, Mr. Enok
Andersen, Master Karl
Andersen, Mr. Olav
Andersen, Mr. William
Andersen, Miss Hedy
Andersen, Mr. Per A. Sveaas
Andersen, Mrs. Unni
Andersen, Miss Nora
Anderson, Mr. Edward O.
Anderson, Mrs. Johanne
Anderson, Mrs. Ruth A
Arneson, Mr. Edward
Bentsen, Mrs. Martha
Berg, Mr. Alfred
Berg, Mrs. Emma
Berg, Master Dale A
Berg, Master Paul E
Berg, Mr. Martin
Berg, Mr. Oswald
Bergsnen, Mr. Edwin
Bestul, Mr. Theodore
Bie, Miss Ruth
Bjerkseth, Mr. Arne
Blom, Mrs. Judith
Blom, Master Roald
Bogen, Mrs. Olefine
Borgstrom, Mr. Kurt
Borgstrom, Mrs. Patricia
Bratrud, Mr. Harald
Carlson, Mr. August W.
Carlson, Mrs. Lilly
Carlson, Mrs. Marie E.
Carlson, Miss Lucy
Caspersen, Mrs. Hansine
Christiansen, Mrs. Mildred
Copeland, Mr. John M.
Dagestad, Mr. Gunnar
Daland, Mrs. Ragnhild
Danielsen, Mr. Chris
Danielsen, Mrs. Vera
Danielson, Mr. Stephen
Danielson, Mrs. Elsie
Eggen Mrs. Inga
Eide, Mr. Andrew S
Eikeskog, Mr. Gunnar
Ellertsen, Mr. Arne
Enersen, Miss Doris
Enokson, Mr. Kristian
Erickson, Mrs. Lina
Erickson, Miss Sonja
Feen, Mrs. Anne-Lise
Fladby, Mr. Einar
Folwick, Mrs. Betsy
Frivoll, Mr. Norman
Frivoll, Mrs. Bergliot
Frivoll, Mr. Leif
Frost, Mr. Clarence
Fredriksen, Mrs. Elisabeth
Gjerstad, Mr. Andrew
Gjertsen, Master Arne
Gjesdal, Mr. Knud
Goldenberg, Mr. Joseph
Goldenberg, Mrs. Lois
Grob, Mr. Francis H
Grob, Mrs. Francis H.
Groth, Mr. Jens
Gullovsen, Mr. Sigfred
Gunnheim, Miss Jorum
Gustavsen, Miss Mildred .
Hagcland, Mr. August J.
Hageland, Mrs. Anna
Hagestuen, Mr. Kaare
Hall, Mr. Amt C
Hall, Mrs. Hilda
Halvorsen, Mr. Odd
Hansen, Mr. Hans
Hansen, Mr. Ragnar
Hanson, Mr. John
Hanssen, Mrs. Anne Marie
Haugen, Mr. Ole          
Haugen, Mrs. Dorothy
Haugerud, Mr. Thomas
Hederen, Mrs. Gertrud
Hegna, Miss Anlaug
Heim, Mr. John
Hektner, Mrs. Bertha E.
Helgerud, Miss Gunvor
Helle, Mr. Tobias
Hemstad, Miss Gunvor M.
Henricksen, Mr. John
Henricksen, Mrs. Gunda
Henriksen, Mrs. Nora
Henriksen, Mr. Ole
Henriksen, Mrs. Anna
Hesla, Mr. Einar
Hiller, Mrs. Evelyn
Hoel, Mr. Conrad
Hoisaet, Miss Dorothea
Holmes, Miss Marit
Homme, Miss Ingeborg
Hove, Mr. Oliver M.
Hovik, Mr. Nils J
Hver, Miss Borghild
Jacobsen, Mr. Jacob H.
Jacobsen, Miss Martha
Jansen, Mr. Anders
Jansen, Mrs. Solveig
Jensen, Mr. Anders
Jensen, Mrs. Anders
Jensen, Miss Hanna J.
Jensen, Mr. Niels P.
Jensen, Mrs. Rosa A.
Jensen, Mr. Olaf
Jerstad, Mr. Theodor
Johansen, Mr. Erling M.
Johansen, Mr. Henrik
Johansen, Miss Jorgine
Johansen, Mr. Julius E.
Johansen, Mr. Per S
Johnsen, Miss Agnes
Johnsen, Miss Johanne
Johansen, Mr. Starle
Johnson, Mr. Gust
Johnson, Mrs. Greta
Johnson, Mrs. Inga
Johnson, Mr. Olaf
Johnson, Miss Sophie
Jorgensen, Mr. Cornelius
Jorgensen, Mr. Erling
Kallenberg, Mr. Kornelius
Kindstedt-Sparr, Mr. Eric A.
King, Mrs. Christine
Kjolstad, Mrs. Elba
Kjolstad, Miss Mette
Kleiven, Mrs. Berthe J.
Kleven, Miss Bcrntine
Kleven, Mr. Fred
Kleven, Mrs. Lina
Kluken, Mrs. Inga
Knutsen, Mr. Christian
Knutsen, Mrs. Ruth 
Knutsen, Mr. Konrad E.
Knutsen, Mrs. Malfred L.
Kristensen, Mr. Kaare
Kristiansen, Miss Anna
Laerum, Mr. Adler
Laerum, Mrs. Inga
Laerum, Miss Aase 
Laerum, Miss Vigdis
Larsen, Mrs. Anna
Larsen, Mr. Ragnar
Lenschow, Mr. Hans H.
Lenschow, Mrs. Leona P.
Levy, Mrs. Ingeborg
Levy, Miss Etty
Lindquist, Mrs. Naima
Lindquist, Miss Britta M.
Lindquist, Master Kurt R.
Lov, Mr. Elov
Lov, Mrs. Borghild
Loe, Miss Ingeborg
Lovaas, Mr. Kjell
Lovaas, Mrs. Bjorg
Lund, Miss Cecilia
Lunden, Miss Johanne Margit
Lundstrom, Mr. T. H.
Lykaas, Mr. Arnfinn
Lykaas, Mrs. Marry
Lyngsnes, Mr. Johannes P.
Mellum, Mr. Erik
Moe, Mr. Nils
Mogensen, Mr. Erik
Mong, Mr. Einar
Monsen, Mr. Ragnvald
Monsen, Mrs. Elna
Monson, Mr. Andrew
Morken, Mr. Jorgen J.
Mustad, Mr. Ole M
Mustad, Mrs. Ole M.
Myrdal, Mr. Martin
Nelsen, Mr. Harold 
Nelsen, Mrs. Erna
Nelson, Mr. Haldor T.
Nelson, Mrs. Sigfrid
Nelson, Master Robert
Nesheim, Mr. Knut
Nesheim, Miss Katherine
Ness, Mr. Ole
Nielsen, Mrs. Susie
Nielsen, Miss Carol
Nielsen, Master Stanley
Nielsen, Master Peter
Nilsen, Mrs. Nini
Nissen, Mr. Hans C.
Nissen, Mrs. Catharina
Normann, Mr. Olaf
Oftedal, Mrs. Petra
Ojord, Miss Sofie
Olav, Mrs. Unni
Ollestad, Mr. Olav
Ollestad, Mrs. Maalfrid
Olsen, Mr. Leonard 
Olsen, Mrs. Margrethe Olsen
Opsahl, Mrs. Selma
Oseng, Mr. Pete
Ostraadt, Mrs. Ragna M.
Ove, Mr. Theodore
Ove, Mrs. Laura B
Ovrebo, Mrs. Selma
Owren, Miss Aase
Partti, Mr. Eino
Partti, Mrs. Aili
Paulsen, Mr. Gustav
Paulsen, Mrs. Sally 
Pearson, Mrs. Jensine E.
Perkins, Miss Eugenia
Peterson, Mr. Edgar H.
Peterson, Mrs. Georgia
Peterson, Miss Bernice
Peterson, Mrs. Gina
Peterson, Mr. John
Peterson, Mrs. Amanda
Peterson, Mr. Magnus
Peterson, Mr. Sam 
Peterson, Mrs. Marta
Poulsen, Miss Inge Svangsberg
Rainwater, Mrs. Ingalina
Ramm, Miss Erna
Rasmussen, Mr. Jesper J.
Riple, Miss Gurli
Risvaer, Mr. Hans K.
Roswall, Mr. Waldemar
Roswall, Mrs. Anna
Roswall, Master Folke
Rud, Mrs. Anna K
Rvonakangas, Miss Tyyn
Sagdalen, Mrs. Sigrid
Selsand, Mrs. Eilertine
Seyffarth, Mr. John 
Seyffarth, Mrs. Gudrun
Seyffarth, Miss Elsi
Skadberg, Mrs. Jakobine
Skarpsno, Mr. Harald
Skarpsno, Mrs. Helga
Solberg, Mr. John O.
Solli, Miss Marilyn
Solli, Miss Solveig
Sorbye, Mr. Aage
Spor, Mr. Einar T
Stalheim, Mr. Anton
Stedje, Mr. Hans
Stene, Mr. Anton
Stokkeland, Mr. Olaf
Stolaas, Mr. Mons
Stolaas, Mrs. Christine
Storaas, Mr. Hans
Stub, Miss Margrethe
Sunde, Mr. Ole E
Sunde, Mrs. Olive
Swanson, Mrs. Juliana
Swanson, Mrs. Birgit
Swanson, Miss Jennie
Svendsen, Mrs. Karoline
Svennevik, Mr. Jacob
Svennevik, Miss Thora K.
Svensson, Mr. Karl
Talley, Mrs. Josephine
Thompson, Mrs. Anne
Thorjussen, Mrs. Magda
Thorsen, Mr. Emanuel
Thorsen, Mrs. Bergliot
Thorsen, Miss Rose Mary
Thorsen, Master Torrey
Tobiason, Mr. Thorvald
Tobiason, Mrs. Alvilda
Tonnesen, Miss Esther
Torkelsen, Mr. Eilif J
Torring, Mr. Peter
Tryland, Mrs. Olga
Tryland, Miss Mildred
Tvedt, Mr. Hans
Tysnes, Mr. Kjell
Tysnes, Mrs. Gunvor
Tysnes, Miss Eyrin
Unhammer, Mr. Arthur
Unhammer, Mrs. Tora
Unhammer, Miss Vivian
Unhammer, Miss Ingrid
Unneland, Mr. Konrad
Urdalen, Mr. Kristian
Ursin-Bjorklund, Mrs. Anna
Varese, Miss Yvonne D.
Varese, Mrs. Ida
Vincent, Miss Ruth 
Voigt, Miss Ruth
Voigt, Miss Margery
Walhovd. Mr. Leif
Wamnes. Miss Gerd
Westfaard, Mr. Ellef
Wierlie, Mr. Jonas
Wierlie, Mrs. Signe
Wierlie, Miss Marie
Wierlie, Miss Astrid
Wolfrom, Mr. Melville
Woll. Mr. Jacob
Information for Passengers
MEALS are generally served at the following hours:
First Class
Breakfast: 8:00-9:30 am
Bouillon: 11:00 am
Lunch: 12:30 pm
Tea:  4:30 pm
Dinner:  7:00 pm
A chime is sounded at 8:00 am and half an hour before and immediately preceding lunch and dinner.
Cabin Class
Breakfast, First Sitting:       8:00-8:45 am
Breakfast, Second Sitting : 8:45-9:30      am
Lunch, First Sitting: 12:30 pm
Lunch, Second Sitting: 1:15:00 pm
Coffee:  4:00 pm
Dinner, First Sitting:  6:30 pm
Dinner, Second Sitting:  7:15:00 pm
A gong is sounded at 8:00 am and half an hour before and immediately preceding lunch and dinner.
Tourist Class
Breakfast: 8:00-9:30 am
Dinner, First Sitting:  6:30 pm
Dinner, Second Sitting: 1:15:00 pm
Coffee:  3:30 pm
Supper, First Sitting: 6:30 pm
Supper, Second Sitting: 7:15:00 pm
The Management will highly appreciate the cooperation of our passengers, in observing the scheduled meal hours during the voyage. This will eliminate any undue delays and greatly assist making your stay on board as pleasant and comfortable as possible. Thank you.
SEATS AT THE DINING TABLE are assigned by the Steward after sailing. Seats will be assigned with due regard to passengers' wishes. Meals will be served in staterooms or on deck in case of sickness only.
GAMBLING is prohibited.
BATHS may be ordered from the bathroom or stateroom servants.
SMOKING is permitted in all public rooms, except the Ladies' Lounges and Library. Passengers are requested kindly to extinguish cigarettes, cigars, and matches before disposal.
LIBRARY. Books may be borrowed from the ship's library by applying to the music room attendant or deck waiter, to whom the books must be returned the day before disembarking.
BARBER SHOPS are located on "C" Deck, forward and Shelter Deck aft. Ladies' hairdresser shop on "C" Deck, forward.
BAGGAGE. Only ordinary steamer trunks and hand- baggage are allowed in the staterooms. Baggage labeled "Baggage Room" will be placed in the baggage room, entrance on "D" Deck aft, port side, to which there is access every day from 10:00 to 11:00 am and from 4:30 to 5:30 pm Baggage labeled "Hold" will be placed in ship's hold.
DECK CHAIRS may be rented from the deck steward at $1.00 for the voyage. Deck chair pads $0.50.
CHAIR RUGS may be rented from the deck steward at $0.50 for the voyage.
BLANKETS AND PILLOWS must not be taken from the staterooms for use on deck.
WIRELESS TELEGRAMS are received for transmission at any time. Wireless station is located on upper deck (Bridge Deck).
ORDINARY TELEGRAMS are received for transmission by the Purser.
LETTERS must have Norwegian stamps and be placed in the mail boxes. Mail will be sent ashore at the first port of call. Airmail letters must be affixed with stamps of the country from which they are mailed. Stamps are obtainable from the deck waiter, cabin class and tourist class shops.
VALUABLES. The Company will not be responsible for money, jewelry or other valuables, belonging to the passenger. The passengers are warned not to leave such articles in their staterooms.
Money and other valuables enclosed in special safety envelopes provided for such purposes may be deposited with the Purser, who will give receipt, but as no charges are made, the Company assumes no responsibility.
DOCTOR'S OFFICE is located on "E" deck, starboard side. Hours from 9:30 to 10:30 am Emergency calls are attended to at any time. No charge will be made when illness originates on board. For attendance to illnesses originating prior to embarkation a fee may be charged.
The ship's pharmacy has a supply of certain expensive antibiotic drugs—same will be available on board for delivery after prescription by doctor and will be charged for at the usual shore prices. A trained nurse will attend passengers in case of illness.
PURSER'S OFFICE (also information office) located on "C" Deck, vestibule starboard side is open from 9:30 to 11:30 am and from 3:30 to 4:30 pm
TIPS are, in accordance with general practice, NOT included in the price of ocean ticket.
Remittances to Norway
NORWEGIAN AMERICA LINE - MONEY ORDER SERVICE
The Norwegian America Line offices in New York, Minneapolis and Seattle effect transfers of Norwegian Kroner to all parts of Norway. The money can be sent in three different ways :
By Airmail
By Cable
By Draft
There are no restrictions as to amounts which may be transferred, but the Norwegian Government regulations do not permit travelers to bring more than 50 Kroner in Norwegian currency into Norway.
Travelers will find it advisable and safe to carry N. A. L. Drafts, payable in Norwegian Kroner, which may be cashed by all our offices in Norway, as well as by all leading banks in Norway.
Notice to Passengers
Passengers desiring to exchange dollars for Kroner are STRONGLY CAUTIONED against dealing with unauthorized persons and must apply to the purser who is the only person on board authorized to deal in foreign exchange. Any infraction of this rule is a violation of Norwegian currency regulations and may result in serious consequences to the passenger.
NATIONAL CITY BANK
Traveler's Checks can be bought at our New York Office.
Issued in denominations of $10, $20, $50, and $100
SELF IDENTIFYING
SPENDABLE EVERYWHERE
Passenger List Images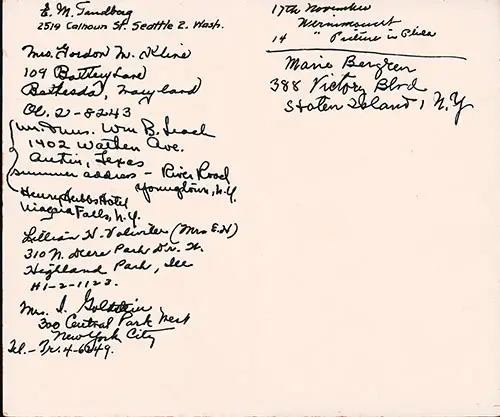 Passenger Acquaintences Names and Addresses. SS Stavangerfjord Passenger List, 14 July 1953. GGA Image ID # 1ed5f09ef4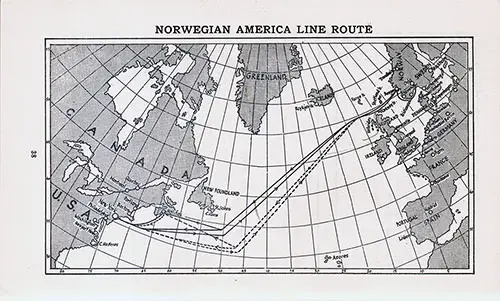 Norwegian-America Line Route Map. SS Stavangerfjord Passenger List, 14 July 1953. GGA Image ID # 1ed5fd5423