SS Stavangerfjord Passenger List - 11 September 1937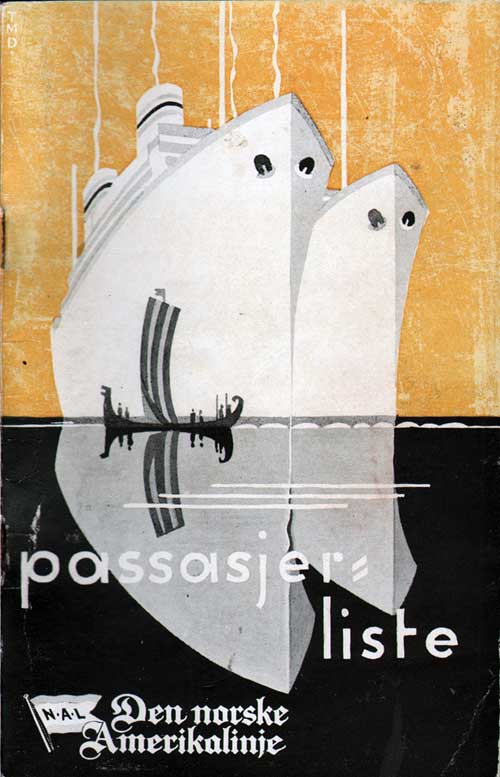 Front Cover of a Cabin, Tourist and Third Class Passenger List for the SS Stavangerfjord of the Norwegian-America Line, Departing 11 September 1937 from Oslo to New York via Stavanger and Bergen, Commanded by Captain Ole Bull.
Includes handwritten log of voyage (in Norwegian). Arrived in New York on 21 September, 1937. In Norwegian and English.
Senior Officers and Staff
Captain: Ole Bull
Chief Officer: WILHELM HEYERDAHL
Chief Engineer: Haakon Bergh
Purser: Torbjørn Frydenlund
Physician: BIRGER ABEL ELLINOSEN
Chief Steward: Harald Dønnum
List of Passengers (ALL CLASSES)
Marie Aanonsen
New-York City, N.Y
Ingeborg Aasland
San Francisco
A. Aaby
Chrisholm, Minn
Mollie Aaslund
Chicago
Ruth Abrahamsen
Brooklyn
Elsie Abrahamsen
William Abrahamsen
Kristofa Abrahamsen
Arnold Abrahamsen
North Bergen, N.J
Helen Adolfson
W Orange, N J
Olof Alberts
Chicago
Ragna Ammundsen
Chicago
Harriet Ammundsen
Helen Ammundsen
Martine Ammundsen
Brooklyn
Berit Anderson
Steinsli st
Bernt Anderson
Rutland, N.D
Anna Anderson
Alfred Andersen
Brooklyn
Gudrun Andersen
Evelyn Andersen
Grethe Andersen
Ingeborg Andersen
John Anderson
Grand Forks, N.D
Annie Anderson
Minneapolis
Maren Andersen
Tyler, Minn
Olaf A Anderson
Michigan City, Ind
Marie J. Anderson
Emma Andersen
Staten Island
Kaja Andersen
Roose welt. N.Y
Ragna Anderson
Grenova, N.D
Ingeborg Andersen
Tisledalen
Oscar Andersen
U. S. A
Leif. Andersen
Westfield, N.J
Germanda Andersen
Brooklyn
Alice B Andersson
Swissval, Pa
Fredrik Moe Andersen
Brooklyn
Anton Anderson
Eureka, Calf
Hansia Arndt
New-York
Richard Arndt
Gusta Arnesen
Brooklyn
Ingvald Arnesen
Lillian Arnesen
Margit Arvesen
Trenton, N.J
Anna P Arvidsen
Racine, Wis
John Ask
St. James, Minn
Cecilie Ask
Inga Aspen
Chicago
Kristine Astad
Berkeley, Cal
Mons Augestad
Drammen
Ole S. Axdal
San Francisco
Thorbiorg Axelson
Kopervik
Hans Axelsen
Akeroy
Hermod Bakke
Leavenworth, Wash
Johanne Barmen
Sondeled
Elsa Barnouw
New-York
Asta Beatty
Brooklyn
Carl Benson
Bloomfield, N.J
Gudrun Benson
Benson, Aubrey
Amanda Berg
Minneapolis
Marguerite Berg
Hot Springs, Ark
Borghild Berg-Johnsen
Brooklyn
Betzy Bernisen
New York City, N.Y
Susanne Belgen
Chicago
Daniel Bergesen
Brooklyn
Harold Jarle Beck
Burlington, Wis
Christ Berg
Seattle
Agnes Berg
Sissi Bergh
Kristiansand S
Andrea Bergh
Erling Berntsen
Brooklyn
Ingeborg Berg
Duluth, Minn
Gerda Bentzen
Westwood, N.J
Hulda Biorseth
Philadelphia
Anna Bjornsen
Racine, Wis
Emily Blake
Chicago
John Bokn
Knox, N.D
Bertha Boyum
Hayfield, Minn
Aksel Borgersen
Vancouver, B.C
Grethe Borgersen
F. R. Olsen Borhoug
Norge
Eivind Bornholdt
Brooklyn
Tordis Bornholdt
Bergliot Bornholdt
Agnes Borresen
Bronx, N.Y
Frank Borresen
Jens Brandseth
Racine, Wis
Olga Brandseth
Stella Brandseth
Hellner Brodin
Brooklyn
Rigmor Brodin
Viola Brodin
Robert Brown
Laura Brown
Marie Brustad
Couer d'Alene, Idaho
Borghild Braathen
West New Brighton, S.I
Mildred Braathen
Ole Braadland
U. S. A
Oluf Bringeland
Chicago
Annie Bringeland
Bergen
Ingrid Brokvist
Brooklyn
Kenneth Brokvist
Inga Brown
Syosset, L.I
Arne t Brambo
Kopervik
Julie Breslin
Astoria, L. I., N. Y
Ruth Breslin
Gina Brown
Brooklyn
Kari Bryhn
Margit Buren
Brooklyn
Helen B. Rosing Busund
Englewood, N.J
Ragna Bye
Chicago
Roy Bye
Solveig Byholdt
Akeroy
Sonja Byholdt
Thelma Byholdt
Tillie Borresen
Brooklyn
Erna V Borresen, Lundhurst, N.J
Johan A. Borresen
Elsie Carlberg
U. S. A
Aagot Carlson
Forest Hill, N.Y
Thora Carlsson
Chicago
Henry Carlsson
Jack Carlsson
Richard Carlsson
Peder Carlsson
Carl Carlson
Estherville, Iowa
Lillian Catchart
Jersey City
Lillian Catlett
Sacramento, Cal
Martha Carlson
Kenilworth, Ill
Martha Carlsen
Brooklyn
Joan M. Carlsen
Ruth Carlsen
Clarence Carlsen
Aasuld Christensen
Stockton, Cal
Sigurd Christensen
Brooklyn
Margith Christensen
William. Christensen
Rodney Christensen
Peter Christensen
Mayland, Minn
John Christiansen
Louiseville, Ky
Olga Christiansen
Alvin Christiansen
U. S. A
Rolf Christensen
New-York
Eva Christensen
Ingeborg Christensen
Brooklyn
Ingerid Christiansen
New-York
Tessie Christensen
Brooklyn
Emma Christie
Oslo
Christian Christoffersen
Moss
Marion Chery Cocke
Chase, Md
Kristian Colberg
Fredriksstad
Anna Colberg
Bergliot Corkery
New-York City, N.Y
Richard Cutler
Farsund
Aslaug Cutler
Richard Cutler
Thomas Cutler
Gustav C Dahl
Brookline, Mass
Elisabeth Dahl
Chicago
Kenneth Dahl
David Dale
Sacred Hearth, Minn
Johanna Dale
Oslo
Dagmar Danielsen
Lyngdal
Eivind Danielsen
Kenneth Danielsen
Juul Dieserud
Washington, D.C
Anna Danielsen
Brooklyn
Arthur Doernberg, New-York
Mildred Doernberg
Sophie Dokken
Estlien, S.D
Petra Edwardsen
Rutherford, N.J
Eddie Edwardsen
Holum, Mandal
All Edwardsen
Brooklyn
Sigfrid Edwardsen
Celia Edwardsen
Sidney Edwardsen
Marie Ehler
Constance Eide
Chicago
EMT Ellingsen
Sigrid Endresen
Brooklyn
Dina Engelsen
San Francisco
Rolf Haanes
Norge
Magnhild Haanes
Carl P. Hagberg
Island Falls, Sask
Gunhild Hagen
White Plains, N.Y
Alfred Hamilton
Northport, L.I
Simon Haraldsen
New Brighton, N.Y
Ella Han aevig
Oslo
Daniel Hansen
Brooklyn
Bertha Hansen
Lilly Hansen
Chicago
Martha Hansen
Olaf Halvorsen, Huntington Park, Calif
Sofie Halvorsen
Bernt Hansen, Madison, Wis
Andrine Hansen, Brooklyn
Albert E Hansen, Chicago
Grace Hansen
Hilda Hansen
Berg Brooklyn
Astrid Hanssen
New-York
Regina Hansen
Brooklyn
Solveig Hansen
New-York
Walter Hansen
Sebastopol, Calif
Margit Hansen
Karen Hanson
Opham, N.D
Gladys Hanson
Rolf Hanson
Else Hanson
James C Hanson
Sister Bay, Wis
Klara Haisten
Tretten st
Eivind Halseth
Chicago
Bert Halvorson
Nass, Minn
Ingeborg Hansen
Marblehead, Mass
Ruth Hansen
Anette Hall
Brooklyn
Lars O Hagestad
New York City, N.Y
Einar Hansen
Ella Hansen
Brooklyn
Norman Hansen
Petra Hansen
Brooklyn
Kristine Hansen
Lista
Ernest Hansen
Detroit, MI
Wilhelmine Hansen
Ragna Hanseth
Mt. Vernon, Washington
Marianna Hartman
Seattle, WA
John Hatleberg
Fonda, LA
Britha Hatleberg
Ingeleiv Haugse
Garretsen, SD
Jorid Haavik
Brooklyn, NY
Aslaug Hansen
Vidora, SK, Canada
Hilda Halvorsen
Brooklyn, NY
Marion Halvorsen
Hans A. Hansen
Emma Hansen
Seattle, WA
Inga Hansen
Brooklyn, NY
Thelma Hansen
John Hansen
Norge
James Hansen
Jamaica, NY
John Hansen
Long Island, NY
Randi Hansen
USA
Terje Hansen
Fevig
Oline Hannemyr
Philadelphia, PA
Sofie Halse
Marie Haugen
Everett, WA
Mathilde Heldal
New York
John Helgesen
Eli Heldal
Bergen
Oistein HeIle
West Orange, NJ
Carrie Hendricksen
Duluth, MN
Ida Hendricksen
Brooklyn, NY
Tora Hevert
Jersey City, NJ
Marguerite Hevert
Ole P Hevle
Chicago, IL
Sally Hevle
Brita Herheim
Ole Helgenes
Grand Forks, ND
Andreas Helle
Norge
Gunvor Engbretsen
Brooklyn
Anna M. Engebrethsen
Skien
Julia Engh
New York
Louise Ensrud
Elmhurst, NY
Martha Erikson
New Dorp, SI
Nellie Erickson
Brooklyn, NY
Ragna B Eriksen
Thordis Eriksen
Mandal
Ole Espland
Seattle, WA
Mary Espe
Duluth, MN
Joseph Evanson
Minneapolis, MN
Marie B. Evensen
Milton, MA
Johanna Farstad
Meskenaw, SK, Canada
Constance Fauske
Quinn, SD
Camilla Farbrot
Farsund
Sigurd A Fagerland
Chicago, IL
Fredrik Feyling
Egersund
Anna Field
Superior, WI
Trond Five
Oslo
Andrew B. Field
Jakema, WA
Margaret Fjelde
Seattle, WA
Anna Field
USA
Olaf Flom
Astoria, NY
Marie Flom
Eleanor Flom
Arnold A. Flaahammer
Chicago, IL
Borghild Fogstad
Presterod pr. Tonsberg
Nils Foss
Andrea Folger
Chicago, IL
Eivind Olav Forseth
La Crosse, WI
Dagmar B. Forseth
Thor Fosheim
Midland, SD
Gertine Fosheim
Johanna Forstad
Canada
Aase Frovig
Brooklyn, NY
Astrid Fredriksen
Oslo
Nels Frette
Elmore, MN
Selma Frette
Elmore, MN
Marie Frivold
Brooklyn, NY
Gjertrud Froines
Berkeley, CA
Paul Freiland
Springfield, MA
Grethe Froiland
Marie Fuglestad
Chicago, IL
Bernard Gabrielsen
Providence, RI
Aanen R. Gahre
Brooklyn, NY
Halvor Gaard
Chicago, IL
Ellen Gjerde
Livingstone, MT
Marvin Gjerde
Hans Gjertsen
Brooklyn, NY
Tomine Gjertsen
Harald Gjertsen
Robert Gjertsen
Marie Glaim
USA
Frederie Graham
Muncie, IN
John N. Graven
Minneapolis, MN
Anton S. Gronningseter
Kristiansand
Reyburn Gronningseter
Arne S. Gronningseter
Kristiansand
Elsa Gronningster
Molde
Elias O. Gronningswter
William Gronkvist
Bronx, NY
Gunnar Gronsten
Tonsberg
Magda Gulbrandsen
Brooklyn, NY
Elizabeth Gundersen
La Crosse, WI
Birgit Gundersen
Berkeley, CA
Anne Gustaysen
Oslo
Nils Gustaysson
Philadelphia, PA
Tony Gundersen
Brooklyn, NY
Signet Gulbrandsen
Chicago, IL
Charles Gulbrandsen
Maripn Gulbrandsen
Adolf Gundersen
La Crosse, WI
Helga Gundersen
Ellinor Highland
Brooklyn, NY
Ethel Highland
Roy Highland
Martha Hinter
Chyjo Hirose
New York
Helga Hjembo
Staten Island, NY
Helen Hjembo
Hanna Holmberg
Detroit, MI
Thelma Holmberg
Arne Olsen Holmberg, Grand Rapids, Mich.

Thomas Holby
Bronx, NY
Marie Holby
Teddy Holvik
Brooklyn, NY
Olaf Holvik
Brooklyn, NY
Esther Holmer, Valand, Mandal

Gerda Hope
Brooklyn, NY
Liv Holthe
Gustav Hofseth
USA
Theodora Hofseth
John Huseby, West Allis, Wis.

Leif Huseby. Oil City, Penn.

Rikkemor Huseby
Wilhelmina Hukkura
USA
Madsella Hvoslef Baltimore, Md.

Helbjorg E. D. Hynes, Walle Jamaica Plains, Mass.

Aksel Haines
Brooklyn, NY
Maria Moines
Magnus Haines
Aagot Haines
Marit Ingebretsen, Lorenskog

Peder Isaksen
USA
Annie Iversen
Chicago, IL
Elen Iversen
Bergen
Harriet Iversen, Detroit, Mich.

Dagmar Iversen, Alesund

Ingvard Iverson
USA
Helmer Iverson
Minneapolis, MN
John Iverson, Oakland, Cal.

Jenny Iverson,

John Iverson,

Erling Jaabek, Lista

Hansine Jacobsen, Everett, Wash.

Kirsti Jacobsen
Oslo
Johanne Jacobsen
USA
Marie Jakobsen, Brooklyn

Johanne Jakobsen
New York
Gabriel Jakobsen, Brooklyn

Charlie E. Jakobsen, Lyngdal

Emil A Jacobsen
New York
Haakon Jakobsen, Broklyn

Anna Jacobsen,

Evalt E. Jacobsen, Bayport, N.Y.

Therese Jacobsen, Brooklyn

Marcia Janson
Oslo
Inga Jensen
Chicago, IL
Matias Jensen, Brooklyn

Mariane Jensen, Greaaker

Anne Jensen
Chicago, IL
Anna Jensen, Jersey City

Lillian F. Jensen, Perth Amboy, N.J.

Virginia Jensen,

Clifford Jensen,

Louise Jensen
USA
Anna Johnson, Seattle
Mabel Johnson,

Conrad Johnsen, Glenhead, L.I.

Elisabeth Johnsen,

Albert Johnsen,

Gladys Johnsen,

Henny Johnson
New York
Marion Johnson,

Johannes Johannesen
Philadelphia, PA
Ingine Johannesen
Philadelphia, PA
Trygve johannessen, Brooklyn

Sigrid Johannessen, Brooklyn

Kirsten Johannessen,

Kristine Johannesen,

Greta Johansen
Bergen
Alfred Johansen, Brooklyn

Johan Johansen, Leirfjord

Ingrid Johannason
Minneapolis, MN
Knut Elof Habo, Sweden Johansson,

Britta Johansson,

Wanda Johnson, Hicksville, L.I.

Greta Johnson,

Thom Johnson, Whitehall, Wis.

Andres T. Johnson, Winchendon, Mass.

Bessie Johnson,

Frida Johanson
Chicago, IL
Gustav Johnson Lund New-York

John Johnsen, Lake Beulah, Wis

Milla W Johnsen, Waltham, Mass

Anne Johnsen, Brooklyn

Edwin O. Johnsen, Brooklyn

Borghild Johnsen, Vanse

Johan Johansen, Seattle

Carroll Flora Johnsen Qnincy, Mass.

Randmo Johnson
Superior, WI
William Johnson, Brooklyn

Agnes Johnson,

Esther Johnson,

Marie Johnson, Racine, Wis.

Helga Jordahl
Chicago, IL
Halvor Jordahl,

Emilie Jorgensen, Brooklyn

Gunhilde Karlsen
Tonsberg
Anna Karlstrom, Brooklyn

Dagny Keller
Chicago, IL
Emma Kelson, St Paul

Zanny Kelleher, Jersey City

Gerald Kelleher,

Anne S King, International Falls, Minn

Ole Kittelsen, Rugby, N.D.

Helga Kjelsen
Minneapolis, MN
Paula Kjos
Chicago, IL
Gunnar Kjolberg, Brooklyn

Karl Knudsen,

Hellen Knudsen,

Royal Clarence Knutson, Rapid City, S.D.

Karen B. Knutson,

Laura Knutsen
USA
Elsa Knutson
Oslo
Christine Knudsen
New York
Egil Kornbrekke, Brooklyn

Ingebjorg Kornbrekke,

Marie Kristiansen,

Gudrun Kristoffersen,

Harold Kristoffersen,

Karen Kristensen,

Sonja Kristophersen, Brooklyn

Petra Krogman, Billings, Mont.

Solveig Kulo
Chicago, IL
Steiner Kulo,

Solveig Kyhnel, Brooklyn

Leif Larsen
Fevig
John Larsen
Norge
Bernt Larsen,

Ragna Larsen, Midtvang P.O.

Martin Larsen, Brooklyn

Lucy Larson, Maywood, Ill.

Else Langeland, Brooklyn

Edith Langeland,

Kenueth Langeland,

Alida Langbach
Chicago, IL
Ralph Langerud, Altadena, Calf

John A Langsten, St Paul

Elsie Larsen, Brooklyn

Martha Lavoll,

Hilda Lapham, Lake Beulah, Wis.

John Larson, Reno, Nevada

Anna Larson
Chicago, IL
Laura Larsen, Seattle

Abigael Larsen, Seattle, Wash.

Guldborg Larsen, Brooklyn

Margrete - Larsen,

Laurentze Larsen
Oslo
Ronnaug Larsen, Garmo

Christine Larsen
Bergen
Gunda Langeland, Yonkers, N.Y.

Leif Lee
New York
Inga G. Lee
Minneapolis, MN
Johanna Leifson, Fargo, N.D.

Conrad Lein, Fergus Falls, Minn.

Doris Lem, Long Island City

Monica Lem,

Lavina Lenander, Galesburg, Ill.

Sofie Lilletvedt, Brooklyn

Morris A. Linton Moorestown, N.J. ,

Emma Lindal, Brooklyn

M. Linton
USA
Ellen Logan
Chicago, IL
Lina Logan, Brooklyn

Harvey Logan, -

Mary Lund
Chicago, IL
Mari Lund,

Blame Lund,

Hans Aage Lund, Brooklyn

Lena Lund,

Siri Lunden
Oslo
Anton Lund, Augusta, Maine

Helga Lund, -

Anton Martin Lund,

Jon Arnold Lund,

Helge Lund, —

Halvor Luraas, Stoughton, Wis.

Conrad Luken, West Chicago, Ill.

Ingeborg Luken,

Julie Lund
Chicago, IL
Peder A. Lygren, Seattle

Helen Lysnes
USA
Jensine Lystad, Kristiansund N.

Meyer A Mathiasen, U S A.

Mathiasen Mathiasen
Mathiasen
Iver H. Madsen, Brooklyn

Marie Madsen,

Molly Marcussen,

Edith Malde,

Ane D Madsen
Norge
Elna Mathiasen, Idaho Falls, Ida.

Dora Mathiasen,

Robert Mathiasen,

Hanna Martinsen
Oslo
Alfred Manville, New Brunswick, N.J.

Gudrun Matzaw, San Antonio, Tex.

Thora Martin, Long Island, N.Y.

Lydia McGillivray, West Orange, N.J.

Sylvia Meland, Seattle

John Mickelson, Bend, Oregon

Elida Mickelson,

Fred Miller
Minneapolis, MN
Ida Miller,

Harvey Miller,

Mavis Miller,

Marguerite Mtel, Hartford, Conn.

Florence Miel,

Sara Moi Modal,

Julius Moen, Grand Forks

Emma Monge, Chicago, Ill.

Solveig Monge,

Samuel Moen, Culbertson, Mont.

Richard Moller, Newtonwille, Mass.

Olga Muller
Chicago, IL
Albert Musland, Story City, Ia.

Otto Molmen, Port Washington, L.I.

Gudrun Molmen,

Inger Molmen,

Otto Molmen,

Sverre Nannestad, Chicago
Martha Nannestad,

Ellin Nannestad,

Bernhard Nash
USA
Louise Nash,

Marie Nelson
Minneapolis, MN
George Nelson,

Oskar Nesselquist, Flin Flon, Man., Canada

Kjell Nesselquist,

John Nelson
Minneapolis, MN
Agnes M. Nelson,

Christine Nelson, Seattle

Olaf M Nelson
Chicago, IL
Anna L Ness, Rudyard, Mont.

Grorud, Halyard Nelson Oconomowoc, Wis

Gunhild Nelson, Brooklyn

Nancy Nelson,

Ole Ness, Watford City, N.D.

Casper Nesset
USA
Amanda Nesset,

Odny Nesset,

Kenneth Nesset,

Anker Neilson, Brooklyn

Johanne Neilson,

Elfie Nelson, Hackensack, N.J.

Norman Nelson, Long Island

Karen Nelsen, Brooklyn

Lina Nelson, Lista

Josephine Ness, Ripon, Cal.

Marie Nicolaysen, Royken

Mathilde Nielsen, Brooklyn

Marie Nielsen
New York
Axel Nielsen, St. Ignace, Mich.

Elisabeth Nilsen, Brooklyn

Ruth Nilsen Akersmyr, Lyngdal

Anny Nilsen, Brooklyn

Elly Nielsen
Chicago, IL
Anne Nielsen, Kragero

John Nilsen
Staten Island, NY
Inga Nilsen, Brooklyn

Anna Nielsen, Ozone Park, L.I.

Clara Nielsen, Brooklyn

Dina Nilsen, North Bergen, N.J.

Thomas Nilsen,

Inga Nilsen, Grenlock, N.J.

Christian Nielsen
Oslo
Ragnhild Nielsen,

Anny Nodland, Brooklyn

Mabel Nodland,

Sylvia Nodland,

Karl Fevig Nordbo,

Hans Nordstrand
New York
Mathilde Nordstrand,

Paul Norgren, Worcester, Mass.

Elna Norgren,

Joel Norgren,

Viktor Nygren, Grimstad

Chas A. M. Nystrom, Tacoma, Wash.

Ragna Nss, Brooklyn

Mathilde Oas, Mattapan, Mass.

Randi Oddsen, Brooklyn

Norman Oddsen,

Gudrun Olsen, Salt Lake City, Utah

Gerd Olsen
Oslo
Ingebert Kragero Olsen,

Norma Olson, Kearny, N.Y.

Arnfred Olson,

Emilie Olson, Interior, S.D.

Arthur Olsen, Brooklyn

Elsie Olsen, Sor Audnedal

Henny, Olsen, New-York City. N.Y.

Selma Olsen, Brooklyn

Thora Olsen,

Olab Thorner Olsen, Pontiac, Mich.

Albert Port Olsen, Richmond, St.I.

Juliane Olson, Proctor, Minn.

Anna M Olden, Brooklyn

Anna S. Olsen, Long Island, N. Y.

E. Olsen, Jr.
Carl O. Olsen, Brooklyn

Aslaug Olsen,

Bessie Olsen, Seattle

Marie Olsen, Northport, L.I., N.Y.

Hansine Olsen, Lynbrook, L.I., N.Y.

Nanna Olsen
USA
Gunhilde Olsen, Lillesand

Martin Olsen, Brooklyn

Ingrid Olsen, Brooklyn

Thora Olsen, Quincy, Mass.

Aagot Olsen, Rutherford, N.J.

Marie Olsen
New York
Elena M Olsen, Brooklyn

Olga Olsen
USA
Louis Olsen
Chicago, IL
Selma Olsen
USA
Josefine Olsen, Maaloy

John Omdal, San Francisco

Inger M. Omdal,

Lillesand Ommundsen,

Helgfrid Orvin, Washington, D.C.

Oystein Ore, New Haven, Con.

Gudrun Ore,

Elisabeth Ore,

Berit Ore,

Thora Osthagen, Brooklyn

Erick Oswald
Minneapolis, MN
Margit Oswald,

Martin Osterli, Brooklyn

Marie Overland,

Else Paulsen
Oslo
Else Paulsen, Main

jensine Pearson, Fredricksburg, Va.

John C. Pearson,

Asta Peterson, Brooklyn

HaIvor Pedersen, Grymes Hill, S.I., N.Y.

Agnes Pedersen,

Einar Pedersen
Minneapolis, MN
Harriet E. Pedersen,

Magda Pedersen, Brooklyn

Wilhelm Pedersen, Detroit

Solveig Pedersen,

Milton Pederson,

Vivian Pedersen,

Ingeborg Pedersen, Brooklyn

Elsie Pedersen,

Irene Pedersen,

Peder Pedersen, Brooklawn, N.J.

Marit Petersen, Brooklyn

Borgny D. Pedersen,

Erik J. Pedersen
Chicago, IL
Anna Petersen, Tacoma, Wash.

Anders Petersen, Perth Amboy, N.J.

Fru Inger Petersen,

Carina Peterson, Tappan, N.Y.

Ruth Peterson, Brooklyn

Helga Peterson
Chicago, IL
Donald Peterson,

Olga Peterson, Seattle

Marie Peterson Grantwood, N.J. ,

Sara Petterson, U. S. A
Esther Peterson
Philadelphia, PA
Ingeborg Petersen
Bronx, NY
Kristian Pettersen
New York
Erna Petersen
Oslo
Sverre Petersen, St Louis, Mo.

Myrtle Petersen
Jane Petersen,

August Pletten
Minneapolis, MN
Otto Peterson, Billings, Mont.

Hans Penne
Norge
Mimi Pedersen
Oslo
Ella E Peifer
Chicago, IL
Walter Person, Brooklyn

Sigrid B. Piht, Brooklyn

Malmfrid Poole, Brooklyn

Christine Poole,

Dorythy Prevost, Baltimore

Constance Putz
Oslo
Julia Quistad, Santa Barbara, Cal.

Melvin Quistad,

D. Andrea Quisling, Madison, Wis.

Jacob Raaket
Superior, WI
johanne Rasmussen, Jackson Heights, L.I.

Margaret Rasmussen
Staten Island, NY
Martha Rasmussen,

Olga A Ramberg
New York
Emma Ramon
Duluth, MN
Anna Ramberg, Brooklyn

James Reeves, Ann Arbor, Mich.

Ellen Reeves,

Vilhelm Reimann, Brooklyn

Sallie Reimann,

Sallie Reimann,

Arnold Reimann,

Roger Revelle, La Jolla, Cal.

Ellen Revelle,

May Revelle,

John Ringheim, Vashan, Wash.

Alfred Riisnes, Racine, Wis.

Olga F. Rice, Brooklyn

Elida Ring,

Andrew Rice, Lake Forest, Ill.

Richard Robinson, Monroe, Mich.

Esther Robinson, Woodhaven, L.I.

Thomas Robinson,

Signe Robinson, Brooklyn

Margaret Roe
USA
Sigurd Sor Roland, Audnedal

Augusta Rolfson, Victor, Col.

Torben B Robert
Chicago, IL
John Rood, Muskegon, Mich.

Anna Rood,

Irving Roach
New York
Marie Ruud
Chicago, IL
Kenneth Ruud,

Eva Itygh, Jersey City

Marie Rodseth, Los Angeles

Mette Rorholt, Porsgrunn

Nella Sand, Brookline, Mass.

Oscar Sandberg, Brooklyn
Peder Sandbeck
Minneapolis, MN
Therese Samuelsen, Brooklyn

Borghild Sandsteel
Chicago, IL
Sandsteel, Jr.
Kristine Lista Sakkariassen,

Agnes Salvesen, Brooklyn

Magnus Salvesen,

Aagot Salvesen,

Carrie Satre Denver, Col.

Frithjof Sandnes, Trondheim

Aslaug Sandnes,

Paul Sevald
Chicago, IL
Dagny Sevald,

Arnold Sevald,

Grace Sevald,

Kai Seidler, New-York
Astrid Seidler,

Ragnhild Seidler,

Ragnhild Sekse, Sekse pr. Bergen

Emma Sells, Rochester, Minn.

Lars Sexe, Blair, Wis.

Edward Seime, Vancouver, B.C., Canada

Mrs. Seime,

Lillian Sederholt, Brooklyn

Anna Shoquist, Cleveland, Ohio

Sally Singelswther, Brooklyn

Konstance Singelswther,

Borghild Siems
Minneapolis, MN
Ingeborg Skjeggestad, Arendal

Alfred Skeie, Eiken, Kristiansand S.

Janet D. Skau
Chicago, IL
Oscar Skefferaas, Brooklyn

Karoline Sove
Chicago, IL
Roy Sove,

Ferdinand Solberg, Wahpeton, N.D.

Martha Solberg,

Mary Solberg,

Julie Solberg, U. S. A
Elsa Solberg,

Leif Solberg,

Haakon Eise St. Solberg,

Edward Solbakken, Brooklyn

Odd Solbakken,

Petra Sollie,

Solheim
U. S. A
Alice Sparring
New York
Floyd Sparring,

Gunda Strand, Barton, N.D.

Signy Steen, Deer Park, Wis.

Irene Steen,

Helene Stuenes
Stoughton, Wis
Robert P. Stock, Wilmington, Cal.

Elin Stanger, Brooklyn

Klara Stenseth, Minneapolis
Oscar P. Stavaas,

Carrie Stavaas,

Sylvia A Stavaas,

Margaret Stavaas,

Malene Steen, Stavanger

Douglas Steere, Haverford, Pa.

Paul Stassewitz
New York
Thora Stensen, Seatle

Eilert Stayseth
New York
Magdalena Stayseth,

johanne Steen
Chicago, IL
Cornelia Starr, Williamstown, Mass.

Edith Hansen Stokke, Brooklyn

Helga Strand
USA
Andry Strand,

Emma H Sundlie
Minneapolis, MN
Sophie Svendsen, Brooklyn

Lars Svindland
Norge
Olava Svensen, Northport, L.I.

Martha Sverdrup, Hvitsten

Harold Swanson
Chicago, IL
Olga Swanson, Detroit, Mich.

Thordis Syvertsen
USA
loan Syverud
Minneapolis, MN
Hedly Sorensen
Chicago, IL
Gudrun Sorensen,

Anders Olaus Sarum, Brooklyn

Ole Sorensen
Springfield, MA
Torleif Tellefsen, New-York City, N.Y,

Olga Tellefsen,

Betzy Terjesen, Floral Park, L.l

Ralph Terjesen,

Muriel Terjesen,

AmOle Tennebo, Tacoma, Wash.

Niels T. Thorsen
New York
Alvilde Thorsen,

Olinda Thorbjornsen, Tromoy

Julia Thompson, Brooklyn

Thomas Thompson,

Anna Thorsen, Brooklyn

Thordis Thorsen,

Handine Thorsen,

Berta Thomson
Norge
Kanutta Thomson,

Nicotine Thomsen,

Borghild Thomson,

Elisa Thorkelsen
Chicago, IL
Gertrude Tinsman, Pontiac, Mich.

Gudmund Tindeland, Brooklyn

Hanna Tindeland,

Inger Tjaldal, Kristiansand S.

Ragnhild Todnem, Hampstead, N.Y.

Simon Tofteland
Oslo
Harold W. Torgerien, New Brighton, S.I.,N.Y.

Erling Torno( -Glad, U. S. A.

Marti Totland
Jamaica, L.I.

Maria Totland
Marguerite Torkildsen, Brooklyn

Reidar Torjussen
USA
Jurgen Trosby,

Nils O. Tweed Mershaldtown, Ia.

Nellie Tysseland, Brooklyn

Klara Tynes
USA
Kathleen Tynes,

John B Tonnessen, Brooklyn

Nancy Tonnesen, Rochelle, N.J.

Norma Tonnesen,

Kristine Tonnesen,

Alvilde Tonnesen, Brooklyn

Asbiorn Ulfeng, Brooklyn

Borghild Ulfeng,

Petter J Underdahl, Moscow, Ia.

Kristine Van Antwerp, Brooklyn

Mally Vaxdale,

Guri Vegrestad, Jmren

Ole A. Vikse, Molstrevaag

Dagmar Vik, Mishawaka, Ind.

Chris Visdal, Seattle

Olive Visdal,

Alma Vignes, Kopervik

Anna Viklund, Brooklyn

Dorothy Viklund,

Martha Vold,

John Vold,

Volden U. S. A.

Volden
Cecilie Vordal, Garrison, Mont.

Lena Vordahl, Spokane, Wash.

John T. Wagner, Eagle Grove, Iowa

Gerd Wang, Oslo
Haakon Waldemar, Port Richmond, N.Y.

Martha Waldemar,

Haakon Waldemar,

Harald Watnestrand, St. Island, N.Y.

Gudrun Wangsmo
Chicago, IL
Gustava Weka, Tappan, N.Y.

Breeta Weka,

Mathilde Werner, Cleveland, Ohio

Glen 0 Werner,

Hans N. Westby, Brooklyn

Oskar Westerdahl
New York
Olga Westerdahl,

Mary Westerdahl,

Carl J Wisland, West New-York, N.Y.

Reidar Wisting, Borre

Aagot` Wivart, Seattle

Helena Wilson, Plankinton, S.D.

Margarethe Wie
Minneapolis, MN
Hans Wold
Minneapolis, MN
Jorund Wold,

Johanne K. Woodyard
USA
Frances Wright, Hartford, Conn.

Sigvard Zakariassen, Brooklyn

Wilda Odegaard, Kristiansund N.

Paula Odegaard, Brooklyn

Oscar Odegaard, —

Mary Ostrem, Stavanger
929
Additional Passengers
Arnesen, Berggot Chicago
Andreassen, Oskar Norge
Berg, Kirsten Chicago
Dahl, Roy Brooklyn
Hansen, Borghild Lillebergen
Haugen, Gina Esmond, N.D
Halvorsen, Ingrid U.S.A
Hansen, Hans Norge
Hansen, Gudrun -
Hansen, Hanna Haugesund
Helgesen, Ole Stavanger
Holm, Kathrine Arendal
Holm, Carl H
Holm, Mathilde
Holm, Thomas
Ingebretsen, Ole Norge
Iversen, Olaf H. Tonsberg
Ingebretsen, Margot Fluberg
Johnsen, Jorgen U.S.A
Johannessen, Sverre Norge
Kysnes, Gunnar Strandebarm
Karlsen, Elna Kristiansand
Knudsen, Hjordis Stavanger
Larsen, Arnt
Langeland, Ole O
Larsen, Signy K
Lorentzen, David
Moe, Sonja
Olsen, Hakon
Pedersen, Ingolf
Rasmussen, Randolph
Salomonsen, Andre
Sortland, Peder O
Stole, Gerhard
Svensen, Leif
Sorensen, Ole
Tjxrnagel, Johan S
Wells, Arne
Not onboard
Andersen, Oscar
Bergh, Sissi
Bergh, Andrea
Carlsson, Henry
Farbrot, Camilla
Fjeld, Anna
Forstad, Johanna
Heldal, Mathilde
Helgenes, Ole
Hukkura, Wilhelmina
Jacobsen, .Johanne
Johansen, Johan
Lenander, Lavina Linton, M
Musland, Albert
Olsen, Olab Thorner
Penne, Hans
Sandsteel, Borghild
Sandsteel, Jr. Solheim
Thorsen, Hansine Volden
Watnestrand, Harald
Recapitulation
Cabin Class: 98
Tourist Class: 222
Third Class: 624
Total Passengers: 944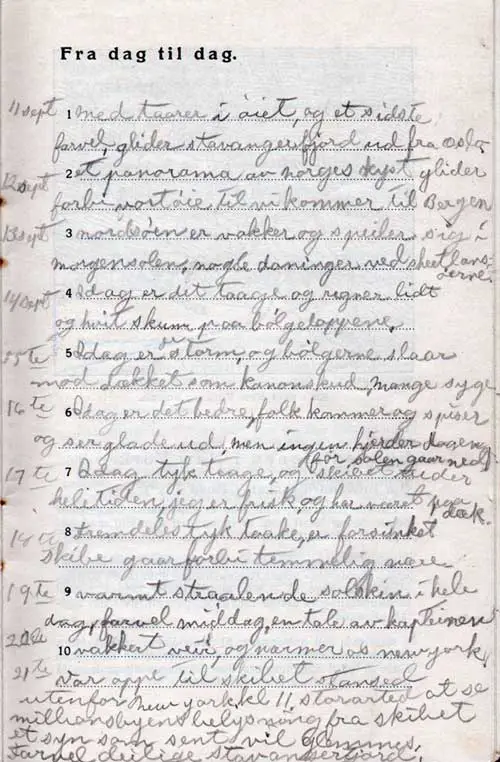 Trip Diary - Extract of Log for the 11 September 1937 SS Stavangerfjord, written in Norwegian by the original owner of this Passengers.
Passenger Information.
Meals are generally served at the following hours:
Cabin Class: Breakfast 8-9.30 a. m., bouillon 11:30 am, lunch 1:00 pm, tea 4.30 p. m., dinner 7:00 pm
A bugle is sounded at 8:00 am and also half an hour before and at the beginning of lunch and dinner.
Tourist Class: Breakfast 8-9.30 a. m., lunch 1:00 pm, tea and coffee 4:00 pm, dinner 7:00 pm
A gong is sounded at 8:00 am and also half an hour before and at the beginning of lunch and dinner.
Third Class: Breakfast 8:00 am, dinner 1:00 pm, coffee 4:00 pm, supper 7:00 pm
Gambling is prohibited.
Baths should be ordered from the bathroom or stateroom servants.
Library. Books may be borrowed from the ship's library by applying to the music room attendant or deck waiter, to whom the books must be returned the day before arrival.
Baggage. Only ordinary steamertrunks and hand-baggage is allowed in the staterooms. Baggage labeled "Baggage Room" will be placed in the baggage room, entrance on «1> Deck aft. port side, to which there is access every day 9.30 to 10:30 am and 3 to 4:00 pm Baggage labeled "Hold' will be placed in ship's hold.
Deck chairs may be secured by applying to the Deck waiter (Music room attendant). Charge $ 1.50. Deck chair cushions $ 0.50.
Blankets and Pillows must not be taken from the staterooms for use on deck.
Rugs may be hired for $ 1.00 for the voyage by applying to the deck waiter (Music room attendant).
Wireless Telegrams are received for transmission at any time by the wireless operator.
Wireless Station is located on upper deck (bridge deck).
Ordinary Telegrams are received for transmission by the Purser.
Letters must be stamped with Norwegian stamps and put in the mail boxes. Mail will be sent ashore at first port of call.
Stamps are obtainable from the music room attendant (deckwaiter), and also from the shop attendant in the Social Hall.
Valuables. The company will not be responsible for money, jewelry or other valuables, belonging to the Passengers. The Passengers are warned not to leave such articles in their staterooms.
Money and other valuables enclosed in special safety envelopes provided for such purpose may be deposited with the purser, who will give receipt for package, but as no charges are made, the company assumes no responsibility.
Exchange of Money. The purser will exchange a limited amount of dollars or krone-. Time and rate of exchange will be posted on bulletin boards.
Doctor's Office is located on "E" deck starboard side. Hours from 9.30 to 10:30 am and from 4 to 5:00 pm Emergency calls are attended to at any time. No charges will be made when illness originates on board. For attendance of illnesses originating prior to embarkation a fee may be charged. Medicine is free. A trained Nurse will attend Passengers in case of illness.
Purser's Office (also information office), located in C.deck vestibule, starboard side, is open from 9.30-11.30 am and from 3.30-4.30 pm
Barber Shop is located in C.deck vestibule, port side and Shelterdeck aft. The following articles may be purchased in the Barber's shop: Cameras, Pencils, Seasick Remedies, Films, Ingersoll Watches, Toilet articles, Waterman's Fountain-pens, Sun Goggles, Caps, etc.
Shops are located in Social Halls. The following articles may be purchased in the shops: Postal Cards, Stamps, Books, Magazines, Souvenir Books, Souvenirs, Playing Cards, Cigars, Cigarettes, Tobacco, Pipes, Fruit, Chocolate, Candies.
Tips are, as a rule, not included in the ticket money.
As our offices and the officers of our ships of ten get enquiries as to what is generally paid, we have thought it might be well to indicate below the sums which we by experience have found to be the average figures:
Waiters: Cabin class kr. 15.—
Tourist class kr. 12.—
Third class kr. 8. -
Stateroom Servant: Cabin class kr. I2.—
Tourist class kr. 8.—
Third class kr. 4.—
Bartender, Deck Waiter, Bathroom Servant kr. 4.— a kr. 8.—
if any special attendance not ordered
Tips are usually given at the end of the voyage.