SS Stavangerfjord Passenger List - 29 September 1954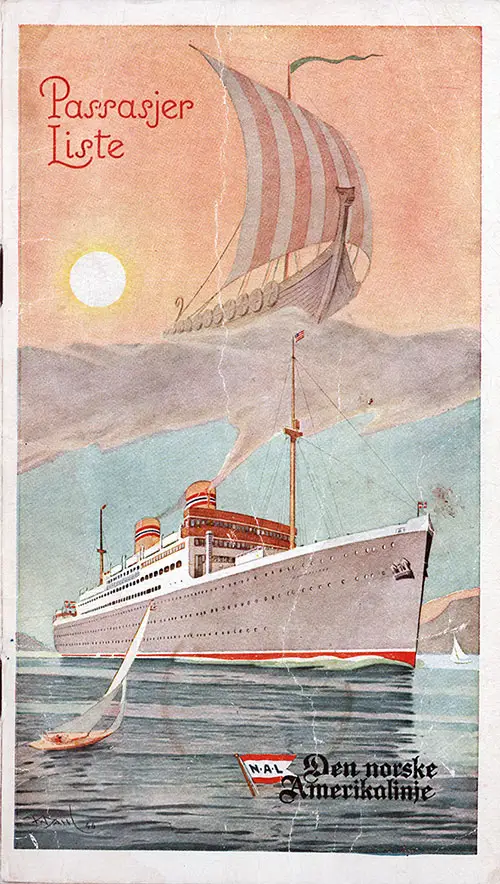 Front Cover of a First, Cabin, and Tourist Class Passenger List from the SS Stavangerfjord of the Norwegian-America Line, Departing 29 September 1954 from Oslo to New York via Kristiansand, Stavanger, and Bergen, Commanded by Captain Olaf Bjørnstad. GGA Image ID # 1610e129e3
Senior Officers and Staff
Commander: Captain Olaf Bjørnstad
Chief Officer: Anders Eggum
Chief Engineer: Odin Danielsen
Purser: Arne Blix
Surgeon: Gunnar Seland
Chief Steward: Walter Lie
First Class Passengers
Mr. Algoth Alfons
Mrs. Ruth Alfons
Mr. Reinholdt Andersen
Mrs. Alma Andersen
Mr. Alf Andreassen
Mrs. Inez Avery
Mr. Peder J. Bertelsen
Mrs. Gertrud Bertelsen
Mr. Olovius Birkelund
Mr. Roald Bjerck
Mr. Eugen Boiler
Mr. Martin Börthen, jr.
Miss Clara Brawthen
Mrs. Margaretha Bronner
Mr. Russel H Cox
Mr. Carl Dahlgren
Mr. Olaf Dedrekson
Mrs. Virginia Dedrekson
Mrs. Ida Dempsey
Mr. Justin Dickinson
Mrs. Vernie Dickinson
Mr. Emil Engelsen
Mr. Ole Erikson
Mr. Anton O. Fonkalsrud
Miss Olga Fonkalsrud
Mr. Frode Amæus Færgeman
Mrs. Inger Færgeman
Mr. Konrad Gölten
Mrs. Lillian Gölten
Mr. Halvor Halvorsen
Mrs. Halvorsen, Valborg
Mr. Peter Halvorsen
Mr. Jens Hansen
Mr. Louis Hansen
Mr. Sven H. Hansen
Mrs. Wenche Hansen
Mr. Arne Hareide
Mr. Johannes Haug
Mr. Osmund Haugseth
Mr. Christ Havsgard
Mrs. Janna Hermansen
Mr. Knut Hidle
Mrs. Barbara Hidle
Mr. Leif Hidle
Mr. Cari Holmsen
Mrs. Anna Horst
Mr. Ole Andreas Jacobsen
Mrs. Rachel Jacobsen
Mr. Jan Jansen
 Mr. Jens J. Jesdahl
Mrs. Mary L. Jesdahl
Mrs. Ingeborg Johansen
Mr. Golman Johnsen
Mrs. Gudrun Johnsen
Mr. Adolf Johnson
Mr. Ditlef Knudsen
Mrs. Anne-Sophie Knudsen
Miss Cecilie Knudsen
Mrs. Ragna Knudsen
Mr. Knute Kostol
Mr. Johan Lilleoren
Mrs. Elsa Lilleoren
Miss Hansine Natvig
Mrs. Alma Nelson
Mrs. Anna-Therese Nordstrand
Mr. Christian Oftedal
Mrs. Anne Louise Oftedal
Miss Anne-Lise Olsen
Mr. Carl A. Olsen
Mrs. Irma Olsen
Mr. Josef Paulsen
Miss Rønnaug Pedersen
Mr. Thom Pedersen
Mr. Thomas Pedersen
Mr. David Pedersen
Miss Thora Petersen
fr Gertrude Peterson
Mrs. Dorothy Rosenbaum
Mr. Andrew Shervick
Miss Tellefsen, Reidun
Mrs. Astrid Thorsen
Mr. Magnus Tønnessen
Mrs. Herdis Wigisland
Mrs. Irma Wildbur
Mr. Samuel Wolman
Mrs. Wolman    
Mrs. Ragnhild Wolters
Cabin Class Passengers
Miss Inger Aine
Mr. Sam Aine
Mrs. Selma Aine              
Mr. Hans Amundsen
Miss Josefine Andersen
Mrs. Ragna Andersen
Mrs. Caroline Anderson
Mrs. Kristina Anderson
Mr. Martinius Anderson
Mrs. Hilda Anderson
Mr. Oscar Anderson
Mrs. Andrina Anderson
Mr. Arthur Andreassen
Mr. John Asheim             
Mrs. Serina Asheim                        
Mr. Ole Backen 
Mr. Birger Bendixen
Mr. Asbjørn Berland
Mr. Bernarr Bernard
Mrs. Magnhild S. Bertelson
Mr. Ole Bjelland
Mrs. Ingrid Helene Bjerke
Mr. Henrik Anton Bjerring
Mrs. Ingrid Bjerring
Mr. Hans Paul Bjerring
Mrs. Hanna Bjørnstad
Miss Dagny Boe
Mr. Kenneth Bohlin        
Mrs. Mabel Bohlin          
Mr. Lars Erik Bøttiger
Mrs. Margareta Bøttiger
Mr. Torvald Christoffersen
Mr. Sigurd Dahl
Mrs. Gjertrud Dahl
Mrs. Gyda De Avonshire
Mrs. Olga De Camp        
Mrs. Wencke De Laine
Mr. Kim De Laine
Mrs. Johana Dyste
Mrs. Selma Edlund
Mr. Edward Edwards
Mrs. Kitty Egeland-Reinertsen
Miss Anna Eidesvik         
Mr. Ferdinand A. Ekelund
Mrs. Anna Ekelund          
Mrs. Bertha Ellingsen
Mrs. Kitty Ellingsen
Miss Evelyn Ellingsen     
Mr. Martin Endresen
Miss Sigrid Endresen
Mr. Edward Engelsen
Mrs. Bessie Engelsen
Mrs. Oleanda Ericksen
Mrs. Astrid Erickson
Mrs. Margit Erickson
Mrs. Selma Erickson
Mr. Arthur Eriksen
Mrs. Astrid Eriksen
Mrs. Margit Eriksen
Mr. Ernst Fadum
Mrs. Helen Fadum
Mrs. Ovida Falch
Mr. Torbjørn Falk
Mr. Martin H. Fjeld
Mrs. Magda Frantzen
Frick, Anna, fru 
Miss Olga Frick
Mr. Arne Fudland
Mrs. Aslaug Furseth
Mrs. Ruth Gudmundsen
Mr. Bjørn Gulbrandsen
Miss Inga Gulbrandsen
Mr. Erling Gundersen
Mrs. Sigrid Gustavson
Mr. John Davis Guyer
Mr. Gotfred Hagen
Mr. Halvor Haistad
Mrs. Margit Kristine Haistad
Mr. Finn Hannevig
Mr. Hans Petter Hannevig
Mrs. Aagot Hansen
Mrs. Anny Hansen
Mr. Einar Hansen
Mrs. Thora Hansen
Miss Elaine Hansen
Miss Emma Hansen
Mrs. Erna Hansen
Miss Karen Hansen
Mrs. Martha Hansen
Mr. Odd Hansen
Mrs. Ingrid Hansen
Mr. Herman Haugen
Mrs. Inga Haugen
Miss Patricia Hays
Miss Ingaliil Hedlund
Miss Anna Heien, ,         
Mrs. Laura Heller, ,         
Mrs. Borghild Hermansen, ,
Mr. Nels Hoel, ,
Mrs. Marta N. Hoel
Mr. Odin Holan
Mrs. Lena Holan
Mr. Arnt Holm
Mrs. Mary Holm
Miss Signe Høyer
Mrs. Margit Innvar
Miss Mary Ann Innvar
Mr. Olaf Isaksen              
Mrs. Signe Isaksen          
Mr. Ole Jensen
Mrs. Jenny Johnsen
Mrs. Judith Johnsen
Mrs. Dagny Johnson
Mrs. Gerd Jones
Miss Anita Jones
Miss Linda Jones
Mr. John Jones
Mr. Arthur Kildahl
Mrs. Inga Kildahl
Mrs. Petra Klevberg
Miss Marie Klykken
Miss Martha Klæboe
Mr. Abel Koltvedt
Mrs. Maja Kosberg
Mr. Rasmus Langeland
Mrs. Alette Langmo
Miss Else Langmo
Mrs. Borghild Larsen
Miss Bjørg Larsen
Mr. Johannes Larsen
Mr. Rasmus Larsen
Mrs. Ruth Larson
Mrs. Ingrid Lau
Lein, Sverre P., Mr.         
Lillejord, Valborg, fru
Lunde, Johanna, fru        
Lunde, Marthe, frk         
Mr. Rasmus Madsgaard
Mrs. Ruditz Madsgaard
Mrs. Emma Magnussen
Mr. Erling Maines
Mrs. Hjørdis Maines
Mrs. Martha Martin
Mr. Torstein Martinussen
Mrs. Ingeborg Martinussen
Mrs. Gjertrud Melvær
Mr. Sever Moen
Mrs. Mildred Moen
Mrs. Marie Molan
Mrs. Tora Motland
Mrs. Nella Muus
Mr. Alfred Mydland
Mrs. Johanne Neilsen
Mr. Amt C Nelsen
Mrs. Anna Nielsen
Mr. Carl Johan Nielsen
Mr. Sigvard Nielsen
Miss Anne Marie Nilsen
Mr. Henry R. Nilsen
Miss Kilda Nilsen
Miss Sigrid Nilsen
Miss Adolphine Nyborg
Mr. Rasmus Nygaard
Miss Christina Olsen
Miss Lillian Olsen
Mr. Samuel Olsen
Mr. Olaf Olson
Mrs. Laura Olson
Mr. Ivar Oppedal
Mr. Peter Overby
Mrs. Marie N. Petersen
Miss Margrethe Pettersen
Miss Astrid Raadland
Mrs. Thora Rasmussen
Mrs. Anny Riedl
Miss Mary Robinson
Mr. Jack Roget
Hans Christian Running
Miss Onie Scott
Mrs. Margrethe Seim
Mr. Atle Selberg              
Mrs. Hedvig Selberg
Miss Selberg
Mrs. Clara Skarpnes
Miss Olga Skarpnes
Mrs. Gunhild Skogen
Mrs. Elsie Skoland
Mrs. Jenny Skou
Mrs. Ingeborg Skulstad
Mrs. Edith Smith
Mr. Ole Solberg
Mrs. Maud Sollie
Miss Merete Sollie
Mrs. Guri Sondraal
Mr. Elias Sorensen
Mrs. Judith Sorensen
Mr. Emil Soyland
Mrs. Mabel Soyland
Miss Lorbaine Soyland
Mrs. Thea Spillum
Miss Sonja Spillum
Mrs. Elsa Steen-Mathisen
Miss Mette Steen-Mathisen
Mrs. Sophie Stene
Mrs. Ruth Stockland
Mr. Roy Stockland
Mrs. Malmfrid Stromme
Mrs. Lilly Sunder
Miss Anne Sundet
Mr. John Svendsen
Miss Bergliot Svenson
Mrs. Aslaug Swensen
Miss Esther Swensen
Mr. Olaf Taraldsen
Mrs. Julie Taraldsen
Mrs. Ruth Thuesen
Miss Erna Toftland
Miss Hilma Tveit
Mrs. Majbritt Vestergaard
Miss Magda Voje
Miss Helga Waerland
Mrs. Anna Westby
Mrs. Valborg Westby
Mr. Hans Wiste
Mrs. Johanna Wiste
Mrs. Inger Øglænd
Mr. John Ørnfelt
Mr. Eilert Østbø
Mrs. Lilli Østbø
Tourist Class Passengers
Mr. Arktander Abrahamsen
Mrs. Gunda Abrahamsen
Mr. Leif Wiig Abrahamsen
Miss Margit Adolfsen
Mrs. Alfhild Andersen
Mrs. Betty Andersen
Mrs. Olga Anderson
Miss Ragnhild Andresen
Mrs. Signe Andrew
Mr. Julius Arnseth
fr Aagot Asphaug
Mr. Andrew Aurbeck
Mrs. Hilma Aurbeck
Mr. Don Charles Foote Barbeito
Mr. Donald Baylis
Mrs. Sonja C. Baylis
Miss Carol Ann Baylis
Mrs. Ingeborg Beeck
Miss Magnhild Bellerud
Mr. Gunval Benson
Mrs. Gladys Benson
Mr. Helge Berg
Mrs. Hilda Berge
Mr. Ole Berge
Mrs. Mary Berge
Mrs. Minnie Bergemann
Mrs. Pauline Bertelsen
Mrs. Sigrid Bjornsen
Mr. Sven Blockhus
Mr. Ole Blom
Mr. Âke Bokland
Mrs. Inga Boye
Mrs. Ingeborg Brastad
Mr. Odd Brovold
Mrs. Signe Brovold
Mr. Ole Brovold
Mrs. Helga Brovold
Miss Sylva Brovold
Mr. Ingvald Brudheim
Mr. Rolf Anker Bruun
Mrs. Ruth Bruun
Mr. Jardar Bruun
Mr. Staale Bruun
Mrs. Aashild Buan
Mr. William Buan
Mr. Olaf A. G. Byholt
Mr. Erik Carlson
Mrs. Margaret Carlson
Mr. Christian M. Christiansen
Mrs. Gurine Christiansen
Mrs. Edith K. Christiansen
Mr. Leonard Christiansen
Mr. Karl Clausen
Mrs. Anna Clausen
Mr. Leif Corsen
Mrs. Astrid Corsen
Mrs. Agnes Cross
Mr. Harald Dale
Mr. Thorvald Dirdal
Mr. Palmer Edwardson
Mrs. Berte Edwardson
Miss Reidun Eilertsen
Miss Margrethe Eklund
Mrs. Gudrun Ekstrom
Mrs. Anna Ellingsen
Mrs. Gudrun Eriksen
Miss Aase Eriksen
Mrs. Gudrun Eriksen
Mr. Peter Esbj0rnsen
Mr. Daniel Espeland
Mrs. Lena Espeland
Mr. Andreas Evensen
Mrs. Anna M. Farsund
Mr. Nils Flack
Mr. Rolf Gordon Franks
Miss Gudlaug Fristad
Mrs. Synnove Frpysti
Mr. Odd Frpysti
Mrs. Bergliot Green
Mr. Martin Grosvold
Mr. Emil Gulbrandsen
Mrs. Grethe Gullaksen
Mrs. Ruth Gundersen
Mr. Stanley Gundersen
Mrs. Erma Hagen
Mrs. Gudrun Halingstad
Mr. Axel Hansen
Mrs. Olga Hansen
Mr. Harold Hansen
Mrs. Inga Marie Hansen
Mr. Oscar Hansen
Mrs. Ingrid Hansen
Mr. Palle E. R. Hansen
Mr. Reidar Hansen
Mrs. Petra Hansen
Mr. Sven Hansen
Mrs. Olga Hastings
Mr. Lynden Hastings
Mr. Norman Hatlestad
Mr. Hermann Haugland
Mrs. Jørgine Haugland
Mr. Wilhelm Hein
Mrs. Emma Hein
Mr. Johan Helgeland
Mrs. Gertrude Helgeton
Mr. Hilmar Helstad
Mrs. Gunvor Helstad
Miss Grete Helstad
Mr. Harry Helstad
Mrs. Rigmor Helvig
Mr. John Hjelmeland
Mrs. Hjelmeland
Mr. Edward Holen
Mr. Lars Holen
Mr. Oscar Holland
Mr. Norman Holt
Mrs. Anna Holt
Miss Tordis Holt
Mrs. Else Marie Hollum
Mr. Arne Christian Hollum
Mr. Niels Henrik Hollum
Miss Ingrid Elisabeth Hollum
Mr. Gustav Hommersand
Miss Gunhild Hotvedt
Mr. Harald Hägg
Mr. Richard Ingvaldsen
Miss Äse Ingvaldsen
Mr. Alf Isaksen
Mr. Arne Jacobsen
Mrs. Kristine Jacobsen
Miss Edith Jacobsen
Mr. Lars L. Jacobsen
Mr. Torvald Jacobsen
Miss Minnie Jacobson
Mr. Eric Jacobsson
Mrs. Ellen Jacobsson
Mrs. Dorothy Jansen
Mr. Anton Jensen
Mrs. Laura Jensen
Mr. Nils K. Jensen
Mrs. Anna H. Jensen
Mr. Bjørn Johansen
Mrs. Gudrun Johansen
Mr. Bo Johansen
Mr. Anders Johansen
Mr. Hjalmar Johnsen
Mrs. Kirsten Johnsen
Mrs. Tine Johnsen
Mrs. Karoline Johnson
Mrs. Sarah Johnson
Mr. Severin Johnson
Mr. William Johnson
Mrs. Emma Kahnlund
Mr. Olav S. Kambestad
Mrs. Ruth Karlsen
Mr. Thore Kirkjorden
Mrs. Hjørdis Kitteisen
Mr. Sven Knoph
Mr. Kasper Knudsen
fr Norma A. Knudsen
Mrs. Margrethe Knutsen
Miss Celeste Knutsen
Miss Joan Korotky
Mrs. Bergliot Korsvoll
Mr. Knut Kristensen
Miss Anne-Marie Kristiansen
Mr. Anton Kvale
Mrs. Maja-Lisa Landberg
Mr. Bjørn-Erik Landberg
Miss Gunilla E. Landberg
Mr. Ingvald Landrud
Mrs. Ruth Landrud
Mr. Reidar Landrud
Miss Borghild Larsen
Mrs. Dagny S. Larsen
Mr. Arne Larsen
Mr. John Larsen
Mr. Ralph Larsen
Mr. Lars Martin Larsen
Mrs. Theoline Larsen
Mr. Louis Larson
Mr. Ira Lee
Mrs. Rasmene Lee
Mr. Tom Lien
Miss Karen Lilledal
Mrs. Sigvara Lockert
Mrs. Sarah Loftesness
Mrs. Gyrid Lorensen
Mrs. Anne R. Lund
Mr. Willy Lund
Mrs. Ellinor Lund
Mr. Knute Lystad
Mrs. Lystad
Mrs. Aslaug McGough
Mr. John McGough
Mr. Arnt Melbye
Mr. Nels Michaelsen
Mrs. Karen Moholt
Mr. Svein Mcssige
Miss Karen-Elise Nærø
Mr. Knut Olav Nedrebø
Mr. Otto D.Nellermoe
Mrs. Karen Nellermoe
Mrs. Ingrid Nelson
Mr. John A. L. Nordahl
Mrs. Dorothy Nordahl
Mrs. Martha Nordheim
Mr. John O. Nordlund
Mrs. Minnie Nordlund
Mrs. Grete Nyrop
Miss Marit Oanes
Mr. Iver Odegaard
Mr. Hans Okland
Mrs. Kari Okland
Mrs. Lovisa Olofsson
Miss Evelyn Olsen
Mrs. Hilda M. Olsen
Mrs. Martha Olson
Mr. Olaus Olsen
Mr. Ole Olsen
Mrs. Ingeborg Olsen
Mr. Tobias Olsen
Mr. Thorleif Omland
Mrs. Tonette Omland
Miss Lynn Omland
Mrs. Birgit Omlid
Mrs. Odlaug Ophus
Mrs. Berthea Osmundsen
Mr. Lauritz Osvog
Miss Bergliot Osvold
Mr. William K. Page, jr.
Mr. David S. Page
Mrs. Alice M. Page
Miss Kathy H. Page
Miss Anne K. Page
Mrs. Hilda Paulsen
Mr. Andreas Pedersen
Mrs. Anne Oline Pedersen
Mr. Olav Pedersen
Miss Astrid Pedersen
Mr. Jørgen Pedersen
Mr. Martin A. Pedersen
Mrs. Theodora Pedersen
Miss Arleen Pedersen
Mr. Torrey Pedersen
Miss Laila Pedersen
Mrs. Martha T. Perry
Mr. Fritz Person
Mrs. Othelie Person
Mrs. Ingrid Petrén
Miss Naomi Quinnell
Mr. John Ramstead
Mr. Kare Rasmussen
Mrs. Severine Rasmussen
Mrs. Jorina Ravndal
Mr. Gustav Reinertsen
Mrs. Alice Reinertsen
Miss Louise Reinertsen
Miss Claire Reinertsen
Mr. Harald S. Rich
Mrs. Minna Rich
Miss Jonna S. Rich
Miss Kirsten M. Rich
Mrs. Ragnhild Rorem
Mr. Holton Rorvick
Mrs. Oluffa Rorvick
Mrs. Aslaug W.Ross
Mr. Lewis Ross
Mr. Mogens H. Rudkjøbing
Mrs. Soja Ruuse
Mr. Herman O. Rygg
Mrs. Ida F. Rygg
Mr. Knud Rønborg
Mr. Alfred Sakariassen
Mr. Einar Schavland
Mrs. Randi Schei             
Mr. Terje Schei
Mrs. Sophie Schmiddle
Miss Regina Schoyen
Mr. Ole Setter
Mrs. Marie Setter
Miss Aase Skavang
Mr. Jakob Skoland
Mr. Thor Skoland
Mrs. Hilma Skoog
Mr. Rolf Skoog
Mr. Carl Skretting
Miss Marie Soldai
Mr. Peter Solheim
Mrs. Anna Solheim
Mr. Halvor Solli
Mrs. Dagmar Solli
Miss Borghild Solos
Mrs. Bertha Sorenson
Mr. Jens Sorli
Mrs. Harriet Sorli
Mr. Ralph Sorli
Mr. Donald Sorli
Mrs. Gurine Stangeland
Mr. Kjell Steenberg
Mrs. Reidun Steenberg
Mrs. Margit Steinnes
Mr. Asgaut Steinnes
Mr. Olaf Stende
Mrs. Anna Stensland
Mr. Oddvin Stensland
Mr. Ole Storkas
Mrs. Bertha Srorkas
Miss Constance Strayer
Miss Betzy Strømme
Mr. Bjarne Støle
Miss Fanny Irene Suomi
Mrs. Anna Sveipe
Mr. Helge Sveipe
Mr. Asbjörn Syversen
Mrs. Thyra Syversen
Miss Aud Syversen
Mr. Morten Syversen
Mr. Niels T. Sørensen     
Mr. Andrew Tharaldson
Mrs. Marie Tharaldson
Mr. Jan Thoe
Mr. Torrey Thomassen
Mrs. Marie Thorbjørnsen
Mr. Alfred Thorsten
Mr. Knut Tjomsland
Mrs. Gerda Tjomsland
Mrs. Harriet Ulversøy
Miss Vivian Ulversøy
Miss Martha Viken
Mr. Oie Viker
Mrs. Alma Viker
Mrs. Ragna Viksten
Mr. Constant van de Wall
Miss Karen Wang
Mrs. Anna Westby
Mrs. Esther Wold
Miss Solveig Wold
Miss Jane Yearley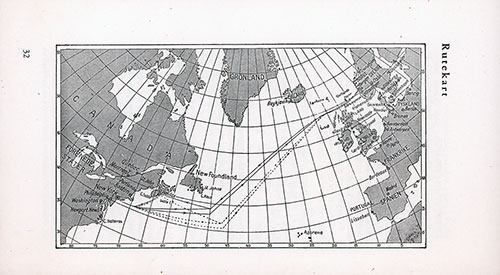 Norwegian America Line Route Map of the North Atlantic, 1954. SS Stavangerfjord Passenger List, 29 September 1954. GGA Image ID # 1611043640
Information for Passengers
Meals will as a rule be served at the following hours:
1st Class:
Breakfast 8:00-9:30 a.m.
Bouillon11:00 a.m.
Lunch 12:30 p.m.
Tea 4:30 p.m.
Dinner   7:00 p.m.
Cabin Class:
Breakfast (1 sitting): 8.00 a.m.
Breakfast (2 Sitting): 8:45 a.m.
Lunch (1 sitting): 12:30 p.m.
Lunch (2 Sitting): 1:30 p.m.
Coffee and Tea  4:00 p.m.
Dinner (1 sitting): 6:30 p.m.
Dinner (2 Sitting): 7:30 p.m.
Tourist Class:
Breakfast: 8:00-9:30 a.m.
Dinner (1 sitting): 12:30 p.m.
Dinner (2 Sitting): 1:15 p.m.
Coffee: 3:30 p.m.
Supper (1 sitting): 6:30 p.m.
Supper (2 Sitting): 7:15 p.m.
Chimes or gong are sounded half an hour before and immediately preceding meals.
The Management will highly appreciate the cooperation of our passengers in observing the scheduled meal hours during the voyage.
This will eliminate any undue delays and greatly assist in making your stay on board as pleasant and comfortable as possible.
Seats at the dining table are assigned by the steward after sailing. In assigning the seats there will as far as possible be shown due regard to the wishes of the passengers.
Smoking is permitted in all public rooms, except the Ladies lounge and Library. Passengers are kindly requested to extinguish cigarettes, cigars and matches before disposal.
Public rooms are open for the use and comfort of the passengers all day from 8 a.m. to 11 p.m. Lights are extinguished at 11 p.m. (in the smoking rooms at 11:30 p.m.) and after these hours the passengers are not allowed to stay in the public rooms. The bars are closed at 11:00 p.m.
Gambling is prohibited.
Baths should be ordered from the bathroom or stateroom servants.
Library. Books may be borrowed from the ship's library by applying to the deck steward to whom the books must be returned the day before arrival.
Baggage. Only ordinary steamer trunks and hand- baggage are allowed in the staterooms. Baggage labelled «Baggage Room» will be placed in the baggage room, entrance on «D» deck aft, port side to which there is access every day from 10 to 11 a.m. and from 4:30 to 5:30 p.m.
Blankets and Pillows must not be taken from the staterooms for use on decks.
Wireless Telegrams are received for transmission any time by the wireless operator. The Radio Station is located on Sports Deck.
Letters must be affixed with Norwegian stamps and put in the mailboxes. This, however, does not apply to airmail which is to be forwarded from New York. Airmail-letters and -cards should be affixed with American stamps according to United States postage tariff. Mail will be sent ashore at first ports of call. Stamps are obtainable from the deck steward, O bin and Tourist Class shops.
Valuables. The Company will not be responsible for money, jewelry or other valuables, belonging to the passengers. The passengers are warned not to leave such articles in their staterooms.
Money and other valuables enclosed in special safety envelopes provided for such purposes may be deposited with the purser, who will give a receipt for the same, but as no charges are made, the company assumes no responsibility.
Doctor's Office is located on «E» deck, starboard side. Hours from 9,30-10,30 a.m. Emergency calls are attended to at any time. No charges will be made for attendance to illnesses originating onboard. For attendance to illnesses originating prior to embarkation a fee may be charged. Medicine is free, with the exception of certain expensive antibiotic drugs which will be available onboard to be prescribed by the doctor and will be charged for at the usual shore prices. A trained nurse will attend passengers in case of illness.
Purser's Office (also information office), is open from 9:30-11:30 a.m. and from 3:30-4:30 p.m.
Tips are, in accordance with general practice, not included in the price of the ocean ticket.
Transfer of baggage on arrival New York. For the convenience and protection of our passengers, Hendrickson's Transfer Company has been authorized to arrange for transfer of baggage to rail and bus terminals, also hotels and local points in the metropolitan area of New York. Express charges are payable by passengers according to tariff, which are reasonable. Hendrickson's Transfer Company's representative is located on the upper level of the pier near elevator. Baggage porter service is free. Passengers making other arrangements for transfer of baggage do so at their own risk. Hendrickson' Transfer Company do not have any representatives operating outside our pier on arrival days, and the passenger must assume full responsibility for the transfer of their baggage.
Norwegian America Line Money Order Service
The Norwegian America Line offices in New York, Minneapolis, and Seattle effect transfers of Norwegian Kroner to all parts of Norway.
The money can be sent in three different ways:
By Airmail
By Cable
By Draft
There are no restrictions as to amounts which may be transferred, but the Norwegian Government regulations do not permit travelers to bring more than 50 Kroner in Norwegian currency into Norway.
Travelers will find it advisable and safe to carry N. A. L. Drafts, payable in Norwegian Kroner, which may be cashed by all our offices in Norway, as well as by all leading banks in Norway.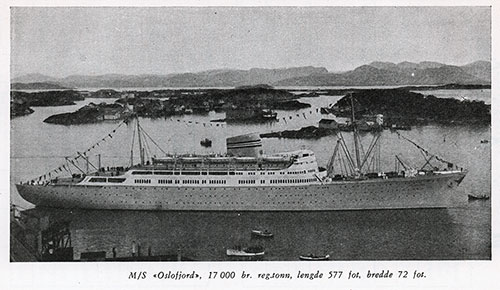 M/S Oslofjord, 17,000 Gross Registered Tons, 577 Feet Long, 72 Feet Wide, 1954. GGA Image ID # 161130c22d