SS Stavangerfjord Passenger List - 13 September 1927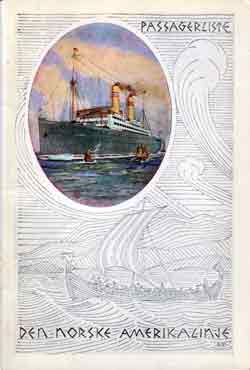 Front Cover of a Cabin Passenger List for the SS Stavangerfjord of the Norwegian-America Line (NAL), Departing 13 September 1927 from Oslo to New York via Stavanger and Bergen, Commanded by Captain K. S. Irgens. Written in Norwegian. Voyage 78 West.
Senior Officers and Staff
Captain: K. S. Irgens
Chief Officer: Th. Johansen
Purser: Th. Frydenlund
Chief Engineer: Haakon Bergh
Doctor: F. Tillier
Chief Steward: Chr. H. Moe
List of Cabin Passengers
Wallace W. Attwood
Worchester, Mass
Harriet F. Attwood
Worchester, Mass
Wallace R. Attwood
Worchester, Mass
Rollin S. Attwood
Worchester, Mass
Harriet T. Attwood
Worchester, Mass
Mary F. Attwood
Worchester, Mass
Marie Andersen
New-York
Anna Andersen
New-York
Petter A. Andersen
Kristianssund N
Fred A. Andersen
Chicago, III
Christine Andersen
Tønsberg
Josef A. Arnesen
Oslo
Ruth L. Alstrup
Oslo
Marie Abrahamsen
Princeton, N.Y
Tomine Abrahamsen
East Orange, N.J
Alfred Andersen
Brooklyn, N.Y
Cecil I. Andersen
Brooklyn, N.Y
Myrtle Andersen
Brooklyn, N.Y
Neal Andersen
Brooklyn, N.Y
Gunnar E. Andersen
Oddernes
Thomas Andersen Holbæk
Orange, N.J
Hilda L. Andrea
Larvik
Aksel M. Aagesen
Brooklyn, N.Y
Georg Aspern
North Bergen, N.J
Thea Aspern
North Bergen, N.J
Sophie Anfindsen
Charleroi, Pa
Chris Anfindsen
Charleroi, Pa
Caroline Anfindsen
Charleroi, Pa
Berget B. Andersen
Brooklyn, N.Y
Elna Archer
New-York
Thorleif Archer
New-York
Aslaug Archer
New-York
C. E. Anderson
Callaway, Nebr
Augusta Anderson
Callaway, Nebr
Selma Anderson
Callaway, Nebr
Ragnhild Annerstedt
New-York
Oscar E. Almstrom
McPherson, Kansas
Maria Almstrom
McPherson, Kansas
Hanna Berg
Chicago, IL
Dagmar Bjørndahl
H. Bekkelagshøgda
Ole Balsrud
Stokke
Christian Bagge
Chicago, IL
Oliva Bagge
Hans L. Bogen
Oslo
Anders M. Boe
San Francisco, Cal
Brita Boe
Anna Boe
Rolf Bochelie
Oslo
Signe M. Bochelie
Jenny Brynthe
Gertrude Bruce
Merrell, Wis
Bergliot Berg
Grand Forks, N.D
Mina Berg
Everrett, Wash
Esther Berg
Sylvia Bjelkevig
Tottenville, St. 1., N.Y
Jørn Berg-Johnsen
Brooklyn, N.Y
Florence Bensen
New Brighton, St. I., N.Y
Morris G. Bishop
Ithaca, N.Y
Alison Bishop
Anna Backlund
Brooklyn, N.Y
Charlotte Bentsen
New-York
Thore Berntsen
Orange, N.J
Arthur Bergstøl
Brooklyn, N.Y
Solveig Bergstøl
Margit Bjørnsgaard
Risør
Esther Bjørnsgaard
Bernt Balchen
Oslo
Dr. Gisle Biørnstad
Minneapolis, Minn
Edward G. Bradford
Wilmington, Del
Helen S. Bradford
Markus P. Bjerkan
Trondhjem
Mrs. Backe-Wiig
U.S.A
Miss Backe-Wiig
Synnøve K. Bjerregaard
Brooklyn, N.Y
Elna Bjerregaard
Knut Buevig,
Stoughton, Wis
Ruth Cox
Baltimore, Md
Harold G. Christensen
Brooklyn, N.Y
Theoline Christensen
Christen Corneliussen
Oslo
Laura Christie
San Francisco, Cal
Clara Coors
Brooklyn, N.Y
Anna Carlsen
Carl Carlsen
Hazel Carlsen
Margit Cleven
Winnepeg, Man
Kathinka Christiansen
Brooklyn, N.Y
Signe Cordell
Plainfield, N.J
Getrud M. Coffer
New-York
Stanislaws Dabrowski
Philadelphia, Pa
Cato Dick,
Belchertown, Mass
Edna Dick
John S. Dahl
Plainfield, N.J
Severine Dahl
Truels W. Dahl
Vettakollen
Terry Reginald Dean
New-York
Clara E. Dean
Anna Dahl
Trondhjem
Borghild Dahl
Ella Dahl
Halfdan Dahl
Johan Danielsen
Bergen
Hulda Dahl
Trondhjem
Annie Evensen
Oslo
Knut Evjen
Nesby, Hallingdal
Harald Eriksen
Drammen
Lalla Eggers
Grand Forks, N.D
Rolf Eggers
Leif Eggers
Mathilde Engebretsen
Elise Erichsen
New-York
Thora Engen
Reinsvold St
Paul Eriksen
New-York
Amy F. Eriksen
Eleonor Eriksen
Ragnhild Eliassen
Chicago, Ill
Robert Eliassen
Funder, Signe
Piaisville, O
Konrad Fredriksen
Horten
Julius Fauchald
Oslo
Aasine Fredriksen
Sør Audnedal
William Fincke
Trondhjem
Alma S. Fondenes
Pittsburgh, Pa
Hjalmar Fondenes
Bergen
Hjørdis Fondenes
George H. Guerdrum
San Antonio, Tex
Alfhild Guerdrum
Thorvald Guerdrum
Harald Guerdrum
Jean Guerdrum
Ingerid Guerdrum
Peruva Gulbrandsen
Oslo
Ingeborg Gedde
Aasgaardstrand I
Ragnhild Grimstad
Oslo
Gudrun Gundersen
Fredriksstad
Haakon Glückstad
Oslo
Robert Gjertsen
Sør Audnedal
Anna Greipsland
Holum
Gudrun Gundersen
Brooklyn, N.Y
Kitty Gundersen
Vennesla
Margaret Gundersen
Mandal
Peder Gundersen
Brooklyn, N.Y
Marie Gundersen
Harald F. Gade
Philadelphia, Pa
Nils H. Gjetrum
Lamberton, Min
Bertha Gjetrum
New-York
John Gustavson
Brooklyn, N.Y
Bertha Gustavson

Moses Harris
Utica, N.Y
Edwin Hill
Mt. Vernon
Margaret Hill
Guro Hagen
Chicago, Ill
Josefine A. Huser
Hvaler
John Hovland
Hyder, Alaska
Anna Hovland
Betty Hovland
John A. Hovland
Ragnhild Halvorsen
Vinderen
Borgny E. Ø. Halsen Hansen
pr. Larvik <=====
Ragna J. Hammer
Trondhjem
Astrid Halvorsen
Oslo
Charles J. Holmgren
Brooklyn, N.Y
Anna C. Holmgren
Hilda Hansen
Oslo
Ella Hoell
Philadelphia, Pa
Erling Hermansen
Brooklyn, N.Y
Mary Hermansen
Kristoffer Hagen
St. Paul, Minn
Niels Hoel
Kolbu
Martha Hoel
Marie Halmrast
Oslo
Astrid Hofsahl
Vang
Inga Hansen
Nykirke st
Alfhild Hansen
Boston, Mass
Jenny Howe
Ketchikan, Alaska
Melvin Howe
Dorothy Howe
Caroline Hansen
Chicago, 111
Erling Hansen
Anna D. Hagen
Jørgen Hadland
St. Paul, Minn
Helen Hadland
Evelyn Hadland
Ingeborg Halle
Oslo
Harold V. Hansen
New-York
Hans Hesselberg
Oslo
Alice Hagel,
Drammen
Alice W. Hansen
Brighton, St. 1., N.Y
Jørga Hansen
Brooklyn, N.Y
Aalo Hansen,
Gunda Søgne
Jenny M. Holthe
Tulsa, Okla I I
Olga Holthe
Oddernes
Mary E. Holthe
August Herbst
Chicago, 111
Martha Herbst
Carl Herbst
Martha Hansen
Silver City, N. Mex
May E. Hansen
Martha Heggelund
Trondhjem
Kathrine Haagensen
U.S.A
Anna Haaland
Union City, N.J
Milda Hansen
Egersund
Sigurd Hansen
Malene Haugland
Stavanger
Lotte Helgesen
Haugesund
Karen Hansen
San Fransisco, Cal
Arthur Hansen
Roy E. Hansen
Hanna Horn
New-York
Gjertrude Hefte
Chicago, 111
Malina Hefte
Thea Iversen
Grand Forks, N.D
Anna Iversen
Sandefjord
Jenny O. Isaksen
Brooklyn, N.Y
Hilma Iversen
Trondhjem
Malmfried Isaksen
New-York
Jenny Johnson
Oslo
Jon Jørgensen
Elverum
Torstein Jahr
Washington, D.C
Martha Jørgensen
New-York
Petter Jørve
Jevnaker
Othilia Johnsen
Oslo
Kjellaug Julsrud
Emma Johnsen
Elsa H. Johannessen
Lilly M. Jenssen
Lorang S. Jensen
Halden
Ella Jensen
Oslo
Hanna Johnsen
Telemark
Gustav Jurgensen
Brooklyn, N.Y
Solveig Johansen
Oslo
Anne M. Johnsæter
Nordstrand
Anna Jacobsen
Brooklyn, N.Y
Laura Jacobsen
Magna Jacobsen
Hans J. Jacobsen
Rockville Centre, L.1., N.Y
Anna Jacobsen
Agnes Jacobsen
Harald Jacobsen
Robert Jacobsen
Engbret Jensen
Port Richmond, S.I., N.Y
Valborg Jensen
Evelyn Jensen
Port Richmond, S.I., N.V
Karen Johnsen
Brooklyn, N.Y
Therese Jansen
Trondhjem
Selma Jacobsen
Stavanger
C. H. Jonsson
Albany, N.Y
Mari Kjeldaas
Chicago, Ill
Helen Kjeldaas
Mathias K. Kjølseth
Washington, D.C
Tine Kjølseth
Elsa Kjølseth, -
Martha Knudsen
Randsfjord
Aage Klauman
Oslo
Karelius Kristoffersen
Martinius Knutson
Andrea Knutson
Marie P. Klem
Kragerø
Arne Kleven
Vigmostad
Marie Kleven
Olga Kleven
Alma B. Knudsen
Chicago, 111
Ida Kristiansen
Montclair, N.J
Borghild Krogh
Oslo
Sahra J. Kvittfjell
Trondhjem
Ingeborg Kalhovd
Masfjorden
Lene Krogh
Pasedena, Cal
Anna Kapstad
Svanhild M. Knudsen
Chicago, 111
Fernanda Langø
Brevik
Alf Langø
Edith Langø
Robert Larsen
New-York
Helga Larsen
John B. Larsen
Oslo
Søren Larsen
New-York
Mina Larsen
Elfrida Larsen
Holmestrand
Mary Lyche-Tambs
Chanute, Kansas
Gunder Lyngaas
Chicago, Ill
Harald Lundsrud
Oslo
Bergliot Lindberg
St. Paul, Minn
Gerd Lindberg
Lars M. Larsen
Brooklyn, N.Y
Othilie Larsen
Lillian Larsen
Marion O. Larsen
Agnes Langfeldt
Boston, Mass
Ludvig Larsen
Spangereid
Alfred Lauen
Hægbostad
Alice Leland
Vigmostad
Signe Leland
Thora Lindland
Philadelphia, Pa
Florence Lufkin
Norfolk, Conn
Ingeborg Lie
Svolvær
Judith L. Lindseth
Aalesund
Oscar Lindblom
Borlänge
Ebba Lindqvist
Karlshamn
Gudrun Morterud
Moss
William A. Mittauer
New-York
Marie Mittauer
John L. Mørnichen
Holmenkollen
Rolf Mellerud
Jevnaker
Hans Mustad
Oslo
Helene Minsaas
Holmenkollen, Oslo
Harald M. Mortensen
Nordstrand
Rebe Schreyer Miles
Milton, Pa
Gunda Morland
Oslo
Karoline Mathisen
Slitu St
Conrad Mathiassen
New-York
Alvilde Marcussen
Brooklyn, N.Y
Lillian Marcussen
Lizzie Martin
Ragnhild Magnussen
Oslo
Antonia Merrill
Milwaukee, Wis
Gunhild Moe
Trondhjem
Alice Moe
Elisa Mortensen
Chicago, Ill
Adolph Mortensen
Viktor Myhrman
Nils Nickelsen
Oslo
Marie Nilsen
Gudrun E. Næss
jens K. Nickelsen
New-York
Kaja Nickelsen
Jenny Nickelsen
Ruth Nordby
Solør
Harald Nesland
Seattle, Wash
Jensine Nesland
Otto Nilsen Udø
Brooklyn, N.Y
Bertine Nilsen Vigeland
Sør Audnedal
Judith Nilssen, Chr. Høivaag
Olga P. Njerve
Rutherford, N.J
Anna Nordstrøm
Trondhjem
Hans Nordgaard
K. S. -
Jacob Nessler
Stavanger
Kari Rein Nilsen
Brooklyn, N.Y
Bergitha Nelson
Gjertrude Nesse
Chicago, Ill
Hans M. H. Nesse
Finaas
Danielle K. Nesse
Gerhard Nesse
Harry D. Nesse
Arthur C. Nesse
Borgny J. Nilsen
Chicago, Ill
Randine J. Nyhavn
Bergen
Isak Olsen,
Brooklyn, N.Y
Anna Olsen
Peder L. Olsen
Amanda Olsen
Ragnhild Olsen
New-York
Tordis Olsen
Oslo
Louis Olsen
Fox Lake, Ill
Jennie M. Olsen
Hans Olsen,
Chicago, Ill
Sofie Ottesen
Woodbury, N.J
Edith Ottesen
Anna H. Orskaug
Skotbu st
Anders Olsen
Tveit
Carl Olsen
Brooklyn, N.Y
Ingrid Olsen
New-York
Margaret Olsen
San Francisco, Cal
Olga Olsen
Brooklyn, N.Y
Clarence Olsen
John Olsen Røyland,
Aaseral
Oskar Omdahl
Horten
Hanna Olsen
New-York
Harold Olsen
Ragna Olsen
Brooklyn, N.Y
Eldrid Oxaal
Nordfjordeid
Aase Oxaal
Leiv Oxaal
Ragna Pedersen
Kristianssund N
Anna Pedersen
New-York
Magne H. Petersen
Oslo
Frithjof Plahte
Ragnhild Peersen
Kristianssand S
Marie Pedersen
Brooklyn, N.Y
Ruth Pedersen
Oddernes
Herman Petersen
Brooklyn, N.Y
Hagny Petersen
Arnfrid Petersen
Maurice Petersen
Sigfrid Petersen
Harriet Petersen
Alfred D. Peoples
Wilmington, Del
Malene Pedersen
Stavanger
Mellie Pettersen
Brooklyn, N.Y
Lauritz Rude
West New-York, N.Y
Caroline Rude
Larsine Romslo
Oslo
William S. Robertson
Marie Ranvig
Tor Ranvig
Olava Rude
Kløfta
Helene Riege
Oslo
Ingeborg Risdal
Vigmostad
Gunvor Rosseland
Valley City, N.D
Anny Rosseland
Gladys Rosseland
Olav Jensen Ryen
Brooklyn, N.Y
Nils P. Remold
Kenyon, Minn
John Robertson
San Francisco, Calf
Lena Robertson
Tønnes T. Raustad
Jersey City, N.J
Helene S. Rossebø
Haugesund 1
Anne Rossebø
Lise
Haldis K. Rygh
Jersey City, N.J
Olaf Roed
Detroit, Mich
Ingeborg Sponland
Chicago, 111
Bertha Samuelsen
White Plains, N.Y
Klara Stenbock,
Fredriksstad
Sigrid Solback
Bryn
Elsa Swatzler
Youngstown, Ohio
Martha Stratford
Skjeberg
Ruth Søvik
Oslo
Johannes Stokstad
Aase Sand
Lillehammer
Ingeborg Strandmark
New Hyde Park, N.Y
Sarah Schreyer
Milton, Pa
Caroline Slocum, -
Annanias Storhøi
Hopkins, Minn
Fanny Schion
Tønsberg
Karen Strømstad
Kløfta
Finn Strømstad
Hans Strømstad
Juliane Solbraa og Spædbarn
Oslo
Sigurd Sandborg
Chicago, Ill
Louise H. Salmon
Oslo
Thor Solberg
Tor Seegaard
Anna Sandrib
New-York
Marie Sandrib
Brooklyn, N.Y
SInger L. Sandrib
Ruth Sandrib
Theodor W. Simonsen
Brighton, N.Y
Aagot Simonsen
Edward Stad,
Berkeley, Calf
Agathe Stewart
Port Richmond, S.I., N.Y
Ruth Marie Stewart
Tonrally Syvertsen
Brooklyn, N.Y
Annette Sunsdal
Anne M. Sampson
Haugesund
Tonette Seland
Jersey City, N.J
Sofie Stalheim
New-York
Sigrid Storhaug
Bergen
Gertrude Sandberg
Montclair, N.J
Ingolf Schander
Vekerum
Axel Svensson
Slätthøg
Pirkko Suhonen
Kuopio
Anna Thorpe
Red Bank,, N,.J
Peter O. Tennfjord
Oslo
Ragnhild Thovsen
Vinderen S
Martha Trøgstad
Skreia st
Anna Tuomala
Stange
Reidar Torp
Oslo
Anna Thompson
Chicago, Ill
Mildred Thompson
Isak W. Tallaksen
Orange, N.J. -
Klara K. Tallaksen
Ruth Tobiassen
Hoboken, N.J
Ole A. Tangen
Chicago, 111
Inga Tangen
Leonora V. Thomassen
Brooklyn, N.Y
Erwin Thomassen
Selma Thomsen
Thora Thorgrimsen
Saranac Lake, N.J
Olava Torkelsen
Brooklyn, N.Y
Gurine P. Tronstad
East Orange, N.J
Augusta Tønnesen
Brooklyn, N.Y
Dagny A. Tønnesen
Tora Tønnesen
Lista
Gunhild Thomassen
Stavanger
Harriet Tallaksen
Port Richmond, N.Y
Betty Tallaksen
Anna Teigland
Chicago, Ill
W. W. Thomas
Portland, Oreg
Wolfgang Thomas
Oscar Thomas
Andres Vik
New-York
Ingeborg Vik
Gunhild Vagle
Ganddal
Hedvig Wetlesen
Oslo
Anton Wikey
Chicago, Ill
Martha Wikey
Arnold Wikey
Marshall Wikey
Trine Willumsen
Brooklyn, N.Y
Conrad Wick
Trondhjem
Randi Ystebø
Stavanger l
Tillæg - Additionsl.
Alma Ahlcranz
Malmö
Sigrid Boe
Sogndal
Ben Brekke
Kopervik
ynga E. C. Dale
Torvestad
Alf Ellefsen
Haugesund
Stephana Haaland
Oslo
Thora Hanland
Axel M. R. Haraldstad
Mandal
Ray Havig
Long Beach, Cal
Hjørdis Havig, -
Haldis Johannessen
Haugesund
Agnes Jakhelln
Ophus
Agnes Kløgetvedt
Brooklyn, N. Y
Jenny Lindefjeld
Kvinesdal
Otto Lindefjeld, -
Palmer Lomeland
Klungeland
Alf M. Lomland
Stavanger
Gerda E. Nilssen
Malmö
Ellen E. Olson
Hälsingborg
Mabel A. Pedersen
Stavanger
Lloyd Seese
Fort Pierce, Fla
Hans Svindland
Egersund
Peder Svarstad
Lillehammer
Harry Sundbye-Hansen
New York, N. Y
Emilia N. Toren
Malmö
Thomas Thomassen
Narvik
Ikke ombord - Not onboard.
Gunnar E. Andersen
Kitty Gundersen
Clara Coors
Malene Pedersen
Aasine Fredriksen
Fanny Schion
Anna Teigland
Total: 510 Cabin Passengers.
Information for Passengers
Meals will as a rule be served at the following hours: Breakfast 8-9.30 am, bouillon 11:00 am, lunch 1:00 pm, tea 4.30 pm dinner 7:00 pm
A Gong or bugle is sounded half an hour before and at the beginning of meals.
Seats at The Dining Tables are assigned by the Steward after sailing. In assigning the seats there will as far as possible be shown due regard to the wishes of the Passengers. Children under 10 years, who pay half fare, will as a rule be served at the Second sitting.
Meals will be served in staterooms or on deck only in case of sickness.
Public Rooms are open for the use and comfort of the Passengers from 7 A. M. all day to 11 P. M. Lights are extinguished at 11 P. M. (in the smoking rooms at 11.30 P. M.) and after these hours the Passengers are not allowed to stay in the public rooms. Nothing is served after 11 P. M.
Smoking is not allowed in the dining rooms, music rooms, state-rooms and corridors.
GAMBLING is prohibited.
Baths. Splendid uptodate bathrooms with hot and cold salt water and fresh water showerbaths are conveniently located.
" Baths, which are free, should be ordered from the bathroom or stateroom servants.
Library. Books may be borrowed from the ship's library by applying to the music room attendant to whom the books must be returned the day before arrival.
Baggage Only ordinary steamertrunks and handbaggage is allowed in the staterooms. Baggage labeled "Baggage Room" will be placed in the baggage room, to which there is access every day 9.30 to 10.30 A. M. and 3 to 4 P. M. Baggage labeled "Hold" will be placed in ship's hold.
Deck Chairs may be secured by applying to the deckwaiter, Charge kr. 5.00.
Blankets and Pillows must not be taken from the staterooms for use on deck.
Rugs may be hired for doll. 0.50 for the voyage by applying to the deckwaiter.
Wireless Telegrams are received for transmission by the wireless operator.
The Marconi system of telegraphy is installed on board and messages will be received and transmitted at any time by operators in charge.
Ordinary Telegrams are received for transmission by the purser. Time for delivery of such telegrams will be posted on bulletin boards.
Letters must be stamped with Norwegian stamps and put in the mail boxes. Mail will be sent ashore at first port of call.
Stamps are obtainable from the music room attendant (deckwaiter).
Valuables, The company will not be responsible for money jewelry or other valuables, belonging to the Passengers. The Passengers are warned not to leave such articles in their staterooms. Money and other valuables enclosed in special safety envelopes provided for such purposes may be deposited with the purser, who will give receipt for package, but as no charges are made, the company assumes no responsibility.
Exchange of Money. The purser will change a limited amount of dollars or kroner. Time and rate of exchange will be posted in bulletin boards.
Ship's Doctor. Office hours are posted in conspicious places onboard. Attendance and medicin is free. In special cases a fee may be charged. A trained Nurse will assist Passengers in case of illness.
WITTUSEN & Jensen
Oslo