White Star-Dominion Line History and Ephemera
White Star - Dominion Line formed as a joint service between White Star Line the the Domain Line in 1909 to handle passenger and freight traffic between Quebec and Montreal and Liverpool via Queenstown (Cobh). Their passenger fleet included the SS Laurentic, Megantic, Canada, Dominion, and Teutonic. In 1926 the service was rebranded as the White Star Line Canadian Service.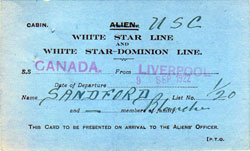 Canadian Alien Card, White Star Dominion Line, 1922
The Canadian Alien Card was issued to each non-Canadian passenger indicating the number of sheet and line on sheet their name was listed on. The Card was to be presented on arrival, to the Canadian Aliens' Officer.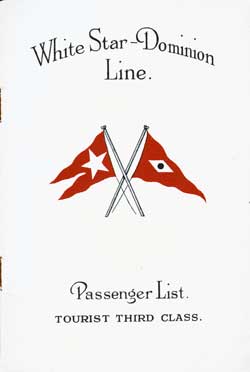 Steamship Line: White Star-Dominion Line
Ship: SS Doric
Class of Passengers: Third Class
Date of Departure: 30 July 1925
Route: Liverpool to Quebec via Queenstown (Cobh)
Commander: Captain S. Bolton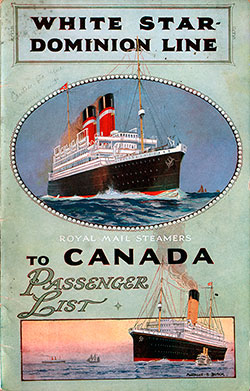 Steamship Line: White Star-Dominion Line
Ship: SS Canada
Class of Passengers: Cabin
Date of Departure: 18 September 1925
Route: Liverpool to Quebec and Montreal via Queenstown (Cobh)
Commander: Captain T. Jones