Royal Mail Lines History and Ephemera
Royal Mail Lines Ltd (RML) was created in 1932 and took over the ships of Royal Mail Steam Packet Company and other companies of the former group.
The new company's operations were concentrated on the west coast of South America, the West Indies, and the Caribbean, and the Pacific coast of North America; the Southampton – Lisbon – Brazil – Uruguay – Argentina route was operated from 1850 to 1980. RML was also a leading cruise ship operator.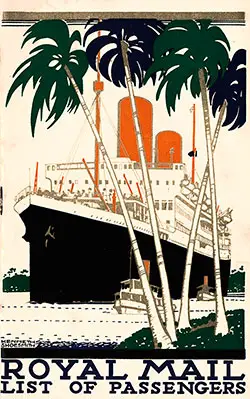 Steamship Line: Royal Mail Lines
Ship: RMS Asturias
Class of Passengers: First and Second Saloon
Date of Departure: circa 1 June 1935 (Note 1)
Route: Southampton to Buenos Aires via London (Tilbury), Cherbourg, Boulogne-sur-Mer, Spain (Coruña Galicia, Las Palmas, Vigo), Portugal (Leixöes, Lisbon), Madeira, St. Vincent, Cape Verde Island, Brazil (Bahia, Pernambuco, Rio de Janeiro, Santos, São Paulo), Montevideo, Uruguay
Commander: Captain A. Purvis
Note 1: Passenger List did not provide departure date from Southampton - Only the Arrival date (18 June 1935) for Buenos Aires Argentina