RMS Asturias Farewell Dinner Menu - 22 August 1935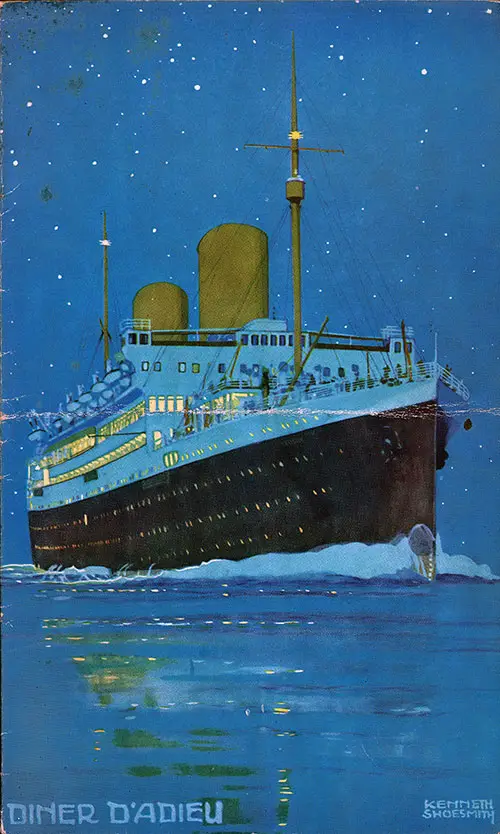 Front Cover of a Vintage Farewell Dinner Menu and Music Program from 22 August 1935 on board the RMS Asturias of the Royal Mail Lines featured Scotch Grouse,  Smithane, Braised York Ham au Madère, and Canapé Charlemagne for dessert.
Menu Items
RMS Asturias Farewell Dinner Menu - 22 August 1935
Thursday, August 22nd , 1935
Caviar Osetrova
Chilled Melon
Sardines in Oil & Brislings
Queen Olives
Salad Caprice
Salmon Remoulade
Vegetable Salad
Turkey Portuguese
Tomatoes Andalouse
Salpicon Normande
Brunswick Sausage
Cold Consommé Double of Chicken in Cup
Clear Turtle aux Xeres
Cream Velours
Délice of Sole, St. Germain
Braised York Ham au Madère
Cold Asparagus, French Dressing
Surrey Capon à la Broche, Bread Sauce
French Beans   
Braised Celery
Noisette Potatoes, Paysanne Potatoes, and Boiled Potatoes
Roast Quarter of Spring Lamb, Persillée
TO ORDER
COLD BUFFET
Roast Turkey
Boar's Head
Roast Beef
Truffle Galantine
Westphalian Ham
Leicester Pie
Plum Pudding, Vanilla and Hard Sauce
Rice Cream, Impératrice        
Coupe Eugenie
Savory: Canapé Charlemagne
Cheese   
Dessert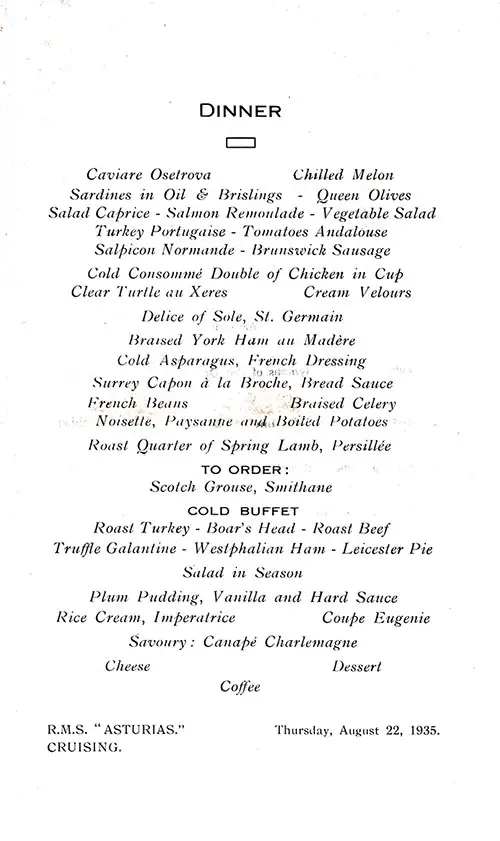 Music Program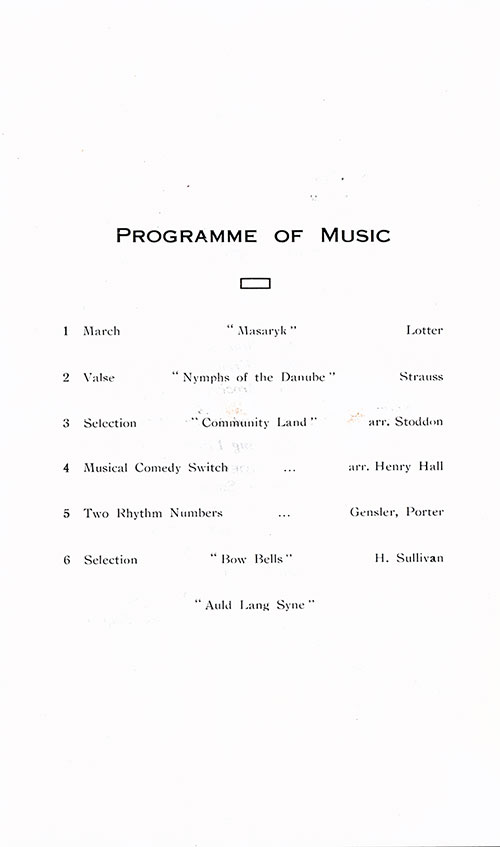 You may also be interested in: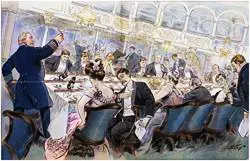 Captain's Farewell Dinner Onboard an Ocean Liner
Preparations went on all the afternoon in the dining room of the "Graf Waldersee" of the Hamburg America Line for the Boat-Captain's Dinner.  The "Captain's Dinner," by the way, given just before the end of the voyage, is always quite a grand affair.