SS George Washington Farewell Dinner Menu - 7 July 1931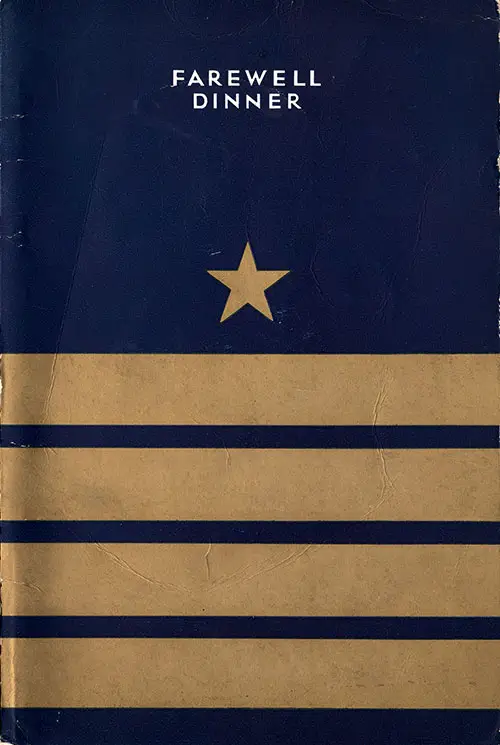 Front Cover of a Stately Farewell Dinner Menu and Musical Program, complete with a photograph of the dinner guests for this Tuesday, 7 July 1931 meal on board the SS George Washington of the United States Lines on the Voyage No. 25 - Eastbound. GGA Image ID # 1556636d6e
Executive Officers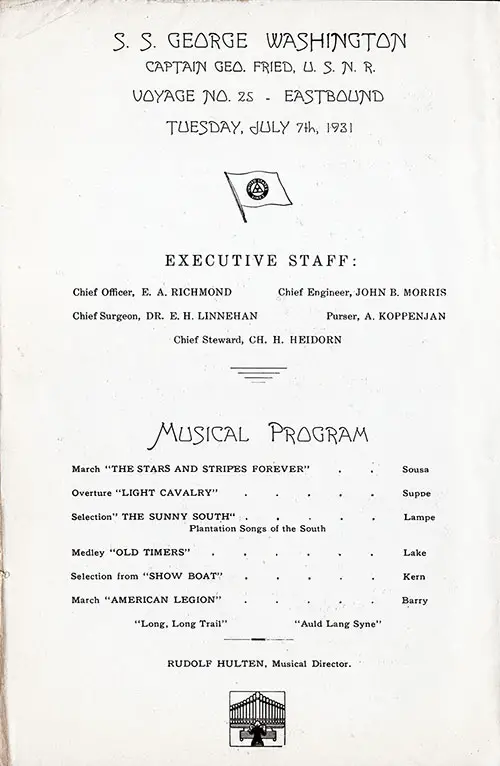 Captain: GEO. FRIED, U.S.N.R.
Chief Officer: E. A. RICHMOND
Chief Engineer: JOHN B. MORRIS
Chief Surgeon: DR. E. H. LINNEHAN
Purser: A. KOPPENJAN
Chief Steward: CH. H. HEIDORN
Musical Program
March "The STARS and STRIPES FOREVER" Sousa
Overture "LIGHT CAVALRY" Supne
Selection "The SUNNY SOUTH" Lampe
Plantation Songs of the South
Medley "OLD TIMERS" Lake
Selection from "SHOW BOAT" Kern
March "AMERICAN LEGION" Barry
"Long, Long Trail"
"Auld Lang Syne"
RUDOLF HULTEN, Musical Director.
Farewell Dinner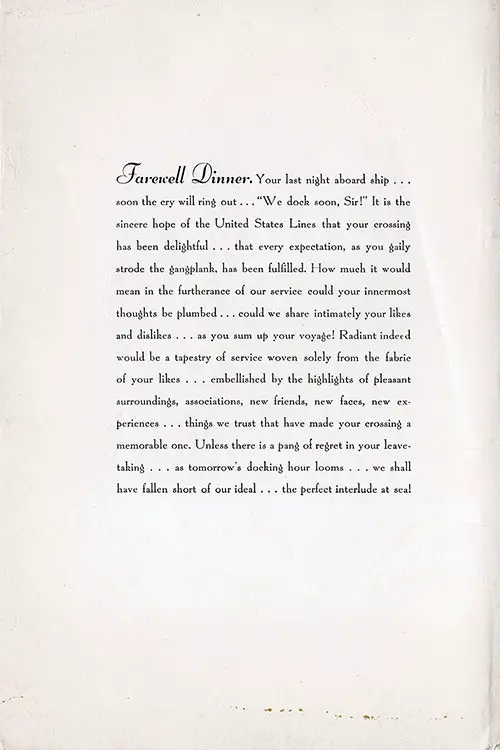 Your last night aboard ship . . . soon the cry will ring out ... "We dock soon, Sir!" It is the sincere hope of the United States Lines that your crossing has been delightful . . . that every expectation, as you gaily strode the gangplank, has been fulfilled. How much it would mean in the furtherance of our service could your innermost thoughts be plumbed ... could we share intimately your likes and dislikes . . . as you sum up your voyage! Radiant indeed would be a tapestry of service woven solely from the fabric of your likes . . . embellished by the highlights of pleasant surroundings, associations, new friends, new faces, new experiences . . . things we trust that have made your crossing a memorable one. Unless there is a an of regret in your leave-taking . . . as tomorrow's clocking hour looms . . . we shall have fallen short of our ideal . . . the perfect interlude at sea!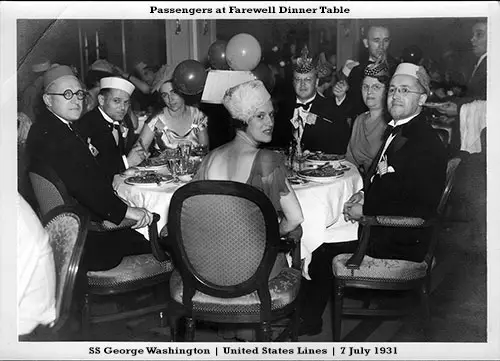 Group of Dinner Guests at Farewell Dinner Table on Board the SS George Washington of the United States Lines, 7 July 1931. GGA Image ID # 1e8808345c
Menu Items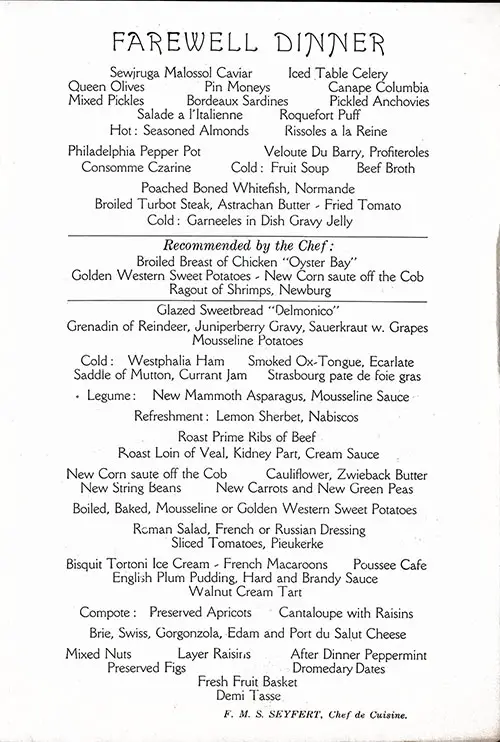 Sewjruga Malossol Caviar
Iced Table Celery
Queen Olives
Pin Moneys
Canape Columbia
Mixed Pickles
Bordeaux Sardines
Pickled Anchovies
Salade a l'Italienne
Roquefort Puff
Hot :
Seasoned Almonds
Rissolées à la Reine
Philadelphia Pepper Pot
Velouté Du Barry, Profiteroles
Consommé Czarine
Cold :
Poached Boned Whitefish, Normande
Broiled Turbot Steak, Astrachan Butter - Fried Tomato
Cold : Garneeles (shrimp) in Dish Gravy Jelly
-:--:- -:--:-
Recommended by the Chef :
Broiled Breast of Chicken "Oyster Bay"
Golden Western Sweet Potatoes - New Corn Sauté off the Cob
Râgout of Shrimp, Newburg
-:--:- -:--:-
Glazed Sweetbread "Delmonico"
Grenadin of Reindeer, Juniperberry Gravy, Sauerkraut w. Grapes
Mousseline Potatoes
Cold : Westphalia Ham Smoked Ox-Tongue, Ecarlate
Saddle of Mutton, Currant Jam Strasbourg Pâté de Foie Gras
Legume : New Mammoth Asparagus, Mousseline Sauce
Refreshment : Lemon Sherbet, Nabiscos
Roast Prime Ribs of Beef
Roast Loin of Veal, Kidney Part, Cream Sauce
New Corn Sauté off the Cob Cauliflower, Zwieback Butter
New String Beans New Carrots and New Green Peas
Boiled, Baked, Mousseline or Golden Western Sweet Potatoes
Roman Salad, French or Russian Dressing
Sliced Tomatoes, Pieukerke
Bisquit Tortoni Ice Cream - French Macaroons Pousse Café
English Plum Pudding, Hard and Brandy Sauce
Walnut Cream Tart
Compote : Preserved Apricots Cantaloupe with Raisins
Brie, Swiss, Gorgonzola, Edam and Port Salut Cheese
Mixed Nuts
Layer Raisins
After Dinner Peppermint
Preserved Figs
Fresh Fruit Basket
Demi-tasse (Coffee)
F. M. S. SEYFERT, Chef de Cuisine.
Menu is approximately 6x9"; photo is 5x7" matte finish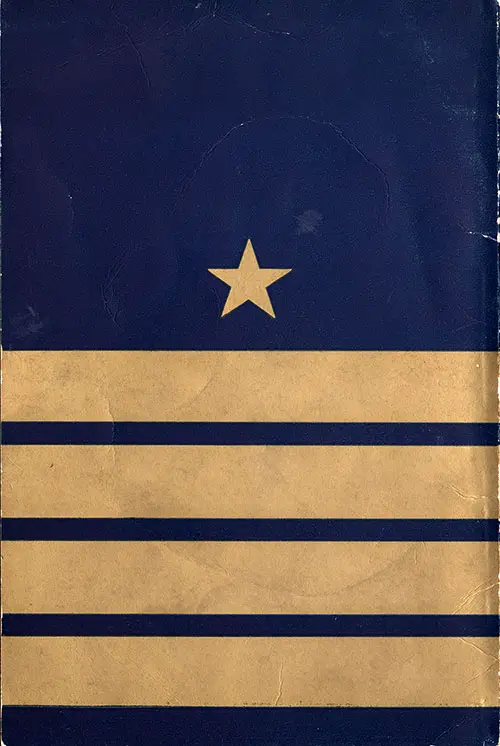 Back Cover of 1931-07-07 Farewell Dinner Menu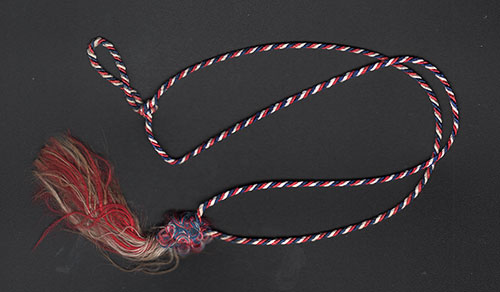 Tassel Binding of Farewell Dinner Menu
Gjenvick-Gjønvik Archives Reference Number: 2510.2229.1795 2012-03-27