SS President Jackson Dinner Menu - 16 February 1935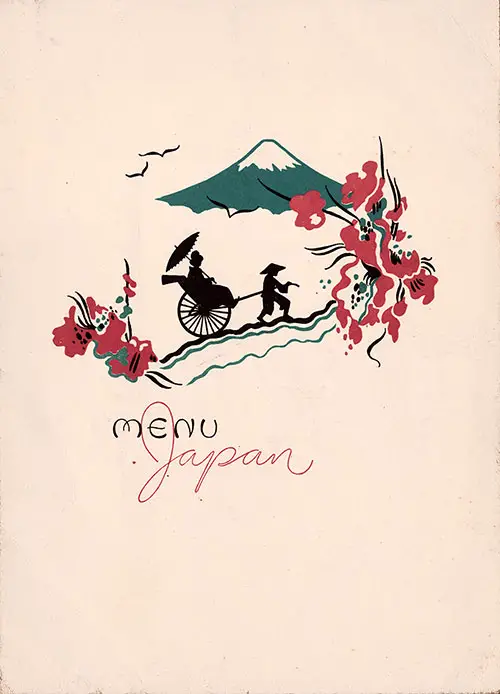 Front Cover of a Vintage Dinner Menu from Saturday, 16 February 1935 on board the SS President Jackson of the American Mail Line featured Poached Red Snapper, Mustard Sauce, Yeoung Chow Wor Mein, Canton Style, and Boston Cream Pie for dessert.
Menu Items
M. M. Jensen, U. S. N. R., Commander
DINNER
Sea Food Cocktail
Bloater Paste Canapes
Toasted Cheese Sandwich
Cold Pack Pickles   
Celery en Branche
Red Relish   
Salted Nuts  
Green Olives
Spring Vegetable Soup     
Consommé Vermicelli
Poached Red Snapper, Mustard Sauce
Fried Fresh Flounder, Melted Butter
Boiled Ham Hocks and Cabbage
Yeoung Chow Wor Mein, Canton Style
Jenny Lind Pancakes, Apple Jelly
Roast Prime Ribs of Beef, au Jus
Roasted Stuffed Young Goose, Baked Apple
Mashed Potatoes   
Browned Potatoes
Red Cabbage Sauté         
Baked Hubbard Squash
COLD SELECTIONS
Prime Ribs of Beef 
Leg of Pork
Sliced Chicken       
Boiled Ham
SALAD:
Hearts of Lettuce, Roquefort Dressing
Celery and Apple
Tapioca and Pineapple Pudding
Boston Cream Pie
Angel Cake
Coupe Jeanette
Brick Ice Cream
Assorted Pastries
CHEESE:
American, Imported Swiss, Roquefort,
Old English, Butter Cheese, Pimento, Gorgonzola.
Stillton, Camembert, Philadelphia Cream,
Toasted Water Crackers
Mixed Nuts  
Canton Ginger       
Preserved Figs
Fresh Fruits 
D. Mints
Café Noir
Saturday, February 16,1936. J. W. Tellgren, Chief Steward.
Coffee will be served on Deck and in Smoking-Room at 8 P.M.
SUGGESTED DINNER
Sea Food Cocktail
Spring Vegetable Soup
Fried Fresh Flounder, Melted Butter
Jenny Lind Pancakes, Apple Jelly
Roast Prime Ribs of Beef, au Jus
Mashed Potatoes
Red Cabbage Sauté
Hearts of Lettuce, Roquefort Dressing
Tapioca and Pineapple Pudding
American Cheese
Toasted Water Crackers
A. D. Mints
Café Noir