MS Gripsholm Dinner Menu - 25 October 1953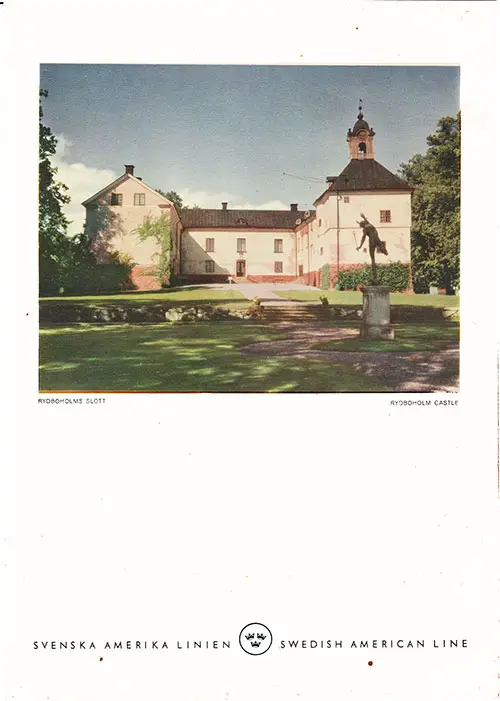 Front Cover of a Vintage Dinner Menu from Sunday, 25 October 1953 on board the MS Gripsholm of the Swedish American Line featured Roast Saddle of Lamb à l'Orloff; Fillet of Elk Forestière; and Mocca Cake for Dessert. GGA Image ID # 1f428c19d0
Menu Items
FIRST CLASS
DINNER MENU
Table Celery Queen Olives
Cream Soup Palestine
Fresh Plaice Meunière
Roast Saddle of Lamb à l'Orloff
Peas Asparagus Tips
Pears Belle Hélène
A LA CARTE:
Hors d'Œuvre
Honey Dew Melon
Pineapple Cocktail
Shrimp Cocktail
Avocado
"Sprottens" Stuffed Olives
Scandinavian Relishes
SOUP
FISH
ROAST
Fillet of Elk Forestière (10 Minutes)
Squab Pigeon Bonne Femme
Cold Roast Beef Pickles
VEGETABLES ETC.
Vegetable Salad
Cauliflower Polonaise
Mixed Vegetables
Baked Sweet Potatoes
SALAD
Boston- Romaine- Tomato Salad
COMPOTE
Stewed Strawberries, Whipped Cream
Fresh Pineapple
DESSERT
Mocca Cake
Hot Apricot Sauce
ICE-CREAM
Mixed- Pistachio- Tortoni Ice Cream
Cookies
CHEESE
Herrcàkds Cheese
Roquefort Cheese
Camembert Cheese
At 4 am, the clocks will be turned back 40 minutes.
Passengers on special diets are invited to inform Chief Stewart of their requirements.
Menus Selections, Dinner Menu, First Class Class on the MS Gripsholm of the Swedish American Line, Sunday, 25 October 1953. GGA Image ID # 1f42963cae