SS Bremen Dinner Menu - 18 July 1937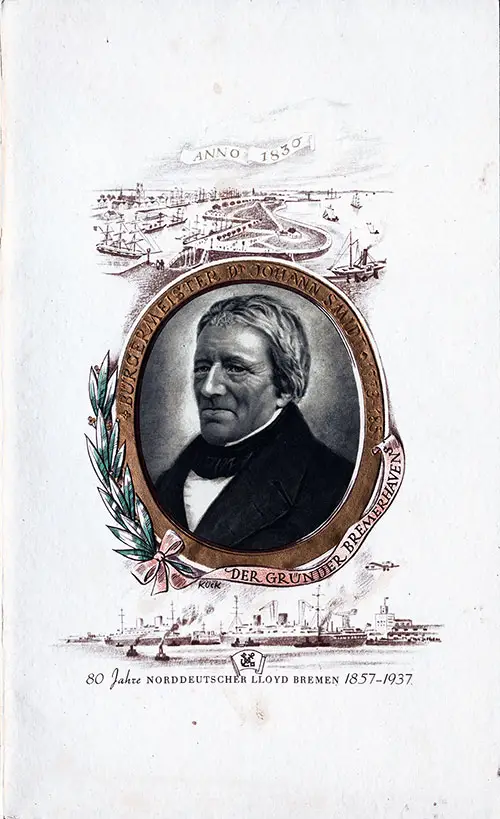 Elegant, Large Format, Vintage Tourist Class Dinner Menu With the Front-Cover Illustration of Der Gründer Bremerhaven Burgermeister D. Johann Smidt 1773-1857 in Celebration of the 80th Anniversary of the Founding of Norddeutscher Lloyd Bremen (1857-1937). Menu Selections From Sunday, 18 July 1937 Onboard the SS Bremen of the North German Lloyd (Norddeutscher Lloyd Bremen) Featured Live Boiled Lobster, Mayonnaise Sauce, Vol-Au-Vent Toulousaine, and Crepes Valentine for Dessert. the Menu Was Printed in German and English With a Brief History on the Back Cover About the 80th Anniversary of the Norddeutschen Lloyd Bremen. Bound With Gold Braided String. GGA Image ID # 155a356f13
Menu Items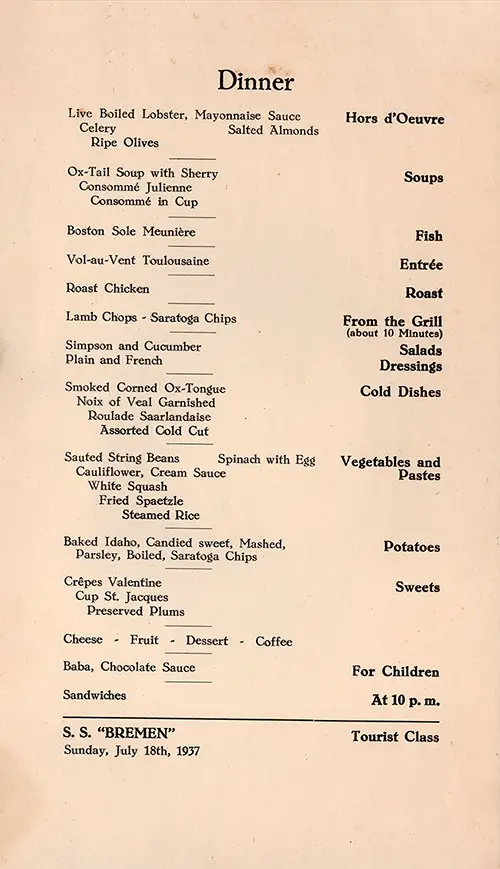 Hors d'Œuvres
Live Boiled Lobster, Mayonnaise Sauce
Celery
Salted Almonds
Ripe Olives
Soups
Ox-Tail Soup with Sherry
Consommé Julienne.
Consommé in Cup

Fish
Entree
Roast
From the Grill
(about 10 Minutes)
Lamb Chops - Saratoga Chips
Salads
Dressings
Cold Dishes
Smoked Corned Ox-Tongue
Noix of Veal Garnished
Roulade Saarlandaise
Assorted Cold Cut
Vegetables and Pastes
Sautéd String Beans
Spinach with Egg
Cauliflower, Cream Sauce
White Squash
Fried Spaetzle
Steamed Rice
Potatoes
Baked Idaho, Candied sweet, Mashed, Parsley, Boiled, Saratoga Chips
Sweets
Crepes Valentine
Cup St. Jacques
Preserved Plums
Cheese - Fruit - Dessert - Coffee
For Children
Sandwiches At 10 p. m.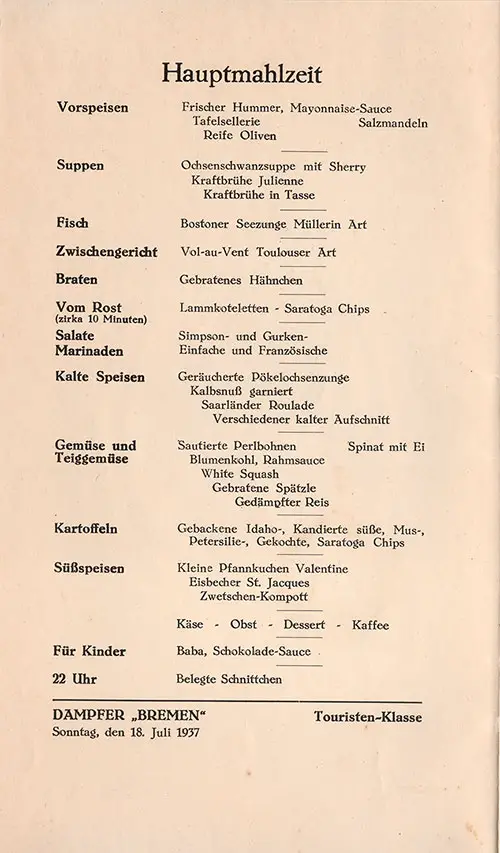 80th Anniversary of the Norddeutschen Lloyd Bremen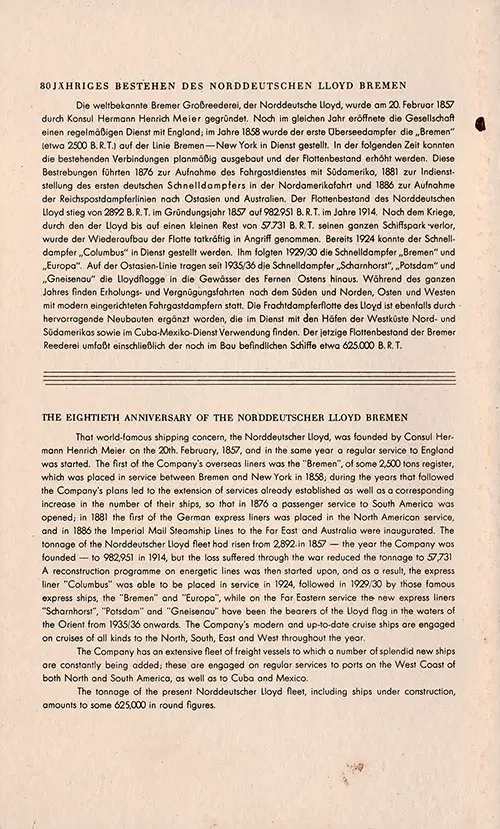 That world-famous shipping concern, the Norddeutscher Lloyd, was founded by Consul Hermann Henrich Meier on the 20th. February, 1857, and in the same year a regular service to England was started.
The first of the Company's overseas liners was the "Bremen", of some 2,500 tons register, which was placed in service between Bremen and New York in 1858.
During the years that followed the Company's plans led to the extension of services already established as well as a corresponding increose in the number of their ships, so that in 1876 a passenger service to South America was opened.
In 1881 the first of the German express liners was placed in the North American service, and in 1886 the Imperial Mail Steamship Lines to the Far East and Australia were inaugurated.
The tonnage of the Norddeutscher Lloyd fleet had risen from 2,892.in 1857 — the year the Company was founded — to 982,951 in 1914, but the loss suffered through the war reduced the tonnage to 57,731.
A reconstruction programme on energetic lines was then started upon, and as a result, the express liner "Columbus" was able to be placed in service in 1924, followed in 1929/30 by those famous express ships, the "Bremen" and "Europa", while on the Far Eastern service the new express liners "Scharnhorst", "Potsdam" and "Gneisenau" have been the bearers of the Lloyd flag in the waters of the Orient from 1935/36 onwards.
The Company's modern and up-to-date cruise ships are engaged on cruises of all kinds to the North, South, East and West throughout the year.
The Company has an extensive fleet of freight vessels to which a number of splendid new ships are constantly being added; these are engaged on regular services to ports on the West Coast of both North and South America, as well as to Cuba and Mexico.
The tonnage of the present Norddeutscher Lloyd fleet, including ships under construction, amounts to some 625,000 in round figures.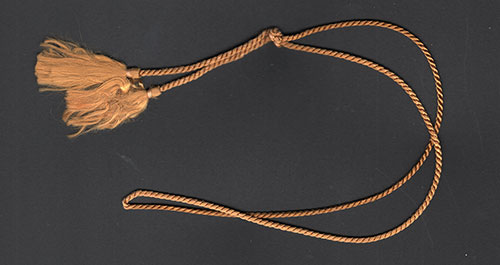 Gjenvick-Gjønvik Archives Reference Number: 1208.9356.2136 2012-04-16