RMS Celtic Dinner Menu Card - 6 July 1919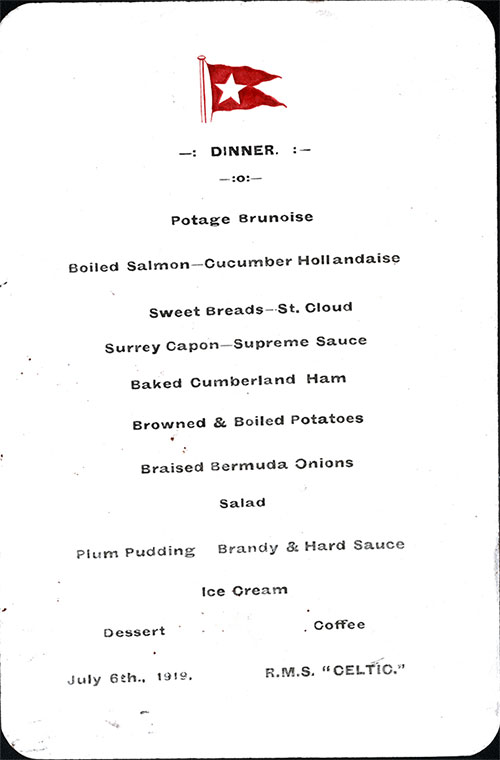 Vintage Dinner Menu Card from Sunday, 6 July 1919 on board the RMS Celtic of the White Star Line featured a limited menu including Potage Brunoise, Boiled Salmon-Cucumber Hollandaise, and Brandy & Hard Sauce for dessert. The reverse side contained handwritten notaions from the passenger.
Menu Items
Potage Brunoise (Brunoise Soup)
Boiled Salmon - Cucumber Hollandaise Sauce
Sweetbreads - St. Cloud
Surrey Capon - Supreme Sauce
Baked Cumberland Ham
Browned Potatoes
Boiled Potatoes
Braised Bermuda Onions
Salad
Plum Pudding
Brandy Sauce & Hard Sauce
Ice Cream
Dessert
Coffee
July 6th., 1919. RMS "CELTIC"
Handwritten notations on Back Side of Menu Card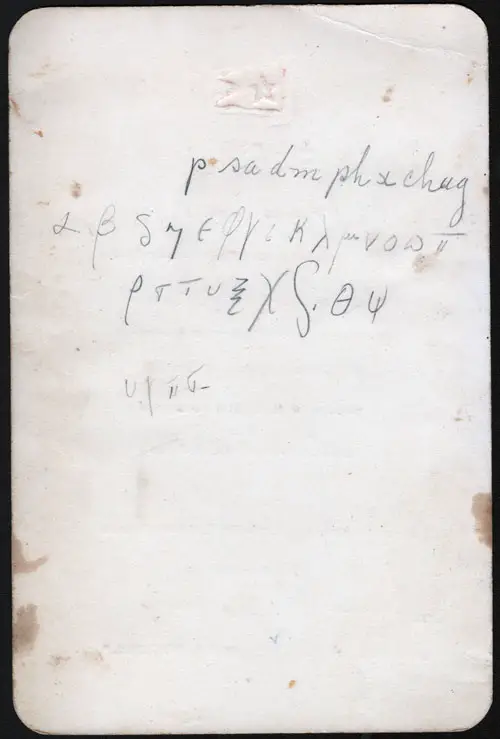 Menu contributed to the Gjenvick-Gjønvik Archives by the Victoria University Library, Victoria University in the University of Toronto, Toronto, Ontario, Canada.
Visit their Website at LIBRARY.VICU.UTORONTO.CA (E.J. Pratt Library)
Primary Item Archival Description
Master Filename: Graphics | STEAMSHIPS-OCEANLINERS | Menus | Diner | Celtic | 1919-07-06 | MenuCard.tif
Subject: Dinner Menu Card
Date: 6 July 1919
Menu Size: 10.42 x 15.88 CM (4.10 x 6.25 IN)
Caption: Front side of Dinner Menu Card from the White Star Line RMS Celtic
Description: Post World War I Menu Card from the White Star Line that features many items typicaly served such as Eggs, Potatoes, Bacon, Sausage with Rice, and Toast with Preserves. Cereal included Rolled Oats and Toasted Cornflakes. White Star Line Logo appears on the Top Center.
Passenger Class: Not stated but presumed to be Third Class / Tourist
Provenance: Unknown Passenger onboard the RMS Celtic of the White Star Line on a westbound voyage that departed from Liverpool and arrived in New York on July 13, 1919. Received from the Victoria University Library, Victoria University in the University of Toronto, Toronto, Ontario, Canada. July 2012.
Resolution: 1200 PPI/DPI
File Format: Tiff
Compression: None
Color: RGB/8
Size: 4924 x 7504 PX
File Size: 105 MB
Scanned by: Paul K. Gjenvick, 29 July 2012 on Mustek Flatbed Scanner
Location: GGA Box SOL-A1 | Vintage Menus | Dinner

Image Dirivatives Created:

Note: All Dirivatives are 150 DPI JPEG High Qualtiy (60%), optimized and enhanced using Photoshop

Full-Size: 1250 x 1905 PX, 427 KB, MenuCard.jpg
Variants:
500 x 762 PX, 67.9 KB, MenuCard-500.jpg
250 x 381 PX, 19.5 KB, MenuCard-250.jpg
Thumbnail: 100 x 152 PX, 4.93 KB, MenuCard-100.jpg