RMS Laconia Farewell Dinner Menu Card - 8 September 1914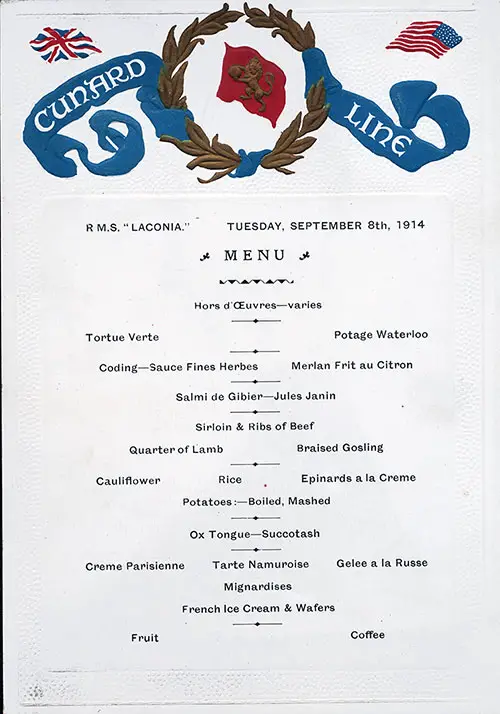 Front Side of a Vintage Dinner Menu Card For Tuesday, 8 September 1914, on a Westbound Voyage of the RMS Laconia of the Cunard Line From Liverpool to Boston. Menu Selections Featured Tortue Verte, Merlan Frit AU Citron, Sirloin & Ribs of Beef, and Gelee à La Russe for Dessert. The Ship Arrived in Boston on 8 September 1914. Although Not Explicitly Stated, This Would Have Been the Farewell Dinner. GGA Image ID # 155c475e1b
Menu Items
Tortue Verte (Green Turtle)
Potage Waterloo (Waterloo Soup)
Coding -- Sauce Fines Herbes (Herb Sauce)
Merlan Frit au Citron (Lemon Fried Whiting)
Salmi de Gibier -- Jules Janin (Game Salmi -- Jules Janin)
Sirloin & Ribs of Beef (Beef Sirloin & Beef Ribs)
Quarter of Lamb (Lamb's Quarters)
Braised Gosling
Cauliflower
Rice
Epinards à la Creme (Creamed Spinach)
Potatoes
Boiled Potatoes
Mashed Potatoes
Crème Parisienne (Parisian Cream)
Tarte Namuroise (Namur Tart)
Gelee à la Russe (Russian Jelly)
Mignardises (Sweets)
French Ice Cream & Wafers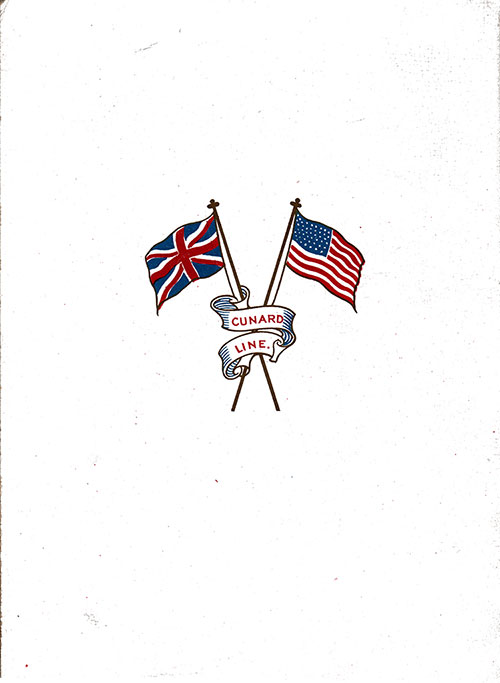 Back Side, RMS Laconia Dinner Menu Card, 8 September 1914. GGA Image ID # 1e9af8cb23
Information about Menu
Date: 1914-09-08
Class: Not Stated
Number of Printed Pages: 2 Placard Style - insides are blank; back side is the Cunard insignia.
Dimensions: 12.8 x 18.5 cm
Notable Passengers: Willey, Catherine. Boston, Laconia, September 9, 1914. En route to Lake Forest, Illinois, surviving passenger on the Lusitania.
Elizabeth and Florence Whitehead sailed on the Cunarder Laconia on 1 September 1914 arriving in Boston on 8 September. The sisters also were survivors of the Lusitania.
World War I: This voyage was made after the declaration of war on August 4, 1914.