RMS Queen Elizabeth Dinner Menu - 18 June 1952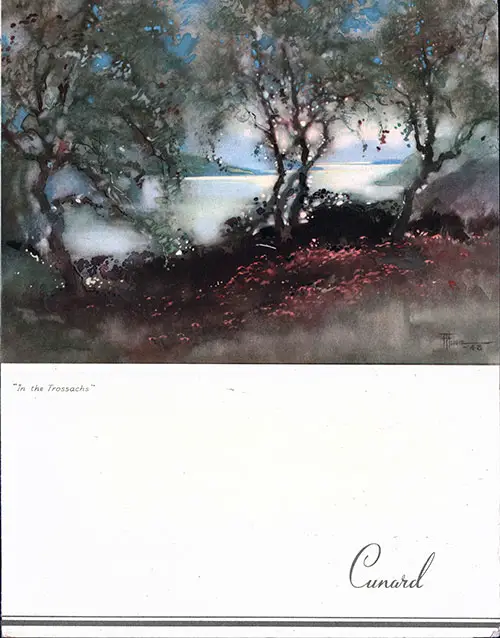 Front Cover of an Extensive Vintage Dinner Menu from Wednesday, 18 June 1952 on board the RMS Queen Elizabeth of the Cunard Line featured Bitock à la Russe , Rack of Lamb. Mascotte, and Soufflé Mercédès for dessert.
Menu Items
Hors d'Œuvres
Smoked Salmon with Capers
Chilled Melon
Tomato Juice
Hors d'Œuvre, Variés
Olives: Green, Ripe and Stuffed
Table Celery
Salted Nuts
Radishes
SOUP
Consommé Royale 
Cream Pompadour
COLD : Consommé en Tasse
FISH
Poached Halibut, Hollandaise
Brook Trout, Amandine
Frogs' Legs sauté, d'Antin
FARINACEOUS
VEGETARIAN
Creamed Garden Vegetables
ENTREES
Bitock à la Russe   
Pintade en Casserole, Paysanne
Rack of Lamb. Mascotte
JOINT
Prime Ribs and Sirloin of Beef, Horseradish Cream
(Yorkshire Pudding)
SORBET
GRILL: To Order  
Filet Mignon, Béatrix         
Chicken Livers en Brochette
RELEVE
Roast Long Island Duckling, Orange Salad
VEGETABLES
Fresh Green Peas  
Fried Egg Plant
Corn on the Cob, Melted Butter
POTATOES
Boiled, Purée, Roast and Marquise
COLD BUFFET
Roast Quarters of Lamb, Mint Sauce     
Fresh Brawn
Rolled Ox Tongue  
Raised Pie
SALADS
Combination  Dorothy       
Raw Vegetable
Dalila 
Lettuce        
Tosca
DRESSINGS
Mayonnaise
Philadelphia Cream and Princess
SWEETS
Soufflé Mercédès   
Coupe Andalouse
Charlotte à l'Arlequin
Mignardises
ICES
Vanilla, Peach, Tutti Frutti (Hot Apricot Sauce)
SAVOURY
Fresh Fruit
Almonds and Table Dates
Tea (Hot or Iced)    
Coffee (Hot or Iced)
Passengers on Special Diet are especially invited to make known their requirements to the Head Waiter.
Specialty tooth for infants are available on request.
SUGGESTED MENUS
Chilled Melon
Consommé Royale
Poached Halibut, Hollandaise
Grilled Filet Mignon, Beatrix
Marquise Potatoes
Combination Salad
Coupe Andalouse
Fresh Fruit
Hors d'Oeuvre Varies
Crème Pompadour
Cuisses de Grenouilles Sautés, d'Antin (Frogs' Legs sauté, d'Antin)
Carre d'Agneau, Mascotte (Rack of Lamb. Mascotte)
Pommes Natures
Souffe Mercedes
Corbeille de Fruits (Fresh Fruits)