RMS Berengaria Farewell Dinner Menu - 26 August 1926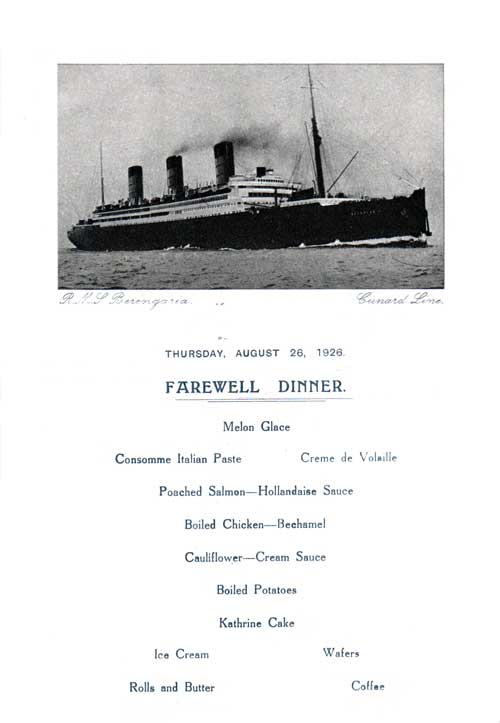 Front Cover of a Farewell Dinner Menu Card from Thursday, August 26, 1926 the RMS Berengaria of the Cunard Line on a westbound voyage that arrived at New York the following day. Photograph of the RMS Berengaria adorned the top Border.
Menu Items
Melon Glacé
Consommé Italian Paste
Crème de Volaille
Poached Salmon -- Hollandaise Sauce
Boiled Chicken -- Béchamel
Cauliflower -- Cream Sauce
Boiled Potatoes
Kathrine Cake
Ice Cream
Wafers
Rolls and Butter
Menu Information
Date of Menu: Thursday, 26 August 1926
Pages (Printed): One (Reverse side is Blank)
Dimensions: 13.9 x 20.2 cm
Below: Close-up Image of the RMS Berengaria from the top of Menu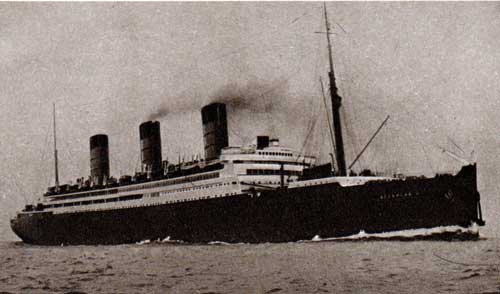 You may also be interested in:
The Captain's Farewell Dinner on Board an Ocean Liner
Preparations went on all the afternoon in the dining room of the "Graf Waldersee" of the Hamburg America Line for the Boat-Captain's Dinner.  The "Captain's Dinner," by the way, given just before the end of the voyage, is always quite a grand affair.