SS Noordam Dinner Menu - 20 June 1907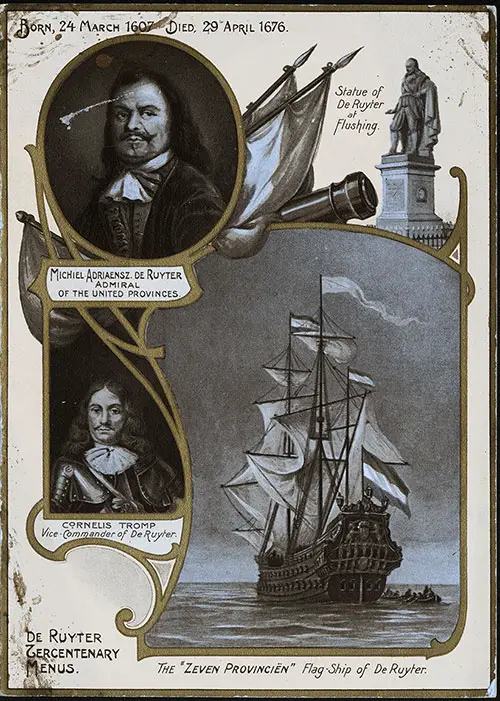 Front Cover of an Exquisite Vintage Dinner Menu from Thursday, 20 June 1907 on Board the SS Noordam of the Holland-America Line featured Filet of Beef à la Nivernais, Veal Sweetbreads with Mushrooms, and Towering Dessert Piece with Nougats. The Noordam served the Rotterdam to New York Transatlantic route. In French with English Translation. GGA Image ID # 1629fbe28d
On the Front Cover, top to bottom: Michiel Adriaensz de Ruyter, Admiral of the United Provinces, Born 24 March 1607, Died 29 April 1676; Statue of De Ruyter at Flushing; Cornelis Tromp, Vice Commander of De Ruyter; and The "Zeven Provinciën" Flag Ship of De Ruyter.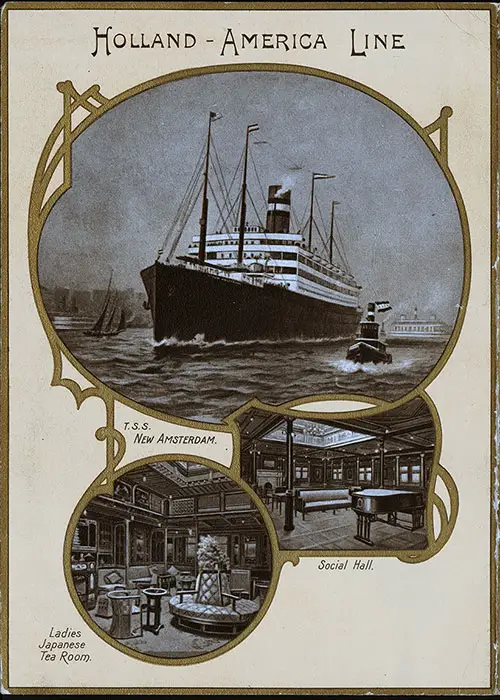 Back Cover: On the left, TSS New Amsterdam with views of the Social Hall and Ladies Japanese Tea Room. GGA Image ID # 162a06ae26
Menu Items (English Translation)
Mixed Hors d 'oeuvres
American Soup
Golden Soup of the House
Sliced Salmon, Mousseline sauce
Filet of Beef à la Nivernais
Apples Persilade (Apples Persillade)
Veal Sweetbreads with Mushrooms
Asparagus in Branch
French Punch made with wine
Roast Turkey
Cooked Apricots Dish
Salad Panachée (Panache salad)
French Sponge Cake, Chocolate Creme
Ice
Towering Desert Piece with Nougats (Note 1)
Fruit, Dessert
Cheese
Mocca Beverage
Note 1: The tower is a dessert served at the end of a marriage. It may take different forms: pyramid of cabbage, superposisition cake on a pedestal. A model with two married is usually placed at the top of the tower.
Menu Selections from the SS Noordam Dinner Menu of 20 June 1907. GGA Image ID # 162a29892b
DINER
Hors d' oeuvre Varié
Potage Americain
Consommé Maison d' Or
Tranches de Saumon Sauce Mousseline
Filet de Boeuf à la Nivernaise
Pommes Persilade
Ris de Veau aux Champignons
Asperges en Branche
PUNCH MARQUISE
Dindonneau Rôti
Compote d' Abricots
Salade Panachée
Gâteau, Crème au Chocolat
Glace
Pièce Montée en Nougat (Note 1)
Fruit, Dessert
Fromage
Mocca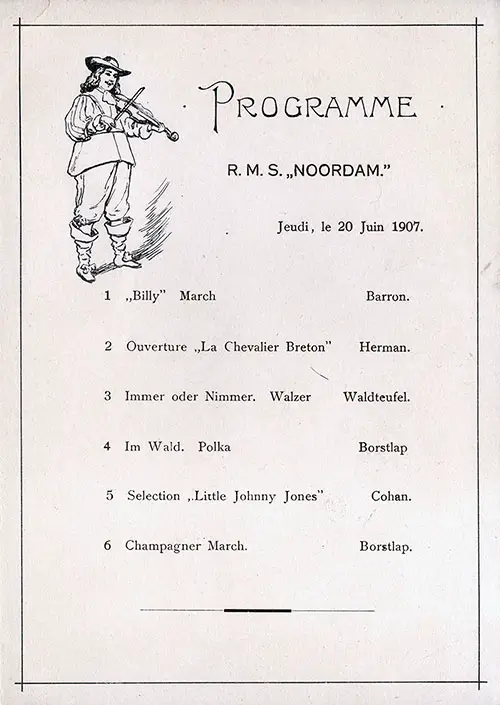 Music Program, Holland America Line RMS Noordam, 1907. GGA Image ID # 162a6e0fe6
Programme
R. M. S. NOORDAM
Jeudi, le 20 Juin 1907.
"Billy" March Barron.
Ouverture "La Chevalier Breton" Herman.
Immer oder Nimmer. Walzer Waldteufel.
Im Wald. Polka Borstlap
Selection "Little Johnny Jones" Cohan
Champagner March. Borstlap.
Information about Menu and Musical Program
Date: Thursday, 20 June 1907
Number of Pages Printed: 4
Dimensions: 13.8 x 19.3 cm
Language(s): French