RMS Queen Mary Dinner Menu - 19 June 1952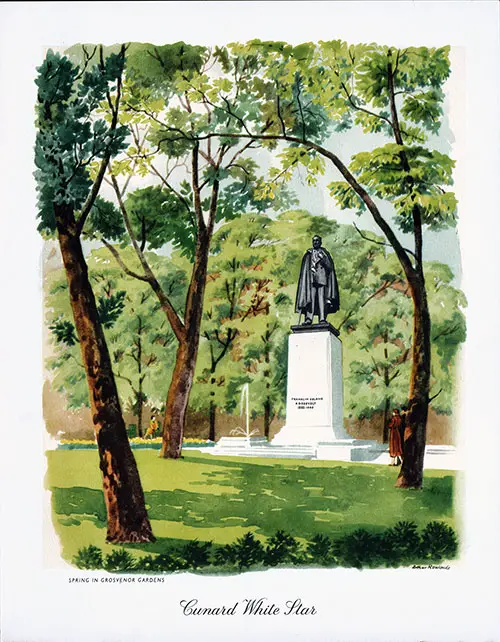 Front Cover of a Vintage Dinner Menu from Thursday, 19 June 1952 on board the RMS Queen Mary of the Cunard Line featured Suprême of Turbot, Véronique, Pigeon en Cocotte, Polonaise, and Pineapple Soufflé for dessert.
Menu Items
Hors d'Œuvres
Chilled Grape Fruit, Maraschino
Vegetable Juice
Prawn Cocktail
Hors d'Œuvre, Variés
Olives: Green, Ripe and Californian
Table Celery
SOUP
Petite Marmite       
Crème de Champignons
COLD : Cream of Tomato
FISH
Suprême of Turbot, Véronique    
Pompano, Meunière
Escargots au Gratin
FARINACEOUS
VEGETARIAN
Fonds d'Artichauts au beurre
ENTREES
Pigeon en Cocotte, Polonaise
Braised Sweetbreads. St. Cloud
Larded Contre-filet of Beef. Porte-Maillot
JOINT
Roast Quarters of Pauillac Lamb, Green Peas. Mint Sauce and Jelly
SORBET
GRILL: To Order  
Mixed Grill   
Duckling Legs, Robert
RELEVE
Roast Turkey Poult, Chestnut Stuffing (Fresh Cranberry Sauce)
VEGETABLES
Cauliflower sauté   
Carrots, Vichy
Fresh Asparagus, Drawn Butter
POTATOES
Boiled New, Roast. Snow and Chateau
COLD BUFFET
Braised York Ham  
Roast Ribs of Beef. Horseradish
Galantine of Capon
Raised Pie
SALADS
Chicory, Rossini, Tomato, Alberta
Fresh Fruit
Hearts of Lettuce, Chopped Herbs
DRESSINGS
Vinaigrette
French
Mayonnaise
SWEETS
Pineapple Soufflé
Coupe Nébuleuse
Baba au Rhum
Petits Fours
ICES
Vanilla, Pistachio, Maple Walnut, (Hot Caramel Sauce)
SAVOURY
Fresh Fruit
Almonds and Table Figs
Tea (Hot or Iced)    
Coffee (Hot or Iced)
Passengers on Special Diet are especially invited to make known their requirements to the Head Waiter.
Specialty foods for infants are available on request.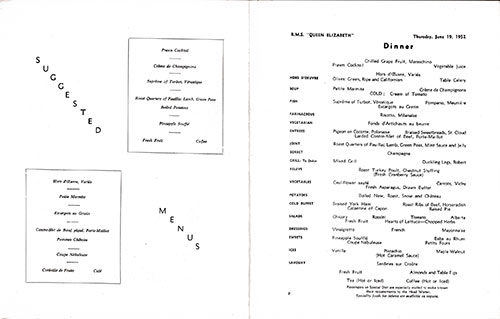 SUGGESTED MENUS
Prawn Cocktail
Crème de Champignons
Supreme de Turbot, Veronique
Roast Quarters of Pauillac Lamb, Green Peas
Boiled Potatoes
Fresh Fruit
Hors d'Oeuvre Varies
Petite Marmite
Escargots au Gratin
Contre Filet de Bœuf Pique, Porte Maillot
Pommes Château
Coupe  Nebuleuse
Corbeille de Fruits (Fresh Fruits)