SS Bremen Dinner Menu - 30 July 1937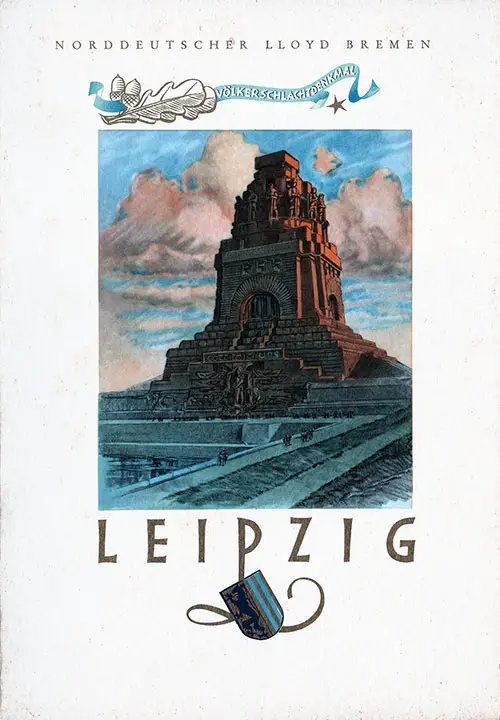 Superior Graphics of the Völkerschlachtdenkmal Adorn the Front Cover of This Vintage Dinner Menu From Friday, 30 July 1937, Onboard the SS Bremen of the North German Lloyd (Norddeutscher Lloyd Bremen). Menu Selections Featured an Expansive Array of Food, Including Boiled North Sea Turbot, Melted Butter or Sauce Vénitienne, Grenadines of Veal Diable Rouge, and CRêpes Georgette for Dessert. the Back Cover Offered a Short Essay on Leipzig, the Monument of the Battle of the Nations. Printed in German and English. GGA Image ID # 1559b88d8b
Menu Items
Hors-d'Oeuvre
Beluga Malossol Caviare with Blini and Sour Cream
Grape Fruit with Kirsch
Assorted Salted Nuts
Celery
Stuffed Olives with Roquefort
Soups
Bisque of Lobster Moderne
Cream of New Green Peas Suzon
French Onion Soup
Consommé Double Bergère
Clam Broth in Cup, hot or cold
Fish
Boiled North Sea Turbot, Melted Butter or Sauce Vénitienne
River Pike au Four, Sauce Gourmet
Scallops Huntington
Special Dish Today
Larded Tenderloin of Beef Holland House
Entrées
Grenadins of Veal Diable Rouge
Cassolettes of Chicken à la King
Fried Frog's Legs with Water Cress
Tomato Eleonore Duse
Cold Dishes
Quails Vigneronne
Glazed Virginia Ham, Sauce Cumberland
Roasts
Saddle of Spring Lamb à la Broche, Mint Sauce
Nantaise Duckling with Apple and Raisin Stuffing
La Bresse Poularde
From the Grill (about 10 Minutes)
Sweetbread on Butter Toast
London Mixed Grill
Ox-Tail Diable
Salads
Lettuce, Endive, Cucumber,  Majestic
Dressings
Plaza, Roquefort, Herb, Dutch
New Vegetables
Lima Beans with Fine Herbs
Green Peas
Sautéd Haricots Verts
Parisian Carrots
Fried Egg-Plants
Spinach Timbale
Red Cabbage Saxon
Broccoli with Parmesan
Vegetables and Pastes
Asparagus, Sauce Maltaise
Parmesan Noques  
Steamed Rice
Potatoes
Baked Idaho, Candied sweet, Boiled,  Anna, Soufflé, Delmonico, Noisette, Straw, French fried
Sweets and Compote
Pudding Sans-Souci         
Timbale Bourbon
Crêpes Georgette  
Preserved Pineapple
Compote of Fresh Fruit
Ice-Cream
Pear Hélène ,         
Baked Ice Alaska
Nesselrode Ice-Cream, Almond Confect
Choice of Cheese
Fruits in Season
Nuts
Demi-Tasse 
Sanka Demi-Tasse
Menu Suggestions
Grape Fruit with Kirsch
Bisque of Lobster Moderne
Boiled North Sea Turbot
La Bresse Poularde
Lettuce Salad, Herb Dressing
Asparagus, Sauce Maltaise
Baked Ice Alaska
Demi-Tasse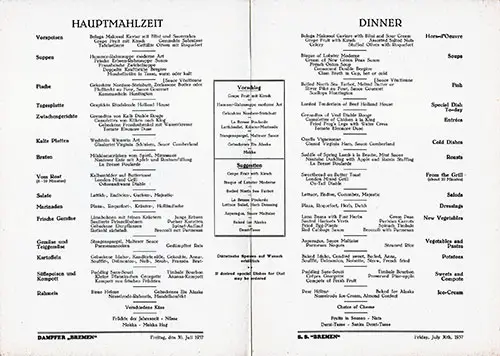 Leipzig the Monument of the Battle of the Nations
A gigantic monument, visible from afar and surviving the centuries, rises up on the outskirts of the town to commemorate the terrific battle of the Nations near Leipzig the result of which has proved to be of the utmost importance historically, was erected near the battle-field in the period from 1898 to 1913 to the design of Bruno Schmitz.   
At this spot where from October 16th to 19th, 1813, the allied armies fought and bled in a desperate struggle for the independence of their people; here, where the decisive battle of that campaign was fought, which Scharnhornst planned and Gneisenau carried out, a huge landmark — a bold undertaking — of determined resistance against foreign despotism, of a defiant will to a life of freedom.   
Around the dome of the monument which rises 90 meters high are 12 huge figures of warriors. In the interior of the dome symbols of bravery, the joy of sacrifice, the power of faith and national strength speak their own impressive language.  In the crypt, which is in harmony with the solemn dignity of the occasion, sixteen armed men hold silent watch over the dead.