SS Hamburg Dinner Menu - 2 July 1933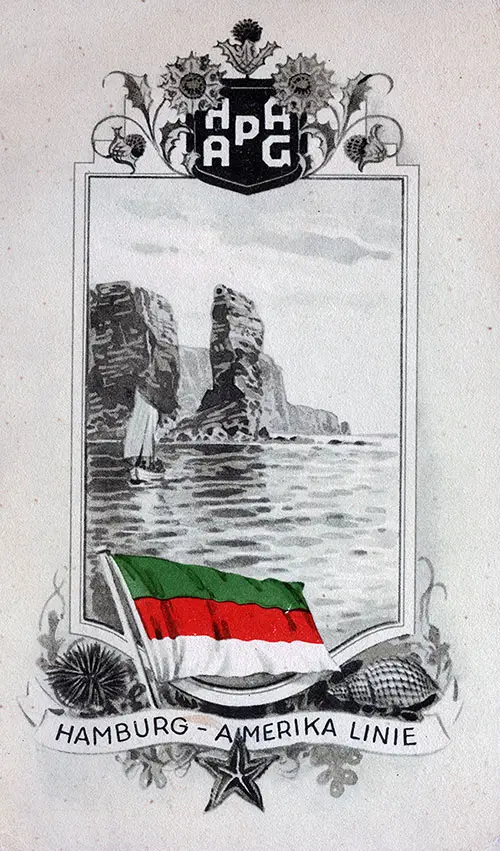 Front Cover of a Vintage Main Meal Menu from 2 July 1933 on board the SS Hamburg of the Hamburg America Line featured Philadelphia Pepper Pot, Steckrübenmus - German Style Ribs, and Vienna's macro-cake for dessert. In German with English Translation.
Menu Items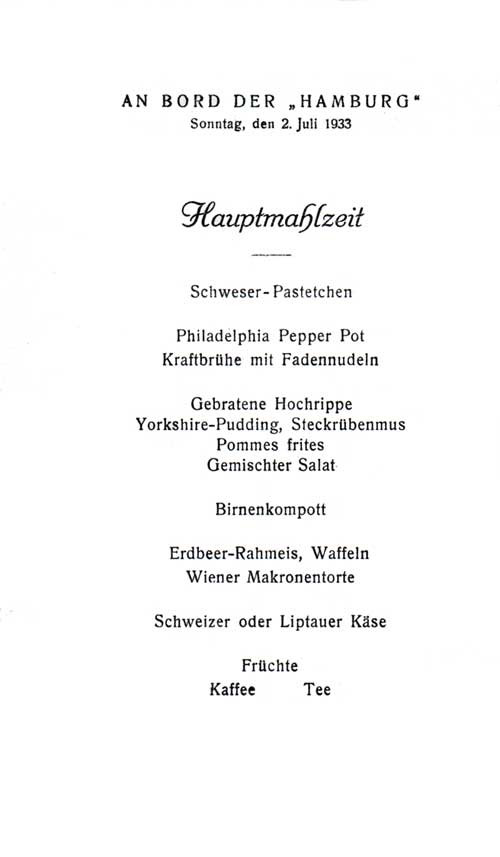 German Puff Pastries
Philadelphia Pepper Pot
Soup with thread noodles
Roast Rib High
Yorkshire Pudding
Steckrübenmus - German Style Ribs
French fries
Mixed salad
Birnenkompott - Pear Dessert
Strawberry cream
Wafers
Vienna's macro-cake
Liptov or Swiss cheese
Fruits
Tea
Hauptmahlzeit
Schweser- Pastetchen
Philadelphia Pepper Pot
Kraftbrühe mit Fadennudeln
Gebratene Hochrippe
Yorkshire-Pudding
Steckrübenmus
Pommes frites
Gemischter Salat
Birnenkompott
Erdbeer-Rahmeis
Waffeln
Wiener Makronentorte
Schweizer oder Liptauer Käse
Früchte
Kaffee
Tee

Vintage Dinner Menus
GG Archives
Vintage Dinner Menus
Vintage Menu Collections
Ocean Travel Topics A-Z
The Folks Behind the GG Archives
The GG Archives is the work and passion of two people, Paul Gjenvick, a professional archivist, and Evelyne Gjenvick, a curator. Paul earned a Masters of Archival Studies - a terminal degree from Clayton State University in Georgia, where he studied under renowned archivist Richard Pearce-Moses. Our research into the RMS Laconia and SS Bergensfjord, the ships that brought two members of the Gjønvik family from Norway to the United States in the early 20th century, has helped us design our site for other genealogists. The extent of original materials at the GG Archives can be very beneficial when researching your family's migration from Europe.