RMS Queen Elizabeth Farewell Dinner Menu - 11 May 1952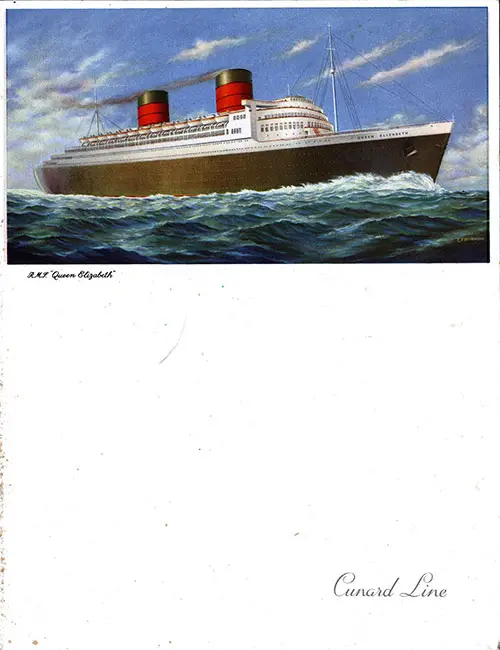 Front Cover of a Vintage Farewell Dinner Menu from 11 May 1952 on board the RMS Queen Elizabeth of the Cunard Line featured Poached Halibut, Marguery, Braised American Ham, Madeire, and Pears Belle Hélène for dessert. Autographs from felow passengers were included.
Menu Items
Sunday, May 11th , 1952
Chilled Grape Fruit, Oporto
Iced Pineapple Juice
Prawn Cocktail
HORS D'OEUVRE
SOUP
Clear Turtle with Sherry         
Crème Fontange
COLD: Vichyssoise
FISH
Poached Halibut, Marguery
Fillets of Sole à la Juive
FARINACEOUS
VEGETARIAN
Curried Vegetables, Steamed Rice
ENTREE
Escalope of Veal, Marsala
JOINT
Braised American Ham, Madeire
VEGETABLES
Broccoli au Beurre
Corn Sauté
POTATOES
RELEVE
Roast Vermont Turkey, Fresh Cranberry Sauce
GRILL: To Order  
Tenderloin Steak, Fleuriste
COLD BUFFET
Roast Quarters of Lamb, Mint Sauce
Ribs of Beef
Galantine of Veal
Tomato Brawn
SALADS
DRESSINGS
SWEETS
Pineapple Shortcake
Pears Belle Hélène
ICES
Neonapolitain, Orange, Coffee
Tea (Hot or Iced)         
Coffee (Hot or Iced)
WINES
Red or White Bordeaux: Per bottle or en carafe 5s. -  Per Glass: 1s.
Passengers on Special Diet are especially invited to make known their requirements to the Head Waiter.
Specialty foods for infants are available on request.