SS Republic Captains Farewell Dinner Menu - 3 October 1926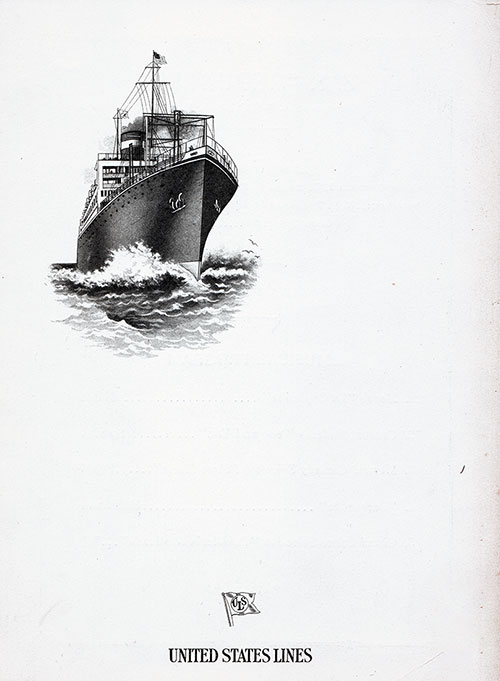 Front Cover of a Vintage Farewell Dinner Menu and Music Program from 3 October 1926 on board the SS Republic of the United States Lines featured Filet of Solo à la Doria, Saddle of Lamb, Brabant, and Profiteroles Glacé au Chocolat for dessert. This beautifully scripted menu also listed chief officers of the ship.
Menu Items
Sunday, October 3rd, 1926
Captain's Farewell Dinner
Commander A. B. Randall, U.S.N.R.
Chef de Cuisine: H. Stock
Hors d'Œuvres
Pate de Foie Gras in Aspic
Honey Dew Melon
Salted Almonds 
Eggs Colbert
Pearl Onions
Gherkins
Ripe Olives
Pin Money Pickles
Anchovies aux Fines Herbes  
Manhattan Salad
Soups
Potage St. Lawrence   
Crème à la Passini
Consommé Victoria
Consommé en Tasse
Fish
Boiled Turbot, Oyster Sauce
Filet of Solo à la Doria
Entrées
Saddle of Lamb, Brabant
Suprême of Pheasant à la Sierra Morena
Croûte-au-Fruit
Roasts
Prime Ribs of Beef au Jus
Fresh Ham, Sauce Cumberland
Vermont Turkey, Cranberry Sauce
Vegetables
Brussels Sprouts
Haricots Verts
Asparagus en Branche, Melted Butter
Potatoes
Boiled, Mashed, Baked, Château
Salads
Lettuce, Russian Dressing, Cucumber
Dessert
Profiteroles Glacé au Chocolat
Compote of Cherries
Walnut Sundae 
Petits Fours
Cheese
Fresh Fruit in Season
Assorted Nuts, Raisins, Dates
Demi-Tasse (Coffee)