SS Stavangerfjord Dinner Menu - 30 September 1950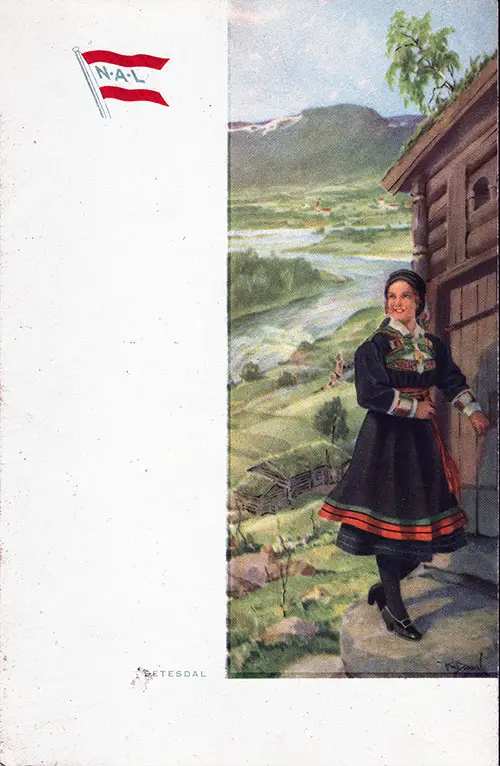 A Setesdal, Norway Folk Costume Adornes the Front Cover of this Vintage First Class Dinner Menu from 30 September 1950 on Board the SS Stavangerfjord of the Norwegian-American Line Featured Boiled Redfish with Egg-butter, Roast Leg of Reindeer with Cream Sauce, and Vanilla Pudding for Dessert. The Menu was Published in Norwegian and English. GGA Image ID # 1ed69471f4
Menu Items
Olives - Celery
Grapefruit juice
Tomato juice
Boiled Redfish with Egg-butter
Boiled Potatoes
Boiled smoked Ox-tongue with Garni
Mashed Potatoes
Roast Leg of Reindeer with Cream sauce
Compote
Browned Potatoes
Salad Escarole       
Roquefort Dressing
Pickles
Vanilla pudding
Strawberry Ice cream
Coffee will be served in the Social Hall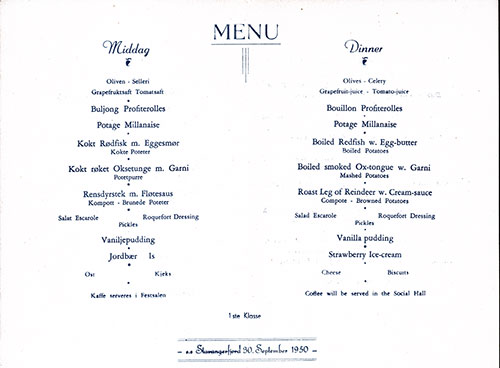 Dinner Menu Items, SS Stavangerfjord, 30 September 1950. GGA Image ID # 1ed6a20dc6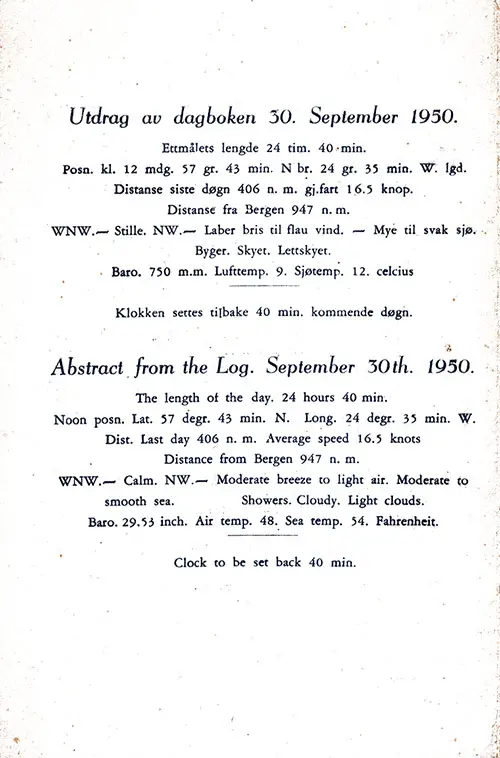 Abstract from the Log, Included in a SS Stavangerfjord Dinner Menu, 30 September 1950. GGA Image ID # 1ed6ef0211
The length of the day: 24 hours 40 min.
Noon position. Lat. 57 degr. 43 min. N. Long. 24 degr. 35 min. W.
Dist. Last day 406 n. m. Average speed 16.5 knots
Distance from Bergen 947 n. m.
WNW.— Calm, NW.
Moderate breeze to light air
Moderate to smooth sea
Showers, Cloudy, Light clouds
Baro. 29.53 inch.
Air temp. 48 degr.. Fahrenheit
Sea temp. 54 degr.. Fahrenheit
Clock to be set back 40 min.
Setesdal, Norway Folk Costume (Bunad)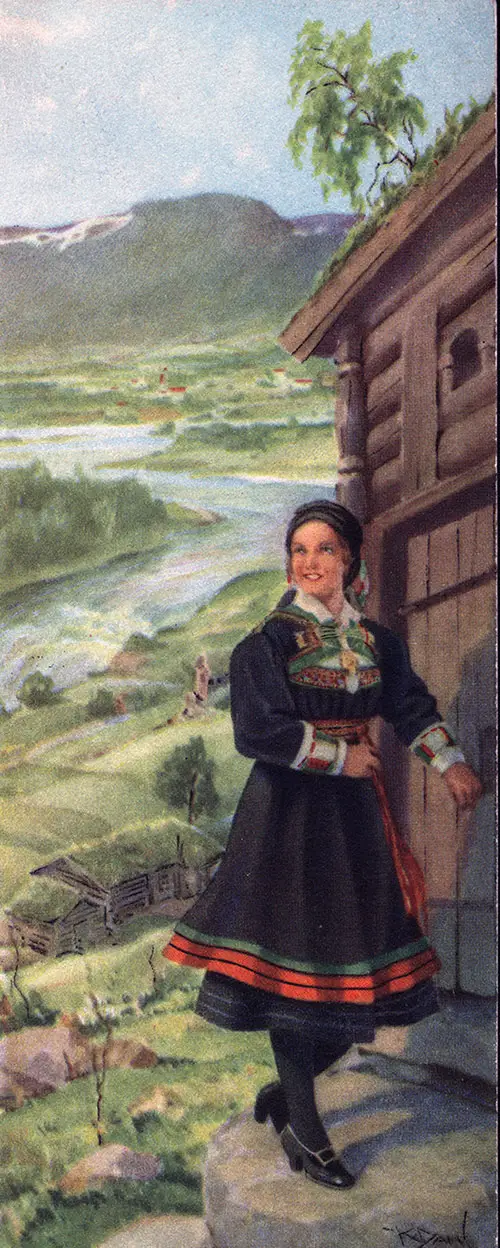 Stavangerfjord 30 September 1950 Dinner Menu Painting on Cover. Setesdal is a valley and a traditional district in Aust-Agder County in southern Norway. It consists of the municipalities of Bykle, Valle, Bygland, Iveland, and Evje og Hornnes. The Otra river flows through the valley of Setesdal into the sea near Kristiansand. GGA Image ID # 1ed6fc8514