SS President Jackson Dinner Menu - 27 October 1930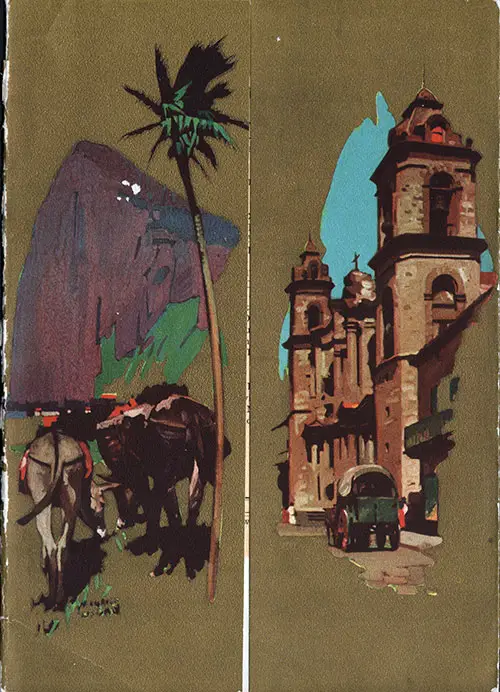 Front Cover of a Vintage Dinner Menu from Monday, 27 October 1930 on board the SS President Jackson of the American Mail Line featured Poached Black Cod, Normande Sauce, Prime Ribs of Beef au Jus with Browned Potatoes, and Cottage Pudding, Lemon Sauce for dessert. The back of the menu includes a route map for the ships of the American Mail Line.
SS President Jackson
John Griffith, U.S.N.R. Commanding
M. B. Conway, Chief Steward
Menu Items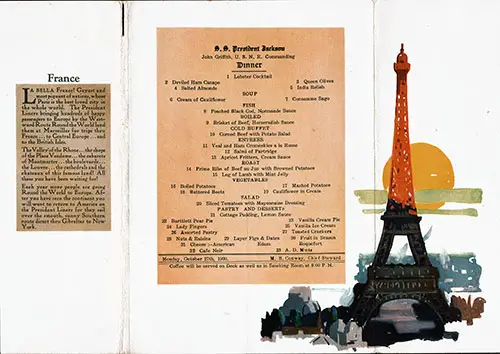 Lobster Cocktail
Deviled Ham Canape
Queen Olives
Salted Almonds
India Relish

SOUP


Cream of Cauliflower
Consommé Sago

Fish


Poached Black Cod, Normande Sauce

BOILED


Brisket of Beef, Horseradish Sauce

COLD BUFFET


Corned Beef with Potato Salad

Entrees


Veal and Ham Cromeskies à la Russe
Salmi of Partridge
Apricot Fritters, Cream Sauce

ROAST


Prime Ribs of Beef au Jus with Browned Potatoes
Leg of Lamb with Mint Jelly

VEGETABLES


Boiled Potatoes
Mashed Potatoes
Buttered Beets
Cauliflower in Cream

SALAD


Sliced Tomatoes with Mayonnaise Dressing

PASTRY and DESSERTS


Cottage Pudding, Lemon Sauce
Barttlett Pear Pie
Vanilla Cream Pie
Lady Fingers
Vanilla Ice Cream
Assorted Pastry
Toasted Crackers
Nuts & Raisins
Layer Figs & Dates
Fruit in Season
Cheese : American, Edam, Roquefort
Café Noir
A. D. Mints (After Dinner Mints)
Coffee will be served on Deck as well as in the Smoking Room at 8:00 P.M.
Note: The Menu opens from the Center and forms the leaves on each side with the menu selections in the center after opening as shown below.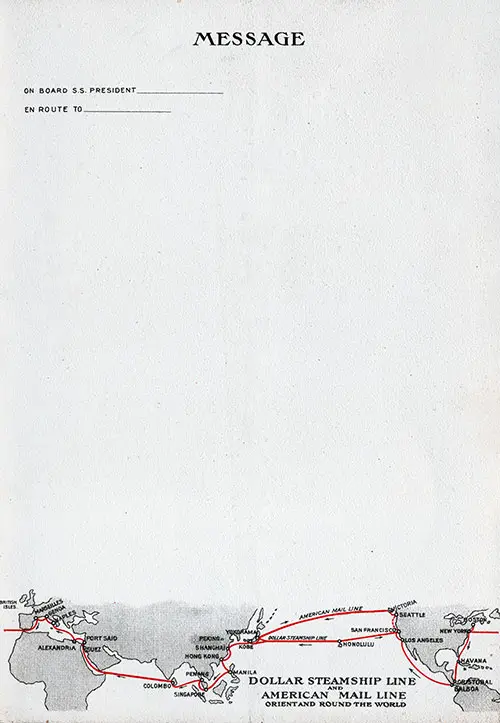 France
La Bella France! Gayest and most piquant of nations, whose Paris is the best loved city in the whole world. The President Liners bringing hundreds of happy passengers to Europe by the Westward Route Round the World land them at Marseilles for trips thru France... to Central Europe... and to the British Isles.
The Valley of the Rhone ... the shops of the Place Vendome ... the cabarets of Montmartre ... the boulevards ... the Louvre ... the cathedrals and the chateaux of this famous land! All these you have been waiting for!
Each year more people are going Round the World to Europe. After you have seen the continent you will want to return to America on the President Liners for they sail over the smooth, sunny Southern route thru Gibraltar to New York.