Bibby Line History and Ephemera
Bibby Line is one of the most senior English shipping lines; it was founded in 1807. In former days, the silhouette of the "Bibby liners" was typical and widely known on the seas in which these ships sailed, mainly the Mediterranean and Indian Ocean, with their single funnel and four masts.
The name of Bibby has long been known and respected in the shipping world. The first undertaking oí the family was the institution of service from Liverpool to Mediterranean ports about the middle of last century.
When Mr. (subsequently Sir Edward) Harland took over the shipbuilding works at Belfast, which he afterward made famous, Mr. Bibby was one of his earliest customers.
It was he who gave him practically carte blanche in the way of proportion for the new ships built for his service, and it was from experience acquired, the success achieved with them that the " longships," with which the White Star Line made its name, were first brought into the region of the practical.
In this connection, Sir Edward Harland was born at Scarborough in 1831, his father being a medical practitioner. In 1854, he went to Belfast, first as a manager to Messrs Robert Hickson & Co. He learned the science of shipbuilding in Messrs R. Stephenson & Co. of Newcastle's yards and became first a draughtsman with Messrs J. & G. Thomson, and then manager in a Newcastle yard. In 1858 he took over their yard.
In 1859 he launched the Venetian for Mr. Bibby, and in 1860 he took Mr. G. W. Wolff into partnership. After a time, Mr. Bibby retired from the active pursuit of his business, and the line passed into the hands of one of his confidential managers— Mr. Leyland (see Leyland Line).
But the Bibby family, though large shareholders in the White Star Line, could not remain without some active interest in maritime matters. Hence a new Bibby Line was started.
Its first vessel was the "Lancashire," a single-screw steamer of 4,244 tons gross register, built—as have been all this fleet— by Messrs Harland & Wolff. She came out in 1889. Her sister was a similar vessel. Subsequent additions to the fleet were all twin-screw types; thus, the Bibby Line can boast that it was the first to maintain its service, which is now fortnightly, exclusively with twin-screw vessels. In the trade between Liverpool and Rangoon, they soon made a name.
Ephemera from the Bibby Line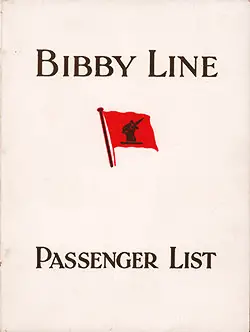 1936-01-31 SS Yorkshire Passenger List
Steamship Line: Bibby Line
Class of Passengers: Cabin Class
Date of Departure: 31 January 1936
Route: Liverpool to Rangoon via Gibraltar, Marseilles, Port Said, Port Sudan, and Colombo
Commander: Captain F. W. L. Midgley