Atlantic Transport Line History and Ephemera
The Atlantic Transport Line operated transatlantic passenger service primarily between New York and London from 1881 to 1936. It was an American owned company that was operated by the British and sailed under the British flag.
In the late 1800s and early 1900s, many of their ships bore the name from the State of Minnesota and cities, regions or landmarks within the State. The early years were dominated by one class -- Saloon / First Class service, and in 1925 they began to offer Tourist / Third Class services. Atlantic Transport Line also transported live cattle and valuable horses.
Information from the 1908 Encyclopaedia of Ships and Shipping
Atlantic Transport Co., Ltd. Originated in London 1886, and in 1896 purchased the controlling interest in the International Steamship Co. (a line which dates back to 1863), and two years later it absorbed the fleet and American business of the Wilson's and Furness-Leyland Lines.
The company maintains a regular service from London to Baltimore, Philadelphia and New York, and its steamers are' built prinCipally to carry cargoes of refrigerated meat and livestock, although on some of their larger ships excellent passenger accommodation is provided, and the three latest vessels can carry up to 250 passengers.
The Atlantic Transport Line -- The "A. T. L." -- which maintained before the first World war a superior passenger service between New York and London, but which lost its four best ships by submarine attacks, and has since been out of the passenger business. This line has new passenger tonnage under construction, which will come into the company's list of new ships to be commissioned in 1923.
Atlantic Transport Line Ephemera in Date Order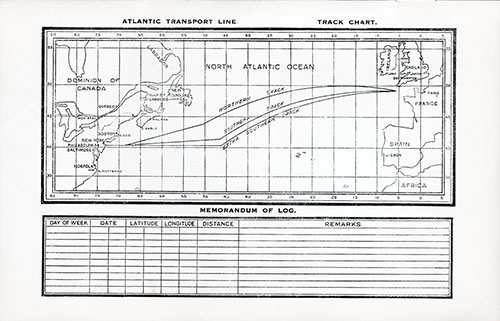 Track Chart and Memorandum of Log. Published as a Part of the SS Minnesota Tourist Passenger List for the 4 August 1928 Voyage. The Passenger Could Fill in the Memorandum of Log With the Daily Information Provided by the Steamship Officers. GGA Image ID # 159207cbaf.