SS Marquette Passenger List - 8 November 1900
Front Cover of a Saloon Passenger List for the SS Marquette of the Atlantic Transport Line, Departing 8 November 1900 from London to New York, Commanded by Captain Thomas F. Gates. GGA Image ID # 15b9ddc7ce
Senior Officers and Staff
Captain: T. F. Gates
Chief Engineer: Neil K. Maclean
Saloon Passengers
Mr. E. E. Arnold
Mr. E. D. Allen
Mr. Henry Broune
Miss A. M. Braine
Mrs. S. A. Bryan
Miss Borthwick
Miss Ella Borthwick
Mrs. Anne T. Crofts
Miss Rose Jane Cornell
Miss Alice M. Cornell
Mr. F. J. Cotter
Miss May Connelley
Mr. J. F. Cocks
Miss L. Crummer
Miss Margaret B. Connell
Mr. Norman Crystal
Miss H. A. Dick and Maid
Mr. P. W. Davis
Miss Dyott
Miss S. F. Dorrance
Mr. S. R. Eaton
Mr. Claud Freeman
Miss Beulah Freeman
Mr. Oliver Gingold
Miss Dora Grant
Mrs. S. J. Gill
Lady Hingston
Mr. Harold Hingston
Mr. J. Holloway
Mrs. Holloway
Miss E. Hanrahan
Miss A. Hove
Miss E. N. Hensley
Miss Ellen Horner
Mr. F. D. Heisordt
Mrs. Heisordt
Master Heisordt
Miss Maud Ransome Harp
Mr. Ed. Insley
Miss D. Jones
Miss E. Jones
Mrs. Louis Kight
Miss A. Kight
Miss,-Sylvia Kight
Mr. J. D. Kirkpatrick
Mrs. J. D. Kirkpatrick
Mr. F. Keeling
Mr. F. G. Kayser
Mr. VI. Lang
Mrs. M. Lang
Mr. Frank B. Lowndes
Miss J. L. Lester
Miss Florence R. McClellan
Miss Vida A. McClellan
Mrs. Robert Mitchell
Mrs. John McFarland
Miss Miller
Mr. Frank McGowen
Mrs. McGowen
Miss McGowen
Miss C. McGowen
Mrs. Bruce McRae
Master McRae
Rev. R. S. Mansfield
Mr. Thomas E. Moorhead
Mr. C. V. W. Neale
Mr. C. E. Plumly
Mr. Arthur Parker
Mrs. Arthur Parker and Infant
Mr. Sam. Parker
Mr. Wilfrid Paley
Mrs. W. Paley
Mrs. Perrin
Miss C. Pursell
Mr. John W. Parker
Mrs. John W. Parker
Miss G. S. Powers
Mr. N. W. Rittenhouse
Master James Shiels
Mrs. Shannon
Mr. H. H. Simmons
Mrs. H. H. Simmons
Mrs. Georgina M. Sarl
Miss Florence G. D. Sarl
Mr. A. H. Stillwell
Mrs. A. H. Stillwell
Miss Anne Stillwell
Miss Meta Stillwell
Miss Gertrude Stillwell
Miss Bertha Stillwell
Miss Seager
Miss Sharp
Mr. T. G. Scarborough
Miss Scarborough
Mrs. Ed. H. Stone
Mr. G. S. Salway
Mrs. G. S. SalWay
Mrs. Sidebotham
Miss K. Sidebotham
Miss Helen May Smith
Mrs. Fred Thorne
Mrs. John S. Voltz
Miss Marie Weiss
Mr. Wm P. Wainwright
Mr. Archibald C. O. Wells
Mrs. A. M. Windle
Miss A. M. Windle
Mr. Charles Warden
Miss C. E. Warden
Miss F. Warden
Miss Barbara Williams
Miss Wack
Information for Passengers
Tea and Coffee ... at 7:00 am
Breakfast ... ... 8:30 am
Lunch ...
Dinner ... 6:30 pm
Meals for Nurses and Children :—
Breakfast, 8:00 am; Dinner 12; Tea, 5:00 pm
Please apply to Second Steward for seating accommodation at Table.
Lights in the Saloon are extinguished at 11:00 pm, and in the Smoking Room-at 11:30 pm
Bar closes at 11:00 pm
Smoking is not allowed in the Saloon or State-rooms.
The Saloon Steward will supply Stamps, Telegraph Forms, Books of Reference, and Railway Time Tables of the Principal Companies.
Divine Service.—Intimation regarding Divine Service will appear on the Notice Boards every Sunday morning.
Valuables.—Passengers are enjoined to be very careful in the disposal of small articles of baggage; especially during Embarkation, when there are always strangers on Board. Money, Jewellery, and valuables of any kind, should always be left securely under lock and key.
Passengers may deposit with the Chief Steward any Money. Jewellery, etc., for safe Caring during the voyage, but no responsibility can be accepted for same.
Luggage.—Only hand-bags and trunks which will fit underneath the berths are allowed in the Staterooms; all large or heavy luggage must be placed in the Baggage Room, to which access can be gained by applying to the Officer in charge of Baggage. Passengers will greatly expedite the disembarkation if they will have their State-room Baggage packed ready for removal directly on arrival, so that the transfer may at once be proceeded with.
Electric Bell Calls.—For Steward, one ring; for Stewardess two rings.
Passengers' Addresses should be left with the Chief Steward, in order that any letters sent to the care of the Company, may be forwarded.
Letters.—Passengers may have their letters addressed to any of the Company's Offices given below, where they will be retained until called for, or forwarded according to instructions.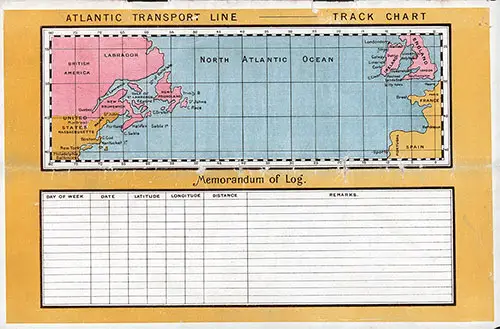 Atlantic Transport Line Track Chart and Memorandum of Log (Unused). Back Cover of the 8 November 1900 Saloon Class Passenger List of the SS Marquette. GGA Image ID # 15ba236956