SS Minnehaha Passenger List - 27 September 1913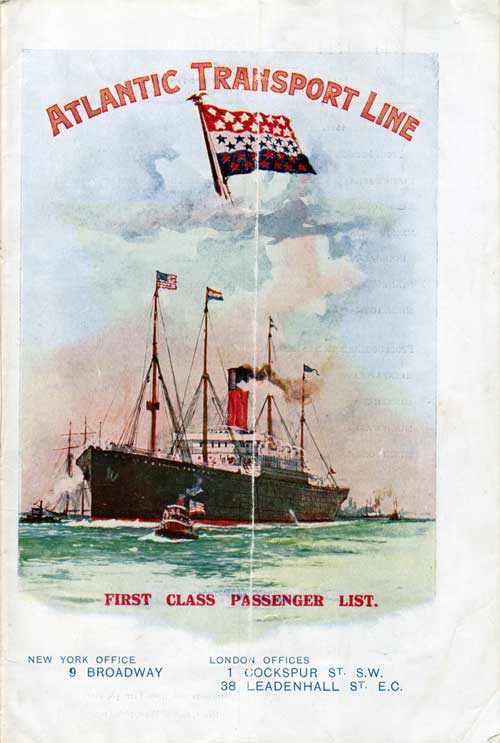 Front Cover of a First Class Passenger List for the SS Minnehaha of the Atlantic Transport Line, Departing 27 September 1913 from London to New York, Commanded by Captain Frank H. Claret. Annotated by one of the Passengers - interesting read. GGA Image ID # 17322cba8c
Notable Passengers: Frank Miles Day, James S. Easby-Smith, Mrs. Lyn Harding, Philip C. Sawyer, Richard Haveland Smythe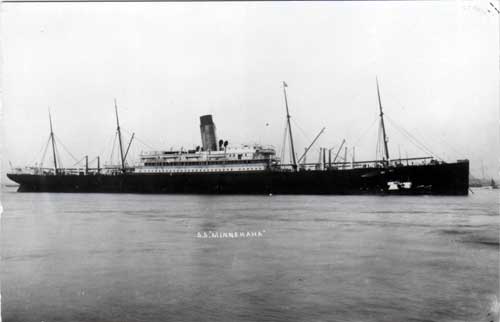 Photograph of the SS Minnehaha of the Atlantic Transport Line, 1900. GGA Image ID # 1fc6e4c748
Senior Officers and Staff
Captain: Frank H. Claret (Lt. R.N.R.) - "Congenial"
Surgeon: H. R. Gatley - "Noisy"
Purser: B. E. Creed
Chief Engineer J. J. Kehoe - "Blonde"
Chief Steward: W. Sismey - "Old"
First Class Passengers
Mrs. George T. Banzet
"Holy Terror"
Miss Kate Bennett
"Lanky"
Mrs. M. A. Bostwick
"Party"
Mr. Campbell M. Chittenden
"Frog"
Mrs. Campbell M. Chittenden
"Wife"
Dr. H. D. Collins
Mrs. H. D. Collins
Miss Dorothy Collins
Master Hugh Collins
"Old Man" and Nurse
Mr. James N. Coons
Vulcan Iron Works - "Grandpa"
Mrs. Mary W. Coons
"Grandma"
Mrs. Josephine H. Crossman
"Ma"
Miss Patricia Crossman
"The Flirt"
Miss A. M. Davison
"Suite"
Mrs. Bertha Vaughan Dawes
Mr. Frank Miles Day
(1861-1918) Philadelphia architect, member of the architecture firm of Day and Klauder
Mrs. Frank Miles Day
Miss Frances Day
"Pretty"
Mr. Kenneth Day
Master Charles Drage
Master David Drage
Miss J. S. Dutton
Mr. James S. Easby-Smith
(1870- ? ) lawyer, author- Colonel James S. Easby-Smith of the Provost Marshal General's Office, was 18th to draw a number in the WWI draft that decided the order in which registrants under the new selective service legislation would be called into the nations service on September 30, 1918
Major M. Falkner
"English"
Mrs. M. Falkner
"Young"
Master Falkner
Mr. Charles Fantle
"South D."
Mrs. Charles Fantle
"South D."
Dr. Ferguson
"The Lecturer"
Miss Martha Fuller
Mr. Walter G. Fuller
"Very Sick"
Miss Dorothy Fuller
"Early Victorian"
Miss Rosaling Fuller
"The Beauty"
Miss Cynthia Fuller
"The Young"
Mrs. M. T. Gwathmey
Miss C. Gwathmey
Miss M. Gwathmey
"The Best"
Mr. Deval L. Gwathmey
"Nice"
Mr. Charles Harbeson
"Uses Language"
Mrs. Lyn Harding
"Dutch" Wife of Lyn Harding (12 October 1867 – 26 December 1952) (real name David Llewellyn Harding) was a Welsh actor who spent 40 years on the stage before entering British made silent films, talkies and radio. He had an imposing and menacing stage presence and came to be cast as the villain in many films, notably Professor Moriarty in dramatisations of the Sherlock Holmes stories
Mr. H. L. Harrison
"Against Suffrage"
Mrs. H. L. Harrison
Mr. W. M. Hart
Mr. W. H. P. Hayman
Miss M. T. Healy
"Very Pretty"
Miss M. F. Healy
"Irish"
Mr. C. I. Hills
"Money"
Mr. William Ford Howland
Canadian Architect
Mrs. William Foid Howland
Mrs. Hunt
Miss Bessie R. Jeter
"Bishop's Niece"
Mr. W. Guy Jones
"Collies Owner"
Mr. Daniel Kelly
"Fat Frown"
Mrs. Daniel Kelly
Miss M. V. King
"Pretty, but sick"
Mr. Reginald Lamb
"Hawkeye"
Mr. Raymond Lamb
"Brother"
Mrs. Anna S. Lancey
"Old"
Miss M. E. Lock
"Plainfield"
Mrs. M. C. Locke
"Wonderful"
Mrs. N. R. Lord
"Dr's Hobby"
Miss Isabella Lupp
Miss Margaret Lupp
"Spons"
Mrs. Macdona
Mr. C. G. Macklin
Mr. R. M. Manley
Mrs. R. M. Manley
Miss Marian Manley
Miss Dorothy Manley
Mrs. J. L. McNew
Mr. C. F. Meier
"Bony"
Mr. Clarence Mellen
"Youth"
Miss Mercer
"South Africa"
Miss L. Mercer
"South Africa"
Mrs. Cruttenden Percy
Miss L. H. Raymond
"Green & Black"
Mr. Henry W. Read
"Emerson"
Mr. Chas. A. Read, Jr.
"Archibald"
Mr. W. H. Richards
"Horsey"
Mr. F. C. Robertson
"Shorthills"
Miss Isabel Robertson
"Shorthills"
Miss W. Robinson
"Bermuda"
Mr. John G. Rollins
Weapons exporter based in London
Mr. Philip Sawyer
"Long" Philip C. Sawyer (1868–1949) - The architectural firm of York and Sawyer produced many outstanding structures, exemplary of Beaux-Arts architecture as it was practiced in the United States. The partners Edward York (1863–1928) and Philip Sawyer (1868–1949) had both trained in the office of McKim, Mead, and White. In 1898, they established their independent firm, based in New York City
Mrs. Philip Sawyer (Mildred Conway)
"The Ferrier"
Miss Mildred Sawyer
"Sick"
Miss Eleanor Sawyer
Mrs. Stanley Sedgwick
"London"
Mrs. Sophia Sharman
"Auntie"
Miss N. M. Sharpe
"Very Smart"
Mrs. A. O. Simpkin
"Very Stout"
Mr. Richard Haveland Smythe
"One of the Nuts" (1889-1965) New York City architect instrumental in recreating and restoring the village of Stony Brook on Long Island, New York, and was also noted for the creation of the modern store front as typified by the Melville Shoe Corp. of Thom McAn shoe stores across the nation
Mrs. L. B. Steele
"Green Angel"
Miss V. Stephenson
"The Danzel"
Mr. Parker Syms
"Talks"
Mrs. Parker Syms
"Sparrow"
Bishop Ethelbert Talbot
(1848-1928) in 1897 The Right Rev. Ethelbert Talbot, D.D., LL.D., was elected Bishop of the Episcopal diocese of Pennsylvania. Dr. Talbot is at present Missionary Bishop of Wyoming and Idaho. In 1924, he became Presiding Bishop of the Church
Mrs. Ethelbert Talbot
Dora Harvey (1850-1920) - "Cook"
Miss M. G. Tennant
"Smart"
Mr. George Thomas
"The Angel"
Mr. G. G. Thorpe
Mrs. Sophia Van Marter
"No Chicken"
Mr. Charles W. Vernon, Jr.
"Awfully Nice"
Miss Peggy Whitaker
"Baby Blue"
Mr. John G. White
"Grand Pa"
Miss Muriel N. Whiting
"Holly"
Miss Edith R. Wilson
"Nun"
Mr. H. F. Wilson
Mrs. Clarence H. Youngs
"Coy Young Thing"
Note: One of the passenger lists we have from this voyage was annotated by one of the Passengers. Their annotations about fellow Passengers are enclosed within "quotes" after the name. Quite a "Gem."