SS Minnewaska Passenger List - 31 May 1924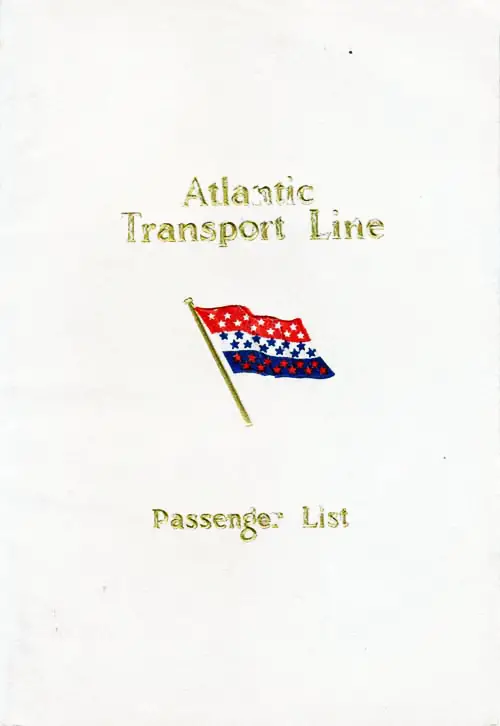 Front Cover of a First Class Passenger List for the SS Minnewaska of the Atlantic Transport Line, Departing 31 May 1924 from New York to London via Cherbourg, Commanded by Captain Frank H. Claret. GGA Image ID # 173820157e
Senior Officers and Staff
Captain: Frank H. Claret, O.B.E., R.N.R
Chief Engineer: A. Gentle
Surgeon: A. C. Bean, M.R.C.S. (England) L.R.C.P. (London)
Purser: A. V. Kitcher
Assistant Purser: H. W. Lagden
Chief Steward: W. Peate
First Class Passengers
Mrs. David B. Anderson
Mrs. Edward Ascherson
Mrs. M. M. Barnes
Major John A. Barry
Mrs. Barry
Capt. W. T. Bauskett
Mrs. Bauskett
Mr. William H. Beers
Mrs. Beers
Mrs. Rosalie Bergman
Miss Anna P. Bond
Lt. F. H. Bontecou
Mrs. Bontecou
Miss Marianna Bonnell
Mr. Gideon S. Borden
Mr. W. C. *Boyden
Mrs. *Boyden
Mr. Albert A. *Boyden
Miss Margaret *Boyden
Mrs. May Robson *Brown
Mr. Harry L. Butler
Mrs. Butler
Rev. John C. *Carr
Lt. Frank L. Carr
Mrs. Carr
Master Donald Carr
Mrs. Thomas Carter
Mr. J. Herbert Case
Mrs. Case
Miss Elizabeth P. Case
Mr. F. A. *Chapman
Mrs. *Chapman
Mr. Augustus W. Clapp
Mrs. Rosina M. Clapp
Mr. W. F. *Clarke
Mrs. *Clarke
Mrs. Gertrude Clarke
Master Kenneth Clarke
Mr. Edward Colby
Mr. Madison W. *Colwell
Mr. Charles Coon
Mrs. Coon
Mr. Howard *Copeland
Mrs. *Copeland
Mr. E. B. Creighton
Mrs. Creighton
Mr. Derwent
Mr. Victor Despommier
Major Sloan Doak
Mrs. Doak
Mrs. Francis C. Drake
Master R. F. Drake
Mr. William Elliott
Mrs. Elliott
Mr. A. M. Ellis
Mrs. Ellis
Master Henry H. Ellis
Mr. Fred. Etchen
Mrs. Etchen
Mr. W. Fawcett
Mr. Stephen A. Foster
Mrs. Foster
Miss Rachel Foster
Mrs. Matthew J. *Fox
Master Paul *Fox
Master Gerald *Fox
Master Bernard *Fox
Miss Elizabeth P. Frick
Miss Anne T. Frick
Very Rev. T. C. Fry
Mrs. Fry
Mr. William Gammie
Miss Alice Gammie
Major Charles P. George
Mrs. Elizabeth C. Godshalk
Mrs. C. A. Godshalk
Miss J. B. Godshalk
Miss Elizabeth L. Godshalk
Master Robert Godshalk
Master James B. Godshalk
Mrs. Edward *Gore
Mrs. Alice G. Groeling
Mr. William *Haim
Mrs. W. S. Hammesfahr
Master Fred. Hammesfahr
Miss A. M. Hankinson
Miss Lillian *Harmer
Mr. George A. *Harris
Mrs. *Harris
Master GeorgeA. *Harris
Mr. Edwin A. *Harris
Mrs. *Harris
Master Edwin A. *Harris
Miss Gloria *Haris
Miss Eileen J. *Harris
Mr. Frank O. Headley
Mrs. Headley
Miss Gertrude Hirst
Mr. Ralph Holden
Mrs. Holden
Mr. Frank Hughes
Mr. Joseph A. *Isaacs
Mrs. *Isaacs
Mr. G. E. Jennings
Mr. B. S. Jerman
Mrs. Jerman
Mr. Leeds Johnson
Mrs. Clay E. Jordan
Miss E. A. Jordan
Mrs. W. A. Kimbel
Miss Kimbel
Master R. Kirnbel
Mrs. Theodore E. Leeds
Mrs. Martina P. Lincoln and Maid
Miss Natalie Lincoln
Mr. O. G. *Lindberg
Mrs. *Lindberg
Mr. John R. *Lindberg
Master Allen *Lindberg
Miss M. R. Lindsay
Mrs. J. H. *McDonough
Miss Clare *McDonough
Mr. William T. McVaugh
Mrs. McVaugh
Miss Elizabeth E. Madden
Miss Anna T. Madden
Mrs. Ida Mansbach
Mr. H. Marles
Mrs. Marks
Mr. E. T. Martin
*Mother M. Dolorosa
*Mother M. St. Francis Xavier
Mr. William D. Murray
Mrs. Murray
Mr. James Napier
Mr. J. Noel
Mrs. Noel
Mrs. Carl M. Owen
Miss Shirley B. Owen
Master David B. Owen
Capt. Vernon L. Padgett
Dr. Walter A. Patrick
Mrs. Patrick
Mr. Platt
Mr. Harry H. Pond
Mrs. Pond
Mr. Charles Northrop Pond
Miss Sallie Porter
Mr. Vincent Richards
Mrs. Richards
Miss Mary Richardson
Mr. Arthur P. Ripley
Mr. W. Spencer *Robertson
Mr. D. Robertson
Mrs. Robertson
Miss Margaret Robertson
Mrs. Arthur Robin
Lt. P. M. Robinett
Mrs. Louise G. Romeyn
Mr. Graham *Ryle
Mrs. *Ryle
Miss Lilly *Saltkahn
Miss Florence *Sibley
Mr. W. S. Silkworth
Mrs. Silkworth
*Sister M. Martyrs
*Sister M. St. Bernard
*Sister M. St. Marks
*Sister M. O. L. of Rosary
*Sister M. of the Nativity
*Sister M. of St. Monica
Mrs. N. Smith
Miss Mary J. Stephenson
Mr. E. C. Sweetland
Mrs. Sweetland
Major E. W. Taulbee
Mr. Charles F. Tuppen
Mrs. Tuppen
Capt. J. R. Underwood
Mrs. C. W. Vernon
Master C. W. Vernon
Master Jean Vernon
Mr. Raymond Waldron
Mrs. Waldron
Mr. G. H. Warren
Miss Ella Watson
Miss Julia Watson
Miss Rosa Watson
Mr. Henry Weil
Mrs. Mathilde Weil
Mr. Norman F. Wells
Mrs. Wells
Mrs. Charles W. Wetmore
Miss Louise Whitin
Mr. Harry R. Wickins
Mrs. Margery M. Willis
Mr. G. Herbert Windeler
Mrs. Windeler
Miss Evelyn Windeler
Mrs. G. D. Wrightson and three children
Miss Elizabeth Hall Yates
* Disembarking at Cherbourg
General Information for Passengers
Breakfast from 8:00 am until 10:00 am
Luncheon at 1:00 pm
Dinner at 7:00 pm
The Bar opens at 8:00 am and closes at 11:30 pm
Divine Service will be held on Sundays at 11:30 am
Smoking. Passengers are kindly requested not to smoke in either the Dining Saloon or in the Reading and Writing Room.
Seats at Table. Passengers who have not previously arranged for seats at table to be reserved should apply to the Second Steward.
When the steamers sail with full lists, children under the age of ten years not paying the adult fare are provided with meals at separate sittings in the Dining Saloon.
Upper Berths. Passengers occupying upper berths can obtain steps for getting in or out of same on applying to the Steward or Stewardess.
Medical Attendance. The Surgeon is authorized to make customary charges, subject in each case to the approval of the Commander, for treating Passengers at their request for any illness Not Originating On The Voyage. In the case of sickness originating on the voyage no charge will be made, and medicine will be provided free in all circumstances.
The Purser's Office is situated on Deck B, where Letters, Cables, Telegrams and Marconigrams are received or delivered, and Postage Stamps can be purchased.
None of the ship's staff other than those on duty in the Purser's Office are authorized to accept Letters or Telegrams for despatch.
Charges Collected on Board. Passengers are requested to ask for a Receipt on the Company's Form for any additional Passage Money, Chair or Steamer Rug Hire, charges collected for Marconigrams, Cablegrams or Telegrams or Freight paid on board.
Passengers' Addresses should be left at the Purser's Office, in order that any letters received after Passengers have left the steamer may be forwarded.
Deck Chairs and Steamer Rugs can be hired on application to the Deck Steward, at a charge of 6/6 (or $1.50) each for the voyage.
Valuables. The particular attention of Passengers is drawn to the ticket conditions regarding the carriage and custody of articles specified in Section 4,281 of the revised Statutes of the United States, but Passengers can, and are accordingly advised to protect themselves by insurance. The Line has provided a safe in the office of the Purser in which Passengers may deposit money, jewels, ornaments, documents or other valuables for safe keeping and a deposit receipt will be issued by the Purser.
Exchange of Money. The Purser is prepared, for the convenience of Passengers, to exchange a limited amount of English and American money, at rates which will be advised on application.
Baggage. Questions relating to Baggage should be referred to the Second Steward, who is the Ship's Baggage Master.
Wardrobe Trunks. Passengers are advised that it is not always possible to arrange for the placing of Wardrobe Trunks in the passenger accommodation in a position where they are easily accessible, also that there is frequently difficulty with regard to the landing of such packages owing to their exceptional size. They are therefore recommended to use steamer trunks in preference.
Dogs. Passengers are notified that dogs must be handed over to the care of the butcher, and cannot be landed in Great Britain unless a license has previously been procured from the Board of Agriculture, London. Forms of license must be obtained by direct application to the Department before the dog is taken on board.
Travelers Checks, payable in all parts of Europe can be purchased at all the principal offices of the Atlantic Transport Line. These Checks are accepted on board Atlantic Transport steamers in payment of accounts, but the Pursers have not sufficient funds to enable them to cash these Checks.
Deck Games and Amusements. Deck Quoits, Shuffleboard, Bull Board and other games are provided on deck under the charge of the Deck Steward.
Chess, Draughts, Dominoes, etc., can be obtained on application to the Lounge Steward.
Boots and Shoes. These will be cleaned if left outside the Stateroom door.
PROHIBITION in The United States of America. On the Westbound voyages the steamers will be supplied with a small quantity of liquor, but only very limited supplies can be placed on board in consequence of the decision of the U. S. Supreme Court prohibiting the entry into their ports of alcoholic liquors.
Barber. The Barber is authorized to make the following charges:—
Ladies (s. d. Cents)
Hair Trimming 1 0 or 23
Singeing 1 0 or 23
Shampooing 4 0 or 95
Face Massage 3 6 or 80
Scalp Massage 2 6 or 58
Part Waving 3 0 or 70
Waving and Tonic Dressing 0 6 or 12
Gentlemen (s. d. Cents)
Shaving 1 0 or 23
Hairdressing 1 6 or 35
Shampooing 1 0 or 23
Singeing 1 0 or 23
Face Massage 2 0 or 46
Scalp Massage 1 6 or 35
Dressing 6 0 or 1.40
His hours are 7:00 am to 7:00 pm, but for the general convenience of the greater number, Passengers are requested not to apply for hair-cutting or shampooing except between the hours of noon and 5:30 pm
The Barber is allowed the privilege of selling various souvenirs and small articles on his own account.
Directories of London and New York are kept on the steamers for the convenience of Passengers.
Picture Postcards. Picture Postcards of the steamers can be obtained on board gratis.
Orchestra. An Orchestra of skilled musicians will play daily.
Lounge and Reception Rooms. These rooms are situated on Deck A and at the entrance to the Dining Saloon on Deck D respectively. They are intended for the use of both Ladies and Gentlemen, and afternoon tea and after-dinner coffee will be served here.
A special Dancing Floor has been fitted in the Reception Room on Deck D.
Books may be obtained from the Bookcase in the Reading Room on Deck A on application to the Steward in charge, between the hours of 10:00 am and 12 noon, 3:00 pm and 4:00 pm, 6:00 pm, and 7:00 pm, 9:00 pm and 10:00 pm
By special arrangement with the "Times Book Club," a supply of recent works is placed on board each voyage, as a supplement to the permanent collection of standard works.
Motor Saloon Connection Between
The King George V Dock and Residential London
Eastbound Passengers.
In view of the proximity of the King George V Dock to the residential part of London, The Atlantic Transport Line has introduced a new feature by inaugurating a connecting service of Motor Saloons between the Company's berth and the principal London Hotels. On disembarking, Passengers may either travel to Liverpool Street Station in the heart of the City, by the special train awaiting them, or they may proceed to their destination in one of a fleet of comfortable motor saloons, which will transport them and their hand baggage to Hotels in the vicinity of Trafalgar Square.
Two types of vehicles will be provided:—
(a) Motor Saloons for destinations within approximately 4 miles of Charing Cross.
(b) Private Limousines for longer distances.
The charge for a seat in a Motor Saloon will be 5/- per head, and for the use of a Limousine the cost will be £2 minimum, with an additional charge of 1/3 per mile for distances over 15 miles.
Only two pieces of hand baggage per passenger may be taken in the Motor Saloons, but Passengers may make arrangements with Messrs. Carter Paterson & Co. regarding Customs clearance and storage or delivery of their other baggage (see under Eastbound Baggage).
Should the above facilities not meet Passengers' requirements, the Company will afford every assistance in its power to carry out any special arrangements desired.
Passengers wishing to make use of a motor conveyance should apply at the Purser's Office not later than 6:00 pm on the Wednesday before arrival, when a ticket will be issued.
As soon as the Customs' examination has been passed, Passengers should proceed to the car corresponding to the number on their ticket. Their baggage being similarly labeled will be put on board by a porter. Each car will then move off on receiving its full complement.
Eastbound Baggage. Arrangements have been made with Carter Paterson & Co., Ltd. (128, Goswell Road, E. C. 1.) for their representative to board the steamer at Gravesend for the purpose of receiving instructions for the clearance through Customs, and despatch of baggage to destination in Carter Paterson & Co.'s Suburban Area at an inclusive charge of 3/- per package. This will facilitate the departure of Passengers as early as possible after the steamer's arrival.
Baggage will be delivered the same day as cleared to any address in the West or West Central Area of London. Baggage for destinations outside C. P. & Co.'s Suburban Area and within C. P. & Co.'s Home Counties Area at slightly higher rates. These charges cover all services in connection with the Customs clearance and delivery. Baggage for Provincial Towns outside C. P. & Co.'s area will also be received for forwarding by Rail. The clearing and cartage charges for this traffic will be 2/6 per package. Rail carriage from Station to destination will be additional.
An extra charge is made for baggage containing articles which may be subject to duty or are prohibited. Declarations for this purpose can be obtained from the Purser during the voyage and should be filled in and handed to Carter Paterson's Representative, together with the keys, when he boards the steamer.
Wireless Telegram Rates
This Steamer is fitted with Marconi's system of Wireless Telegraphy and also with Submarine Signalling Apparatus
Long Range Wireless Service
This vessel is fitted with special long range wireless apparatus which will enable Passengers to communicate with their friends or business houses on shore throughout the voyage across the North Atlantic Ocean.
The wireless rate for messages directed through the long distance wireless station at Devizes, England, is 10d. per word, through Chatham, Mass. and Louisbourg, N. S., 9/0d. per word, land telegraph or cable charges additional. The ship is constantly in touch with one or other of these stations.
Special Notice
The attention of the Managers has been called to the fact that certain persons, believed to be professional gamblers, are in the habit of traveling to and fro in Atlantic Steamships.
In bringing this to the knowledge of travelers the Managers, while not wishing in the slightest degree to interfere with the freedom of action of patrons of the Atlantic Transport Line, desire to invite their assistance in discouraging games of chance, as being likely to afford these individuals special opportunities for taking unfair advantage of others.