SS Minnetonka Passenger List - 23 May 1914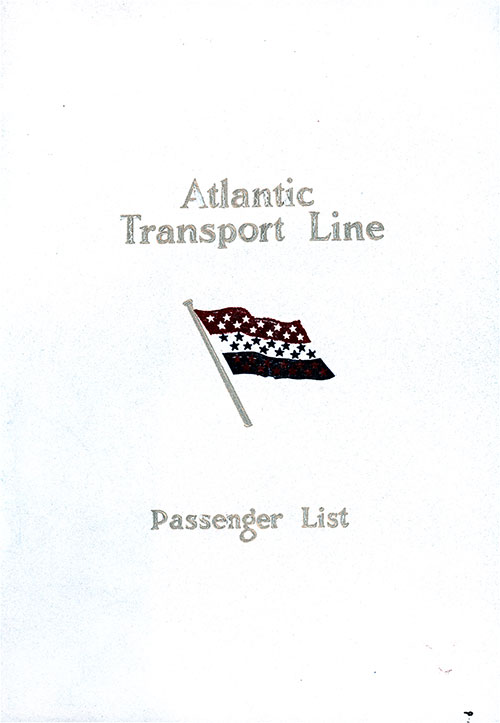 Front Cover of a First Class Passenger List from the SS Minnetonka of the Atlantic Transport Line, Departing Saturday, 23 May 1914 from New York to London, Commanded by Captain E. G. Cannons. GGA Image ID # 12fbe89ee3. Alamy
Senior Officers and Staff
Commander: E. Q. CANNONS
Purser: Basil C. Evans
Surgeon: Dr. E. S. Perkins
Chief Steward: William Sismey
Chief Engineer: Carl Schneider
First Class Passengers
Mr. Walter E. Addison
Mrs. Addison
Mr. Charles Ailing
Mrs. Ailing
Mrs. M. L. P. Barker
Mrs. L. D. Barrett
Mr. Krank M. Bartram
Miss Ida V. Beck
Miss Elizabeth Becket
Miss Alice Bingham
Mr. R. G. Blackie
Mr. Henry Bolton
Mrs. Bolton
Miss Mary Bowman
Miss F. Brookes
Miss Laura Brown
Miss Edith B. Burns
Mr. William H. Carpenter
Mr. F. J. Carrigan
Mrs. Carrigan
Mr. Walter George Case
Mrs. M. R. Church
Miss Church
Miss Florence L. Clark
Miss M. V. Clark
Miss E. D. Colson
Miss Andree Corday
Mr. W. H. Copeman
Mrs. Copeman
Master Jack Copeman
Miss Blythe Copeman
Dr. Alfred B. Danby
Mr. Benjamin Dohlin
Miss Una Drummond
Mrs. M. B. Drew
Mrs. Hobart Duvall
Mr. Dan Folan
Miss Maude M. Frank
Miss Katherine Gladstone
Madame Nicolai Golejewski
Miss Sofia Golejewski
Miss Kyra Golejewski
Mr. H. Goodwin Green
Mrs. Green
Mrs. Vernon Hemming
Miss N. Homans
Miss Edith Hoyt
Dr. Joseph Jacobs
Mr. R. W. Johnson
Miss J. B. Jones
Mr. James S. Keith
Mr. John C. Kirby
Mrs. Kirby
Mr. William Armistead Lane
Mrs. Lane
Miss Helen Lewengood
Mr. Wm. Lustgarten
Mrs. W. R. H. Martin
Mr. Eric Mayne
Mr H. McKenzie
Mr. Frank A. McLaughlin
Miss F. A. Mera
Mr. T. S. Moise
Mrs. Moise
Mr. John J. Murphy
Miss Ffolliott Paget
Mr. W. H. Pett
Mrs. Pett
Mrs. E. Baxter-Pinkney
Mrs. L. B. Plunkett
Mr. J. B. Pond
Mr. J. Norment Powell
Mrs. Powell
Mrs. Saba Raleigh
Mr. Leon Rennay
Miss H. B. Rich
Mr. E. W. Robinson
Mr. Joseph Russo
Mr. E. P. Sands
Mrs. Sands
Miss L. M. Schodts
Mr. R. L. Schuyler
Mrs. Schuyler
Mr. Frank Spaight
Mr. E. M. Spink
Mrs. F. L. Stratton
Mr. H. Vance Swope
Mr. J. A. Thunder
Mr. F. S. Warren
Mrs. Warren
Mrs. Roger Watts
Mr. A. R. Wendell
Mrs. Wendell
Miss Eleanor S. Wendell
Mr. August Weymann
Miss Esther White
Mrs. P. B. Whitmarsh
Miss L. Wyman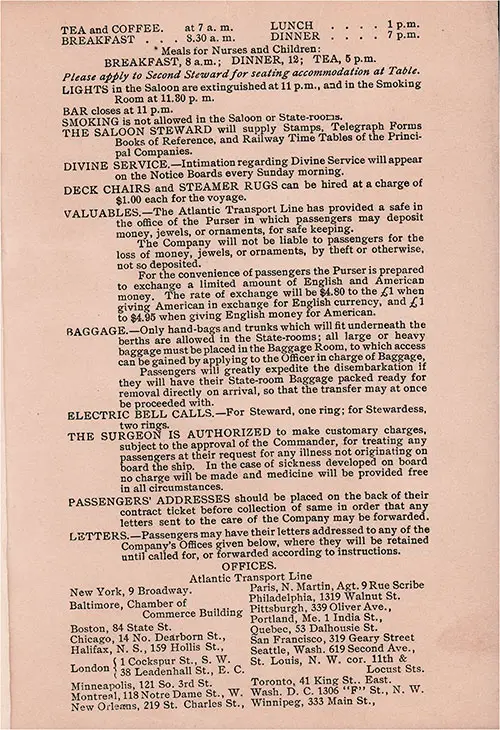 Information for Passengers Published on the 23 May 1914 Passenger List for the SS Minnetonka of the Atlantic Transport Line. The Relatively Condensed Information was Typical for the Early 1900s. GGA Image ID # 15916dad50. Alamy
Information for Passengers
Meals
TEA and COFFEE at 7 a. m.       
LUNCH at 1 p.m.
BREAKFAST at 8.30 a. m.
DINNER at 7 p.m.
Meals for Nurses and Children:
BREAKFAST at 8 a.m.
DINNER at 12 p.m.
TEA at 5 p.m.
Please apply to Second Steward for seating accommodation at Table.
LIGHTS in the Saloon are extinguished at 11 p.m., and in the Smoking Room at 11.30 p. m.
BAR closes at 11 p.m.
SMOKING is not allowed in the Saloon or State-rooms.
THE SALOON STEWARD will supply Stamps, Telegraph Forms, Books of Reference, and Railway Time Tables of the Principal Companies.
DIVINE SERVICE.—Intimation regarding Divine Service will appear on the Notice Boards every Sunday morning.
DECK CHAIRS and STEAMER RUGS can be hired at a charge of $1.00 each for the voyage.
VALUABLES.—The Atlantic Transport Line has provided a safe in the office of the Purser in which passengers may deposit money, jewels, or ornaments, for safe keeping.
The Company will not be liable to passengers for the loss of money, jewels, or ornaments, by theft or otherwise, not so deposited.
For the convenience of passengers the Purser is prepared to exchange a limited amount of English and American money. The rate of exchange will be $4.80 to the £1 when giving American in exchange for English currency, and to $4.95 when giving English money for American.
BAGGAGE.—Only hand-bags and trunks which will fit underneath the berths are allowed in the State-rooms; all large or heavy baggage must be placed in the Baggage Room, to which access can be gained by applying to the Officer in charge of Baggage,
Passengers will greatly expedite the disembarkation if they will have their State-room Baggage packed ready for removal directly on arrival, so that the transfer may at once
be proceeded with.
ELECTRIC BELL CALLS.—For Steward, one ring; for Stewardess, two rings.
THE SURGEON IS AUTHORIZED to make customary charges, subject to the approval of the Commander, for treating any passengers at their request for any illness not originating on board the ship. In the case of sickness developed on board no charge will be made and medicine will be provided free in all circumstances.
PASSENGERS' ADDRESSES should be placed on the back of their contract ticket before collection of same in order that any letters sent to the care of the Company may be forwarded.
LETTERS.—Passengers may have their letters addressed to any of the Company's Offices given below, where they will be retained until called for, or forwarded according to instructions.