SS Marquette Passenger List - 1 June 1899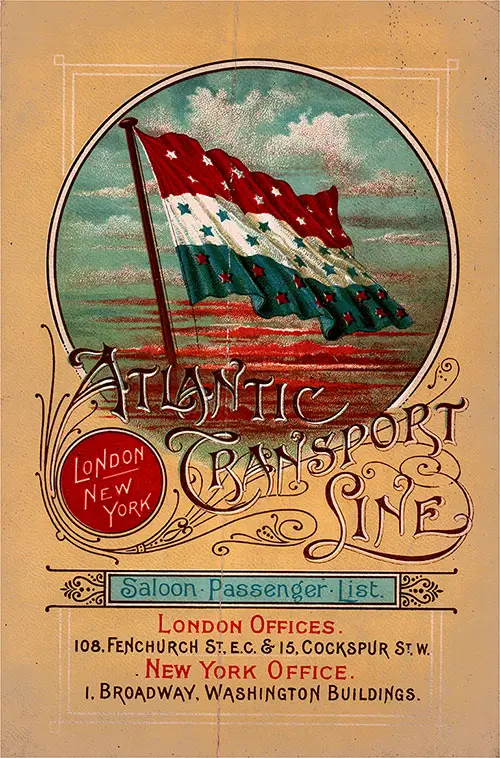 Front Cover of a Saloon Passenger List for the SS Marquette of the Atlantic Transport Line, Departing 1 June 1899 from London to New York, Commanded by Captain Thomas F. Gates. GGA Image ID # 1299f3639b.
Notable Passengers Included: Ralph David Blumenfeld, Alson S. Clark, H. H. Crippen.
Senior Officers and Staff
Captain: T. F. Gates
Surgeon: H. Cock
Chief Engineer: D. MacDonald
Saloon Passengers
Mr. E. J. Ashwell
Mrs. Ashwell
Mr. Ralph W. Appleby
Mrs. Appleby
Mr. R. H. Baker
Mr. E. J. Barnard
Mrs. Barnard
Miss Bedford
Mr. R. D. Blumenfeld
(pen-name R.D.B., 7 April 1864 – 17 July 1948) Ralph David Blumenfeld was a United States-born journalist, writer and newspaper editor
Mrs. Blumenfeld
Master David Blumenfeld
Mr. C. Bontein
Mrs. Bontein
Mr. Turner E. Brashear
Mrs. Brashear and Infant
Miss Esther Brashear
Master Irwin Brashear
Master Ernest Brashear (Brashear, Ernest G.)
Master Alvin Brashear
Miss Marie Burke
Miss Burmester and Maid
Mr. Phillip H. Burrell
Mr. Henry Cane
Mrs. Cane
Mr. Lewin Campbell
Mr. Milton Campbell
Mr. A. B. Clark
Mrs. Clark and child
Mr. Alson S. Clark
(25 March 1876 - 23 March 1949) was an American painter best remembered for his impressionist landscapes
Mr. H. H. Crippen
Hawley Harvey Crippen (11 September 1862 – 23 November 1910), usually known as Dr. Crippen, was an American physician hanged in Pentonville Prison, London, England, on 23 November 1910, for the murder of his wife. He has gone down in history as the first criminal to be captured with the aid of wireless communication.
Mr. Frank Cuyler (1863 - 1941)
Mr. Ralph Dearlove
Mr. G. E. Dowden
Mr. J. F. Dunwoody
Mrs. Fuego and Infant
Mr. J. Franklin Gallagher
Mr. J. R. Geary
Rev. F. S. Greenhalgh
Mr. H. Hague
Mr. H. Hardinge
Mr. R. E. Heggie
Mr. H. W. Herr
Mr. R. W. St. Hill
Mr. Arthur Hickie
Mr. Charles Hodgson
Miss E. Kalisher
Miss C. Kalisher
Mr. E. David Keeble
Col. L. Lake
Mr. Duff G. Lake
Mr. Henry E. Longwell - Mechanical Engineer
Miss Harriett Lyman
Dr. Mahe
Mrs. Mahe
Mr. F. Marriott
Miss Zurtar Metzian
Miss Edna Middlemitch
Mr. C. J. Miller
Mr. M. Moffatt
Mr. George Patterson
Mr. G. Paulding
Mr. D. West Petus
Mr. Alfred Piper, Jr.
Mr. J. L. Pollitt
Mrs. Pollitt
Mr. Rawson
Mrs. Rawson
Miss Rawson
Miss E. M. Requa
Mrs. Robinson
Mrs. Amy Robinson
Mr. H. B. Sherwin
Mrs. Sherwin
Mr. Vernon D. Shutte
Miss Ada Stanley
Mrs. Emil Stehli
Mr. H. J. Taylor
Mr. Joseph Turner
Mrs. Turner
Master H. C. Turner
Rev. S. S. Vannerman
Mrs. Vannerman
Miss Amy Vannerman
Miss Dorothy Vannerman
Miss Irene Vannerman
Mr. L. Watkins
Mr. Alfred White
Mr. George Wilson
Miss Jennie Wright
Miss M. L. Wyatt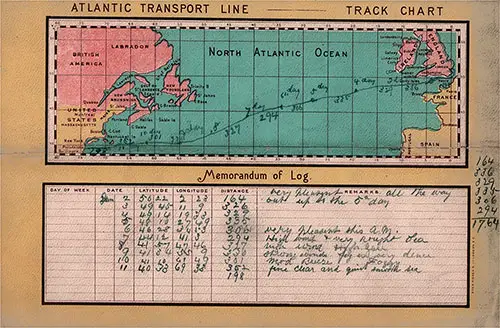 Atlantic Transport Line Track Chart and Memorandum of Log. Back Cover, Saloon Passenger List for the SS Marquette, 1 June 1899 of the Atlantic Transport Line. Passenger Completed Memorandum of Log and Track Chart for this Voyage. GGA Image ID # 129a10cd45